Whether you want to record the memorable moments of your games, share a video tutorial with others, or do more similar things, you must use a screen recorder. It's easy to get a screen recorder from the Internet; however, it's not that simple to find a "good" one. When we try out some free screen recorders to capture the computer screen, it is very likely that the video recording is covered with an ugly watermark.
To help you easily record screen without watermark, we collected 10 best free screen recorders with no watermark in the market. All of them are perfectly compatible with Windows 10 and some of them can also work well on Mac and Linux.
Now let's have a look at the best screen recorders with no watermark... but wait! How do you define an excellent screen recording program? We have to make it clear that our criterion is as below. 📝
What is a Good Screen Recorder With no Watermark
Elementary Features
⭕ No Watermark
As our title indicates, we aim to find the best screen recorder without an ugly watermark, and provides you with a totally free version or a free trial. So, no watermark is the primary prerequisite that we will consider. Besides it, if the screen recording software allows you to add a customized watermark, it will get an extra point.

⭕ High Quality
Even if the recording tool can record videos without a watermark, If the recorded video is of low quality and even too blurry to recognize the contents, you won't feel like using that recorder again. So this will be the second point that we highlight.

⭕ Selectable Area
Selection of a full screen, a small area of the screen region, or even a recording area with custom resolution values is the most basic feature of a screen recorder. This can make a screen recording more flexible.

⭕ Full Audio
Not only do you need to record the computer screen, but also the audio is needed on most occasions, whether the system sound or the microphone sound. We will also take this into consideration.

⭕ Clear Interface
Last but not least, we believe that a clear interface that can let you master how to record your screen at the first sight is important.
Bonus Features
💡 Long Recording Length
You may miss this point when choosing a screen recorder, but it's essential to use a screen recorder that allows you to record a long video over 2 hours if you need to record a meeting or a live stream.

💡 Editing Tool
It's hard to get a perfect recording without editing, so if the screen recorder has a built-in feature for you to cut out the extra beginning or ending part of the screen recording. It's definitely a plus. Not only this, we will also consider whether the tool enables you to add annotations or not.

💡 No Lag
When you record a long video, some screen recorders tend to lag, which may even lead to the audio not being in sync with the image. An excellent screen recorder should be able to record your screen without lags.
10 Best Free Screen Recorders Without Watermark for PC
Having a quick view of what a good screen recorder should have, you will have a detailed review of the best 10 screen recorders without watermark for free on Windows 10 and 11 (Most of them also perfectly support Windows 7/8) or Mac.
Top 1. FonePaw Screen Recorder (Windows & Mac)
⭐ Our Rating: 4.9/5
Free Download Buy with 20% off Free Download Buy with 20% off
FonePaw Screen Recorder is a screen recorder with no watermark. It can not only record the full screen of your computer, but also a certain area or an application interface. The screen recording can be up to 1080p. During the recording, you can record audio and webcam as well. And the screen recorder is equipped with editing tools, which let you add circles, texts, arrows to your screen videos during the recording process. FonePaw is also a no lag screen recorder that empowers users to record gameplay with 60 fps. Moreover, you can schedule a recording task for the FonePaw Screen Recorder to start and stop screen recording automatically.

It is easy to record your screen with this no watermark screen recorder.
Not only can the recorder record your screen with no watermark, but also it can be used to capture screenshots and record audio (system & microphone sound) on PC. Microphone noise cancellation and enhancement are supported which ensures a clear sound.
Apart from satisfying the basic screen recording needs, the screen recorder also has a built-in game recorder to improve the experience of capturing gameplay videos. And you can even try the Advanced Recorder features to lock your recording window or exclude certain windows to capture high-quality videos without watermark or any distraction.
Here shows how easy it is to record your screen with this no-watermark screen recorder:
Run the screen recorder on PC.
Click Video Recorder. Select the area that you want to capture.
Enable to record Microphone, System Sound, and Webcam if needed.
Start sound checking. Then click Rec button.
When you finish recording, click the blue square to stop. You can preview and even clip the recorded video. No watermark is added.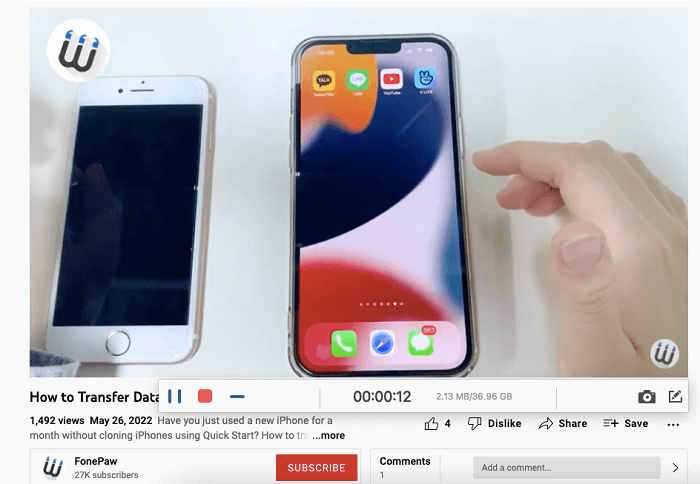 Free Download Buy with 20% off Free Download Buy with 20% off
As a well-rounded application, FonePaw Screen Recorder is surprisingly small in size so that it can run smoothly in recording gameplay even on low-end PCs. It supports Windows 11/10/8.1/8/7/Vista/XP (32 bit or 64 bit) and Mac OS. The recorder is now free to download.
😘 What Makes it Stand out
Full-featured: It can be used to record screens with high quality, capture audio up to 320kbps, take screenshots and be equipped with editing tools for users to make tutorials.
Easy-to-use: It has a clear interface and even a beginner can use it without hassle.
No lag: It's a free game recording software without watermarks that runs smoothly without lagging even while there is a game running.
High Compatibility: It supports Windows and Mac we mentioned above and takes very small running space. It's very stable for a long-time recording.
Videos can be exported at MP4, MOV, WMV, F4V, TS, AVI, and GIF.
😥 Not So Good
It is a standalone program that needs to be downloaded to your computer.
The trial version limits recording time to 3 minutes.
💰 Pricing
Free trial
One-month license: $19.56
One-year license: $38.46
Lifetime license: $79.77
Besides, the versatile FonePaw screen recorder is recommended by Fix the Photo as one of the best free screen recorders of 2021.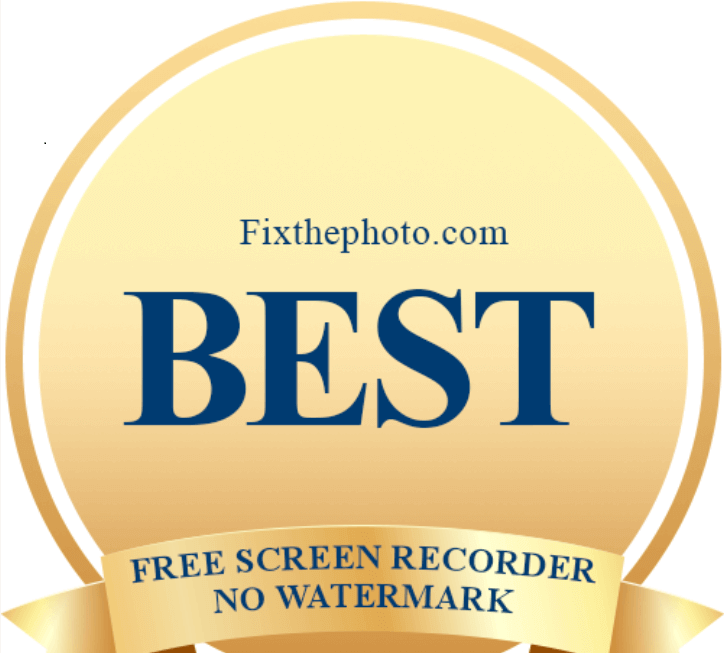 And all screen activities can be captured without watermark via FonePaw Screen Recorder.
Free Download Buy with 20% off Free Download Buy with 20% off
Top 2. FlashBack Express (Windows)
⭐ Our Rating: 4.7/5
Many users may be entangled between OBS or FlashBack Express. Compared with OBS, FlashBack Express is an easy-to-use PC screen recorder that doesn't impose time limits on recordings. As a free screen recorder, it enables you to record system sound and microphone sound, or webcam on your computer. Although the free version lacks some advanced features like editing video/audio or adding annotations picture-in-picture, it's enough to use to fulfill basic recording needs.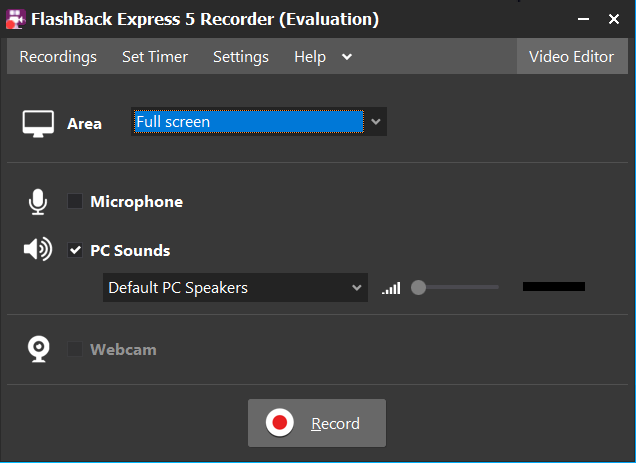 😘 What Makes it Stand out
User-friendly main interface for new users.
Easy-to-use.
Provides MP4, AVI, and WMV formats in the latest version.
😥 Not So Good
Some advanced functions are paid-only.
Need to spend time outputting recording.
💰 Pricing
Free trial
1-PC license: $49
2-PC license: $74
More plans for more PCs
Top 3. OBS (Windows & Mac & Linux)
⭐ Our Rating: 4.6/5
Open Broadcaster Software (OBS) is an open-source screen recording software that is free to use and can record screens without watermark and time limit. And it's compatible with multiple platforms including Windows 11/10/8.1/8/7, Mac, and Linux.
The professional OBS is more than a screen recorder. It can be used for live streaming. Click to create live videos with window captures, images, text, webcams. OBS offers 3 main different modes - Display Capture, Window Capture, and Game Capture. Accordingly, it helps record full-screen activities, desktop applications, and PC games on the computer. The video recording can be saved in high quality at up to 60 FPS. Audio from different sources can be captured and recorded as well.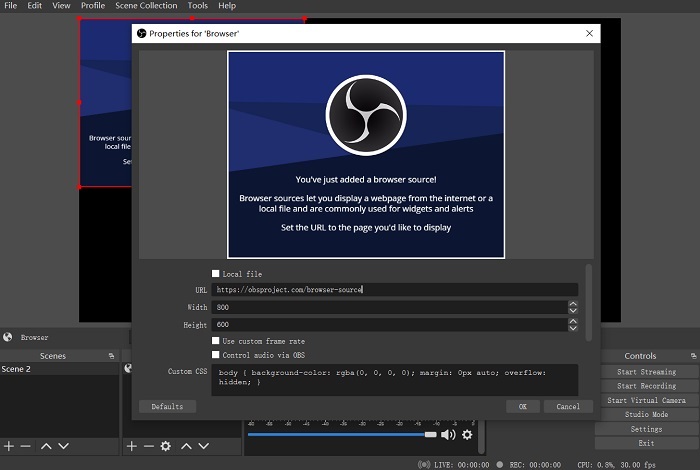 However, non-techies may find OBS complicated. Before you capture screen activities with the recorder, you have to configure settings such as Scene and Source on OBS. These settings allow you to set up a layout for your stream or select the game that you want to screen record. Besides, from the Source section, you can choose the device or media that you want for output.
As OBS gains growing popularity, you can easily find out some best OBS recording settings for better output quality. But given the fact that your computer is running multiple programs at the same time, this can consume CPU usage and somehow affects your experience. Therefore, it could happen that OBS running slow on some old computers. And we've also collected some feasible measures to fix overload in OBS.
😘 What Makes it Stand out
Powerful: Record screen in high quality at 1080p and 60 FPS. Good for not only screen recording but also live streaming.
Totally Free Screen Recorder.
😥 Not So Good
Difficult: You have to spend some time figuring out how OBS works. It is far more difficult to use than other screen recording programs.
Laggy: OBS tends to be laggy when running on low-end PCs.
💰 Pricing
Totally free
Top 4. Free Cam (Windows)
⭐ Our Rating: 4.6/5
Free Cam is another free screen recorder with no watermark. It's a free utility that performs well in recording computer activities and audio simultaneously. You can easily drag its recording frame to adjust it to any size. What's more, it's equipped with a built-in editing tool to clip unwanted parts of your recording. After clipping, you can directly share it on YouTube through the share button in the interface. Currently, Free cam only provides WMV format for screen recording. Another drawback is that it cannot be used to record webcam. If you want to unlock more functions, you need to upgrade to pro version.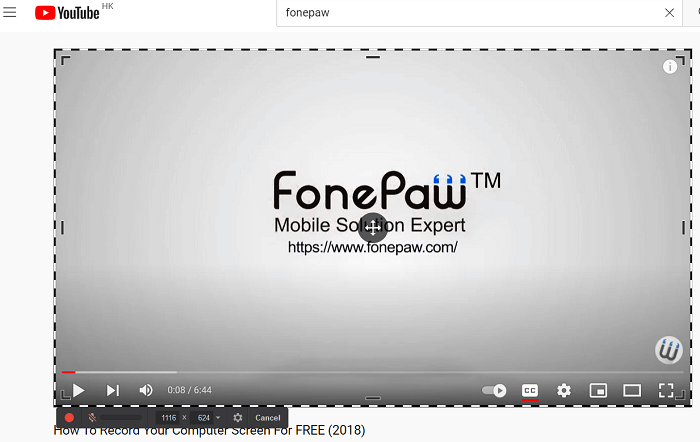 😘 What Makes it Stand out
Best screen recorder app without watermark and no time limit.
Available to adjust recording area.
Share videos on YouTube directly.
Easy-to-use
😥 Not So Good
Need to input an e-mail address to download software.
Cannot only record webcam or the audio.
Only provides WMV format.
The maximum recording quality is 760p.
💰 Pricing
Free Cam: Free
Cam Pro (Pro Version): $227/year
Top 5. Icecream Screen Recorder (Windows & Mac)
⭐ Our Rating: 4.6/5
Similar to other professional screen recorders listed, Icecream Screen Recorder has some advanced recording features such as scheduling recording, and real-time annotation. It also supports basic features such as recording from a select window, recording audio or webcam, and etc. All these amazing features and functions make it perfect for recording a live stream, webinars, video calls, and more. The main difference lies in that Icecream Screen Recorder provides an Android version, so that it is convenient to record the phone screen as well.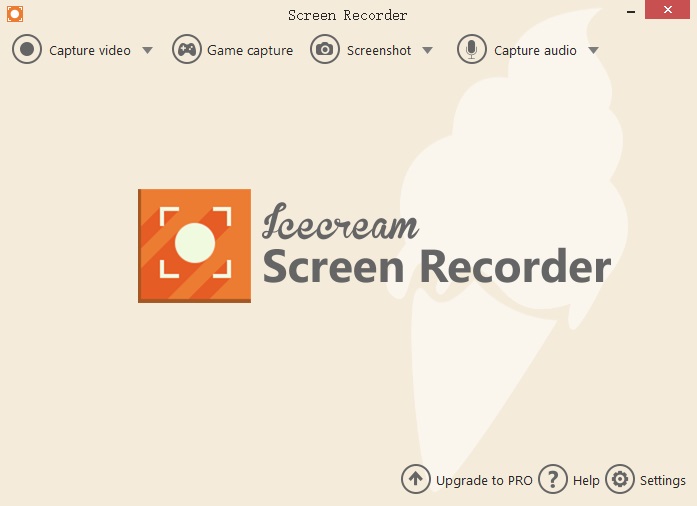 😘 What Makes it Stand out
Compatible with Windows, macOS, and Android.
Support most recording features like recording webcam and computer screen at the same time.
Upload to YouTube, Dropbox, and Google Drive directly.
😥 Not So Good
The free trial version can only record 5 minutes.
The output format can only be webM on the free trial version.
💰 Pricing
Free trial
Pro Version: $29.95
Top 6. Apowersoft Online Screen Recorder (Windows & Mac)
⭐ Our Rating: 4.6/5
The web-based Apowersoft Free Online Screen Recorder is an ideal option for those who prefer not to download a new desktop app. Just open its official website and click on the Start Recording button and it will ask you to download a launcher.
When it is done, you can begin to record anything on Screen. Just as other desktop apps for screen recording, the versatile online screen recorder can record the full screen/a certain windows/a specific Chrome tab, capture your webcam and record both system sound and microphone sound. If you want a quick and simple way to screencast on your PC, this free screen recorder online should be among the best picks.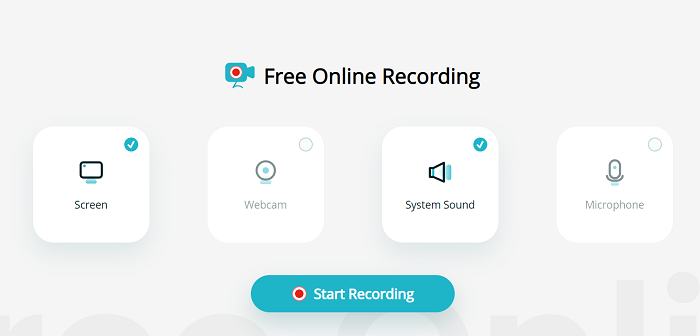 📝 Note: Besides the free online screen recorder, Apowersoft also offers a desktop screen recorder without watermark named ApoweREC, which supports more advanced recording and editing features. It is also noticeably lightweight and convenient to use, and is available on Windows/Mac/iPhone/Android.

😘 What Makes it Stand out
You don't need to download and install an extra program on computers. It provides a cloud storage service. If your computer doesn't have enough storage space, you can sign up for an account and seamlessly save the recording on its cloud service. After recording, you can upload it to YouTube, Vimeo, Google Drive, and Dropbox or create a shareable link with your friends.
😥 Not So Good
Some functions are limited, for example:
It doesn't allow task schedule recording.
It doesn't support real-time editing on your recording.
It might happen to lose your recording if you heavily rely on its cloud service to store your recording.
💰 Pricing
Top 7. Game DVR (Windows)
⭐ Our Rating: 4.5/5
Do you know that Windows 10 has a free screen recorder without watermark? Game DVR, a feature of Windows Game Bar, can record not only games but also other screen activities on your computer. Better still, as a built-in recorder, Game DVR won't impose any watermark on your recording screen.
Simply press Win + G on an active application window. This will activate the Game DVR recording. The built-in screen recorder can smartly detect the gaming app or program that you are playing. Adjust audio settings and click the record button, then you can begin to record the screen without watermark and time limit.

It is easy-to-use and totally free. Despite all the advantages, you cannot record desktop or select a specific area to record because Game DVR can only record the screen activity of an active program.
😘 What Makes it Stand out
Free: You don't have to pay for the recorder.
Pre-installed: The application is pre-installed with Windows 10 system so you don't need to download it separately.
😥 Not So Good
Not available for computers running on Windows 8, 7.
Too primitive: It lacks features that are available on third-party screen recorders, such as selecting a recording area, recording the webcam, adding annotations.
Cannot capture programs such as File Manager and other applications with protection.
💰 Pricing
Top 8. VLC (Windows & Mac & Linux)
⭐ Our Rating: 4.5/5
VLC is a free and open-source cross-platform multimedia player. Although it is mostly used for playing DVDs, VCDs, CDs, and almost every digital file, the powerful VLC has many hidden features to explore and make use of.
Besides playing video or audio, VLC Player is so versatile that you can even record a screen. And it performs smoothly and amazingly. Best of all, VLC is free and has no time limit in recording your computer screen. But as it is not designed for screen recording, the process of capturing screen with VLC may seem a little complicated and its interface for customization is basic and limited.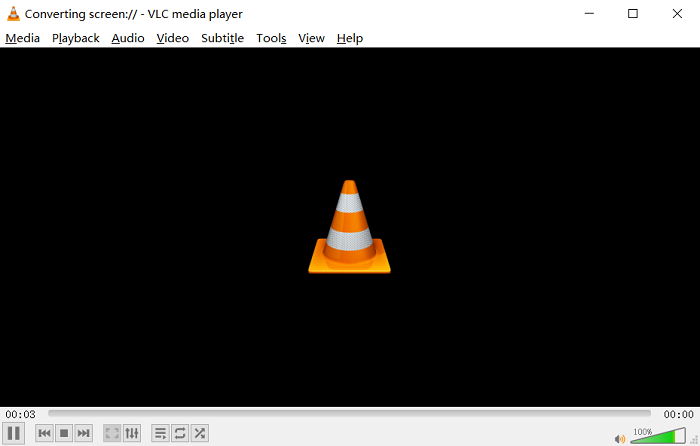 😘 What Makes it Stand out
Free & No time limit.
Record without watermark.
Multifunctional: it can be used as a media player and screen recorder.
😥 Not So Good
Complicated operation steps.
Old-fashion user interface.
No advanced recording features such as scheduling recording tasks.
💰 Pricing
Top 9. Recordcast (Windows & Mac)
⭐ Our Rating: 4.5/5
Recordcast is not a desktop screen recorder but an all-in-one online screen recorder. No matter you are a Windows 11/10/7/8 user or a Mac user, you can use this powerful online recorder. Recordcast provides three recording modes: Screen + Webcam, Screen Only, and Webcam Only. You can freely use it to create a 30-min recording. As an online free screen recorder, it is also built with a versatile editing tool so that you can easily add background music, elements, or text messages and set overlay.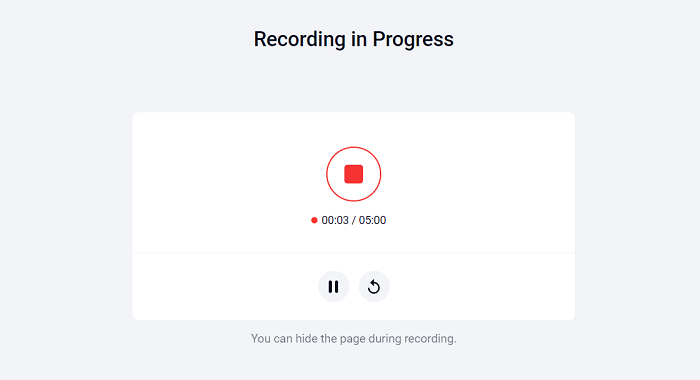 😘 What Makes it Stand out
Provides basic recording modes.
Kinds of video editing tool.
Provides high-quality video.
😥 Not So Good
Recording time limitation of 30 minutes.
Online screen recorder is not a good choice for long-time recording in case of stability and data security.
💰 Pricing
Top 10. Screencast-O-Matic (Windows & Mac)
⭐ Our Rating: 4.5/5
With Screencast-O-Matic, you can perfectly record as many videos as you want. And every recording can last for up to 15 min each. More importantly, this screen recorder is free although it has a time limitation. But if most of your need is to record short videos, Screencast-O-Matic is suitable. It can capture any area on your computer and even record from your webcam. In the meantime, there is an in-built video editing tool that empowers users to make some simple cutting like the beginning and endpoint. Audio recording is also permitted.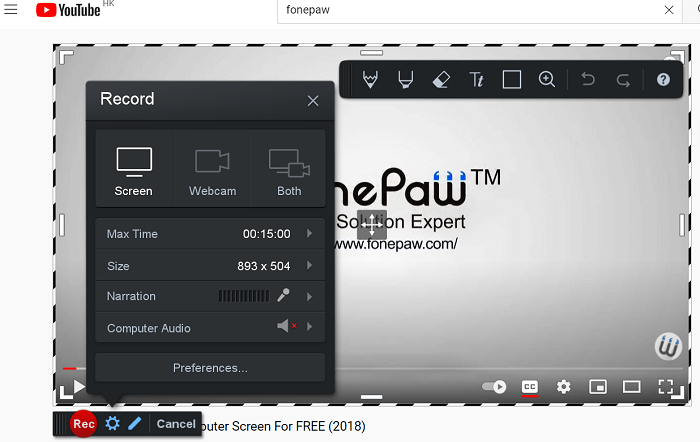 😘 What Makes it Stand out
Record any area of screen activities.
Quick-share to Google Classroom or social platform.
Equipped with a simple editing tool.
😥 Not So Good
Time limits up to 15 minutes.
No audio tools like noise cancellation.
Need to download a web launcher without a custom installation path.
A webpage needs to be opened when launching it.
Can't launch without updating after downloading.
💰 Pricing
Free trial
Solo deluxe: $4.00/mo (paid annually)
Solo premier: $5.75/mo (paid annually)
A Comparison of the 10 Screen Recorders Without Watermark
With their own features, these 10 screen recorders without watermarks each stand out in different situations. Now let's have a quick overview of the details about their features and performance of them.
| | | | | | | | | |
| --- | --- | --- | --- | --- | --- | --- | --- | --- |
| Product | Clear Interface | Area Selection | Audio Selection | Quality | Max Recording Length | Editing Tool | No Lag | Overall Score |
| FonePaw | √ | √ | √ | High | unlimited | √ | √(up to 60fps) | 4.9 |
| FlashBack Express | √ | √ | √ | High | unlimited | × | √ | 4.7 |
| OBS | × | √ | √ | High | unlimited | √ | × | 4.6 |
| Free Cam | √ | √ | √ | Middle | unlimited | √ | × | 4.6 |
| Icecream | √ | √ | √ | High | unlimited | × | × | 4.6 |
| Apowersoft | √ | √ | √ | High | unlimited | × | √ | 4.6 |
| Windows 10 Game DVR | √ | × | √ | Middle | 2h | × | √ | 4.5 |
| Recordcast | √ | × | √ | High | 30min | √ | × | 4.5 |
| Screencast-O-Matic | × | √ | √ | High | unlimited | √ | √ | 4.5 |
| VLC | × | × | × | High | unlimited | √ | × | 4.3 |
FAQs
Q1: How can I choose the best free screen recorder with no watermark?
As there are many screen recorders on the market, you should make it clear at first that what kind of features you need the most. If you want to find the best free screen recorders with no watermark, you can just refer to this article and then pick the ones that have the features you exactly need.
For example, if you want to get a screen recorder without watermark that is totally free, you can consider using OBS, Apowersoft Online Screen Recorder, and etc. If you can bear that there are time limits of the recorder and more prefer about multifunctional screen recorders no watermark, you can choose FonePaw Screen Recorder, Screencast-O-Matic, and etc. instead.
Q2: What are the best screen recorders without watermark on Mac?
If you need to find a best screen recording tool that does not add watermarks on your Mac, you can pick some mentioned in this article that is not only compatible with Windows, but also the Mac computers, such as FonePaw Screen Recorder, OBS, Apowersoft Free Online Screen Recorder, VLC, or more. It's also noted that Mac itself also has a built-in screen recorder, QuickTime Player, which may also satisfy your need.
Verdict
Here is all the information of ten free screen recorders with no watermark. You may ask which is the best screen recorder for PC free without watermark? The answer is decided on your needs. If you want a free screen recorder that is used to record gameplay in 60fps without lag, you are recommended to use FonePaw Screen Recorder which performs well during our test. Download and have a try!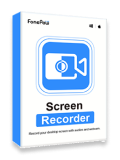 Screen Recorder
Capture every loving moment of your screen on Windows and Mac!