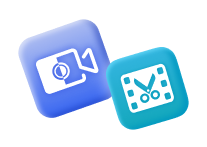 Screen Recorder + Video Converter Ultimate
Shop Now
With the popularization of Windows 11, the problem of how to record screens with audio on Windows 11 always haunts you. In the app store, some screen recording software is either not compatible with Windows 11 or difficult to operate. And sometimes you will find these low-grade recording applications can not even capture images and sound together. For more convenience in terms of work and entertainment, this article has compiled 4 powerful screen recording tools for you, which can be fully applied on Windows 11.
How to Screen Record on Windows 11 with FonePaw🔥
FonePaw Screen Recorder is an all-in-one desktop application on Windows and Mac. With FonePaw, you can capture any audio-visual activity on your computer whether you're in an online meeting, recording a game, or capturing a music clip. And a simple click you can share your recording to multiple social medial platforms. Most importantly, FonePaw Screen Recorder is featured as a user-friendly design. A simple interface helps you manipulate the tool with ease. And some advanced settings can save time and energy you cost.
Main features of the FonePaw Screen Recorder
Multiple scenarios can be recorded - FonePaw supports recording screen, recording audio (both the system sound and the external sound), recording gameplay, and recording webcam.
Practical functions boost screen recording - FonePaw supports selecting specific recording areas or windows on your computer and its built-in feature can cancel noise and enhance microphone and system sound.
Recording preference settings - when recording, you can choose to capture your mouse or not, change the color of your mouse cursor, customize the hotkeys and you can choose if it shows a countdown before recording.
High-quality output and Various output formats - FonePaw can output video and audio files in original quality and with legacy (frame rates up to 60 fps). Besides, to meet different demands, the tool supports output formats including MP4, MOV, AVI, F4V, MP3, WMA, AAC, and M4A.
Add Annotations & Personalize Watermark - FonePaw supports adding annotations when you record your screen. And you can set whether to put a watermark on your videos considering by default the recorded video is watermark-free.
Advanced settings save your time - FonePaw supports setting a timer to start and stop screen recording automatically and the recording length is allowed to be preset as well.
Steps to Record Screen on Windows 11 with FonePaw Screen Recorder
Step 1. Download and launch the software on your computer
You need to download FonePaw by clicking the button below first, and then open it on your computer.
Free Download Buy with 20% off Free Download Buy with 20% off

Note:
Step 2. Customize the recording area
After you enter the main interface of FonePaw, you can directly head to the Video Recorder section and choose the specific area or window you want to record.

Step 3. Change settings before recording your screen
According to your reality, you can turn on/off the webcam, the system and microphone sound.

Also, for better output, you can go to the Preference menu, where you can change settings such as hotkeys, video quality, frame rate, video format, etc.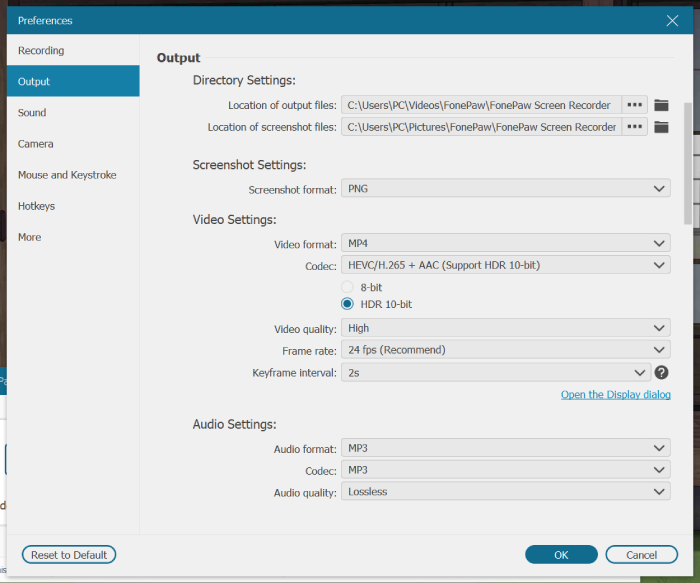 Step 4. Start to record your screen
After you finish all preparations, you can click the REC button to start your screen recording.

During recording, you can see a floating panel. You can add some annotations or make snapshots based on your reality from the panel.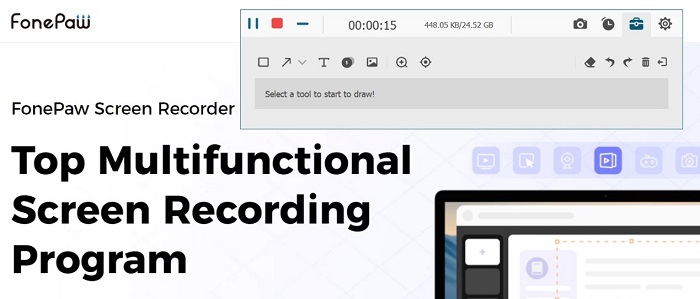 Step 5. End screen recording
If you want to end your recording, you can press the Ctrl + Alt + S keyboard shortcut or click the red rectangle button to end it. You can also click the Clock icon to preset a recording length and let the recorder automatically stop video recording when time is up.
How to Record Screen on Windows 11 Using Xbox Game Bar
As a built-in game recorder for Windows computers, Xbox Game Bar has many users for its convenience. By pressing the Win + G button, you can initiate the Xbox Game Bar on your computer. Although Xbox is a pre-installed recording tool, it has the ability to capture your screen and record your gameplay with audio, microphone, and webcam. You can refer to the steps below to record screen and audio on Windows 11 with Xbox.
Step 1. Head to the Start menu and find Xbox Game Bar. Or tap Win + G to launch it.
Step 2. Click the Camera icon to open the Capture window.

Step 3. If you want to record your screen and voice together, you can click the Microphone icon.

Step 4. Open the application and you can hit the Record button to start the recording.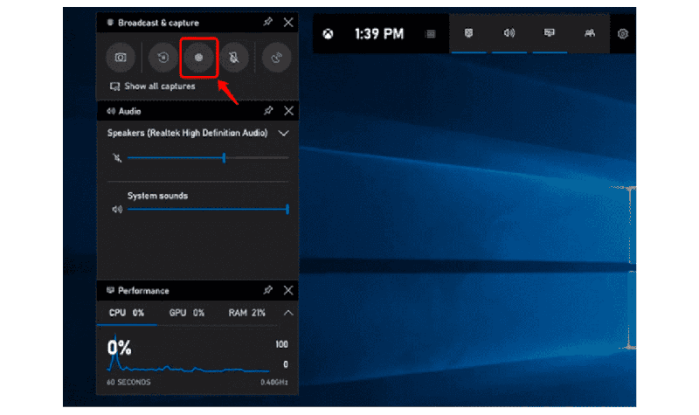 Step 5. When you want to end the recording, you need to tap the Stop button.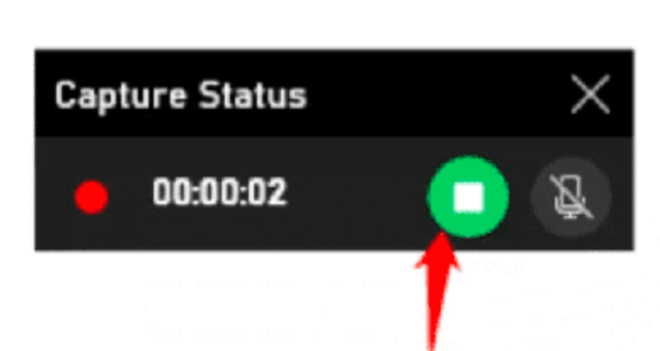 You can check the recording by clicking Show All Captures at the bottom of the Capture window.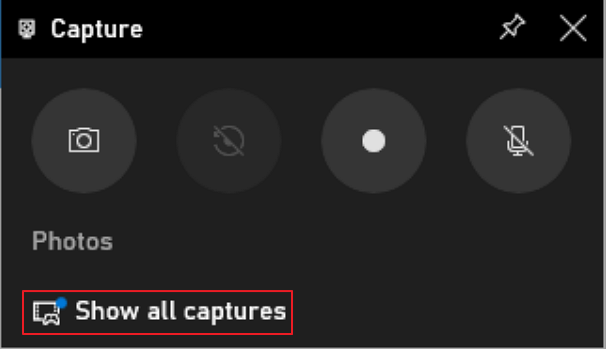 Owing to Xbox Game Bar being a preinstalled application, it is flawed in technological support. Sometimes you can't launch it on your computer successfully. And in terms of screen recording, it can't record desktop and system operations, but only software and games can be recorded. And it can't record multiple windows at the same time per run. So if you're looking for a better recording screen experience, you'd better try FonePaw Screen Recorder.
How to Record Your Screen on Windows 11 Using OBS Studio
OBS is famous for its profession and free, so it is also a highly recommended recording application for you. If you are one who wants to challenge professional and somewhat cumbersome software, the OBS app is suitable for you. OBS especially does well in recording gameplay and it can also stream your gameplay to Twitch, YouTube, and more. Follow the steps below and you can learn how to screen record on Windows 11 with OBS.
Step 1. Download and launch OBS Studio on your computer first.
Step 2. Before recording, you need to change some recording settings, including Video Bitrate, Recording Path, Recording output format, and so on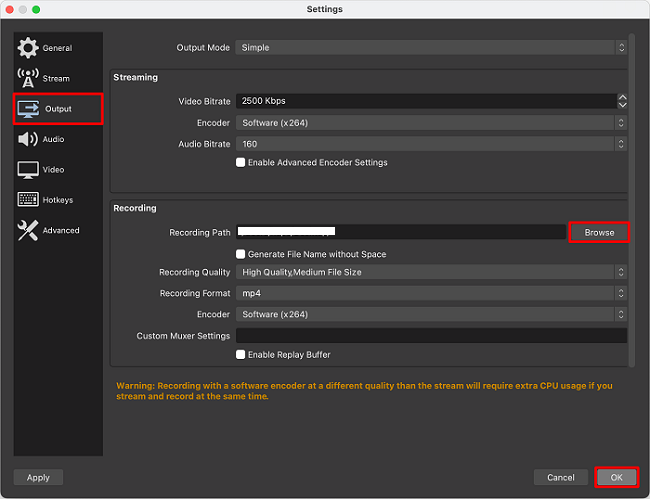 Step 3. Return to the main interface, and hit the + sign under the Sources section.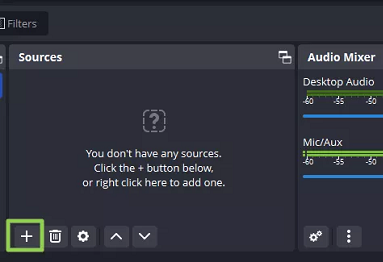 Step 4. In the drop-down menu, you need to select the Display Capture option.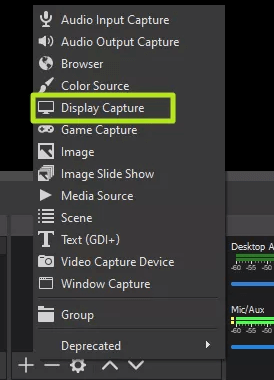 Step 5. A pop-up window named Create/Select Source will appear, and you need to name the new source and confirm it.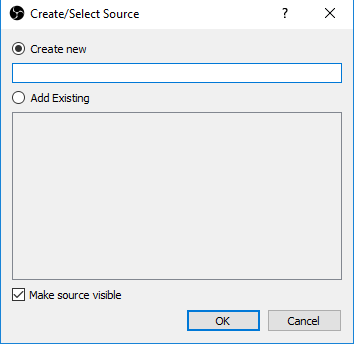 Step 6. Choose the capture method and the display device according to your device.
Step 7. Based on your demands, change the desktop or microphone audio setting. And then start to record your screen or your gameplay by clicking Start Recording.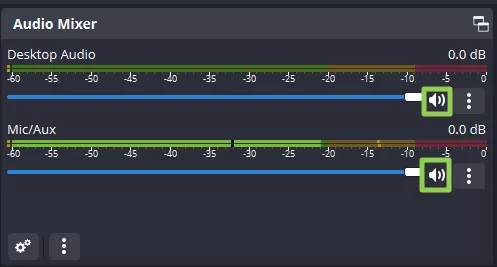 Step 8. To stop the recording, you need to click Stop Recording on OBS.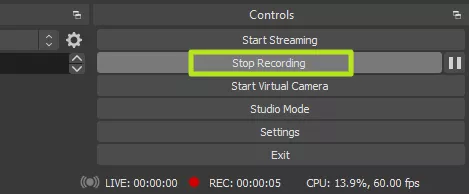 How to Screen Record on Windows 11 Using PowerPoint
Do you use PowerPoint a lot? Do you know that PowerPoint can also record the screen? PowerPoint by Microsoft serves as effective office software that can make people a quick glimpse of one program. Not only that, but PowerPoint can also be used as a handy screen recording tool to help you complete simple video recording tasks. Here are the steps of recording screen on Windows 11 with PowerPoint.
Step 1. Launch PowerPoint on your computer, head to the Insert section, and click Screen Recording from the Media group.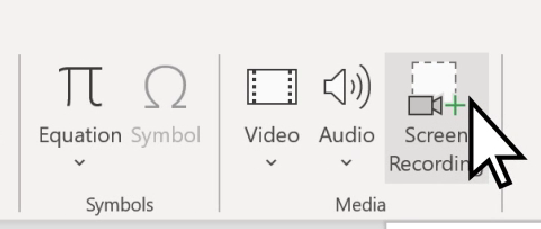 Step 2. Open the presentation or window you want to record and select the recording area.

Step 3. Click on the Record button to start the recording. When recording, you can add some annotations.

Step 4. When you are finished, you can directly click the Stop button and your recording is added to the slide.

Step 5. If you want to save the recording, you need to right-click on the video frame and select Save Media as.

FAQs of Recording Video on PC Windows 11
How to Screen Record on Windows 11 with Audio?
Recording on Windows with audio is not hard to achieve. You can refer to the two ways below:
● Xbox Game Bar - When you record your screen with Xbox, you can go to the Audio section to turn on the system sound and you can open the Microphone to capture your own voice.
● FonePaw Screen Recorder - FonePaw is equipped with a full range of audio recording capabilities. Be system sound, external sound or microphone sound, they can be recorded simultaneously with video. In addition, FonePaw's powerful noise reduction and vocal enhancement features allow for clearer sound recording.

What Is the Shortcut to Record screen on Windows 11?
To make screen recording on Windows 11 more efficient, you can use the following shortcuts when using the built-in software Xbox Game Bar.
Win + G: Open Xbox Game Bar
Win + Alt + G: Record the last 30 seconds (you can change the amount of time recorded in Xbox Game Bar > Settings )
Win + Alt + R: Start/stop recording
Win + Alt + B: Turn HDR on or off
Win + Alt + PrtScn: Take a screenshot of your game

Note:
Applies to the Xbox Game Bar app version 5.721.7292.0 or newer.
Conclusion
Overall, screen recording is easy to accomplish on Windows 11 via various methods. If you don't want to download extra software on your computer, you can use Xbox Game Bar and Microsoft PowerPoint to record some simple video. If you want to try a more fully professional application for more elaborate screen recording, OBS is certainly a good choice.
However, considering the difficulty of using OBS and the shortcomings of Xbox and PowerPoint, FonePaw Screen Recorder seems to be a great choice that is both practical, all-purpose, and easy to operate. If you want to make screen recording easier on Windows 11 anytime, anywhere, then try FonePaw Screen Recorder!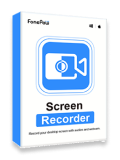 Screen Recorder
Capture every loving moment of your screen on Windows and Mac!