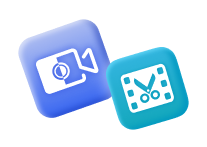 Screen Recorder + Video Converter Ultimate
Shop Now
Think about it, what entertainment takes up most of your time in life? The answer to this question must be binge-watching videos. Be Tiktok or YouTube audience, you will always be attracted by the opportune music in a video.
If you also want to make interesting videos or extract these enchanting audios, what audio recording software should you use to get massive music materials? To help you out, the top 8 audio recording software for Windows and Mac has been gathered in this article. Read carefully, and you can find the right music recorder software for yourself.
1. FonePaw Audio Recorder – Best Audio Recorder for Basic Features

Free Download Buy with 20% off Free Download Buy with 20% off
The first and best audio recording software on computers is FonePaw Audio Recorder. Why is this software the best? Because with this software you can record the system sound on the computer. You can use this software to access interesting music materials from a variety of audio and video platforms. Not only that, but the software can also record external sounds, such as microphone sounds. Thus, you can use it to create your own music or commentary channels and directly share them on different streaming services.
When you use this software, you don't have to worry about noise. Because the software is equipped with a noise cancellation feature. And if you feel the microphone sound is a little weak, you can turn on the microphone enhancement feature to strengthen the input sound. Similarly, the system sound can be enhanced in the same way.
When the recording is completed, the audio can be saved in MP3, WMA, AAC, and M4A formats. Not satisfied with the audio you recorded? You can use the audio clip feature provided by the software to perfect your works.
📌 Key Features:
Simultaneously or separately record microphone and system sound
Multiple output formats and lossless audio quality with low latency
Supports audio clip and one-click share
Supports noise cancellation and sound enhancement
Some advanced features like Task Schedule can help you save time
💰 Price:
Free trial.
A one-time charge of $113.95, a one-year purchase of $54.95, and a monthly subscription of $27.95.
💻 Compatibility: Windows and MacOS
How to Record Audio on Computer with FonePaw Audio Recorder
Step 1. Click the download button below to install the software on your computer.
Free Download Buy with 20% off Free Download Buy with 20% off
Step 2. Launch FonePaw Audio Recorder and click the Audio Recorder in the main interface.

Step 3. Turn on the System Sound button or the Microphone button depending on your needs. You can also drag the slider to control the volume.

Step 4. After setting up, you can click REC to start a recording.
Step 5. To end the recording, click the rectangle icon. You can preview your audio recording before you save it.

Video Tutorial of Recording Audio on Computer

Note:
FonePaw Audio Recorder is an all-in-one recording tool that can not only record audio but also video and screenshots. If you have professional game recording needs, this software can also help you make it.
2. Audacity – Free Audio Recording Software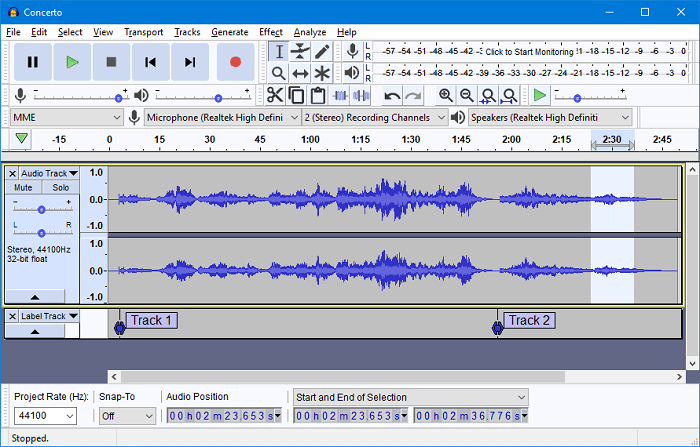 Audacity is an open-source and free audio recorder that is compatible with Windows, Mac, and other systems. It is not only music recording software, it can also edit audio. Its main page displays the sound waves when recording or editing audio, which can help users to better locate the pieces that need to be modified.
Although this software supports multi-track recording, it is not suitable for you if you are not specialized in audio recording. Because its complicated functions and interface may daunt you.
📌 Key Features:
free and open-source
Supports multiple track recording and recording editions
Supports many plugins to extend functions
High-quality output and low latency
💰 Price: Free
💻 Compatibility: Windows, macOS, GNU/Linux
3. QuickTime Player – Exclusive to Macbook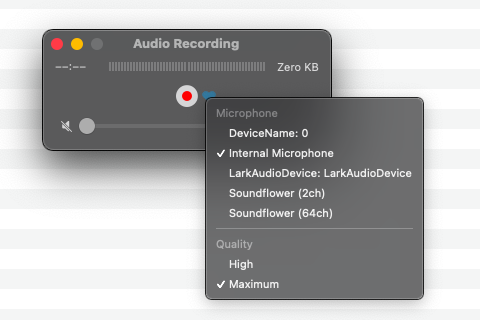 If you are a Macbook user and don't want to download third-party applications, you can try QuickTime Player. Usually, people will think of this application as a common media player. But QuickTime Player is a built-in audio Recording Software on Macbook.
However, QuickTime Player can only record system audio and streaming audio on your Mac. To record the sound as it is outputting from your Mac's speaker, you have to download Soundflower for Mac to help.
📌 Key Features:
Record audio on Mac with ease
Live file size of your sound recording
Supports movie and screen recording
Supports edition function
💰 Price: Free
💻 Compatibility: MacOS
4. Ardour – Hard Disk Recorder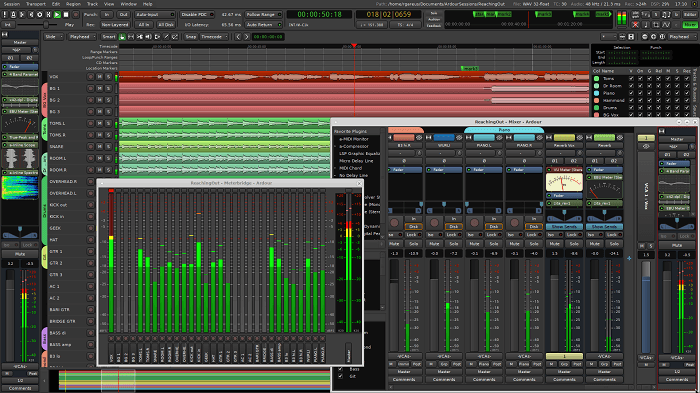 If Audacity is suitable for green hands, then Ardour can be handy for most music lovers. Compared with Audacity, Ardour boasts a musical workstation to edit both voice and music.
Similarly, Ardour is a free recording tool that you can use it on almost all operating systems. With it, you can record multi-track audio. You can use some edition functions like cutting or splitting audio. What's more, you can import MIDI files or audio from your computer hard drive, and then you can create your personal unique style of music.
📌 Key Features:
Hardware audio capture
Supports various plugins and add-ons
Supports multi-track recording and audio edition
Supports mixing audio
💰 Price: Free
💻 Compatibility: Linux, macOS, and Windows
5. Adobe Audition - Professional Audio Workstation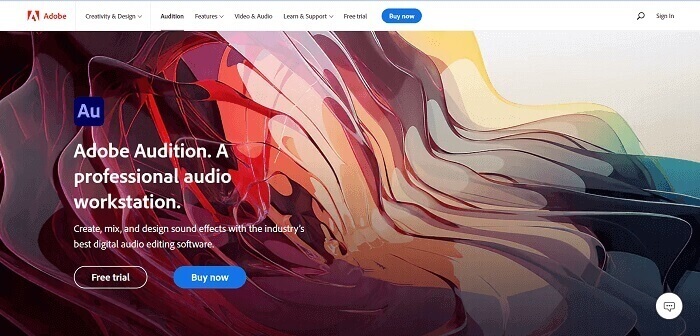 When it comes to professional music workstations, Adobe Audition must be competitive. Audition is a comprehensive toolset that includes multitrack, waveform, and spectral display for creating, mixing, editing, and restoring audio content. This powerful audio workstation is designed to accelerate video production workflows and audio finishing - and deliver a polished mix with pristine sound.
📌 Key Features:
Supports Multiple Audio file types
Integrates or extracts audio clips
Supports multi-track audio recording
Supports multiple audio edition functions
💰 Price: Subscription for $20.99 per month
💻 Compatibility: Windows and MacOS
6. WavePad – Best for Audio Recording with Effects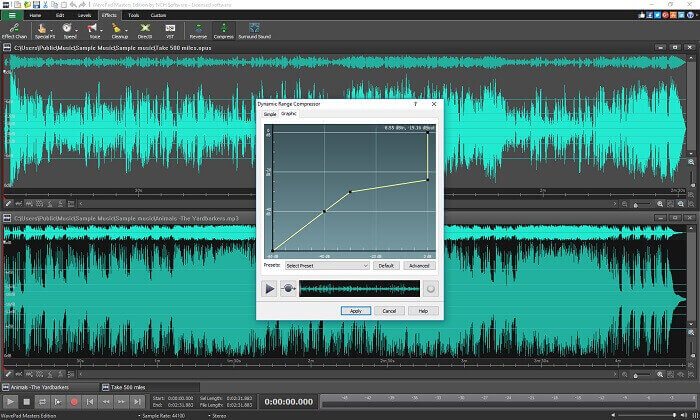 If you want to add some special effects to your audio, you can't miss WavePad. WavePad is a well-featured audio and music editor. With its usage, you can cut, copy and paste recordings, and you can add effects like echo, amplification, and noise reduction to make your audio better.
In addition, WavePad is an audio recording tool that owns all functions you need. And you can get started in a breeze for its user-friendly interface.
📌 Key Features:
Over 20 Filters and tons of effects
Supports multiple audio edition functions
Supports various output formats
💰 Price: Free trial and different subscription plans
💻 Compatibility: Windows and MacOS
7. Wavosaur – Free Audio Recorder and Editor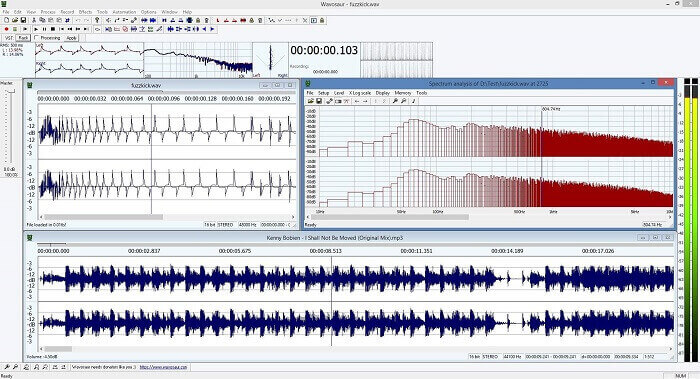 If you can use Audacity skillfully, then you will be able to master the functions of Wavosaur easily. Wavosaur is a free audio editor and audio recording application that is similar to Audacity. This software is packed with the necessary recording and audio editing functions, so you can use it for all your basic recording and editing needs. In addition, Mixing and mastering functionality is also available thanks to its effective VST processing.
📌 Key Features:
Supports VST processing
High-quality output and low latency
Supports lots of plugins
💰 Price: Free
💻 Compatibility: Windows and Mac
8. Ocenaudio - Easy, Fast, and Powerful Audio Editor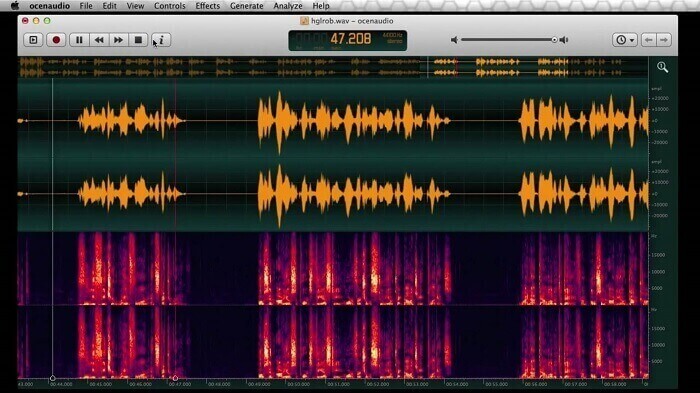 Ocenaudio is also a free audio editing tool with a recording function, but it is easier to use than the previous ones of the same type, for its simple interface. When editing audio, you can find that the software is packed with many effects and you can preview them in real-time, although the editing is in progress. Besides, you can also simultaneously select multiple different parts of the same audio to edit, listen or apply effects on.
📌 Key Features:
Simple interface and easy to use
Real-time audio effect preview
Support for simultaneous multitasking
💰 Price: Free
💻 Compatibility: Windows and Mac
Conclusion
There is countless music recording software, and you need to choose the best one for you in conjunction with your factual needs. But if you are simply recording the sound of your computer or microphone, FonePaw Audio Recorder is still the most recommended. Because it is easy to get started, and it has the features to meet the basic audio recording needs. Then if you have other demands to record the computer screen, this software can also help you!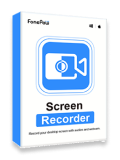 Screen Recorder
Capture every loving moment of your screen on Windows and Mac!