Recording audio from computer with can be a common task. When you want to record your singing, lecture, or other voiceover for videos with microphone, or record online songs, podcasts, etc. from system sound, an audio recorder program is needed. If you are finding a good method to record either or both of the audios from computer, this post is for you.
In this article, we will show you the ways to record audio from computer with 4 popular audio recorders, which perfectly work on different platforms including Windows PC and Mac. Also, we will provide you with step-by-step guidance on how to record the audio from the computer.
Read on and choose the best tool for recording audio from the computer.
A Comparison Between Third-Party Audio Recorders and Built-in Tools
You may review this summary table to decide which audio capturing program can meet the best of your needs.
| | | | | | |
| --- | --- | --- | --- | --- | --- |
| | Record both internal & external sound | Supported output audio formats | Easy to use | Allow editing audio | Free to use |
| FonePaw Screen Recorder | √ | WMA, MP3, M4A, AAC | √ | √ | √ (Full functions need to be activated after purchase) |
| Audacity | √ | MP3, WAV, OGG | × | √ | √ |
| Windows 10 Voice Recorder | × (External sound only) | M4A | √ | √ | √ |
| QuickTime for Mac | × (External sound only) | AAC | √ | √ | √ |
The two built-in tools can help you record audio with no need, when the two third-party audio recorders allow you to record audio in higher quality with more customizations – and FonePaw Screen Recorder is the most versatile and easy-to-use one.
It's time to pick up one for a try. With these helpful tools, you don't have to hold up a smartphone but simply launch an audio recording app to record the sound coming from your computer.
The Best Audio Recorder to Record Both Computer Sound & Microphone🔥
The first and top recommendation for recording audio on computer is FonePaw Screen Recorder. It is a straightforward recording tool that helps skip all complicated set-ups and enables you to directly record internal sound on computers and external audio sources. You can conveniently record your microphone sound once it connects to the computer.
Besides, this audio recorder supports noise cancellation so you don't have to worry that there will be damage to the audio quality of the recorded sound. It's also very easy to set up recording audios from internal and external sources respectively or simultaneously, and you can even record your screen and webcam at the same time if you want.
Free Download Buy with 20% off Free Download Buy with 20% off
The Windows version also supports a highlight feature—schedule recording, which allows you to end an audio recording automatically at a specific time so that you don't need to be around the computer all the time. When the recording is ended, the recorded audio can be saved and converted to MP3, WMA, AAC, M4A audio files.
Beyond recording computer sound, this audio recording tool can serve as a convenient streaming audio recorder. You can use it to record streaming audio from Internet radio stations, music sites, video platforms (YouTube, Vimeo, etc.), record Skype/VoIP phone calls, and virtually every audio material.

Tips:
As audio recording is just one of the functions in the three-in-one recording software, you can utilize the program to record computer screen with audio, record gameplay, and take screenshots.
How to Record Audio on Computer with FonePaw Audio Recorder
💡This method is applicable to record: internal audio & external audio.
STEP 1. Free download FonePaw Screen Recorder and install it on your computer.
Free Download Buy with 20% off Free Download Buy with 20% off
STEP 2. Launch the program and you'll find this intuitive screen recording tool is designed with three sections: Audio Recorder, Video Recorder, and Game Recorder. To record audios on the computer, simply select Audio Recorder.

STEP 3. Turn on System Sound button if you need to record the internal sound from computer. And turn on Microphone button when you need to capture your voice. Toggle on the two buttons if you need both. You may drag the slider to control the volume.


Tips:
If you are going to record the microphone sound, it's recommended to turn on Microphone noise cancellation and Microphone enhancement to make your voice clearer in the audio output. Besides, it's suggested to click on the settings icon and do a soundcheck beforehand in Preferences to guarantee a high audio recording quality.
STEP 4. When you are ready, click the REC button to start recording.
The pop-up prompt window shows that you can also use hotkeys to control. Click Preferences, you can set and change keyboard shortcuts to the ones you like.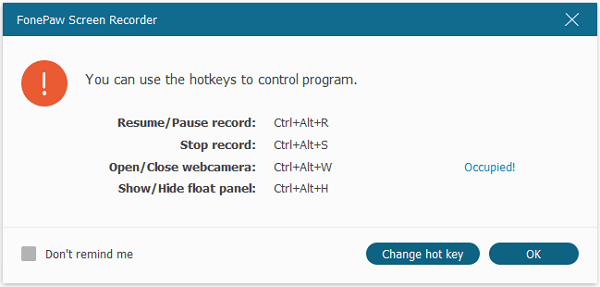 STEP 5. During the recording, you can control the audio volume in real-time. To end the recording, click the rectangle icon.
Then just preview, trim (if you need), and save the audio recording to your computer.


Tips:
1. If You need the recording to end automatically at a specific time, click the clock icon, and enter the expected duration of the recording. When the time is up, the recording process will stop and the program will save the recording automatically.
2. You can decide on what format the audio file should be saved by going to More Settings> Output > Audio Format.
3. If you accidentally quit the recording, you can relaunch the program to save the canceled project.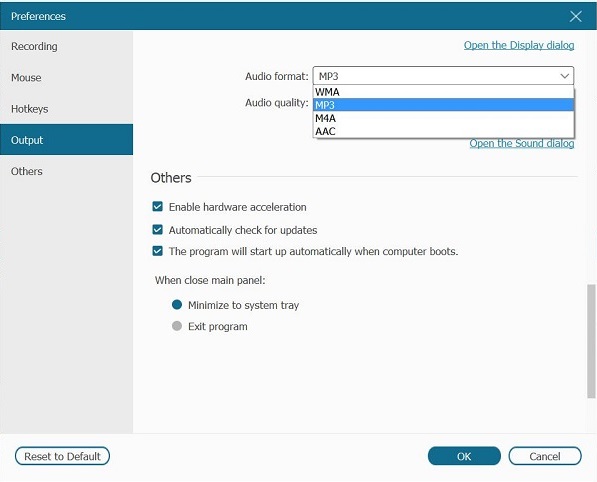 A Great Alternative: Audacity (Best for Recording Music on PC/Mac)
💡This method is applicable to record: internal audio & external audio.
To record audio on Windows 10, a professional and popular alternative to FonePaw Screen Recorder is Audacity. It is an open-source and free audio recorder on PC that is perfectly compatible with Windows, Mac, and Linux. In addition to audio recording, this lightweight program also comes with options for editing audio. And while recording or editing audio, the sound will appear in waveforms helping you easily notice the noise and edit the unwanted parts.
Compared with FonePaw Screen Recorder, Audacity has the support for processing and mixing multiple soundtracks. Technically, you can record both your computer audio and microphone sound with Audacity. But if you have the need for recording multiple tracks, ensure that you have a sound card that has the ability to have multiple inputs simultaneously available for input.
Here we'll offer you the simple guide on how to use Audacity to record audio from computer:
Step 1. Launch Audacity on your computer, and prepare the audio you want to record.
Step 2. Click the red button to start recording.
Step 3. When you finish recording, click the square button. Then, you can export the recorded audio as MP3, WAV, OGG, etc.
You can refer to this page to learn how to record audio from computer with Audacity. It may require some efforts to do the setup.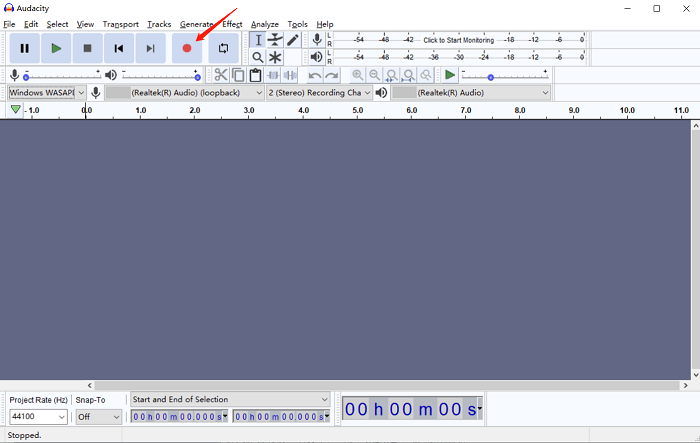 Still, you may prefer some solutions that don't require downloading extra software. The following parts will show you how to record computer audio with some built-in tools on Windows and Mac.
How to Record Audio on Windows 10 with Stereo Mix (No Download)
💡This method is applicable to record: internal audio & external audio.
We all know that Windows 10 computer has a built-in Voice Recorder, and disappointingly, the recorder can only record sound from the microphone. But once you enable the Stereo Mix option on your PC, you can record the sound on your computer system as well as the sound that comes out of your speakers.
What is Stereo Mix?
Stereo Mix, also called "What you hear", is the name of the output stream after all channels have been mixed. Sound drivers on your computer probably support Stereo Mix, however, the option is usually disabled by default on most Windows (Windows 10/8/7). By enabling the Stereo Mix option, Voice Recorder can record system sound on your PC through Stereo Mix instead of microphone.

Note:
Some Windows PC may not come with the Stereo Mix option. In this situation, we suggest using third-party audio recording software on PC such as FonePaw Audio Recorder and Audacity mentioned above if you want to record computer sound.
Free Download Buy with 20% off Free Download Buy with 20% off
How to Enable Stereo Mix
STEP 1. Right-click audio icon in your system tray and choose Sound from the list to open Sound panel.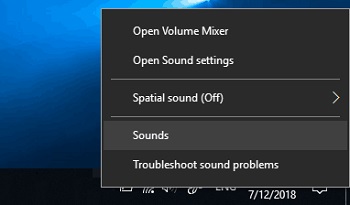 STEP 2. Under the Recording tab, right-click Stereo Mix, and click Enable.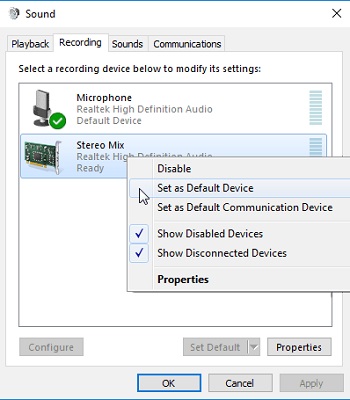 STEP 3. To ensure that your audio recorder uses Stereo Mix instead of Microphone to record computer sound, set Stereo Mix as your default input device.
When you successfully enable Stereo Mix, you can use any audio recorder program, like Audacity we mention above, to record the audio from Stereo Mix. Just choose the sound source as Stereo Mix on your recording program, and the system sound & microphone sound will both be recorded.

Tips:
If you don't see the Stereo Mix option, the option could be hidden. Under the recording tab, right-click the blank area and make sure Show Disabled Device and Show Disconnect Device is checked.
How to Record Audio on Computer with Windows 10
💡This method is applicable to record: external audio.
The biggest highlight of the Voice Recorder app on Windows 10 is that you can directly record internal audio on PC without the need to search and test a program. In most situations, Voice Recorder for Windows 10 can serve as a reliable PC sound recorder to capture audio. When recording sound or music, you can add markers to highlight important moments. The built-in voice recorder also gives the option to flexibly pause the process.
Here's how to record audio with Voice Recorder on Windows 10.
STEP 1. Launch Voice Recorder on your PC. You can right-click the Windows icon and use Search to locate the recorder.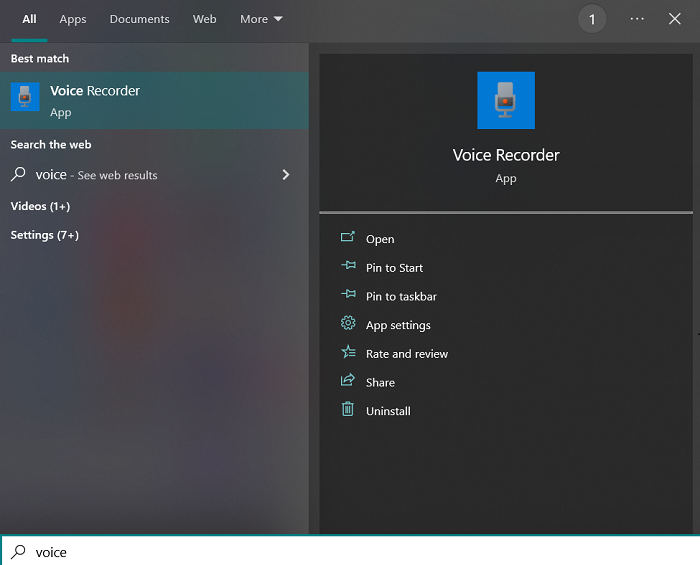 STEP 2. The Windows Voice Recorder is super intuitive and simple-to-use. Just click the mic icon in the middle to start recording the audio that is playing on your computer.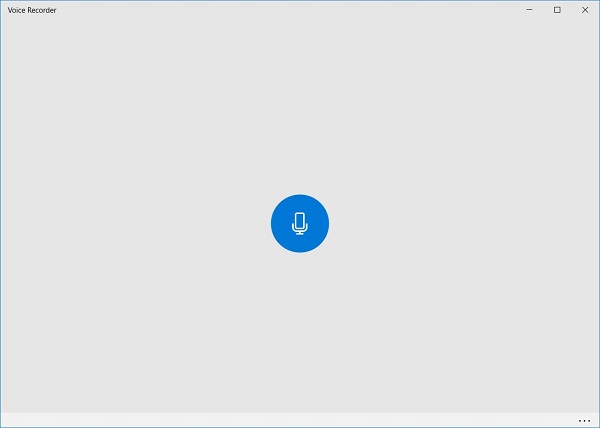 STEP 3. When the audio you need to record stops, click the blue button again to end recording. The recorded audio will be saved as M4A format in your local folder.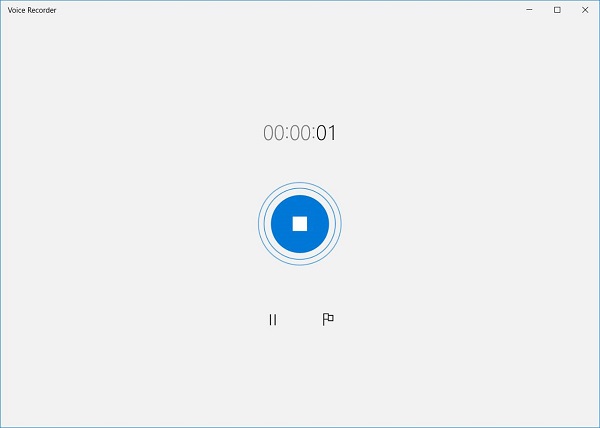 How to Record Audio from Mac with QuickTime Player on Mac
💡This method is applicable to record: external audio.
If you are using a Mac computer, you can also record audio from a Mac computer in a simple way: by using QuickTime Player on Mac OS.
STEP 1. Launch QuickTime Player on your MacBook or iMac.
STEP 2. On the top, click File > New Audio Recording, which will open the audio recording panel.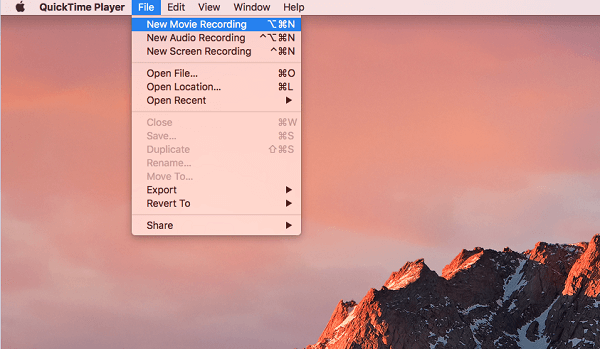 STEP 3. On the audio recording panel, you may adjust volume and audio quality. Click the red Record button to start recording audio on your Mac.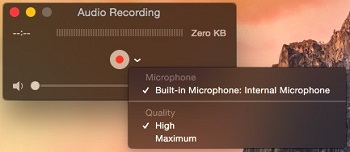 STEP 4. Click the Record button again when you feel like stopping the sound recording.
However, QuickTime Player can only record system audio and streaming audio on your Mac through microphone. To record the sound as it is outputting from your Mac's speaker, you can you can refer to this detailed guide.
Conclusion
Altogether 4 useful ways to record audio from computer have been introduced, and you choose the one suits you most. Among them, we still recommend you to try FonePaw Screen Recorder which can help you record both system sound and microphone sound easily.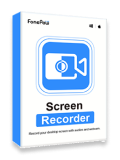 Screen Recorder
Capture every loving moment of your screen on Windows and Mac!