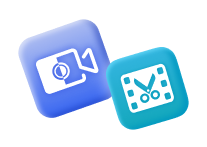 Screen Recorder + Video Converter Ultimate
Shop Now
Lagging and choppy screen recordings are quite excruciating. For people who record live streams, it is nearly a nightmare. As some screen capture software, especially game recording software, tends to crash or lag during recording, choosing a lag-free screen recorder is a key to recording screen video smoothly.
This post will introduce 6 versatile no lag screen recording software for Windows and Mac. They have gained great popularity and a high reputation because of their excellent performance in smooth screencasting. In the last past, there is also a form to compare their features. Now, read on and pick up the ideal recorder for your computer!
1. FonePaw Screen Recorder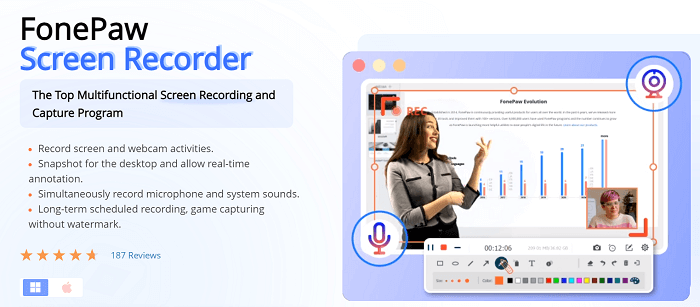 FonePaw Screen Recorder is a versatile no lag screen recording program with a handful of highlights. With this tool, you can easily record screen with computer system sound, the microphone, and the webcam. By applying hardware acceleration, the software can record gameplay and other screen activities with hardware components and therefore, offload your CPU and let the recording run smoothly without lag.
Platform: Windows, Mac
Free Download Buy with 20% off Free Download Buy with 20% off
More Highlight Features of FonePaw
Adjustable frame rates to ensure high-quality footage: Selectable frame rates range from 20 fps to 60 fps. As long as your hardware has good performance, you can record the screen with a high frame rate smoothly. Or if your computer is relatively low-end, you can also choose the most suitable frame rate for your device.

Adjustable video & audio quality: Similarly, video and audio qualities can be adjusted from the lowest up to the lossless. You can choose the one which can present you with screen videos of satisfactory quality and smaller size.

Built-in Game Recorder: The newly updated game recorder feature makes it convenient and flexible to record gameplay videos. By recognizing the running game program, it can automatically start and end the capturing, so that every user, especially game streamer, can just focus on the gaming moments while recording them.

A drawing panel for marking on your screen & mouse effect: When making a tutorial by screen recording, you are free to use annotation tools to highlight things on the screen. In addition, you can add a colored circle around your cursor and set a different colored circle when you click it so that your audiences can better follow you.

Schedule recording: There are many videos online which cannot be downloaded or live streaming videos. You can turn on schedule recording to let the recording ends automatically.

Save recorded videos in MP4, GIF, MOV, AVI, and more.
A Simple Guide to Record Screen Without Lag
STEP 1. Click the button below to download FonePaw Screen Recorder and install it.
Free Download Buy with 20% off Free Download Buy with 20% off
STEP 2. Double-click the icon of FonePaw Screen Recorder and you will see a clear and concise interface.

STEP 3. Click "Video Recorder", and you will see a new interface.

STEP 4. On this interface, you can choose the recording area by adjusting the light-blue-dashed-line rectangle. Or you can click the arrow-down icon in Display to choose to record full screen or custom screen.
In addition, you can decide whether to record your voice via the microphone button, whether to include system sound and webcam.


Tips:
You can do the Sound Check before the recording to make sure the recording sound is normal.
STEP 5. After all the settings, you can just hit the orange button (REC) on the right and the screen recording is on the going.
During the recording, clicking the pen icon on the control panel enables you to add words, arrows, marks, and numerical index on the screen.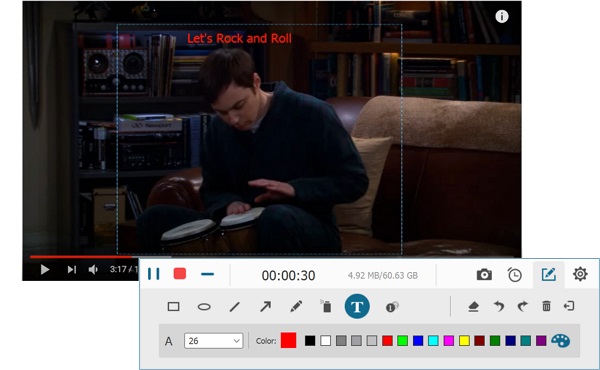 STEP 6. After finishing the recording, hit the red square button to stop and a recorded video window will pop up for your reviewing. Then you can click the Save button to save this video or leave it out by closing the window.
2. Camtasia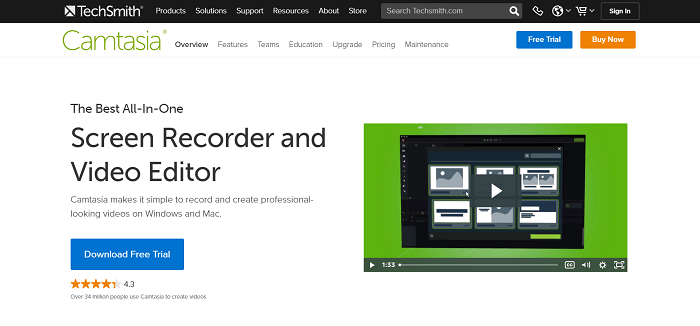 Another no lag recording software that we highly recommend is Camtasia. Besides an excellent screen recorder, it is also a useful video editor that allows you to instantly edit and improve your video recordings. Essentially, you can record any screen activities including websites, software, video calls, or PowerPoint presentations. It also adds a Web camera feature that is helpful in recording a reaction video. Basic features such as recording a specific region of the computer screen, audio recording, and recording mouse cursor are all integrated.
The biggest highlight of Camtasia is its editing feature. After recording your screen with no lag, the video recording footage can be dragged to the time and you can simply trim or cut your unwanted parts. To fine-tune your video, you can also zoom the timeline to go through frame by frame specifically. The professional Camtasia even comes with various editing effect to enhance your recording.
However, because it is also designed with video editing functions, the launch of the software can be time-consuming. Also, it can be difficult to operate for new beginners.
Platform: Windows, Mac
Key Features:
Lag-free record screen activities with audio and webcam

Powerful editing tool
3. OBS Screen Recorder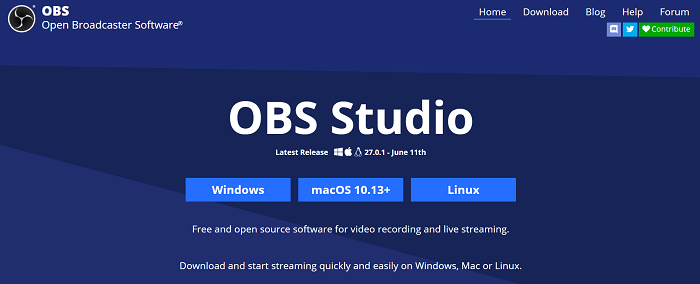 OBS Screen Recorder is also a free gaming screen recorder for PC with no lag. It provides a wide array of configuration options to tweak every aspect according to your needs. And you can save your video recordings to a wide range of file formats. Tech-savvy users may also find the OBS screen recorder extremely helpful and multifunctional because it has a steep learning curve. As a result, this can take a long time if you want to command all the settings.
Still, for anyone who needs to record lectures for class or record live streaming, OBS is powerful in that it allows for custom backgrounds and supports connecting with different streaming service providers. Basically, it is a reliable option to record screen with no lag.
Platform: Windows, Mac, Linux
Key Features:
Record screen with a wide range of configuration choices

Perfect for live streaming
4. Bandicam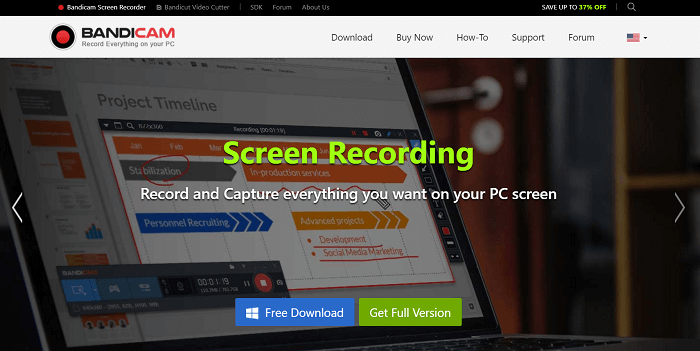 Bandicam is also a popular no lag screen recorder for all users. It is lightweight yet powerful so you can easily record any screen activities to save locally. Additionally, it has the support for recording the screen of external sources such as your game console, webcams, and IPTV. When recording, Bandicam offers options to add shapes, arrows, and text and also record mouse cursor with preset effects.
Just like other no lag reorders, you can conveniently record system audio and your voice with Bandicam and it requires no complicated operations. Other features such as task schedule and chroma key will also let you record the PC screen much flexibly.
A pity point is that this software is only compatible with the Windows system, for Mac version it's suggested to seek for another choice.
Platform: Windows
Key Features:
Support recording external sources

Record screen with annotations and highlight effects

Schedule recording
5. FBX Game Recorder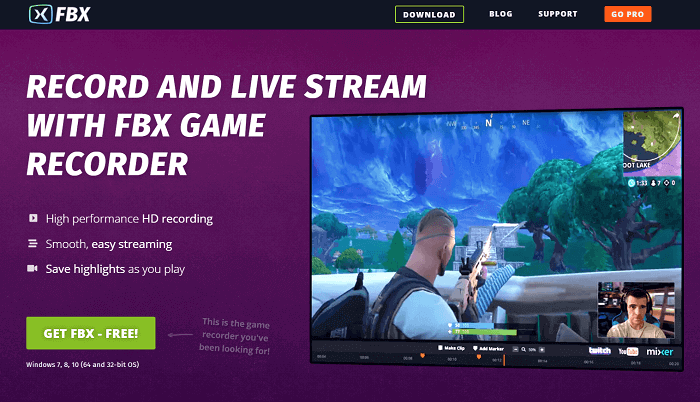 FBX Game Recorder is a Windows-only lag-free recording program designed for game players. As its name indicates, this recording software makes great efforts to satisfy the needs of recording games in high resolution, smoothness, and convenience. It supports HD recording and up to 144 fps (for a graphics card-based hardware encoder only) and also enables hardware acceleration.
You are open to capture game playing, record the desktop, make instant game clips, make screenshots and even live streams with it. And the built-in editing function, which allows you to make GIFs, write captions, add stickers and effects, helps you make customized and eye-catching game videos more easily. Though it doesn't support all the games and is not suitable for all kinds of recording, it's still one of the best no lag screen recorders.
Platform: Windows
Key Features:
Specialize in game recording

Useful built-in editing functions
6. ScreenRec

The last free and powerful screen recorder with no lag is ScreenRec. As a lag-free screen recorder, ScreenRec can be your optimum option to record high-resolution gameplay and tutorial videos. All recordings are created in small size and can be exported as popular MP4 video format. And while recording a lecture, it gives the option to add annotations to make your video recording much clearer and easy to understand. A big advantage of the video recordings that ScreenRec produces is that the content can be encrypted so you can control who has access and create a sharing link that only your team member can view the video. For those who value privacy, ScreenRec should be a perfect choice.
Platform: Windows, Linux, Mac (Coming soon)
Key Features:
Record high-quality videos in small size

Add annotations and encrypt the sharing content
Conclusion
With the reviews above, you should have got a general understanding of the recommended no lag screen recorders now. Provided that you may want to compare the features more intuitively, there is a table for you to help you make the last decision.
| | | | | | | |
| --- | --- | --- | --- | --- | --- | --- |
| | Support OS | Without Watermark | Webcam Recording | Annotations Adding | Video Editing | Task Scheduling |
| FonePaw Screen Recorder | Win/Mac | Yes | Yes | Yes | Yes | Yes |
| Camtasia | Win/Mac | Yes (Not for Trial) | Yes | Yes | Yes | Yes |
| OBS Screen Recorder | Win/Mac/Linux | Yes | Yes | No | No | Yes |
| Bandicam | Win | Yes (Not for trial) | Yes | Yes | No | Yes |
| FBX Game Recorder | Win | Yes (Not for trial) | Yes | Yes | Yes | No |
| ScreenRec | Win/Linux | Yes | Yes | Yes | No | No |
As all of the no lag screen recorders mentioned are free of charge or include a free trial, you can freely have a try. Hope you find the ideal and no longer suffer from lagging recording anymore!
FAQ About Recording Lags
1. Why my computer lags when I am recording games?
If you encounter lagging while when you are recording games, the issue may be caused by two reasons from the computer side:
The RAM and CPU of your computer are overloaded. If you are running multiple programs at the same time, you can try to open the task manager on you computer and quit some other processes that may take up the RAM memory.

The settings of your device are incompatible with the game. You can check and reset the settings again before you start the game.
Besides, the recording program also matters. In this case, the lag-free recording software which focuses on game playing is highly recommended for you. You can refer to what we have listed above, for example, FonePaw Screen Recorder, FBX Game Recorder.
2. My computer is old, and it often lags during recording. Is there any fix for this problem?
Basically, this lagging problem is probably caused by the hardware problem that the computer cannot handle the recording task. You can first try to reduce the fps, video or audio quality to see if the recording can go more smoothly. Or, for old and low-end computers, it's better to choose recording software that is lightweight but multifunctional, such as FonePaw Screen Recorder, ScreenRec, and Bandicam.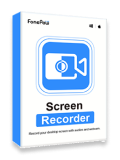 Screen Recorder
Capture every loving moment of your screen on Windows and Mac!