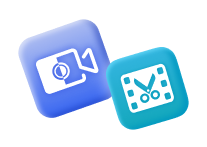 Screen Recorder + Video Converter Ultimate
Shop Now
Summary:
Many Mac users are bothered by the lack of support of Bandicam for the Mac system. For those who are seeking a Bandicam alternative for Mac, FonePaw Screen Recorder is a great choice. This program offers no less powerful functions than Bandicam, which can help you finish high-quality recording tasks easily on Mac.
"Bandicam looks nice on Windows. Is there Bandicam for Mac?" – From a Mac user
You might have noticed the name "Bandicam" on some screen recording videos or heard of its name from Windows users. It's such a powerful screen recorder that so many Mac users want to install Bandicam on Mac.
Unfortunately, Bandicam is an exclusive Windows software; in another word, it is not available for Mac. It's such a pity.
Since Bandicam doesn't support the Mac system, you may wonder if there is another screen recorder that can satisfy your recording needs as well as Bandicam on Mac. Here we'll recommend a top screen recorder to you, which is definitely one of the best Bandicam alternative for Mac users.
The Best Alternative to Bandicam for Mac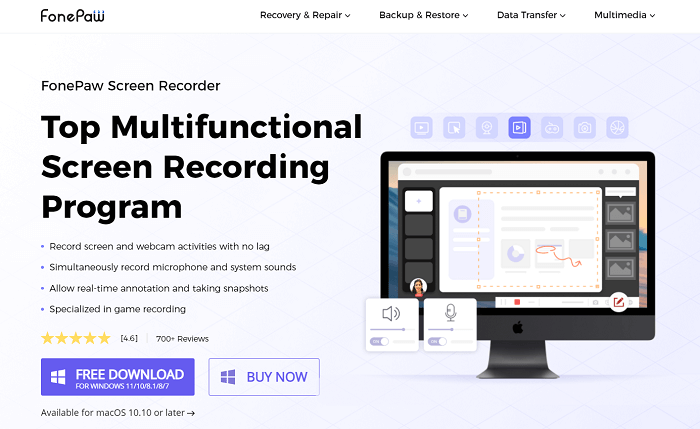 Free Download Buy with 20% off
Providing similar features as Bandicam, FonePaw Screen Recorder for Mac can easily record screen activities with full voice and webcam in high quality on Mac system. Moreover, it is even easier to use than Bandicam, with a simplified interface. Here are the main features of this recording software:
Screen Recording
Same as Bandicam, FonePaw is a lightweight screen recording program that can record everything on your desktop. It allows you to record in full screen, a selected area, or a specific window. Besides capturing your screen activities, it enables you to record your computer system sound, microphone sound, and also the webcam simultaneously or selectively. Moreover, FonePaw can also work as a snapshot tool, allowing you to take screenshots of your Mac.
When the recording is done, it can output your video in the format of MP4, MOV, AVI, WMV, F4V, TS of small but high-quality size (Bandicam supports MP4 and AVI only), so you will be able to share or play the videos on most devices/platforms - Mac, Vimeo, YouTube, iPhone, iPod, Windows, Android, etc.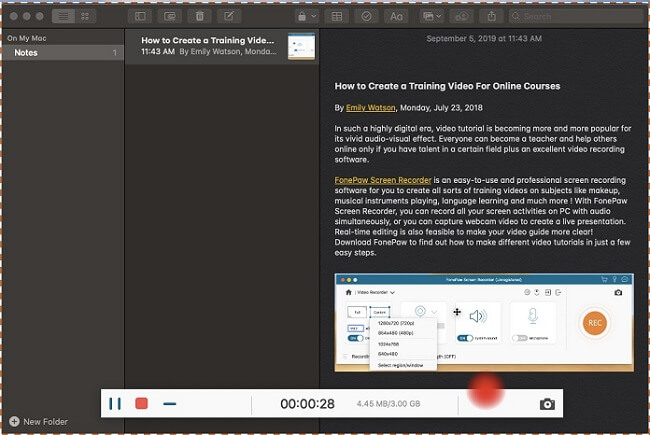 Free Download Buy with 20% off
Gameplay Recording
Just like Bandicam, the screen recorder for Mac can record your game while capturing your gameplay and record your webcam activities at the same time with both the system sound and your voiceover. Though this software doesn't show you FPS like Bandicam when you record your game playing, you can set it up at "Preferences" to record your gameplay at up to 60 FPS. You can also use hotkeys to control the recording. Also, after the recording, you can easily share the recorded videos to YouTube, Vimeo, or any platform you like.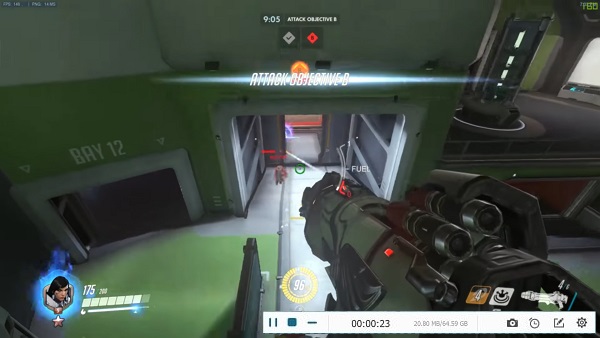 Webcam Recording
FonePaw Screen Recorder supports webcam recording. You are free to select a built-in or external device to record your activities or reactions and adjust the resolution and other webcam settings. So it is also a great tool to capture online video calls, such as FaceTime and Skype calls. Every precious moment with friends and families can be recorded.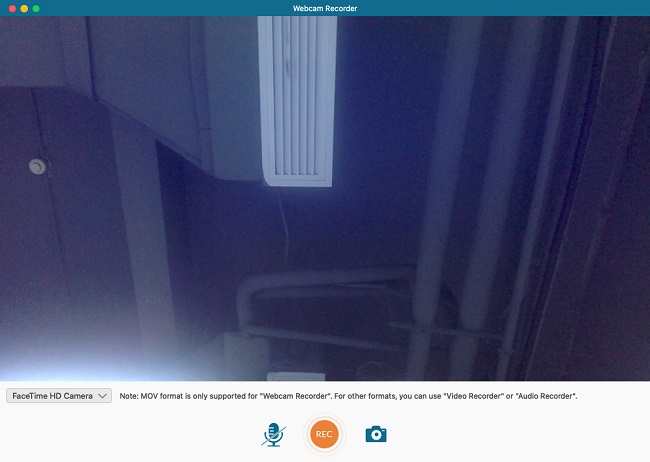 Tutorial Recording
For presenters, especially those who are going to show the app tutorials, the FonePaw recorder also provides you with helpful and practical features to make an eye-catching video tutorial. It can add mouse clicks effects to highlight mouse cursors and clicks to help you better demonstrate the tutorial steps. Of course, it's also designed for those who need to make a presentation with PowerPoint. There's a drawing panel as well for you to add real-time annotations effortlessly when you want to emphasize some important points.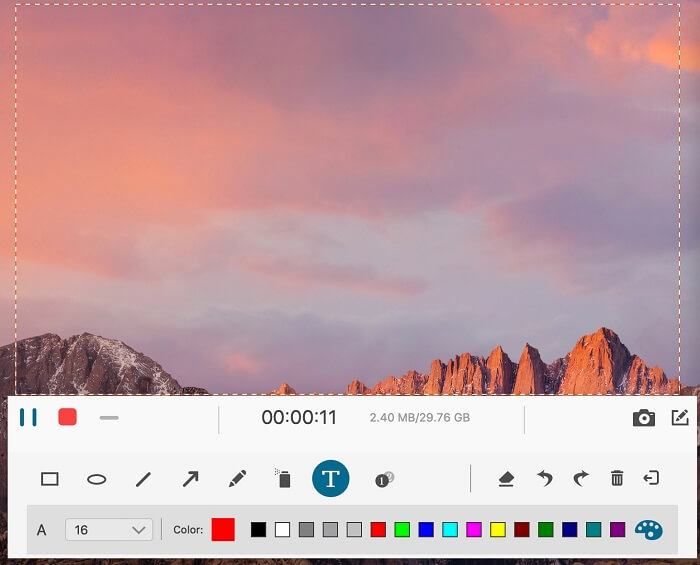 In many respects, FonePaw Screen Recorder for Mac can be regarded as the best alternative to Bandicam. The most important part out of all its features is that it is very easy for everyone to use. The following part is the guidance on how to record a screen on Mac with FonePaw Screen Recorder.
How to Record Screen on Mac with FonePaw
Step 1: Install FonePaw Screen Recorder for Mac
Free Download Buy with 20% off
Step 2: Launch FonePaw Screen Recorder
Click Video Recorder to record Mac screen.

Step 3: Select the Mac Screen Area to Record
Adjust the recording area or click one of the presets to select a recording screen.

Step 4: Activate Webcam, Microphone, or Other Settings
Toggle on the webcam button. A webcam window will pop up that can capture your face. You can move the webcam window to any place you want.
Click the setting icon to enter Preference, you can access the settings to enable mouse click effects, set the output path and adjust frame rate/quality, hide the panel when recording if you like.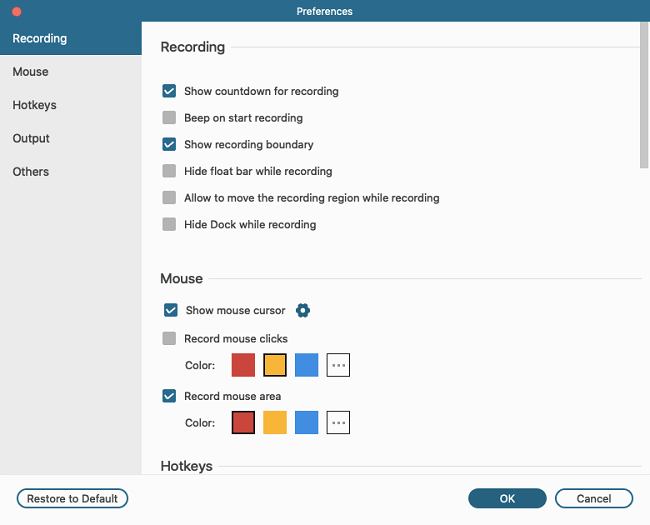 Step 5: Recording Screen or Game on Mac
Click the REC button to start recording. When recording, click the pencil button to add annotations, drawings, texts, or arrows. By the way, the screenshot button works whether it is recording or not. Click the stop button to stop the recording.
Step 6: Preview Recorded Videos
After recording, you can find the recorded video in the media manager by clicking the button at the top-right corner. Then you can share the videos to social media like YouTube, Vimeo, Twitch TV.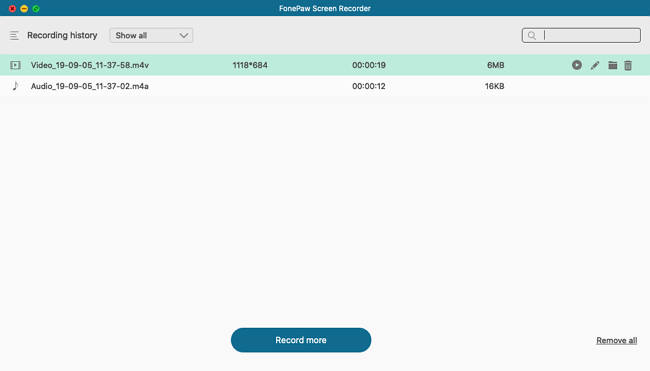 The reason why Bandicam is so popular is that it's powerful but newbie-friendly. As its best alternative for Mac, FonePaw Screen Recorder is also very rich-featured and user-friendly. It is a great software to record screen on Mac. Free download it to have a try!
Free Download Buy with 20% off
Chrome Extension to Record Screen on Mac
Apart from using FonePaw Screen Recorder as a Bandicam alternative for Mac, another easy and feasible way to record your Mac screen with both internal and external audio is to use a Chrome plug-in to record your screen on Mac. This way can quickly satisfy your recording need without downloading any software, though some features are limited.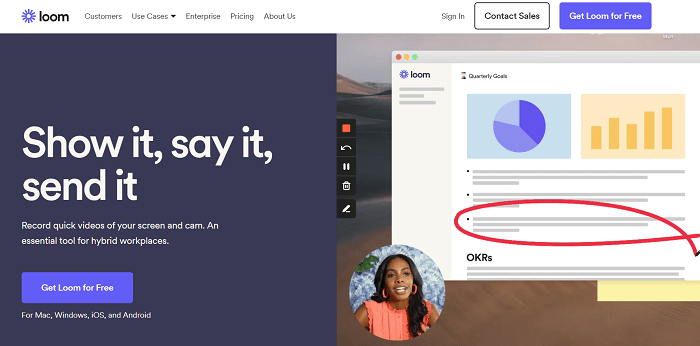 Loom is a screen recorder for Mac which has got both a Chrome extension version and a desktop version (or you can just record videos online without downloading anything). Same as Bandicam and FonePaw, you can easily record your screen with webcam, system sound and the microphone on your Mac. After recording, you can quickly preview and clip the video and share it with others via common platforms.
It's noted that when you use the extension to record videos, what you record will be saved in your Personal Library with a URL for you to quickly share or upload, so it also makes your video sharing more convenient.
Now let's see how to record a video with Loom online:
Step 1. Sign in Loom with your account.
Step 2. In "Personal > Personal Library", click "New video > Record a video" to start your recording.
Step 3. Set up the recording settings such as the recording area, the microphone, the webcam, etc.
Step 4. Tap "Start Recording" to record your video.
Step 5. After finishing recording, preview, edit, and share your video to others.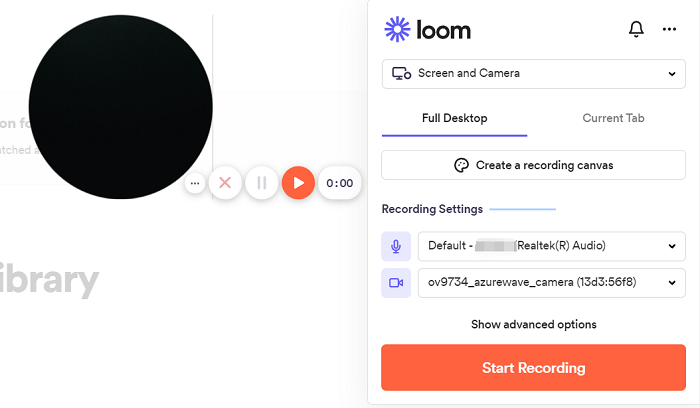 Though Bandicam doesn't work for Mac, there are also lightweight but versatile recording alternatives for you to screencast on Mac with no lag and high quality. FonePaw Screen Recorder and the Loom extension are both great options, and offer you free trials to use. Have a try and hope you enjoy the screen recording on Mac.