"I accidentally deleted all my photos on my Samsung S8 yesterday, but I can't find a Samsung recycle bin on my phone to retrieve my photos. Is it possible to get them back? Any idea?"
Recycle bin on computers enables us to restore deleted files in one click. As we're inclined to use mobile phone nowadays, it's natural that you also would like to have a recycle bin on Android. A trash can will be extremely helpful especially when you delete some important files on Android phone by accident.
However, is there a recycle bin on Android? If there is, how to access the recycle bin on the Android phone? If not, where do the deleted files go and how can we retrieve the deleted files if needed? This post will answer all these questions. Moreover, we will show you how to install a recycle bin on Android to empty trash and restore deleted files just like it does on a PC.
FonePaw Android Data Recovery
Support 6000+ Phone Models
Safe and Trustworthy
Easy to Use
Preview
Available
Part 1. Is There A Recycle Bin on Android?
Unfortunately, there is no such a specific recycle bin that stores all deleted files on Android phones. The main reason probably is the limited storage of an Android phone. Unlike a computer, an Android phone usually has merely 32GB - 256 GB storage, which is too small to hold a recycle bin. If there is a trash bin, Android storage will be soon eaten up by unnecessary files. Thus you can undelete data from a recycle bin on Android.
Although Android phones do not provide a system recycle bin for users, many applications have their own trash folders which allow users to recover deleted data on the applications. That's also another reason why there is no need to have a built-in recycle bin for Android.
Access Recycle Bin on Android
Android Email Recycle Bin: All email clients, including Gmail, Yahoo, Outlook have their own trash folder to hold deleted emails temporarily. Open your email app on Android, tap the Trash folder to access the deleted emails.
Recycle Bins in File Explorer: File Explorer applications like Dropbox, ES File Explorer contain their own recycle bin.
Trash on Photos App: Photos app like Google Photos have a built-in trash folder. And if you have enabled Samsung Cloud on a Samsung phone, you can also find deleted photos on Samsung Cloud's trash folder.
Part 2. Where Are Deleted Files Stored on Android Phone?
Many of you might be asking, if there is no recycle bin on Android devices, where do the deleted files go?
As a matter of fact, the Android system doesn't have a special trashed folder for the deleted files. When you delete a file on the Android phone, the file doesn't go anywhere. This deleted file is still stored in its original spot in the phone's internal memory, until its spot is written in by new data, even though the deleted file is invisible to you on the Android system.
However, Android phone manufactues such as Samsung has provide an recycle bin option setting that allows you to find deleted photos or videos conveniently. Here's a simple guide to recover deleted photos on Samsung smartphone.
Launch the Gallery app.
Tap on the horizontal three dots icon.
Select the Trash option.
Tap or long-press to select photos that you want to restore.
Tap the restore icon to retrieve deleted photos. Note: Items in the Trash will be permanently deleted after 15 days.
Since deleted files are temporarily deleted, they can be restored even though there is no Android recycle bin you can access to. A powerful Android file recovery application can go deep into your Android phone memory and recover your deleted files. The following part will show you how to restore Android deleted files with a professional Android Data Recovery tool without recycle bin.
NOTE:
Operations like installing apps, sending messages, taking photos could generate new data and overwrite the deleted data. To protect the deleted files, you'd better turn off network connection and not use the phone until the data is recovered.
Part 3. How to Retrieve Deleted Files on Android?
If you are looking for a solution to restore files that are accidentally deleted from Android device, you can count on FonePaw Android Data Recovery.
FonePaw Android Data Recovery specializes in recovering deleted photos, videos, audios, WhatsApp, text messages, contacts, call logs and documents on Android phones which are running OS between Android 2.1 and even Android 12, for example, Samsung Galaxy S21/S20, S10/S9/S9 Plus, S8/ S8 Plus, Google Pixel, Xiaomi, Motorola, Huawei, OnePlus and so on.
Step 1. Download FonePaw Data Recovery
Click on the download button to get the program. The program is supporting both Windows 10/8.1/8/7/Vista/XP and Mac 10.14/10.13/10.12/ 10.11 / 10.10 / 10.9 / 10.8 / 10.7.
Step 2. Launch FonePaw Android Data Recovery
After installation, launch the program on the computer. And then, connect your Android phone to your computer with a USB cable.
Step 3. Authorize Your Android Phone
Click "OK" on the pop-up window on the Android phone for authorization. If the pop-up window does show up, you can manually enable the USB debugging on your Android phone. See also: How to Enable USB Debugging on Android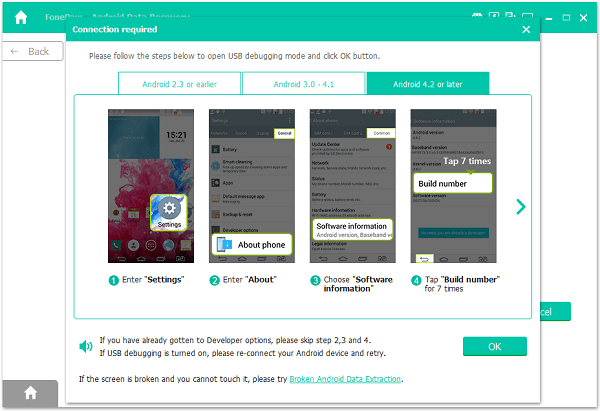 Step 4. Select File Types to Recover
When your Android phone is successfully connected to the program, you are allowed to select the file types you need. For example, check "Contacts", "Messages" or "Select All" directly. And then, click on the "Next" button.
Step 5. Grant Permission to Scan Deleted Files on Android
Before being able to search deleted files on your phone, the program needs to have your permissions to access the space that stores deleted files. To get the permissions, the program will install a FonePaw app on your phone. Follow its guide to enable Install via USB and install the app.
After the installation, tap Allow to the desktop program's request to access your deleted contacts, messages and other deleted data.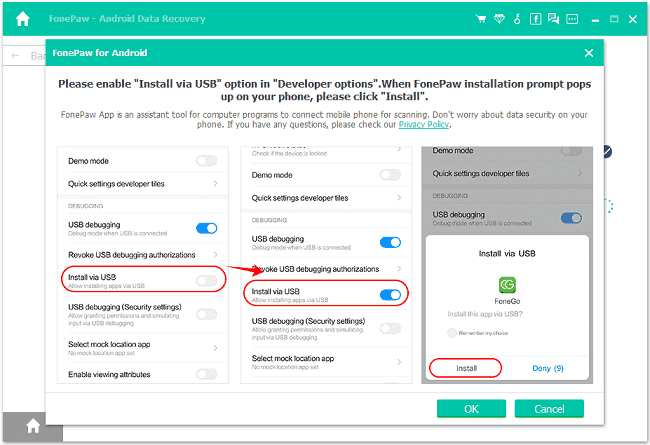 Step 6. Choose Target Files
After getting the permissions, the desktop program will first start a standard scan on your phone, which can show you deleted thumbnails and non-deleted data on the phone memory. Check if the deleted files you are looking for show up after the standard scan.
Click Deep Scan if you need to access more deleted data from the Android phone.
When the scanning is finished, deleted files will be listed on the program's interface. In this step, enable the checkbox to choose your target files. After that, click the "Recover" button to get files back.
The deleted files will be saved to your computer after recovery. You can manually move the deleted photos, videos, audio files, etc. back to your Android phone or use FonePaw DoTrans, a helpful tool that can quickly import data from PC to Android/iOS devices as well as transferring files between Android and iOS devices.
Part 4. How to Get An Android Recycle Bin
If you really need a system recycle bin on your phone, there are some third-party recycle bin for Android.
Dumpster
As similar to that on a computer, when you delete files, such as images, audio, documents, video, and even APK files, VCF cards and HTML pages, on your Android device, the deleted files will be automatically removed to Dumpster. To restore the deleted files on Android, you can just open the recycle bin app, search for the deleted files and tap Restore to put the deleted files back to where they were.
Recycle Bin
Recycle Bin, also known as Trash, serves as a temporary storage location for the files on Android devices. If you want to delete a file with Recycle Bin, you can get the result via "Send To", "Share it" or "Open With" options to transfer files to the Recycle Bin. If you want to permanently remove the file, you need to go to Recycle Bin and enable the "Permanently Delete the File" option. Moreover, you can also restore the files with it.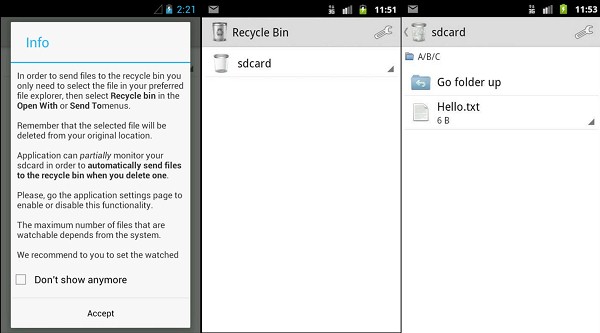 Android Data Recovery
Retrieve your lost data from your Android phone within seconds!