Recording Mac screen can be a rigid demand for many Mac users, as there are usually occasions when you need to capture the onscreen activities, such as recording online meetings, video tutorials, class presentations, gameplay videos, and etc.
The most common and convenient method is to use the built-in recording tools on Mac, for instance, QuickTime and Screenshot. With the 2 methods, you can do some basic screen recording tasks. But if you want to record the system sound properly while recording the screen, you may need another reliable capturing tool to do this job.
So, in this article, we will demonstrate three easy ways to record Mac screen for you: use a third-party recording tool that enables you to record full voice, or use Mac's built-in QuickTime/Screenshot feature.
How to Record Mac Screen with the Screenshot Toolbar [Easieat Way]
For Mac users, the most convenient way is to use its built-in screen recorder. if your Mac is in macOS Mojave or later, you can use the screenshot utility. This method has limited features, but you can control it flexibly. With a few hotkeys, you can easily finish your screen recording on Mac. The screenshot toolbar is available on almost all Mac OS, like Mac Pro, MacBook Pro, MacBook Air, etc. Let's see how to do it:
Step 1. Launch the Screenshot Utility on Mac
Simply press Command+Shift+5, the screenshot floating bar will appear on your Mac desktop. There are several icons denoting different features, and that's what each icon means. Basically, you can quickly capture a snapshot or a video with this tool.

Step 2. Make Your Screen Recording Settings
As you can see, you can choose to record the whole screen or a selected portion on your Mac. Also, you can open the options and customize some other settings, for instance, the save location, timer, microphone, highlight features.

Note:
If you want to record the audio when recording the screen, choose the device in the "Microphone" column. But this method still cannot record the internal audio on Mac.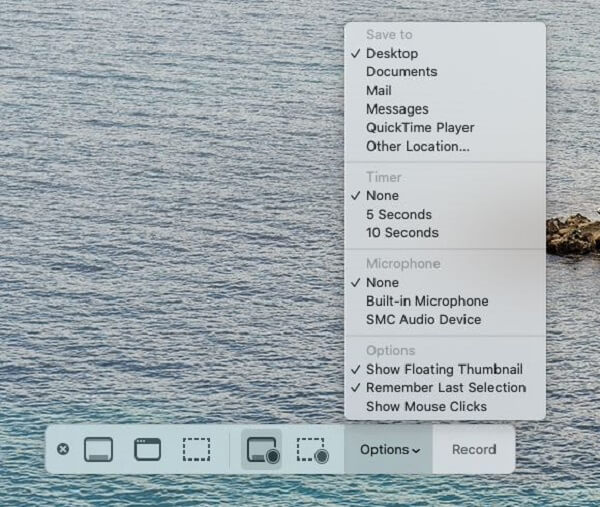 Step 3. Start and End Recording the Mac Screen
With all the settings done, hit the Record button to begin your recording.
It's also very easy to end the recording, but sometimes the End button is hard to notice. There are actually three ways: one is to hit the End button at the top right of the Apple menu bar; another one is to press Command+Shift+5 again and hit End at the toolbar; the last one method is to use the hotkeys Command+Control+Esc.
Now you can check you recorded video on Mac at the saved location.


Note:
How to Record Mac Screen with QuickTime Player [Universal Way]
Another way to record screen on Mac is to use QuickTime. It's also Mac's built-in recording program, you have no need to install any other application if you just want to record a video with your voiceover. If you find your Mac cannot launch the screenshot toolbar or is too old to use it, you can try this way.
By the way, if you don't pursue high quality of the audio, you can also try recording the system voice by enabling the internal microphone function, which might fulfill your instant need.
Here's how to use QuickTime to record screen on Mac:
Step 1. Launch QuickTime to Record the Screen
On your iMac, MacBook, use Finder to locate QuickTime player and launch the program.
Click File on the top menubar and choose New Screen Recording.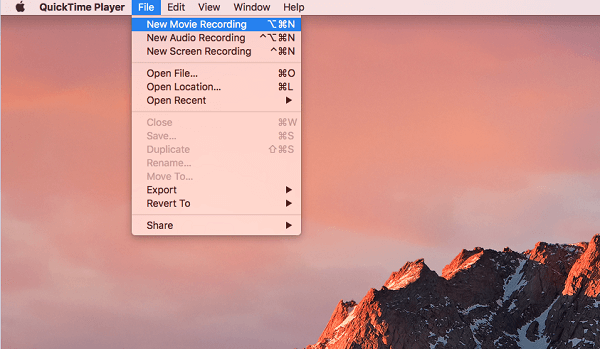 Step 2. Choose Audio Sources and Start Recording on Mac
On the Screen Recording box, click the down arrow icon next to the record button.
On the drop-down menu. You can choose record audio from the internal microphone or an external microphone. If you don't need a high quality of sound, you may just record screen with audio from Mac's microphone.
After setting up, click the red record button to start capturing the Mac screen with sound.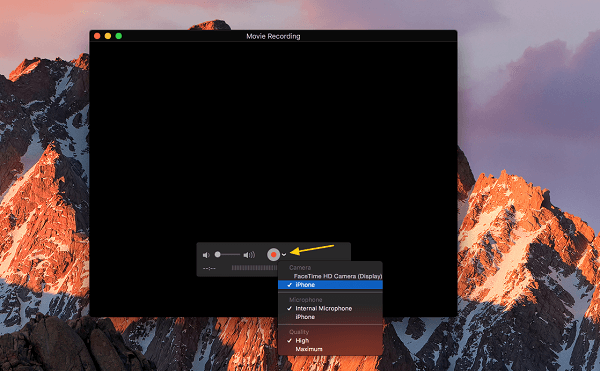 Note:
1. To record system audio on Mac, you can use Soundflower with QuickTime screen recording. Soundflower is an audio system extension that allows an application to pass audio to another application. For example, you can select Soundflower as the output device for YouTube and choose Soundflower as the input device for QuickTime. QuickTime will be able to record both screen and video of the YouTube streaming video on Mac.
2. Some users reported that Soundflower doesn't work on Mac OS Sierra. If this problem is happening on your Mac, you can try to record your screen with FonePaw Screen Recorder instead.
Step 3. Stop QuickTime Screen Recording
When you have captured everything you need with your Mac screen, you can click the record button again to stop the QuickTime screen recording. Or you can right-click on the QuickTime in the Dock and select Stop Recording.

Note:
How to Record Mac Screen with Internal Audio [Best Way]
By now you have learned 2 simple ways to record screen on Mac. But just as mentioned, using screenshot toolbar or QuickTime cannot record clear or high-quality internal or external audio, and they lack some useful recording features. So is there another way to record screen on Mac? How to screen record on Mac without QuickTime/screenshot toolbar?
The answer is to have a reliable third-party screen recording tool. If you want to record a personalized video with more output formats and effects, among various Mac screen recorders in the market, we highly recommend you one: FonePaw Screen Recorder.
FonePaw Screen Recorder is a professional recorder for iMac and MacBook. As a great alternative for Mac's built-in recording tools, it can meet almost all your screen recording needs and is handy to use. If your Mac is Mac OS X 10.12 or later (Big Sur and Monterey also supported), don't miss this useful screen recorder. Here are the main features of it:
Free Download Buy with 20% off
Record screen along with the internal audio of your Mac;
Record Mac Screen with voiceover from the microphone;
Record locked screen easily;
Capture your screen with the webcam;
Record Gameplay easily and efficiently;
Add real-time annotations while recording videos;
Take snapshots.
Now let's see how to use FonePaw Screen Recorder to screen record on Mac with sound. You can watch the video, or go directly to the text tutorial below which shows you the steps in detail.
Video Guide: Record Screen Activity with Audio on Mac
Step 1. Download and install FonePaw Screen Recorder for Mac
The trial version allows all users to record 3 minutes of each video or audio to test the effect.
Free Download Buy with 20% off
Step 2. Adjust Recording Settings
Customize the region that you want to capture, adjust the system sound volume, turn on/off the microphone/webcam, and set up hotkeys, etc. When you get ready for recording, click the REC button.

Step 3. Record Screen with Voice on Mac
Your Mac screen is being captured so you can do anything that you tend to show in the recordings. You can adjust the voice volume of both computer system sound and the microphone as you like, and add annotations to highlight some important points.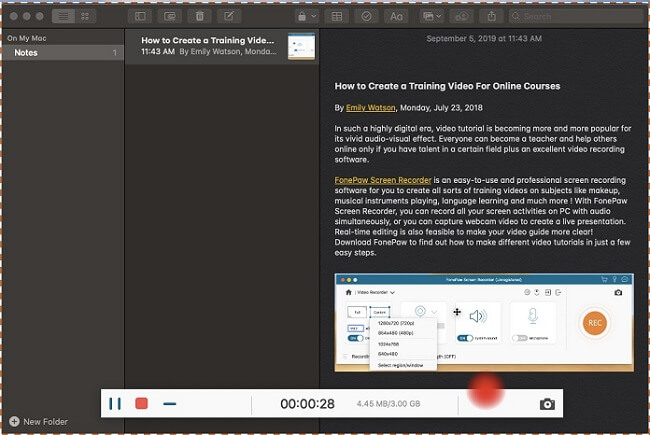 Step 4. Save Screen Recording on Mac
As all things have been recorded, just hit the REC button again to stop capturing or use the hotkeys. Then, the video with audio that you have captured will be saved automatically as you can see in the recording history. You can preview, trim it, and use the "Share" button to upload it to Facebook and Twitter.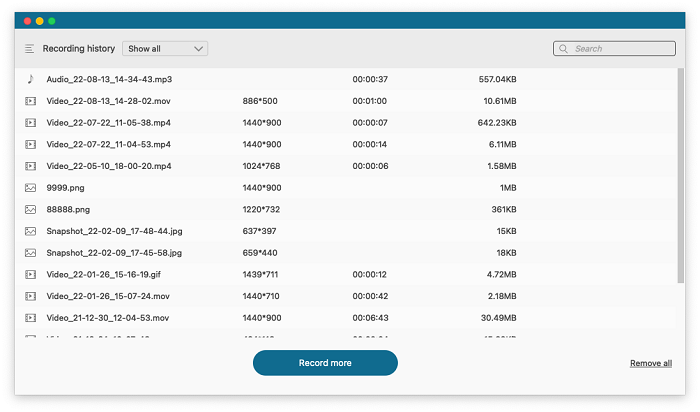 Comparison Table
Above all are the three viable methods to record Mac with audio. If you are always using the built-in recorder on Mac and is not satisfied with the recorded video, you can learn how to record screen on Mac without QuickTime/screenshot tool bar with FonePaw Screen Recorder we've introduced to you. You can have a clear check through the table below:
| | | | | | | |
| --- | --- | --- | --- | --- | --- | --- |
| | Record Screen | Record Microphone | Record Webcam | Record System Sound | Record Locked Window | Supported OS |
| FonePaw Screen Recorder | √ | √ | √ | √ | √ | MacOS Sierra 10.12 and later |
| Screenshot Toolbar | √ | √ | √ | × (Need a Soundflower plug-in) | × | MacOS Mojave 10.14 and later |
| QuickTime | √ | √ | √ | × (Same as Screenshot Toolbar) | × | MacOS High Sierra and later |
Try out software such as FonePaw Screen Recorder, and it should save you more time and energy to do screen recording on Mac. But if you prefer using native tools on Mac, QuickTime and Screenshot are also reliable options.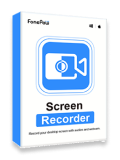 Screen Recorder
Capture every loving moment of your screen on Windows and Mac!