It is known to all that Mac provides a built-in screen recorder called QuickTime Player; however, it is somewhat limited since it only has some basic features. To seek a more versatile screen recorder with high-profile features, you can follow this article that will comprehensively introduce the 6 best screen recording software for you.
Usually, a good screen recorder should include the following features:
Easy to use. A good screen recorder should allow users to begin the recording quickly. Without too many redundant steps, users can improve the recording efficiency.
Multifunctional. The screen recorder can not only record the screen but also record the audio, system sound, webcam, and do the screenshot. Even better, users can use it to record the mouse track and draw during the recording.
Record Fluently. This should be a must-have standard for a good screen recorder. No one wants to record a fuzzy and choppy video or audio, right? Therefore, the screen recorders we've chosen will help users record in high quality without lag.
No ads. Advertisements are so annoying when it shows up on the software. It brings a bad experience to users. A professional screen recorder must have an ad-free and clear interface.
Reasonable Price. Some screen recorders may charge an expensive price for the various functions. If you find out a versatile recorder with good design and easy to use, don't hesitate to use it!
Quick Overview
Best Screen Recorder for Online Classes
FonePaw Screen Recorder
Icecream Screen Recorder
Best Gameplay Recording Software for Mac
OBS
Filmage Screen Recorder
Lightweight Screen Recorder for Capturing Live Streaming Events
Best Screen Recorder for Online Classes
If you are a student who is looking for a way to record online classes so that you can review them later or you are a teacher has the need to create and record tutorial videos, these Mac screen recording apps are best for you.
FonePaw Screen Recorder for Mac
Compatible Mac OS versions: Mac OS X 10.9 or above.
FonePaw Screen Recorder is a multifunctional and easy-to-use screen recording program for Mac that can not only capture screencasts or screenshots but also record webcam videos, making it one of the best screen recording tools for Mac. With FonePaw, you can record screen and webcam activities on any occasion, meanwhile, you can also customize your screen recording to satisfy your demand by using the high-profile features provided.
Free Download Buy with 20% off

Pricing:
FonePaw provides free-trial and paid versions. Paid plans start at $9./month
Why FonePaw is the Best Screen Recorder for Mac
Record computer screens on any occasion. For instance, recording online meetings, desktop program activity, webcam video, audio, live streaming, sports events, etc.
Make scheduled recordings conveniently. You can set a recording time length and end the process automatically.
Produces recorded videos that are of small size. Thus, you can upload these recorded videos to your Mac or other devices easily and quickly without worrying that they will take up so much CPU usage.
Lock a specific program window for recording. Select the scope you want to record and then lock it. By doing so, no other irrelevant content will be recorded.
Continue unsaved recording. If you forget to save a recorded video, don't worry, FonePaw will save and keep the recording history so that you can continue the unsaved recording.
Real-time annotation. You can easily highlight important points during recording, which is especially useful for those who are having online classes.
Not-So-Good
It needs to be intalled on your Mac and has no browser extension version.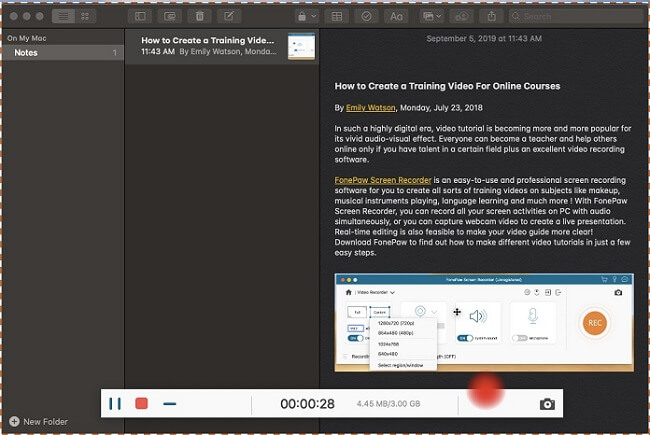 Icecream Screen Recorder
Compatible Mac OS versions: Mac OS 10. 10 or above
Icecream Screen Recorder provides you with the option to take an image of a portion of a page or the entire window and to record online videos as well. You can not only capture videos of various formats accurately from multiple sites such as YouTube and Dailymotion just with a few clicks but also customize these recorded videos using the provided editing tools according to your preference.
Pricing: Free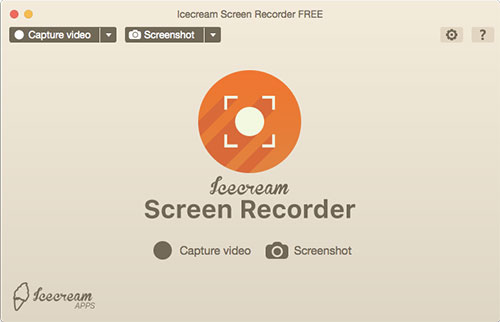 Why Icecream Screen Recorder is the Best Screen Recorder for Mac
No watermark in the recorded videos so that you can enjoy these videos without being bothered by the possible watermark ads.
Real-time annotation lets you edit the videos using marking, mosaicking, adding text/images, etc. during recording.
Camera recording ensures the high-quality of recorded videos. Normally, the original quality of the videos can be maintained.
Multiple formats for selection. Icecream Screen Recorder can produce recorded videos in different formats such as MP4, AVI, WMV, GIF, etc.
Customize recording area. You can select to record full screen or specified parts of your screen. More importantly, you can also lock the window consisting of content you would like to record.
Not-So-Good
High-definition videos may not render properly upon playback and not all codecs are supported.
Best Gameplay Recording Software for Mac
If you are a big fan of video games and want to record some of the wonderful moments during the game, here are two excellent video game recording software for Mac.
OBS
Compatible Mac OS versions: Mac OS 10.13+
As an open-source screen recorder for Mac, OBS is specifically designed for live-streaming and recording games. With thousands of users all over the world who regularly contribute to adding new resources to the community, you can not only use the software program to record but also attain plenty of information meanwhile.
Pricing: free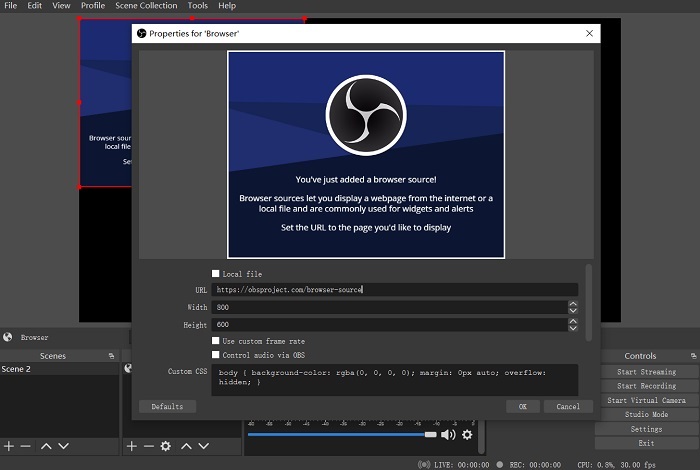 Why OBS is the Best Screen Recorder for Mac
Completely free of charge. You can use it to record screens for Mac without paying any costs.
Set up an unlimited number of scenes. You can switch among them seamlessly via custom transitions.
High-quality and real-time video/audio capturing and mixing. You can create scenes that are made up of multiple sources such as images, text, webcam, etc.
Add different plug-ins to make the functionality wider In other words, you can use more functions to customize your recorded videos.
Not-So-Good
There is no clear indication to remind you of the start of the screen recording.
No training materials are provided. This might make it difficult for beginners to use the tool.
Filmage screen recorder
Compatible Mac OS versions: Mac OS 10. 11 or above
Filmage is another stunning screen video recorder for Mac. You can both use it to record your screen and edit the resultant videos. If you are playing some online games and wanting to capture the screen, Fimage is an ideal choice for you.
Pricing: free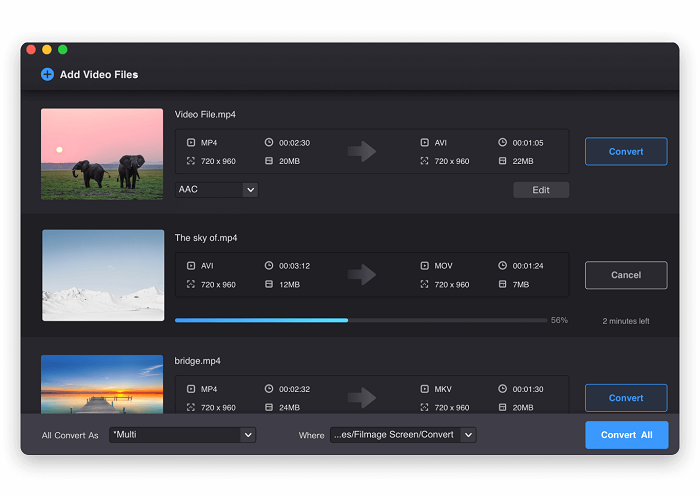 Why Filmage is the Best Screen Recorder for Mac
With Filmage, you can capture full screen, parts of screen, webcam, and screen plus webcam altogether. More importantly, you can customize the recording area according to your demand.
High definition recorded videos. It can record the video and audio simultaneously and create high-quality recorded videos for you so that you can enjoy them using your Mac as if you were in a cinema.
Easy-to-use. Filmage provides a clear interface with sufficient information so that even beginners can understand how to use it to record screens with just a few clicks.
Not-So-Good
Only basic editing features are provided.
Lightweight Screen Recorder for Capturing Live Streaming Events
If you have a demand for recording online concerts, live streaming sports events, and dramas, there are two different screen recorders that are compatible with Mac for you.
Loom
Compatible Mac OS versions: Mac OS 10. 11 or above
As one of the outstanding screen recorders for Mac, Loom is a good choice for you if you want to quickly record something and share it with others. With Loom, you can choose whatever you want to record, such as your screen, your screen with a webcam, or just your webcam. After finishing the recording, the recorded video will be uploaded in Loom and you will be provided with a link so that you can copy it and then directly share the video recording with others. Furthermore, you can do some basic editing for your recorded videos by using Loom.
Pricing:
Free Version: allow for 25 videos of up to five minutes.
Business plans: start at $8/month with unlimited uploads.
Enterprise: custom price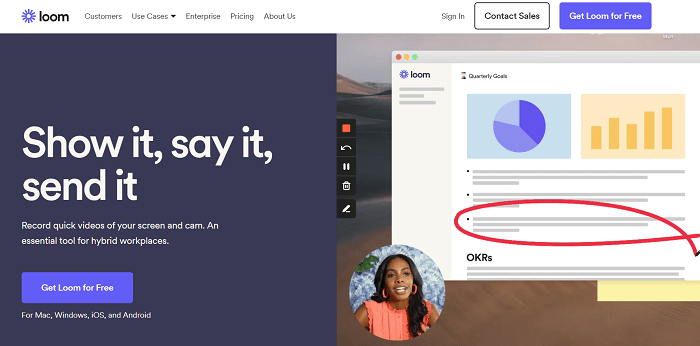 Why Loom is the Best Screen Recorder for Mac
Loom has a very user-friendly interface so that even beginners can get the hang of using it quickly and easily since there is no learning curve.
You can share recorded videos anywhere instantly. The moment you finish recording, your sharable video link is ready and offered to you. As soon as you tap stopped, the link will be copied to your clipboard so you can share, embed, or link your video easily.
Loom records videos in high definition that can be up to 4K. You can have a cinema-like viewing experience when watching the recorded videos made by Loom.
You can edit your recorded videos easily in your browser or in the Loom app. With some basic editing features provided, you can customize your recorded videos effortlessly.
Not-So-Good
The free version only supports five-minute recording, which might be not sufficient in a professional context.
Sensitive information cannot be censored.
Products updates require manual operation, which cannot be done automatically.
RecordCast
Compatible Mac OS versions: Mac that can access to RecordCast Online Screen Recorder
RecordCast is an online video recorder that can allow you to capture anything worth sharing on your screen without a need to download and install any third-party software or extension. Furthermore, you can also edit your recorded videos with the editing tools provided.
Pricing: Free version; Plus version starts from $3.99 per month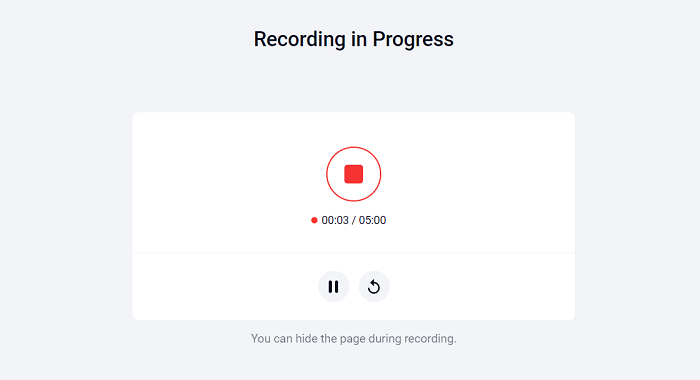 Why RecordCast is the Best Screen Recorder for Mac
Three recording models, including recording screen only, webcam only, and screen and webcam altogether. When using the last model, the webcam will be shown at the left bottom, which can help the audience better understand the content presented on the screen when adding annotation.
Support commonly used output format and provide high-quality videos. You can download the recorded videos from RecordCast in .webcm or MP4 format, which can be viewed on almost all media devices. More importantly, RecordCast provided multiple video quality that can reach 1080P.
One-click for downloading and sharing. You can directly download the edited video in MP4 format of 1080P to the local drive or share it to YouTube or Dropbox, which is quickly and conveniently.
High-profile editing tools provided. When the downloading task is completed, you can instantly use the in-browser video editor to trim recordings; add texts, filters, transitions, background colors, overlays, dynamic elements, watermarks, or import media sources to make an original video for multiple uses.
Not-So-Good
The maximum recording length is 30 minutes. For free subscribers, the recording limit is 5 minutes.
Safari cannot be used to access RecordCast's online video recorder.
Conclusion
All the screen recording software for Mac that we've covered in this list are great and each of them has its own strengths. Now it is your turn to choose one that is compatible with your Mac and can satisfy your demand.