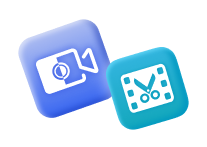 Screen Recorder + Video Converter Ultimate
Shop Now
Are you looking for an excellent desktop recorder that fits all your needs? You may first be attracted to some online screen recorders because they don't need to be installed on your computer and are convenient to use. However, we have to admit that the browser-based screen recorder usually comes with fewer features while a desktop recorder is often packed with more advanced and useful features.
When you want to record videos on your PC screen with high quality and no lag, it's the desktop recorder that matters. Not only that, if you have the need to record gameplay, it usually takes time and effort to find screen recording software with both smooth and stable performance.
No worries. We've done everything for you! Read on to get our best recommendation for beginners and even gamers – FonePaw Screen Recorder.
Best Screen Recorder to Record Your Desktop

Free Download Buy with 20% off Free Download Buy with 20% off
FonePaw Screen Recorder is a versatile desktop screen and audio recorder that is compatible with Windows 11/10/8/7 and Mac. Compared with the built-in desktop screen recorders, FonePaw Screen Recorder provides multiple recording modes to fit any scenario:
🎥Video Recorder: Flexibly record from a full computer screen, a specific program window, and a customized area.
🎤Audio Recorder: Record internal sound and external audio simultaneously or separately, even on Mac.
💻Window Recorder: Lock and record a single window or process, enabling you to deal with other work while recording.
🎮Game Recorder: Lock the game window and block disturbances. 4K 60FPS long-time, lag-free recording.
📷Webcam Recorder: Record your face cam, or add a webcam overlay to your screen recordings.
📱Phone Recorder: Mirror and record your iPhone/Android screen on a larger screen, save the rare storage on your phone.
Not only that, FonePaw desktop recorder also stands out with many advanced features:
Record screen activities on Windows 10/Mac at up to 4K 60 fps;
Save screen capture in various formats: PNG, GIF, or videos (MP4, MOV, AVI, TS, etc.);
Offer scheduled recording to automatically record oncoming live streaming, and even a live sports event;
Add annotations, highlight mouse cursor and keystroke in real-time when screen recording(best for recording tutorial videos);
Hardware acceleration helps computer run smoothly in recording gameplay or other processor-heavy activities;
Customizable hotkeys to control screen capture conveniently;
Adds no watermark to your screen recording even in the free version;
Hide desktop icons during recording.
With all these amazing features available, we highly recommend that you download and try out the free FonePaw Screen Recorder. With a clean and sleek interface, FonePaw is quite easy to operate. The following are the steps to record desktop screens with FonePaw Screen Recorder.
How to Record Desktop with FonePaw
To capture a video of your computer screen, click Video Reorder to start recording your desktop activity. The free trial version allows you to record videos no longer than 3 minutes, and will not cover watermarks on them.
Free Download Buy with 20% off Free Download Buy with 20% off
Step 1. Select Desktop Recording Area
Toggle on the button for Display. Then click Full or Custom to select the recording region: full screen, customized area, preset frame (1080p, 720p, etc.). You can allow the recording region to move following the mouse cursor if you tick the check box in the Recording tab in preference settings.

Step 2. Settings for Recording
If you need to record the webcam at the same time on your screen, turn on the Webcam button.
Tick the System Sound and Microphone to enable the desktop recorder to record audio of the computer and microphone. Drag the slider to adjust the volume.
Click More Settings, and this will open the Preference panel, you can add mouse cursor effects with different colors, move the recording region during recording, and select the output format of the screen videos.

Step 3. Record Computer Screen
When you have set up all parameters, click REC. The desktop screen recording will begin. You can add annotations or schedule a recording with the options on the floating panel.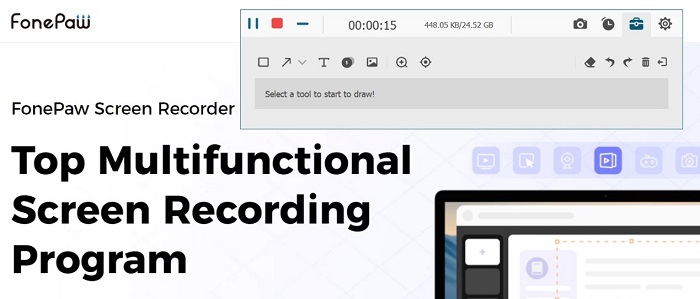 Click the Stop button to end the recording. You can then preview the screencast. You can use the Advanced Trimmer to edit your recordings and then save the video on your PC.

NOTE:
When FonePaw Screen Recorder is running, you can also use keyboard shortcuts to activate and stop screen video recording. The default hotkeys to start a screen video capture are Ctrl + Alt + R. The hotkeys to end a recording are Ctrl + Alt + R. You can customize the hotkeys in Settings.
Other than working as a desktop screen recorder, FonePaw Screen Recorder can also serve as a desktop audio recorder. It can record the audio of your computer, including the sound of the system and the voice from your microphone, and other external sources that are connected to your computer. After that, you can save the audio in common output formats such as MP3, WMA, M4A, AAC, and so on.
Free Download Buy with 20% off Free Download Buy with 20% off
More Advanced Features of FonePaw Screen Recorder
After reading the text above, you've known much about what FonePaw Screen Recorder can do. Apart from its main function, this desktop screen recorder still boasts other highlighted features to offer you a wonderful recording experience.
Window Recorder
Sometimes, you need to record an online meeting or live stream, but still want to use your computer to deal with other tasks. Then, FonePaw Screen Recorder can meet your needs with its Window Recorder option. You can choose "Window Recorder" and select the window you want to record.
After it begins, you can continue other desktop activities without interrupting the window recording, and the windows that you haven't chosen won't be recorded in any situation. Therefore, the recording can be smooth and your privacy will be protected.

Note:
Though the selected window can be recorded when other windows cover it on desktop, you need to keep it open and not to minimize it, or the recording will be interrupted.

Spotlight Recording
If you've ever made tutorial videos, you would know the annotating feature while recording is useful, which can make your video clear and vivid. That's what FonePaw Screen Recorder can handle. What's more, apart from the basic annotation like adding texts or common patterns, it also provides you with the magnifying glass and Focus tools to help you highlight the point.
You can use them to make the part you want to stress bigger or brighter, and give the audience a better experience.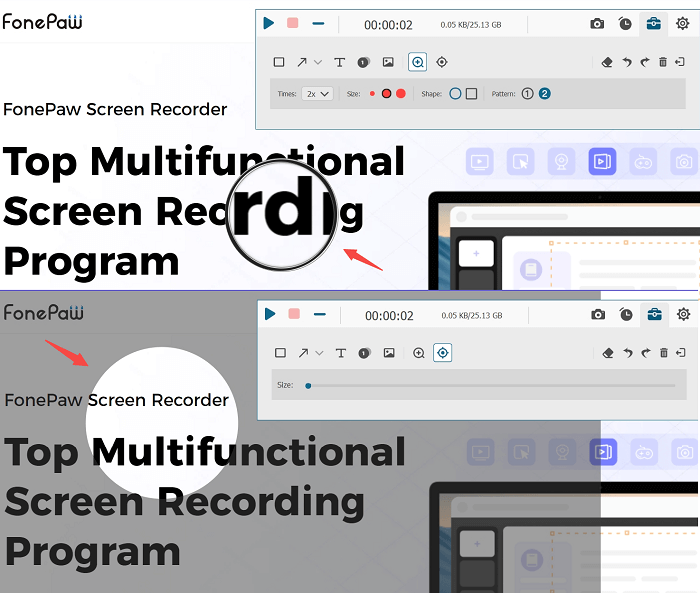 Editing Recorded Video
If you want to create your own video, you always need to edit it after recording. Luckily, FonePaw Screen Recorder boasts some helpful editing features for you to record and edit the video with one single program. You can see the editing tools in the right column of the Recording History list. No matter what you want to do with the video, trimming, merging, or compressing it, FonePaw can all perform well.
These are some prominent functions that can ensure you a wonderful recording experience. FonePaw Screen Recorder also has other considerate details and features, and you can try them while using it to record your screen.
Free Download Buy with 20% off Free Download Buy with 20% off
Why Should You Choose FonePaw Screen Recorder?
Above we've introduced everything about FonePaw. You may wonder why you should choose this desktop screen recorder. We have compared FonePaw with some built-in desktop recorders such as Windows Game Bar and QuickTime Player, online recorders, and some browser extensions. Here, the comparison table will tell you why we consider FonePaw the best desktop screen recorder.
| | | | | | | | | |
| --- | --- | --- | --- | --- | --- | --- | --- | --- |
| Product | Recording Resolution | Area Selection | Record Webcam | No Time Limit | No Watermark | Hardware Acceleration | Real-time Annotations | Editing Tool |
| FonePaw | Up to 4K | ✅ | ✅ | ✅ | ✅ | ✅ | ✅ | ✅ |
| Windows Game Bar | 1080P | ❌ | ❌ | ✅ | ✅ | ❌ | ❌ | ❌ |
| QuickTime Player | Up to 4K | ✅ | ✅ | ✅ | ✅ | ❌ | ❌ | ❌ |
| Online Recorders | 1080P | ✅ | ✅ | ❌ | ❌ | ❌ | ❌ | ❌ |
| Browser Extensions | 1080P | ✅ | ✅ | ❌ | ❌ | ❌ | ❌ | ❌ |
FAQs About Desktop Recording on FonePaw Screen Recorder
Does the Desktop Recorder Have Access to My Recordings?
No, it's your privacy. Only you and the people with whom you share the screen recording can see the video. FonePaw Screen Recorder will never have access to your desktop recordings unless you need any support from our technical team and share them with us.
Why Can't I See the Cursor on My Desktop Recording?
It may be because you unticked "Show mouse cursor" in the preference settings. You will be able to record your mouse cursor by setting it up. On the Video Recorder page, click the gear icon then go to tab Mouse. It's the first option there.

Will There Be a Watermark on My Desktop Recording on a Free Trial Version?
No. FonePaw Screen Recorder allows you to record your desktop without any software watermark both on a free trial version or a full version. What's more, you can add watermarks that you like on the videos of the desktop you take with texts or images.
Are There Any Other Best Desktop Screen Recorders?
Movavi Screen Recorder
Movavi Screen Recorder is also among the best choices for desktop recorders. It offers various recording modes, including video/audio/webcam/scheduled recording. And it is easy to set up shortcuts, record keystrokes, and mouse effects, and share the recorded to online platforms like YouTube. It's also highlighted a minimalist design, which is good-looking and occupies minimal space on your desktop.
A pity point is that you may have to upgrade to premium to access full features, or your recorded videos will be covered with watermarks.
For more details, have a look at Movavi Screen Recorder Review.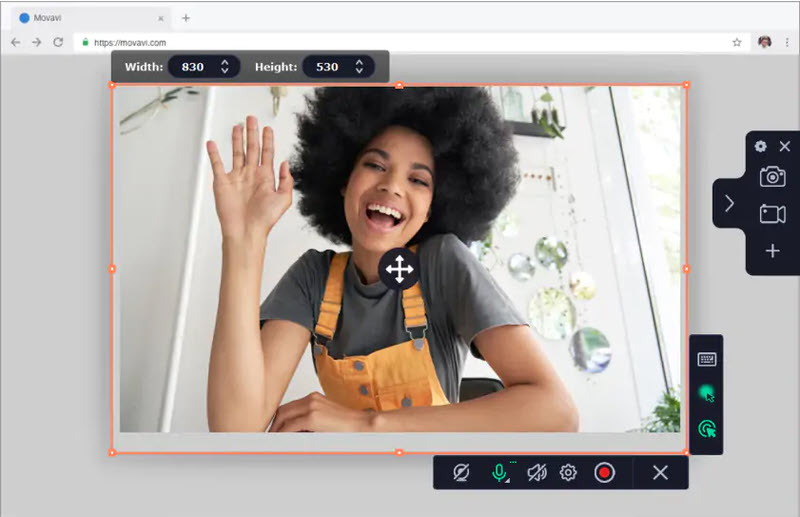 Bandicam Screen Recorder
Bandicam Screen Recorder is also a frequenter when comes to best screen recorders. It's particularly suitable for game recording in high quality and smooth performance, and is easy to record your webcam overlay or other external devices. It's good to consider using Bandicam to record your PC screen, especially for game players. But for recording the Mac screen, you may need to find an alternative, for the reason that it's Windows only.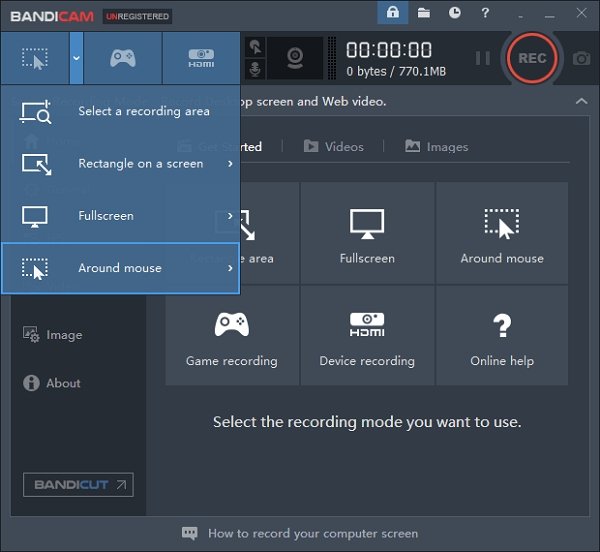 Final Words
Above is a brief introduction of the Video Recorder function of FonePaw Screen Recorder. The desktop recorder allows users to freely record the screen and the audio of the Windows or Mac computer with simple clicks. All the steps are easy to follow so that both beginners and techies can have a smooth experience.
Have a try of FonePaw Screen Recorder. You may enjoy using it to capture your desktop screen.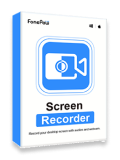 Screen Recorder
Capture every loving moment of your screen on Windows and Mac!