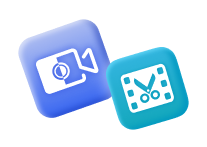 Screen Recorder + Video Converter Ultimate
Shop Now
On Amazon Prime, you can access an abundance of movies and TV series to stream at home with great definitions, without needing to hang out at cinemas anymore.
However, high-quality Amazon Prime video online streaming sometimes would face difficulties, especially when the Internet connectivity is unstable. Is there any way to record, download, or rip Amazon Prime videos to facilitate smoother streaming offline? That's what we gonna resolve in this post!
Now, please dive into reading and master the ways to save Amazon Prime videos offline.
Can I Download Movies from Amazon Prime to My Computer?
To deliver a smoother Amazon Prime video streaming experience, Amazon is equipped with an in-app download function for both its desktop clients and mobile applications. By installing the Prime Video app on Windows 10 or macOS computers, you can access the offline feature by subscribing to Amazon Prime plans. However, please note that the offline streaming regulations have applied to all Amazon Prime downloads, including:
They are only playable within the Prime Video app.
The downloaded content would expire after certain periods.
They are still unavailable to download if you are not an Amazon Prime subscriber.
Not all devices are compatible with Prime Video app, so the download function can't be accessed as you wish.
Under such circumstances, if you utilize the official method to download movies from Amazon Prime to computers, you will certainly face some restrictions and can't have an entirely free offline streaming.
Therefore, for those wishing to bypass Amazon Prime limitations and download Amazon Prime videos to MP4, in that access the restriction-free offline video streaming experience, please move on to the next part.
How to Download Amazon Prime Videos to MP4
To bypass Amazon's restriction and download Amazon Prime videos to MP4, a professional third-party program would be needed. As Amazon Prime videos are encrypted by DRM (Digital Rights Management), you ought to remove it, too.
For such purpose, here we will recommend MovPilot Amazon Prime Video Downloader, a professional downloader specializing in ripping Amazon DRM and downloading Amazon Prime movies or shows to MP4 on both Mac and Windows computers. Without geographical or access restrictions, this user-friendly program lets you search for any movies and download them in MP4 or MKV in 1080P.
Besides, all subtitles and audio tracks in various languages can be well preserved and you can even choose to keep the subtitles as soft subtitles, hard subtitles, or external subtitles to facilitate better offline Amazon Prime video streaming. More full features of MovPilot video downloader are included here.
In the following, please walk through the manipulation guide and learn about the way to download Amazon Prime videos to MP4 utilizing MovPilot Amazon Prime Video Downloader.
Step 1. Get MovPilot Amazon Prime Video Downloader Ready
Download and launch MovPilot Amazon Prime Video Downloader. And then you need to select the Amazon website you are using. Then log in to it with your Amazon account so that the downloader can access the Amazon videos you can stream.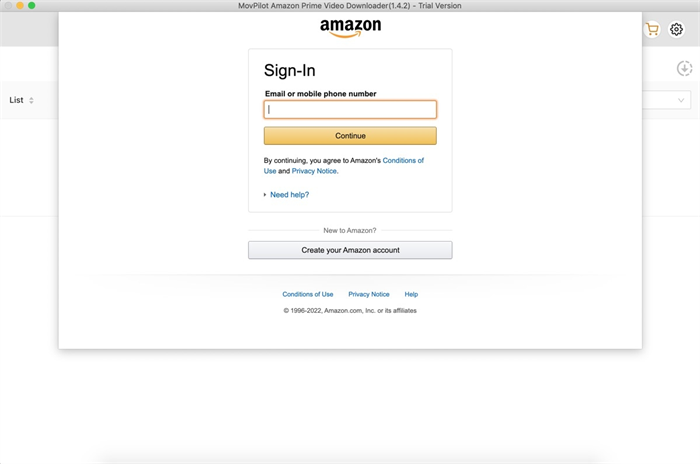 Step 2. Set Up for the Video Downloads
Hit the gear icon in the upper right corner and you can select the output format as MP4 or MKV, Video codec, subtitle language, audio language, and subtitle types can all be set here.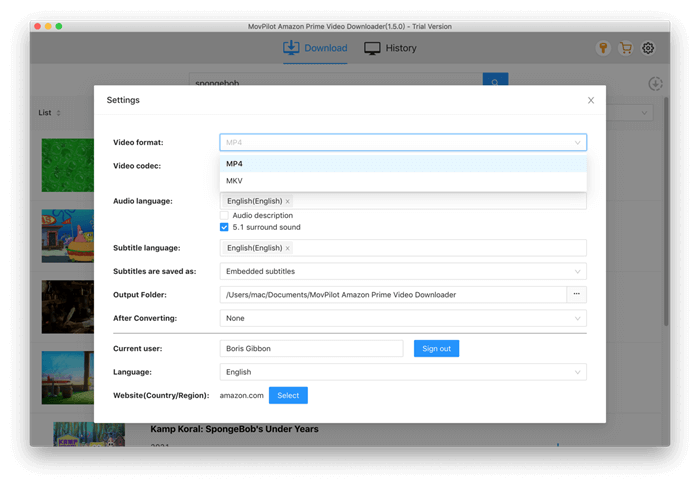 Step 3. Search for the Amazon Video
Now go back to the interface and you can type the movie or show title. Then hit the search icon and you will see all the titles that match.
Step 4. Download Amazon Prime Videos to Computer
Hit the download icon on the right of the content and you will be able to download the video. If you are downloading a TV series, you will see a pop-up window that lets you select seasons and episodes.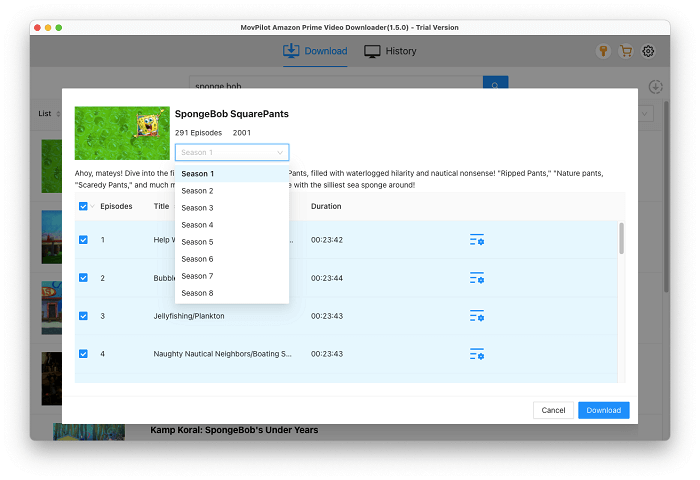 How to Rip and Record Amazon Prime Video
Nevertheless, some of you may only wish to save a short video clip from Amazon Prime videos. For this purpose, downloading a whole one would be too much for you. Therefore, to save short Amazon Prime video clips, utilizing a recorder would be more rational. Here, FonePaw Screen Recorder is highly recommended to you.
FonePaw Screen Recorder is a well-rounded recorder app that offers advanced recording functions for recording videos with audio, which gives a great favor if you wish to record Amazon Prime videos to MP4 without lagging in original quality. Here are some sparking features you shall not miss:
Free Download Buy with 20% off Free Download Buy with 20% off

Flexible recording modes without lagging - the program offers different recording modes to help you record Amazon Prime videos with the audio at 60fps or simply capture the sound only without any lag.
Original image and sound effects retained - it will keep original definitions up to 4K and Dolby audio effects while recording Amazon Prime videos to provide video streaming in lossless quality.
Various output formats to choose from - to meet your diverse viewing needs, FonePaw has prepared various output formats compatible with multi-devices for you, including MP4, MOV, WMV, F4V, TS, AVI, etc.
Scheduled recording feature - it allows you to set up a certain recording time, so you don't have to sit in front of the screen to wait for the recording to end.
Personalized output settings - the program also offers flexible output setting options, assisting you to determine your Amazon Prime video streaming experience offline.
Video trimming enabled - once the recording completes, the program provides the trimming feature to remove unnecessary parts from the Amazon Prime video clip as required to create perfect output for you.
After getting more familiar with the program, now please get your FonePaw Screen Recorder ready and use it to record your favorite Amazon videos to PC for offline viewing in just 4 simple steps.

Attention:
To record Amazon Prime video to MP4, you must utilize a Firefox browser to play it, or the video will turn black and you won't be able to record it.
STEP 1. Get the Amazon Prime Video Ripper Ready
Free Download Buy with 20% off Free Download Buy with 20% off
Download, install and launch FonePaw Screen Recorder on your PC. Click on the "Video Recorder" in the Home interface. Subsequently, you can determine the recording settings such as adjusting the system audio volume in advance.
To avoid capturing noise to lower the Amazon Prime video sound quality, you are recommended to toggle off the microphone recording.


Tip:
Before recording, please start sound checking to test whether the audio recording goes well.
STEP 2. Choose A Amazon Prime Video to Record
Open the video you want to rip from Amazon Prime. Click on the arrow-down button in the Display section to set your recording area. You can choose either to record the whole screen or to record just a part of it. If you play the Amazon video in full screen, select Fullscreen. If you select Custom, there are several region sizes for choice. And you can also adjust the recording area on your own by stretching the rectangle of the blue dotted lines to fit the play screen.

STEP 3. Set to Save Amazon Video as MP4 and More
Click on "More settings" and locate the "Output" section. And then click "Video format" to choose the output format of Amazon video as MP4. Of course, you can also convert Amazon Prime video to F4V, MOV, or AVI. You are even able to customize the video quality here.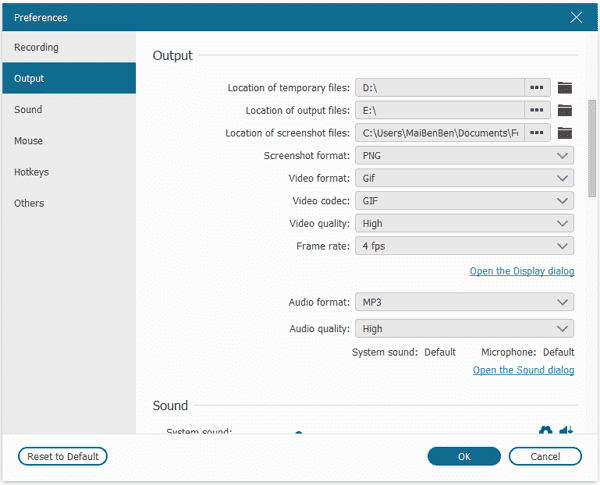 In the "Mouse and Keystroke" section, uncheck the option of "Show mouse cursor" that can make your mouse movement disappeared in the video. Remember to click "OK" to save the settings.
STEP 4. Start Recording Prime Video to MP4
When all the settings are settled, click on the "REC" button, that orange circular icon, to start recording. After a 3-second countdown, the recording process will be on, so play the Amazon video before the countdown ends.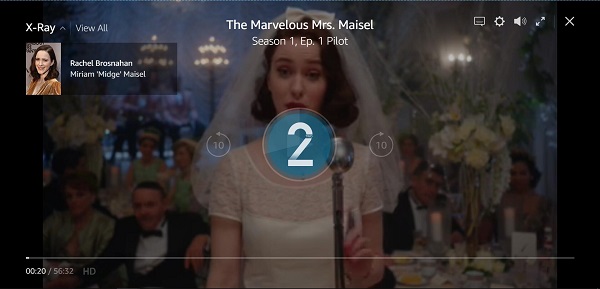 During recording, there is a row of icons at the top right of the recording control panel. Click on the second alarm clock icon, you can set the recording time according to the duration of the video you are recording. Check the option of "Shut down when end recording", then the recording process will stop automatically when time's up.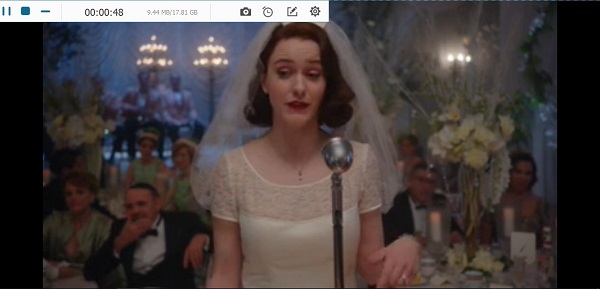 When you want to stop recording, just click on the Stop button at the top left. After recording, you are able to preview the video. Click "Save" and choose the path to save it.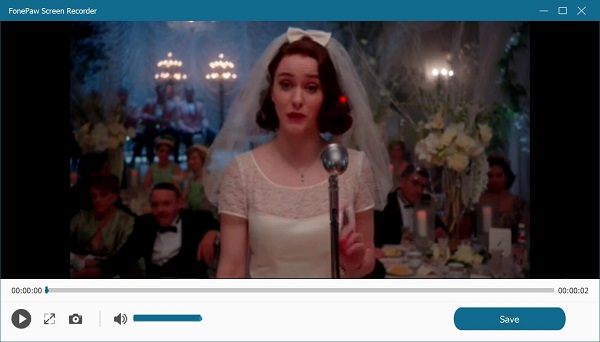 How Do I Convert Amazon Prime Video to MP4?
If you forgot to preset the video/audio output format and wish to convert Amazon Prime video to MP3/MP4, FonePaw Screen Recorder also offers a handy "File Converter" tool in recording history. Just select one recording file, and choose the converter tool, you will be able to convert it to other formats in one click.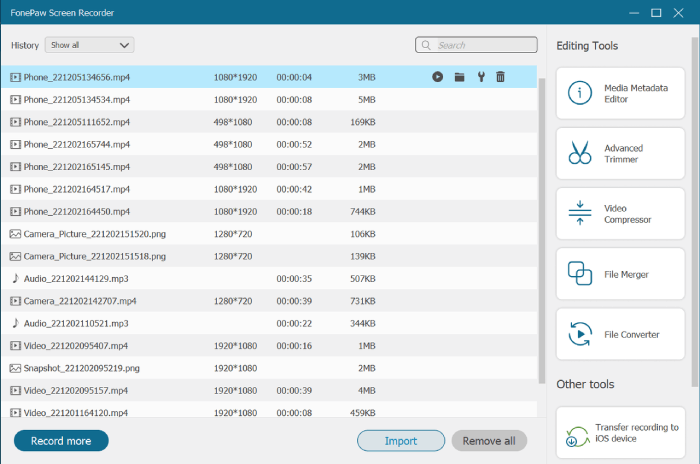 FAQs About Amazon Prime Video Download
What is the Amazon Prime Download Limit?
Amazon Prime Video comes with four watching methods: Freevee, Prime Video, Purchased Video, and Rental Video. And download limitations may vary according to different subscription plans.
Freevee: Freevee offers you free videos bundling with advertisements as a free Prime Video user, but no more download feature is allowed. To download Prime videos, you need to upgrade your Amazon account.
Prime and Purchased Video: If you already subscribe to Amazon Prime or purchase a single movie or show. You are able to download these videos under DRM protection. But only four Amazon-licensed devices can store these videos at the same time. Moreover, the downloaded videos can only be kept in your offline library for 30 days.
Rental Video: Rental videos refer to movies or shows that require you to pay separately for rental viewing. Also, rental videos can be downloaded under DRM protection. Unlike Prime and Purchased videos, however, downloaded rental videos can only be stored on one device that is authorized by Amazon. For the watchable period, rental videos can also be saved for 30 days, but they will expire in 48 hours once you start to watch.
In general, the official download method is more or less limited by device, viewing time, and DRM encryption. So if you want to save and watch Prime videos more easily, it is better to use third-party tools, such as MovPilot Amazon Prime Video Downloader and FonePaw Screen Recorder.
Can You Rip Videos from Amazon Prime?
The answer is affirmative. But given DRM encryption and Amazon subscription services, you can not rip videos from Amazon Prime in a direct manner. In this case, third-party Amazon Prime ripping tools can do you a great favor.
You can give MovPilot Amazon Prime Video Downloader a shot first. With super high-res quality and some other sparkling personalized settings, it is possible to rip prime video to MP4 to enjoy the ultimate audio-visual enjoyment one step faster. If you just want to save a short video clip, instead of ripping it, you can use FonePaw Screen Recorder to record it, which is more convenient and can also maintain the high quality of the original video.
Can I Share the Downloaded Amazon Prime Video?
It depends. Amazon Prime enables a download feature for subscribers, which allows you to download videos to watch and share on up to four Prime-compatible devices at the same time. However, if you tend to use some ripping tools to get Amazon Prime videos downloaded, you are better off for personal viewing only. Because considering DRM encryption, Amazon Prime videos downloaded from unofficial sources may put you at risk.
Conclusion
That's all you need to know about downloading and ripping Amazon Prime Video. According to both the advantages and downsides of each method, you can simply compare them and select the most suitable one for yourself to try. Wish you can also get smooth Amazon Prime video streaming offline from today. Enjoy!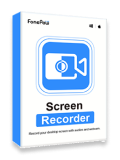 Screen Recorder
Capture every loving moment of your screen on Windows and Mac!