As soon as you buy a new iPhone, you'll want to transfer data and files from your old iPhone to it right away. You can certainly use official tools like iTunes and iCloud directly to transfer data. But you will find that the steps in iTunes are complicated and hard to master. As for iCloud, its file transfer speed is pretty slow and it has limited storage space, so you may have to pay extra money for more capacity to use it.
But this annoyance is over. Today we have prepared 8 of the best iPhone-to-iPhone transfer Apps for you to transfer iPhone to iPhone without iCloud or iTunes. Read on and pick your preferred one!
Best iPhone Transfer Software Ranking
A qualified iPhone transfer App not only needs to be able to help you transfer most of the data/files in high quality and high speed, but also must be stable and safe to use. However, some software may automatically modify system settings during usage, which will have some potential security risks. In this case, you can take a glimpse at this comparison list to make a preliminary decision about which software may suit you more to trasfer files from iPhone to iPhone.
| | | | | | |
| --- | --- | --- | --- | --- | --- |
| Tools | Tranfer Speed | Transfer File Types | Success Rate | Safety Performance | Recommend Rates |
| DoTrans | Fast | 10+ | High | High | ★★★★★ |
| Syncios | Slow | 10+ | Low | Medium | ★★★ |
| iTools | Slow | All Content | Low | Low | ★★ |
| EaseUs MobiMover | Medium | 12 | Medium | High | ★★★★ |
| CopyTrans | Fast | 15 | Medium | High | ★★★ |
| iMazing | Medium | All Content | Medium | Medium | ★★★★ |
| FoneTool | Medium | 5 | Low | Medium | ★★★ |
| Wondershare MobileTrans | Slow | 17 | Medium | Medium | ★★★★ |
After that initial look, you can read the detailed introduction below to learn more about the pros and cons of each iPhone transfer software.
FonePaw DoTrans
FonePaw DoTrans stands as an exceptionally robust iPhone transfer tool, offering an ultimate solution for effortlessly moving a wide array of data – including photos, videos, music, contacts, and text messages – from one iPhone to another. With its sleek and intuitive interface design, coupled with user-friendly operation steps, this software empowers you to efficiently transfer files and data between iPhones, standing as the best iTunes alternative.

More Features of FonePaw DoTrans:
● Retain the quality of media files during transfer without compression.
● Stable connection and ultra-fast trasferring speed ensured.
● Offers you to preview specific information about iPhone files and manage them on computer.
● Support cross-system connections among iOS, Android, and Windows.
● Built-in Toolbox with useful functions like contact restoration, ringtone production, HEIC conversion, etc.
In addition, there is a version specifically developed for Mac computers called FonePaw iOS Transfer. Besides the above functions, it can also help you transfer third-party social media data, memos, call logs, etc, so that you can move freely between multiple devices like mobile phones and computers. Please select one of the versions that suits you the most to download and use according to your needs.
You just need to follow the 3 steps below to easily transfer files with FonePaw DoTrans & iOS Transfer.
Note: Due to the nature of the iOS system, you will be required to tap "Trust This Computer" on your iPhone when you connect for the first time. Besides, to ensure that the software can successfully recognize the iPhone, we suggest you download and install the latest version of iTunes on your computer in advance.
Step 1. Connect iPhone, iPad, or iPod to the computer via a USB cable.
Step 2. Choose the data you want to transfer to or from your iPhone, iPad, or iPod.
Step 3. Click Export or Import or begin transferring data.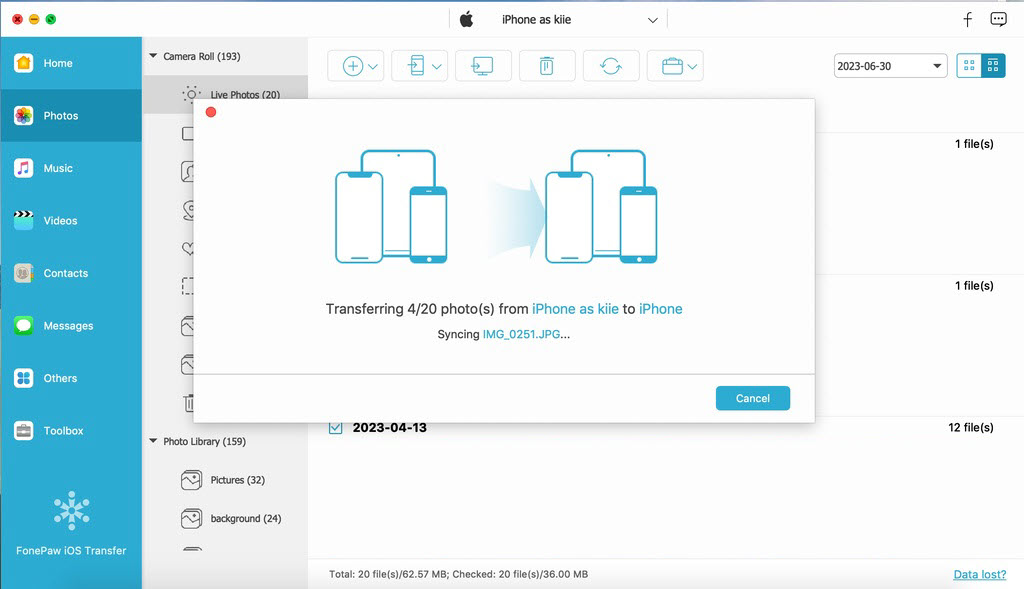 Pros:
Simple home pages, simple operation steps
Strong transmission stability of iPhone multi-file/large file
Preview iPhone file information
Supports all iPhone models(including the latest iPhone 15 and iOS 17), Windows PC/Mac
Cons:
Limited number of trial attempts
Syncios
Syncios is a transfer APP that can transfer iPhone music, videos, photos, e-books, and other data/files to devices like Android phones and PCs. What's more, it also supports users to download software with corresponding functions for iOS data recovery/cleaning and other operations. These powerful features make it stand out among many tools and achieve the effect of downloading one software to solve multiple difficulties.
Unfortunately, Syncios cannot automatically convert the HEIC while transferring the image, so the images transferred from iPhone can only be checked on iPhone, but not compatible with other devices.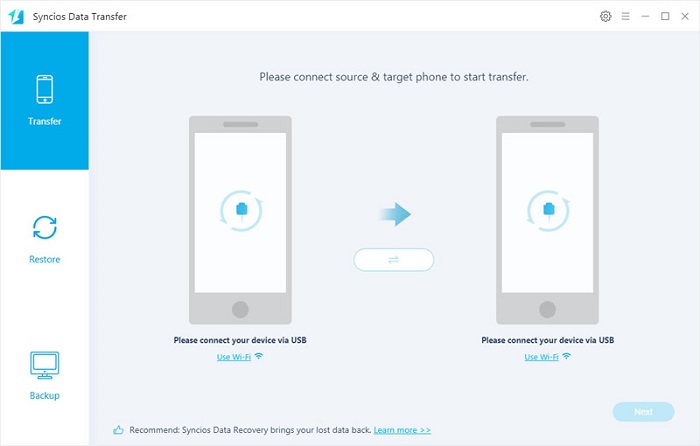 Pros:
Supports transfer of 10+ types of iPhone data.
Multiple systems are supported, including the latest versions of Android and iOS.
Cons:
Don't allow selective transfer of data from iPhone to iPhone.
Many functions can not be tried for free.
The transferring speed is slow when transmitting multi/large files.
The Mac version is currently not available.
iTools
iTools is a popular iPhone data transfer and management tool. Compared to iTunes, iTools provides you with a better way to transfer different files directly between your iOS devices and computers. Compared to iCloud, it can not only upload and transfer data quickly, but also provide a detailed and direct chart that shows the storage capacity used by every specific resource on your phone. Therefore, you can flexibly select the necessary data and move to your new iPhone and organize the storage space of your devices.
However, in the process of installing the software, you may find that the software will quietly modify some settings of your computer system, which could bring security risks. So in this case, we would recommend that you choose FonePaw DoTrans & iOS Transfer as a much safer alternative.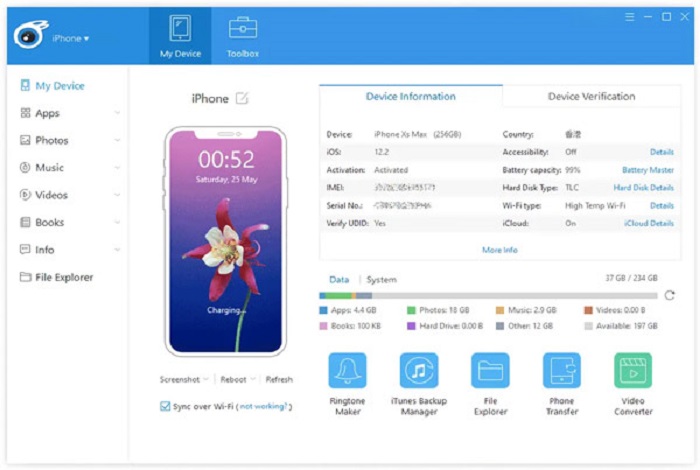 Pros:
Supports you to transfer everything on your iPhone.
Allows you to manage your iOS devices, including memory, files, etc.
Cons:
The latest iOS 17 is not supported.
It bundles other software during installation.
There will be ads pop up during usage.
You need to run another driver to use this software, and the download process is complex.
EaseUs MobiMover
EaseUs MobiMover is an iPhone transfer software for Windows and Mac computers. It can help users to transfer files between iPhone and computer, such as photos, videos, music, and so on. Surprisingly, it also has a built-in video downloader and an MP3 converter, which allows you to preview media files and convert the files you need from iPhone to widely-supported MP3 format to check and play on more devices other than iPhone directly.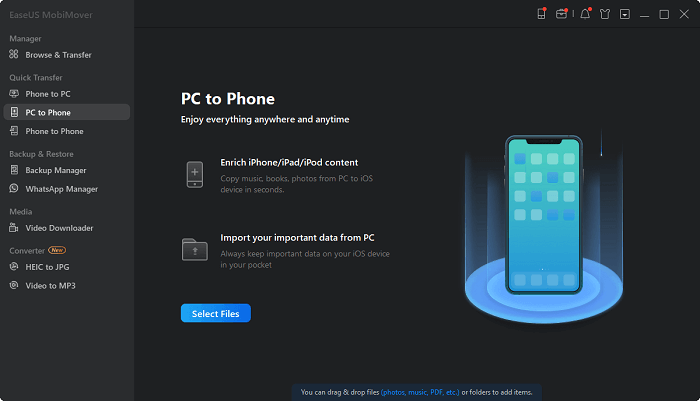 Pros:
Allows you to customize a single file to the computer, or directly transfer multiple files across devices.
Cons:
The design of the main interface of the product is somewhat miscellaneous.
Some functions are not practical.
CopyTrans
CopyTrans is an iPhone to iPhone transfer app that can transfer multiple types of data with its built-in iTunes Manager. The special thing is that after you download and install it on the official website, it will be presented in a similar form to the "Control Center", which is embedded with a number of widgets to transfer iPhone music, contacts, messages, memos, photos, and other iPhone files.
But this is where it comes in for criticism. In order to transfer different types of files, you need to download the corresponding software to achieve this, which is not very user-friendly. Besides, if you need and want to experience the full function, you need to pay for subscriptions separately.
Tips: If you want to use only one piece of software to solve most types of iPhone file transfer problems, then FonePaw DoTrans & iOS Transfer will better meet your needs with their powerful functions.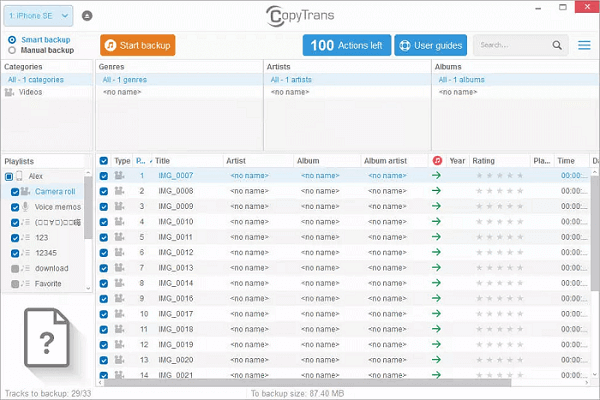 Pros:
Compatible with the latest iOS 16 system.
The built-in iTunes manager allows you to transfer iCloud photos to your computer with one click.
Cons:
You need to download the corresponding programs to your computer to experience different functions.
During the running of the software, there are often flashbacks and stalling.
iMazing
iMazing is also a well-known App to transfer data from iPhone to iPhone. It supports roughly the same types of iPhone data transfers as other tools shown above. Its main interface is divided into four parts. The left and right parts show the iPhone device information, and the middle part is the embedded multiple features including iPhone data transfer/restore/backup. The overall design is very clear and simple, even people who are non-techies can quickly get used to it.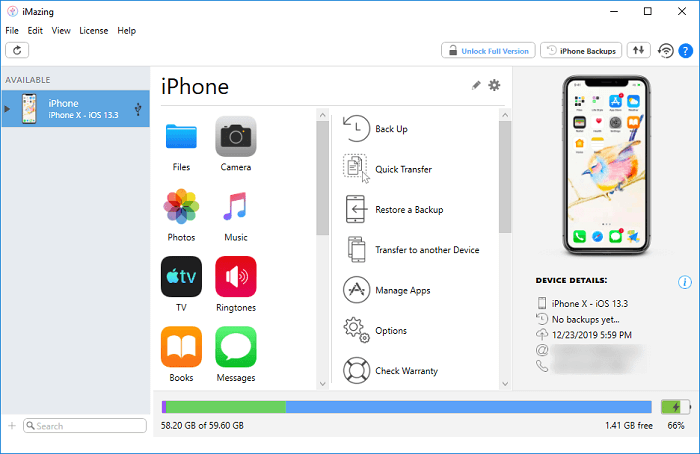 Pros:
Allows you to preview files and check transfer status.
Supports one-click transfer of all iPhone data.
Cons:
There will be ads pop up during usage.
You need to manually select files one by one for transfer.
FoneTool
FoneTool is an iPhone transfer App that supports the customization of the number of files to transfer. It allows you to transfer iPhone data such as photos, videos, and music to other devices, and can set the "Same file be transferred only once" feature to avoid repeated transfers that take up too much capacity on the target device. Moreover, it can also directly view the parameter data and manage the device capacity of your iPhone through the connection.
Unfortunately, when using this software, you may find its connection feature is somehow worse than other tools mentioned before, so the "Reconnect iOS Device" tag may pop up from time to time.
If you find yourself in a similar situation, you can consider trying FonePaw DoTrans & iOS Transfer instead. Its powerful stability and features will let you work without such issues.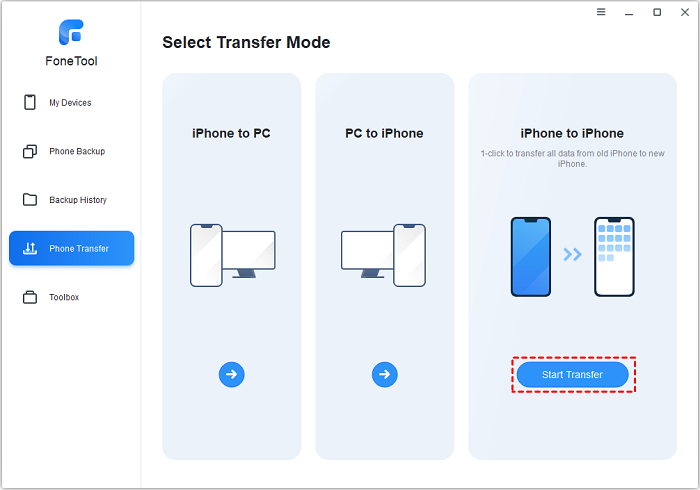 Pros:
Supports preview iPhone data and transfer in batches.
A new archive folder can be created based on the type of iPhone data during transfer.
Cons:
Only 5 types of iPhone data are supported for transfer.
The stability of the device connection is poor.
Only works on Windows computers.
Wondershare MobileTrans
Wondershare MobileTrans is an iPhone to iPhone transfer software that supports the transfer of 17 types of data. Unlike other platforms, it focuses more on data from third-party social media such as WhatsApp and LINE. So, it would be really suitable for social media lovers who just get a new iPhone and want to move all their social app data immediately.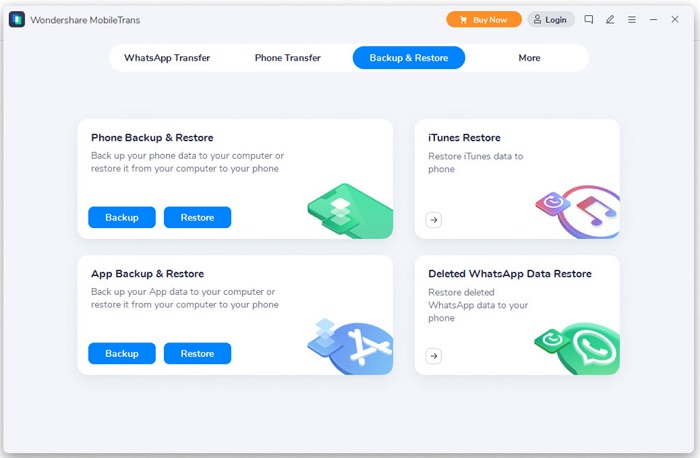 Pros:
The functional interface is clear.
In addition to transferring iPhone data, it also supports transferring/backing up App data on the iPhone.
Cons:
The transfer speed is slow.
Conclusion
After reading this article, you've learned a lot about apps to transfer data from iPhone to iPhone, so you only need to choose the software to use according to the two most important aspects: transfer speed and device connection stability. However, based on such criteria, we would highly recommend you to try FonePaw DoTrans & FonePaw iOS Transfer, because it not only ranks among the best in terms of efficiency and stability, but also comes with the necessary features to help you do more than just transfer files from iPhone to iPhone.