In the past, if there was an iOS device, there was an iTunes app. iTunes has connected every one of your Apple devices since it was launched. With multiple features, it can serve as your data management and transfer tool, media store, and player. But now people have been complaining about its poor performance. Especially on Windows PC, this age-old tool runs slowly and can not work well with multiple devices.
In this case, why not find an iTunes alternative for your Apple device to get a better experience? There are many iTunes alternatives for PC on Windows 11/10, and also for Macs. And for your convenience, this article will introduce 8 iTunes alternatives to you. Now, let's dive in!
Best Alternatives to iTunes for File Transfer and Management
You can't deny that iTunes is good at data management and transfer. You can sync music, videos, photos, app data, and various other documents on your iOS devices to computers via iTunes. However, due to its complex interface and operations, iTunes is becoming more and more difficult to control over your files. Therefore, we have found the top iOS transfer software for you below.
FonePaw DoTrans
We can guarantee that FonePaw DoTrans will be one of the best iTunes alternatives for Windows. It allows data transfer between iOS and Android devices, both via a data cable and over WiFi, making it a versatile cross-platform data transfer solution. Better still, this top-rated program offers the ability to preview files in real time without the need for backup. This capability allows you to promptly manage files, whether it's adding or deleting them.
Cross-Platform Data Transfer: FonePaw DoTrans can effortlessly sync your data from iOS or Android phones to Windows computers, and vice versa. You can also copy files between mobile devices regardless of their different systems.
Support Transferring Various File Formats: You can transfer photos, music, videos, contacts, and messages to your Windows PC via FonePaw DoTrans.
Stable, Speedy, and Selective Transfer: FonePaw DoTrans offers a reliable transfer process that preserves your data's quality. And with the batch transfer feature, you can select files to transfer swiftly.
A Built-in Toolbox: FonePaw DoTrans can convert iPhone's HEIC format photos with a versatile toolbox. The toolbox also features a ringtone maker to make an M4A format ringtone.
Mature Data Management Tool: You can import, add, delete, and organize your contacts, media files, and photos via FonePaw DoTrans.
Why You Should Choose FonePaw DoTrans?
Unlike overwhelming iTunes, FonePaw DoTrans simplifies the process of managing your cross-platform data with its intuitive interface. It not only supports iOS devices and computers but also facilitates seamless data transfer to and from Android devices, making it a perfect iTunes alternative for Android users. Importantly, you can have full control over your files with this powerful tool. Whether it's previewing, editing, or eliminating duplicate files, this tool can accomplish them all.
WALTR PRO
To transfer files from iPhone to iPhone with a specialized data transfer tool for iOS, WALTR PRO is worth considering. This software is tailored specifically for iOS file transfers, making it a one-stop solution for transferring nearly any type of file you require.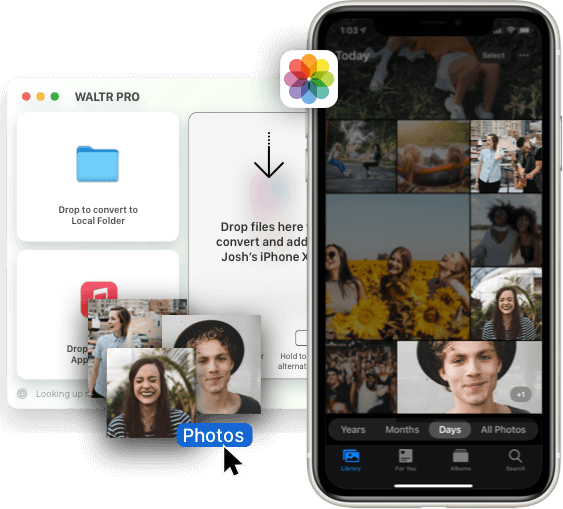 Easy Drag-and-Drop Operation: WALTR PRO boasts a user-friendly interface. Simply drag and drop your files into the software, and they will be transferred seamlessly.
Auto-Format Conversion: WALTR PRO automatically detects files added to the software, converts them into suitable formats, and saves them to your specified destinations.
Comprehensive iOS File Transfer: WALTR PRO facilitates easy file transfers between your iPhone 15/14/13/12/11 and Mac, as well as the reverse. You can even drop media files and integrate them into Apple Music.
Cross-Platform Compatibility: Compatible with both MacOS and Windows PC.
Supports Various File Formats: WALTR PRO works with a wide range of file formats, including media files such as MP3, FLAC, WAV, MKV, MP4, M4W, e-book files like EPUB and PDF, ringtones in M4R format, and many other file formats from different apps.
Why You Should Choose WALTR PRO?
iTunes features a lot of functions, including being your media player and application management tool. That makes iTunes a clumsy and complex app. But WALTR PRO focuses only on iOS data transfer. So, if you are just looking for an iTunes alternative for file transfer, WALTR PRO can be a good choice. Also, WALTR PRO features an auto-format-convert function. It converts media files to proper formats when you transfer iPhone photos to flash drive, which is good for afterward viewing.
Best iTunes Alternatives for Music and Video Playback
Most iOS users are familiar with iTunes as a platform for purchasing and playing music and videos, but this buy-to-own model has become less popular in recent times. Nowadays, superior alternatives to iTunes are available, providing more user-friendly options for streaming and playing music and videos. Below, we present the top three alternatives for your iTunes music needs.

Apple Music
Apple Music is the perfect iTunes alternative for music and video playback. With an extensive library of songs and music videos, it offers a diverse range of entertainment. Enjoy ad-free music streaming, personalized playlists, and the option to purchase and download tracks. Seamlessly integrated with Apple devices, it's a user-friendly choice for your audiovisual needs. Upgrade your music and video playback experience with Apple Music today.
A Vast Music Library: You can enjoy millions of songs, albums, and playlists online, including some exclusive to Apple Music.
Offline Playback: You can download songs and playlists for offline listening.
Family Sharing: Your family members can share your subscription plan, each having their playlists and music library.
Exclusive Listening Experience: Apple Music provides personalized music recommendations based on your listening history, allowing you to tailor your listening experience.
Why You Should Choose Apple Music?
First, you don't need to buy songs one by one like you did with iTunes Store. A large number of songs are available within the Apple Music library and you can listen to them easily. Besides, Apple Music owns exclusive audio and video content. That is what the iTunes Store can't provide. Apple Music also provides live radio stations, making your listening experience more interesting.
Netflix
If you are looking for an iTunes alternative for video streaming, try Netflix. Movies and TV Series lovers must have known Netflix well. It provides video streaming services and also produces its own TV Series and Movies.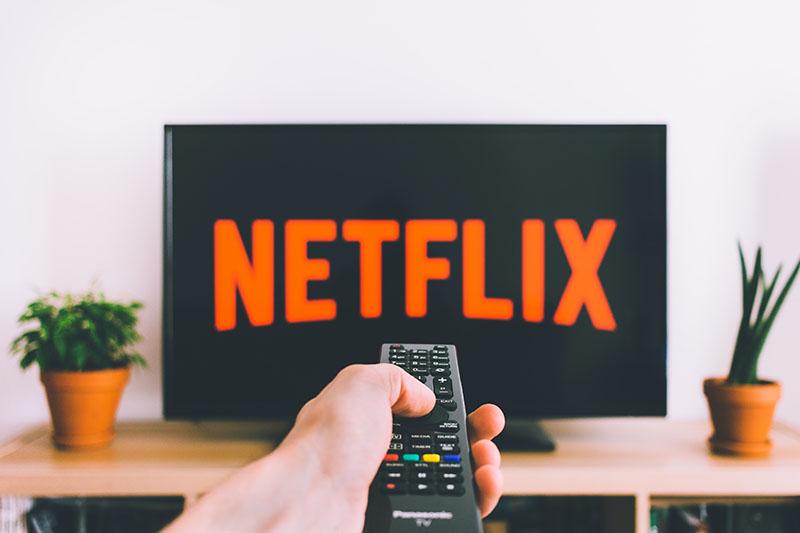 A Massive Content Library: You can find a large number of TV Shows/Movies/Documentaries and other video content on Netflix.
Offline Playback: Netflix provides a download function to save titles to your own device. You can then watch them even without internet access.
Choose from Multiple Language and Subtitle: Netflix provides videos with multiple language and subtitle options. Global audiences can choose accordingly.
Original Content: Netflix not only provides video content. It produces its own program. You can enjoy Netflix's original movies and TV series on it.
Why You Should Choose Netflix?
You can subscribe to Netflix and access a diverse library of movies, TV series, and documentaries. It offers flexibility in selecting content to suit your preferences. Unlike iTunes, where you must purchase content before watching, Netflix regularly updates its offerings, featuring the latest releases and original programming. Moreover, Netflix offers an online video streaming service, saving device storage space, while iTunes requires purchase and download before viewing.
PotPlayer
If you see iTunes as a music/video player, PotPlayer can be its alternative. PotPlayer is a multimedia software player. It supports different media formats. Unlike Apple Music and Netflix, PotPlayer doesn't provide online streaming services. You have to download the audio/video content before you can play them.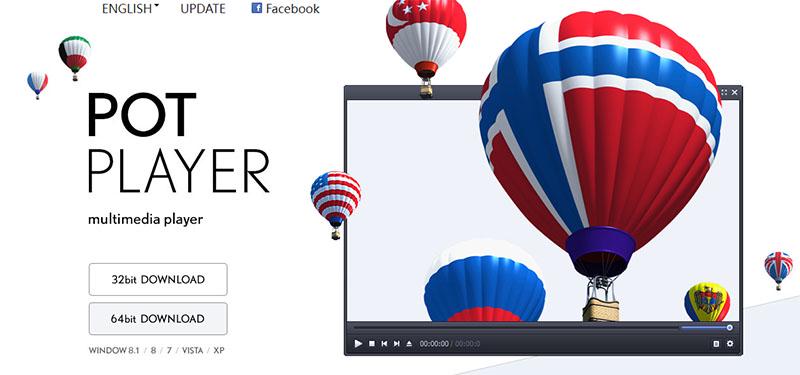 Supports Various Media Formats: PotPlayer supports common audio formats MP3/FLAC/AAC and video formats MKV/MP4/AVI, etc. It also supports other less popular media formats.
Powerful Playback Functions: PotPlayer is known for its powerful playback functions. It supports external subtitles, offers various audio and video settings, and has built-in codecs.
High-Quality Playback: It provides a good playback experience for HD/4K videos and 3D videos.
Capture and Screenshots Function: PotPlayer is also known for its capture feature. You can screenshot the video at any second and even record the video content directly from PotPlayer.
Create Bookmarks: You can easily create and leave bookmarks for your favorite scenes while watching a movie.
Why You Should Choose PotPlayer?
PotPlayer is a professional multimedia player, designed for audio/video playback. You can enjoy viewing audio/video content in a variety of formats with PotPlayer. What's more, PotPlayer provides powerful playback functions. You can set up a set of audio and video settings to enhance your watching experience. You can screenshot or capture your favorite scene while watching a movie, or even record a short video directly from PotPlayer.
Best Alternatives to iTunes for iPhone/iPad Backup
When it comes to iOS backups, iTunes offers a straightforward method. It enables you to transfer various data from your iPhone or iPad to your Mac or Windows PC. This includes messages, call logs, contacts, voice settings, and widget preferences, all of which can be automatically backed up to your computer. However, it's essential to remember that creating a new backup will overwrite the old one. To avoid this situation, let's delve into three iTunes alternatives that offer effective data backup solutions.
FonePaw iOS Transfer
FonePaw iOS Transfer is the professional iOS data transfer tool we pick for you. We can say that it is one of the best alternatives to iTunes for Mac. It helps you easily transfer various files, including photos/videos/music/contacts, etc. from iPhone or iPad to computers. It can even sync your iOS devices to iTunes or vice versa.
Free Download Buy with 20% off Free Download Buy with 20% off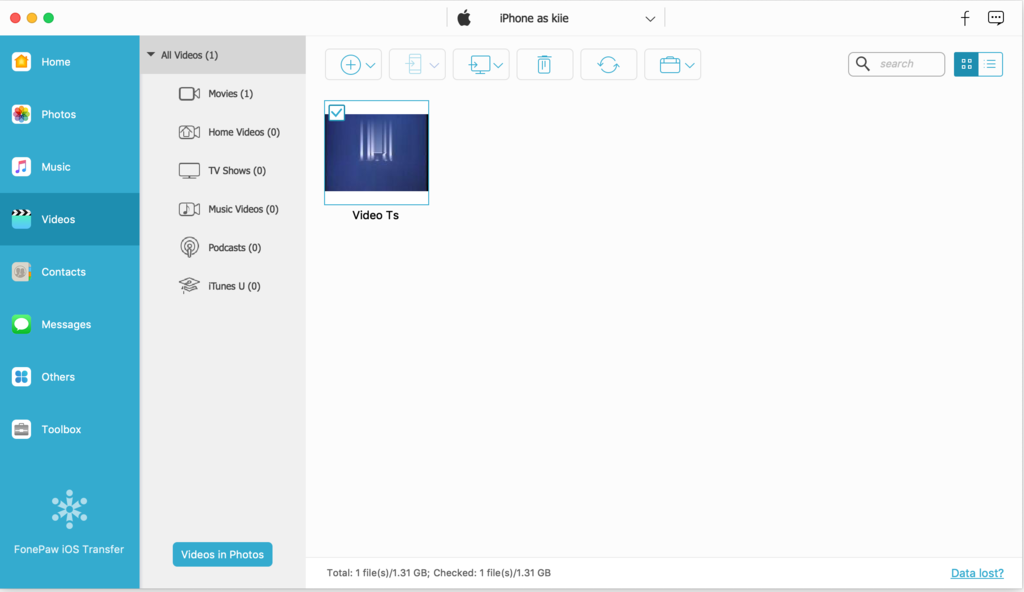 Professional Transfer Tool for Apple: FonePaw iOS Transfer facilitates data transfer between iOS devices, including the coming iOS 17. It enables seamless data transfer from iOS-specific applications and third-party software like WhatsApp to Mac without data loss or messy code.
One-Click Data Transfer Tool: With FonePaw iOS Transfer, you can efficiently manage and customize your iPhone data. It allows you to add or delete contacts, create custom ringtones, and easily convert HEIC to JPG.
Built-in iTunes Transfer Function: FonePaw iOS Transfer offers a feature to access the iTunes library, enabling you to sync iPhone data to iTunes or import iTunes data to your iPhone.
Flexible Transfers: You have the flexibility to transfer files individually or in batches.
Why You Should Choose FonePaw iOS Transfer
Powerful as it is, FonePaw iOS Transfer features a user-friendly interface and a simple operation process. You can easily master it. Unlike iTunes, you don't need to go through complex operations to finish your data backup process. And it enables you to choose backup content. You can select what to back up and preview the files before you start to back up. And you can even use it to transfer iPhone photos to external hard drive for a portable backup.
iMazing
You can only keep one latest backup version on iTunes. That means you can not undo any changes. To fill this gap, you can use iMazing. The software provides a more flexible backup function than iTunes. It can help you to back up and transfer iOS data from iPhone or iPad to Mac or Windows PC, and keep the backup history. You can get back to the previous backup version if needed.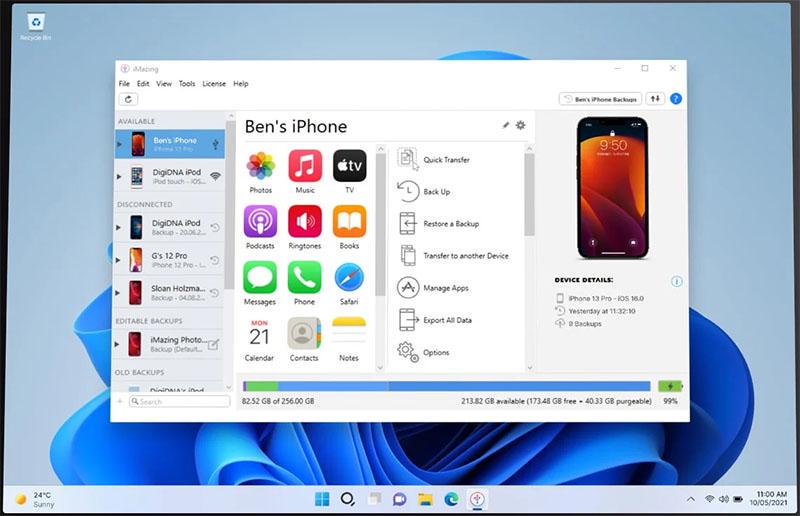 Choose What to Backup: You can choose to back up all data from your iOS devices or back up specific data and files according to your needs.
Keep Backup History: iMazing keeps multiple backup versions. You can have a history of backups. You can go back to one specific version of your data.
Offline Backups: You can back up your device via iMazing with no internet connection.
Selective Restore: You can choose to restore specific files or data from a backup, instead of overwriting the entire device.
Extract Data: You can check your backups and extract one or more files or data from them.
Why You Should Choose iMazing?
iMazing provides a more powerful backup function for your iOS device. It keeps different backup versions, and you can access any specific one of them. While with iTunes, new backups always overwrite the old ones. Also, you can view your backup content and extract any piece of data from it, including messages, photos, and so on. Another reason to recommend iMazing lies in that it can back up your data and restore them to different devices, with no device ownership restrictions.
Google Drive
As iOS's default cloud storage service tool, iCloud has very limited space. In this case, you can try Google Drive. Google Drive allows you to store files and data in the cloud on Google's servers and share the files with others. It works on both Android OS and iOS, Windows PCs and Macs. Every user can have a basic 15GB of free storage space.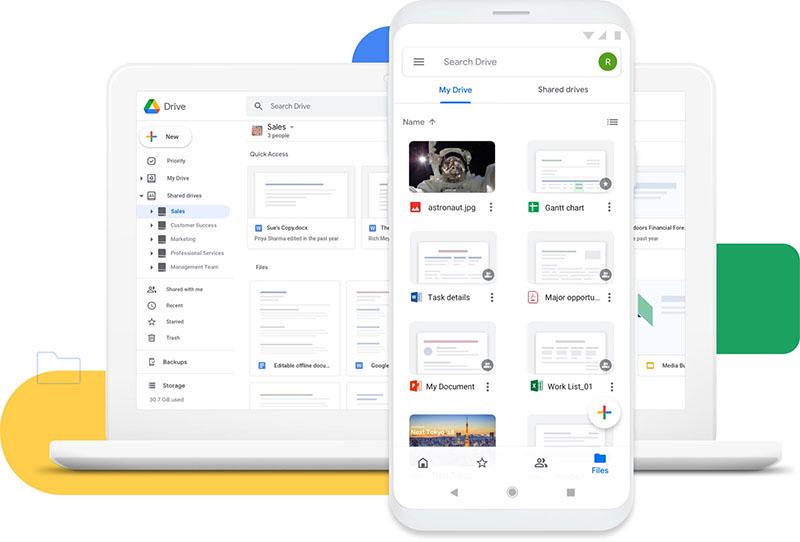 Trustworthy Cloud Storage Service: Google Drive allows you to store files/documents/photos/videos and other data securely on Google's servers.
Auto-Backup: You can set up an auto-backup function with Google Drive. Then your data can be backed up to Google Drive regularly and automatically.
Keep Backup History: Google Drive also provides a history of your file backup. If you want to undo any changes to your files, you can go back to any version of the previous backup.
Cross-Platform Access: You can access Google Drive from computers, smartphones, and pads. That means you can sync and check files conveniently if you have internet access.
Why You Should Choose Google Drive?
Google Drive provides a more flexible and powerful cloud storage service. While iTunes is designed just for iOS devices, Google Drive can be used on any OS and device. Thus, if you are using Android and iOS devices at the same time, you can use Google Drive to back up your data from both devices. Besides, Google Drive offers a large storage capacity so that you can back up more files in it.
Conclusion
In this article, we recommend 8 iTunes alternatives to you. Among all, for data management and transfer, your preferred choice can be FonePaw DoTrans. It enables cross-platform data transfer and convenient data management. But if you are using iOS devices only, FonePaw iOS Transfer is your ideal pick. Now for selective file transfer and management, try the two desktop applications right now!