Screen recording is one of the most convenient and popular ways for us to record useful information on PC. If you've searched on Google, you will know that you can record your screen on Windows 10 without downloading software because there is an existing tool called Xbox Game Bar, which we will talk about in this post.
But if you've tried it, you will find that this tool can only help you with the most basic recording for just one window. Therefore, we will show you another way to record your screen on Windows 10, in which you can do the screen recording with much more features such as adding annotations, recording all desktop activities, capturing full audio and webcam, and more.
1. How to Record Screen on Windows 10 with Built-in Screen Recorder
It's doubtless that Xbox Game Bar is the most convenient recording software to use when you want to capture a video on Windows 10. As long as you are running Windows 10 or 11, this free screen recorder that requires no extra downloading is there, and the way to use it for screen recording is also simple.
Therefore, it becomes understandable that this tool is limited. It lacks features that many people commonly need like recording the entire desktop rather than one running window, customizing the recorded area and sound volume, adding annotations, etc. If you have such needs, you can look at this more professional tool to record screen on Windows 10.
Step 1. Get your game window ready and press "Win+G" on the keyboard, and you will see the floating widget of Xbox Game Bar.

Step 2. Select the "Capture" feature for a video recording. Unmute the microphone on the pane if you need to record your voice during the screen recording. Then, no extra settings needed, just use the shortcut "Win+Alt+R" to start recording (or you can hit the Start button).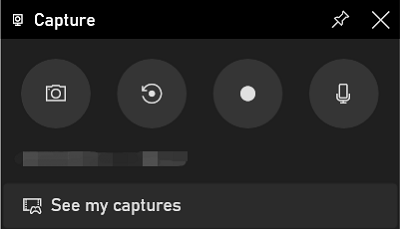 Step 3. You can see the capture status while you are recording the program. Press "Win+Alt+R" again to finish the recording, or you can also hit the Stop button.

Then the video (alias game clip) will be automatically saved to the default folder.


Tips:
1. If the hotkeys don't work for your Xbox, go to Start Menu > gear icon > Gaming and check if you've changed the hotkeys to other ones.
2. You can open the recorded video by going to Start Menu > gear icon > Gaming > Captures > Open Folder.
3. You can ONLY record one window at a time when using Xbox for recording.
2. How to Record Your Desktop on Windows 10 with More Features Available
Although Windows 10 offers you a good screen recording tool, it may still far to reach what you need. As many third-party screen recorders can provide more practical options for you to customize, adjust, and edit the screen recording, they are usually better choices to fulfill more specific needs.
FonePaw Screen Recorder is such a recording recommendation for Windows 10 users. It nicely fills the gap of Game Bar, and provides people with versatile recording selections.
Why Choose FonePaw Screen Recorder?
As a beloved screen recording software, FonePaw Screen Recorder offers you professional features and beats others with its compatibility and functionality. With this screen recorder, you can record anything you can see on your screen without Xbox.
Let's see what FonePaw Screen Recorder gets:

Free Download Buy with 20% off
Main Features
📌 Record Video, Audio & Webcam – System sound & microphone can be recorded simultaneously, and the volume can be adjusted before and during the recording. Meanwhile, you can record a video of the screen and your face together, which the built-in screen recorder cannot do.
📌 Add Annotations & Personalize Watermark – You can add real-time annotations during the screen recording (draw with tools of the rectangle, eclipse, line, arrow, pencil, airbrush, text, call out in various colors and sizes). The recorded video by default is high quality and no watermark, but if you prefer to add one, you can customize it in the program.
📌 User-Friendly Interface – It's really important that this screen recorder is very very easy to use. You can naturally know how to use it and which feature to choose at first glance. It's very friendly for those who are not good are using new software.
📌 Take Screenshots – You can use it as a normal screenshot capturer with some editing tools. The snapshot feature is available at any time, whenever you are recording a video or not.
📌 Various Output Formats & GIF Maker – The recording can be of format WMP4, MOV, AVI, F4V, TS and even GIF, which means you can directly make GIF via this software.
📌 Timer Setting – You can set a timer to start and stop automatically at a specified time or set a length after your start recording, with which it will stop recording automatically too.
📌 Custom & Preference Settings – You can select any recording areas or windows on your computer; exclude some windows you don't need during recording; choose if capture the mouse click with any color; customize the hotkeys; preset the recording parameters for serial recordings. Also, you can choose if let it show countdown before recording; beep on start recording; show recording boundary; hide float bar, move the recording region, hide desktop icons, auto hide the system taskbar when recording; hide the main interface when taking screenshots; auto open preview window; change the color of the mouse clicks.
📌 High Quality & No Restriction – It can record your screen with high quality and support frame rates up to 60 fps and you can cancel microphone noise or enhance the microphone in a paid version. Besides, it is supported on Windows 10, Windows 8 or Windows 7 and can record live steaming, Zoom meetings, etc. even without permission.
Free Download Buy with 20% off
How to Record Screen with FonePaw Screen Recorder
Having known so many features of FonePaw Screen Recorder, how do you record your screen on windows 10 with it? You will get to know that by the following guide.
Step 1. Download and Install FonePaw Screen Recorder on Windows 10 Computer
Click the Download button below to get the 60fps screen recorder on your Windows 10 computer. If you want to recommend this software to your friends who use a Mac computer, you can also record screen on Mac.
Free Download Buy with 20% off
Step 2. Launch the Software and Go to Video Recorder
After you get this tool running, you will see multiple gadgets on the homepage. Click Video Recorder and you will reach the setting page for the screen recording. The Game Recorder requires administrator privileges. Recording your gameplay with a Game Recorder instead of a Video Recorder allows you to get a game recording without lag.

Step 3. Set up for the Screen Recording on Windows 10
Select a recording region for the recording and turn on the system sound or the microphone sound depending on your actual needs. If you want to record your webcam activities, don't forget to turn on the webcam.
If you need some advanced setting such as customizing a recording region, excluding some windows that you don't need to record, enhancing the microphone, and selecting output formats as GIF, you can check them here after Step 5.

Step 4. Start Recording
After finishing the setup, click the Rec. button and start to screen record. There are some bonus actions you can take on the floating bar during the recording:
Pause the recording
Take a Screenshot
Set a Timer
Draw on the captured screen during the recording
Turn on/off the Webcam
Adjust the volume of the system or microphone
Remove windows that you don't want to record

Step 5. Cut and Save the Recording
When you are done recording, click Stop. A window of recording previewing will pop up. You can preview it to see if the recording is perfect or trim your recording here with a paid version. After everything is done, tap Save.

Tip:
If your computer suddenly shuts down or the recorder was abnormally closed when you are recording the screen, don't worry! All you need to do is restart the computer and launch FonePaw Screen Recorder. You will be allowed to restore it right away.
Free Download Buy with 20% off
Advanced Settings for Recording
If you wish to make the screen recording as perfect as you want, before getting it started, customize the settings for the details below:
🌟 Select a Recording Area
You can directly choose Fullscreen to record or customize the recording area by clicking Custom. This FonePaw Screen Recorder allows you to select a region/window or some popular dimensions in the drop-down menu of Custom.
🌟 Record Without Distraction
Go back to the recording page and you will see the Advanced Recorder settings under the Rec button. You can lock the recording window or exclude some windows for the recording to avoid screen recording being covered up by unnecessary windows.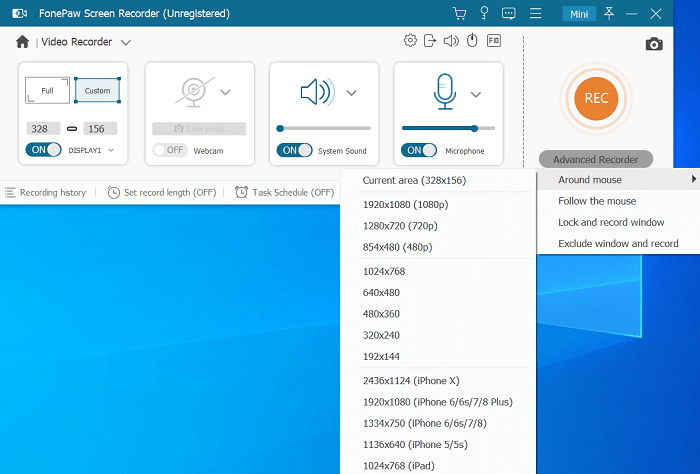 🌟 Turn on/off the System / Microphone Sound
If you are to record an online course or meeting on Windows 10, you may just need to turn on the system sound without the microphone on to avoid some noises being recorded along with the recording.
At the same time, you can cancel noises of your microphone if you click the speaker icon and hit Sound check in the drop-down list.
🌟 Output
Select the location and the formats of the temporary files, output files and screenshot files. Meanwhile, you can select the audio and screenshot output formats here.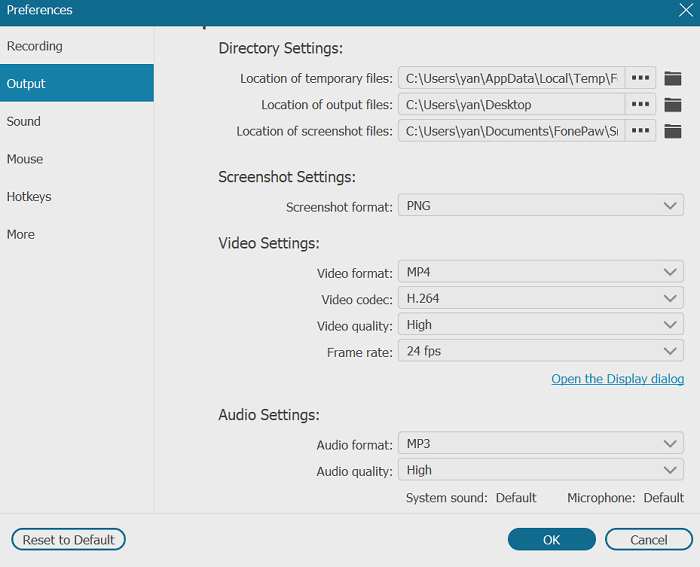 3. Frequently Asked Questions About Recording Screen on Windows 10
We've covered how to record your screen on Windows 10 on both FonePaw Screen recorder and Xbox Game Bar. You may wonder how to make other kinds of recordings on your PC. Here shows the answers to some related questions:
Q1: Can I Record the Webcam Only on Windows 10?
Yes, you can only record the webcam on your computer, and you can also try two ways: use the built-in Camera app for Windows 10 or capture with FonePaw Screen Recorder.
💡 Record Yourself on Windows 10 With App Camera
There is a camera app on your computer and if your camera device is working fine, you can use it to record your face following these steps.
Step 1. Search "Camera" in the search bar;
Step 2. Click the "Recording icon" on the right pane to start recording;
Step 3. Hit "Stop" and you can find the recording in the folder by path: C:\Users\X\Pictures\Camera Roll (replace X with your user name).
Another way to record the webcam is to use FonePaw Screen Recorder.
💡 Record Facecam on Windows 10 Via FonePaw Screen Recorder
Step 1. Hit the Webcam on the homepage;
Step 2. Set up for the recording by selecting your Webcam device, resolution, microphone or rotating the screen if you want to;
Step 3. Hit Record to start;
Step 4 Click Stop to finish the recording.


Tips:
1. You can take screenshots before or during the recording.
2. You can set a timer for the video recording of yourself.
3. Learn more details about facecam recorder.
Q2: How to Record Audio Only on Windows 10?
There are also many kinds of voice recorders for Windows 10. If you prefer to use a built-in tool, you can use the Voice Recorder to record a voice memo from your microphone. If you need to record the internal audio along with the voiceover, you may need to enable the Stereo Mix, and you can click here to have a look.
To make things simple, FonePaw Screen Recorder not only allows you to record screen with audio, but can also help you record audio (internal or external) on Windows 10. Looking at this program is more time-saving.
Besides, you can also learn some free audio recorders for Windows like Audacity.
Wrap-up
We've covered how to screen record on PC with audio with two methods, i.e., Xbox Game Bar or FonePaw Screen Recorder. Xbox is the best for basic recording of a single windows on Windows 10, while FonePaw Screen Recorder is the first choice if you want to record your screen with full audio, annotations, multi-windows, or other functions.
Besides, FonePaw and Camera app can help you record the webcam or audio only on Windows 10 with no-brainer actions. Even if you are a newbie – you can just try it out now and enjoy the recording.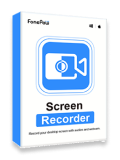 Screen Recorder
Capture every loving moment of your screen on Windows and Mac!