Screen recording demands are increasingly rising, as there are more people relying on such functionality to capture their screen activities on desktops. To cater to the trend, a free built-in screen recording feature, the Xbox Game Bar has integrated to Windows 10 systems, which enables users to freely record the screen without installing extra software. However, such screen recording feature for Windows 10 fails to meet all user requirements, as it contains many limitations, for example, the recording area can't be customized, only one window can be recorded each time, etc.
Therefore, instead of this feature, this blog is going to recommend the other 8 best free screen recorders for Windows 10, which are able to deliver higher recording quality and more comprehensive functions to users. If you are also seeking an alternative to the built-in Xbox Game Bar for Windows 10, keep reading and find your ideal pick.
✨A lightweight screen recorder with powerful compatibility to record all screen activities on Windows 10.
Free Download Buy with 20% off Free Download Buy with 20% off
When we are seeking the best screen recorder for Windows 10, we would consider whether it is able to capture more screen activities, if the output quality is good, or is it possible to customize the recording settings flexibly. Luckily, FonePaw Screen Recorder is such a professional screen recording software bringing customizable recording functions to Windows 10 users.
With flexible recording modes available, users are able to adjust the recording area, content, and other settings based on personal requirements. It is possible to record videos, audios, or with webcam, microphone sound at the same time. That means FonePaw Screen Recorder is suitable to capture almost all types of screen activities without hassle.
To guarantee better output quality, FonePaw Screen Recorder also enables users to freely adjust the recording parameters for preserving the recorded files. The most mainstream formats are also supported to increase the compatibility of the recordings, enabling users to play them on all devices without hassle. More importantly, unlike many other free screen recorders, FonePaw Screen Recorder won't add the watermark to the recordings to affect the video streaming later on. From all aspects, FonePaw Screen Recorder is the best choice and suitable for everyone to use.

Pros and Cons of FonePaw Screen Recorder
➕Pros
Compatible with all screen activities;
Available to record the screen, system sound, microphone sound, and webcam freely;
HD quality supported to record important moments such as the gameplay highlights;
Scheduled recording mode available to auto-process the screen recording without keeping eyes on it;
No watermark would be added to the recordings;
Flexible hotkeys settings to help users take full control of the software with ease;
Output parameters available to be adjusted freely;
Noise cancellation and audio enhancement features available to improve the recorded audio quality in one click.
➖Cons
Free trial only compatible with 3-minute recording at max;
Unavailable to use noise cancellation and voice enhancement features;
The recording clipping feature provided in the previewing mode can't be used.
How to Free Record Screen on Windows 10 in FonePaw Screen Recorder
This brief guide will show you the way to record screen via FonePaw Screen Recorder on Windows 10 without hassle.
Free Download Buy with 20% off Free Download Buy with 20% off
STEP 1. Launch FonePaw Screen Recorder and select "Video Recorder".
STEP 2. Customize the recording settings such as the recording area, system sound volume, or enable the webcam and microphone recording on.

(Optional) STEP 3. Hit the gear icon provided above the microphone setting box, you are able to open "Preferences" and customize the parameters in "Output" section. Also, you are able to adjust the software settings such as the hotkeys settings to enable more convenient usage.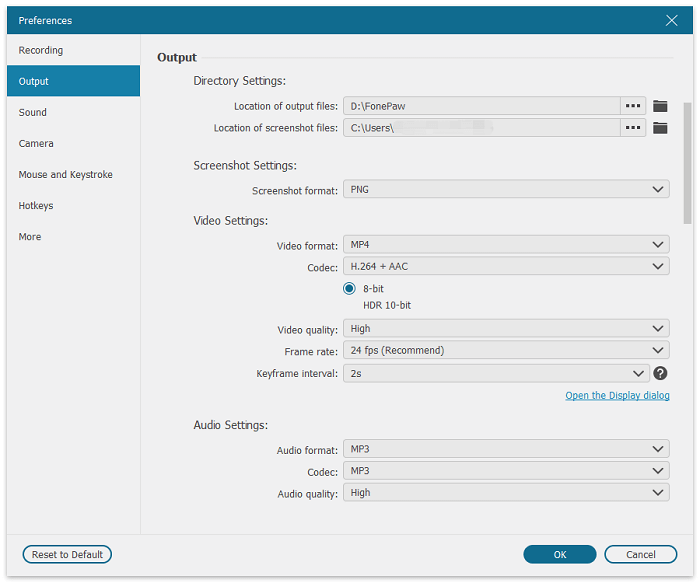 STEP 4. Now, give a go on the REC icon on the interface of FonePaw Screen Recorder and start the recording. During the recording process, you are available to use the drawing panel to paint on the video as you need.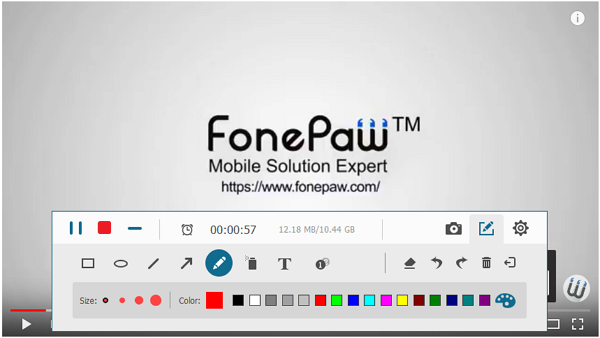 STEP 5. When the recording ends, hit the stop icon and FonePaw Screen Recorder will navigate you to the previewing window. If you are a registered user, you are available to trim the recording as you desire. Finally, by clicking the "Save" icon and the recording can be saved locally.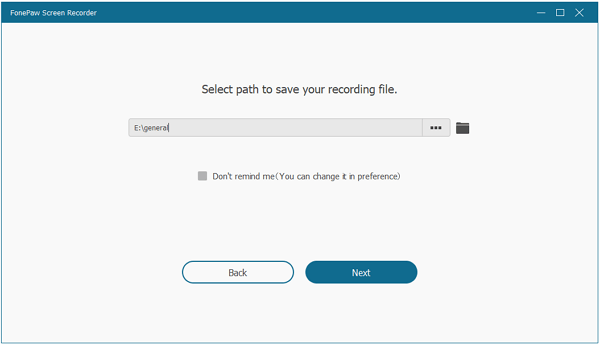 ✨Professional screen recording software available to capture videos of high resolution across platforms.
If you are considering to seek a game recorder on Windows 10 to replace the Xbox Game Bar, in order to capture the gameplay moments with high quality, OBS Studio is an ideal pick for you. The software is able to record the gameplay on Windows 10 at 60FPS or even higher, but takes just a very low CPU. That means, even when you are playing games and simultaneously processing the recording, your gaming performance won't be affected as the running of OBS Studio won't drag down the performance of your computer at all.
In addition to the screen recording, OBS Studio also supports to live stream your screens to Twitch or YouTube, so that you are able to make gaming living streams with the software conveniently. Therefore, OBS Studio is a good screen recorder for Windows 10, especially the game players.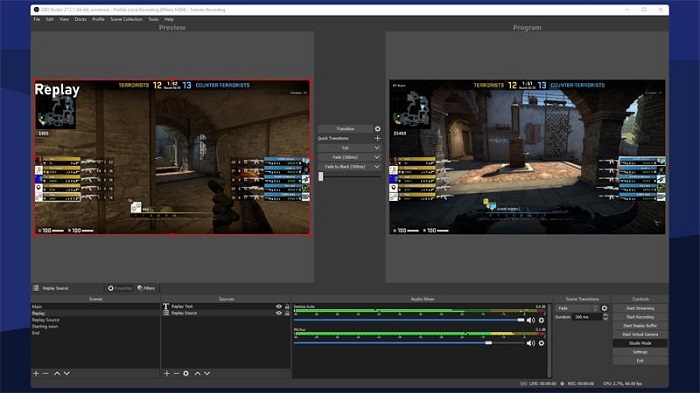 Pros and Cons of OBS Studio
➕Pros
Compatible with Windows, Mac, and Linux at the same time;
Available to process gameplay recording at 60FPS or even higher and great resolutions;
Low CPU occupation without dragging down the device performance;
Absolutely free to use.
➖Cons
The user interface would be complicated for some users;
Long-time setup process required.
✨Provide watermark-free recording function to capture the Windows screens freely without time limits.
FlashBack Express is also a reliable free screen recorder for Windows 10 users to record the screen with high resolution but with no fee. Unlike some other free screen recorders, FlashBack Express won't add watermarks to the recordings that would affect the recording playback. The software also brings flexible area selections to capture any place on your Windows 10 screen as you need. In addition, the webcam recording and basic trimming features are both supported to meet your requirements.
Moreover, FlashBack Express will supports the mainstream output formats to perverse the recording offline, such as MP4, WMV, and AVI. Therefore, your recorded videos are available to be saved and streamed on more devices, platforms, and players.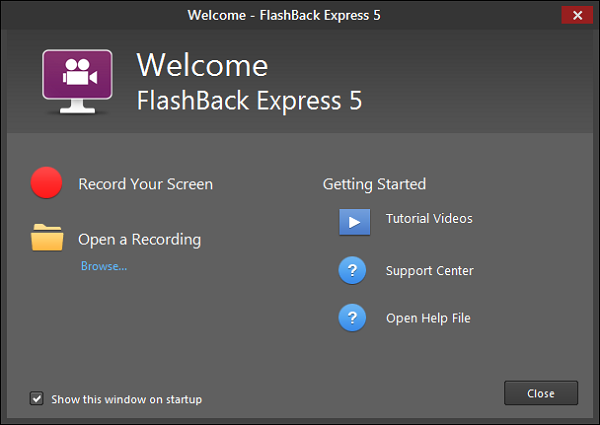 Pros and Cons of FlashBack Express
➕Pros
Mainstream output formats available;
Intuitive interface for people to use easily;
Webcam recording supported;
Basic trimming feature is provided to customize the recording length with ease.
➖Cons
Some independent tools provided in the software require you to pay for usage.
✨A simple free screen recorder specially designed for Windows with built-in audio/video editor.
When it comes to the easy-to-grasp screen recorder for Windows 10, Free Cam is another free option that provides efficient screen recording functions to capture the screen without paying a penny. Even it is a freeware, it won't add any watermark to the recordings or sets time limits in processing the screen capturing. Its intuitive interface and simple editing tools are all available for green hands to quickly get started. For beginners, Free Cam is absolutely the best choice to process simple screen recording but with good quality guaranteed.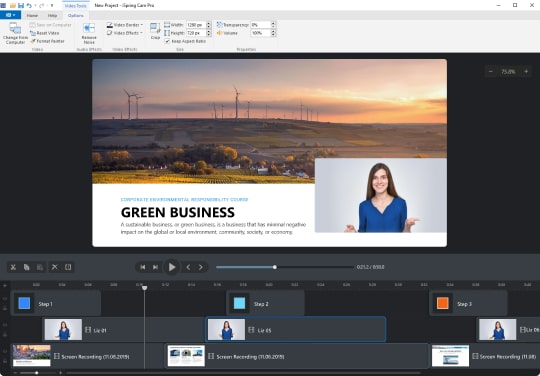 Pros and Cons of Free Cam
➕Pros
Freeware without payment required;
Intuitive interface design to deliver easy-to-grasp recording functionality;
No watermark added;
Available to adjust recording size freely.
➖Cons
Only compatible with Windows desktops;
Less parameter settings available;
Only WMV supported output the recordings;
Unavailable to record webcam.
✨Web-based service to provide screen recording functionality from a browser (full version supports more features).
Screencast-O-Matic provides both the web-based service and desktop software of free version to enable the free screen recording on Windows without hassle. Users are able to access the full features by installing Screencast-O-Matic software offline. With the built-in video editor and recording hosting, sharing features, users are available to create videos for sharing without hassle.
The free version of Screencast-O-Matic is compatible with 15-minute long video recording (but with watermark added). However, its flexible recording controls, settings, and high-quality outputs are still making the software a nice choice for capturing screen activities on Windows 10. To access the full functions, just by subscribing to its registered version and all limitations will be removed.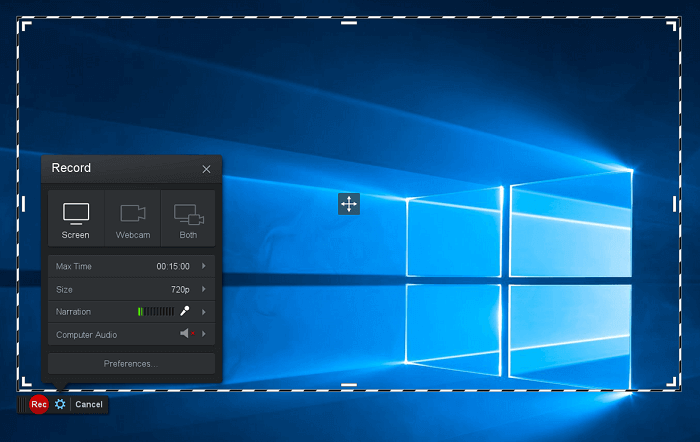 Pros and Cons of Screencast-O-Matic
➕Pros
Available to record full screen, customized area, system/microphone sound, and webcam in personal requirements;
Drawing panel provided to paint the recordings while capturing the screens;
Built-in video editing tools available;
Password protection feature supported encrypting the recordings before outputting them.
➖Cons
Watermarks will be added under the free version;
Length limitation applied unless paying for the registered license.
✨Multifunction screen recorder, media player, and video converter for Windows, Mac, and Linux systems.
You must be familiar with VLC Media Player as many people has used it as the media player for streaming multimedia files on desktops in original quality. Actually, the software also provides a hidden screen recording function enabling users to capture the screen and sound on Windows, Mac, and Linux without paying a penny. Users won't be required to install extra software or extension to process this recording feature in VLC as well. By getting VLC Media Player, you grasp the video player, screen recorder, DVD burner, video converter at once!
Moreover, even though the output quality of VLC Media Player would not be so good as others professional screen recorder for Windows, such as FonePaw Screen Recorder, it is still an ideal pick as it will try its best to maintain good quality and deliver the recordings to you for having a good playback offline. If you have installed it on your Windows 10, directly grasp the recording feature inside and you don't need to install another software anymore.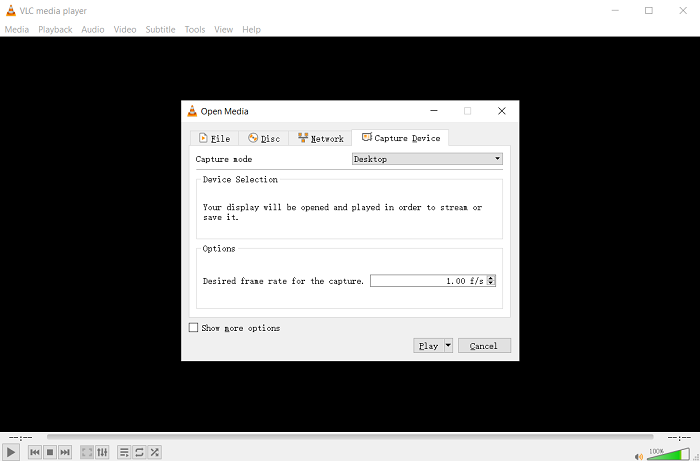 Pros and Cons of VLC Media Player
➕Pros
Freeware without cost to use at all;
Multifunction features provided inside one software;
Compatible with Windows, Mac, and Linux systems.
➖Cons
The functionality would be a bit difficult to use;
The recording quality is not so good as other professional screen recorders.
✨Suitable for advanced users with full customizable functions to process professional screen recordings for sharing online.
If you are a professional user who require high demands towards screen capturing, for example, you need to go board-cast online with great recording quality, then ShareX will be an ideal option for you. This great screen recorder for Windows provides lots of advanced tools to process the customizable screen recordings with flexible and professional settings options. In addition, there are handy editing tools provided inside the software to add watermarks or color effects before outputting them or sharing them online. Especially for YouTubers, ShareX will be a nice pick to record and create fascinating videos for posting to attract more views.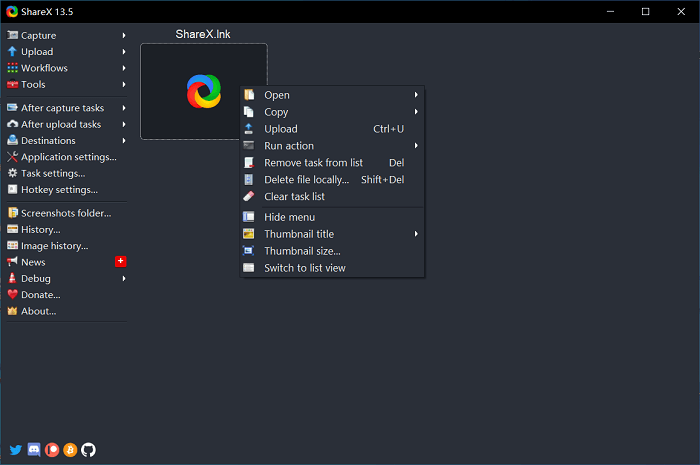 Pros and Cons of ShareX
➕Pros
Advanced setting options to record Windows 10 screen;
Built-in professional editor provided to adjust videos like a pro;
Open-source software without any payment required;
Ad-free in-app environment with smooth recording performance.
➖Cons
Too complicated for beginners to grasp;
The CPU would take up a lot to record and edit recordings within the software;
No webcam recording functionality provided.
✨An easy-to-grasp screen recorder for Windows users to easily record the screens and create high resolution videos such as the demonstrations and streaming gameplay.
For users who require screen recorders to record the computer screens and create videos of high resolution for sharing, such as the online lessons, demonstrations, or gameplay recordings, Debut Video Capture is also an ideal option you should not miss. Although the interface designed of the recorder is a little old-fashioned, it provides screen recording functionality of full features, such as the scheduled recording mode, webcam capturing, and so on, which are able to fulfill almost all your needs.
Additionally, Debut Video Capture also provides some helpful built-in features to enable users to create videos from the recordings easily. For example, users are available to make mouse tracing, add logo or watermark, customize color, etc. to edit unique recordings for sharing. Debut Video Capture provides an easy way for you to achieve it.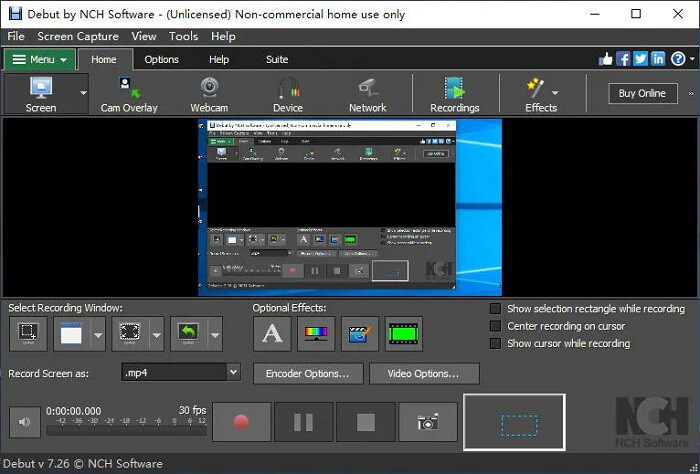 Pros and Cons of Debut Video Capture
➕Pros
Record screens from an IP camera and other devices available;
Compatible with video, audio, and webcam records;
Optional mainstream output formats;
Green screen functionality provided;
Basic video editing functions available.
➖Cons
Outdated user interface;
Take up high CPU and cause low performance while loading videos;
Unavailable to add some animated elements.
That's all! After going through the 8 best screen recorders for Windows 10, have you grasped the best option for yourself? You are able to consider your real needs in seeking a screen recorder (for example, high output resolutions? Built-in editing tools? Freeware without watermarks or time limits set?...), and there must be the one that can fulfill your demands!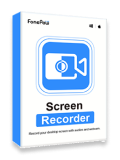 Screen Recorder
Capture every loving moment of your screen on Windows and Mac!