We don't want to lose anything precious in our life. Situations such as important files getting deleted on our phone and the phone dying accidentally can be extremely terrifying, which makes a reliable Android data recovery software a savior. Fortunately, data on your phone don't disappear easily. When a file is deleted on a phone, its space will be marked with zero regarding it as a file loss so that you can't see it on your phone. And this space will be recovered by new files. At this time, the original file will be gone if you don't recover it before writing new data to your phone.
What a good Android data recovery tool should be like? This post is an android data recovery review on the 6 best software which will introduce the functionality, data type, pros and cons to you. You will see the full comparison of them and vote the best one for yourself.
1. FonePaw Android Data Recovery
FonePaw Android Data Recovery is one the best android data recovery software for Samsung, Nokia, HTC, Sony, etc. Data from more than 6,000 Android phone models are supported to be retrieved with high speed and simple steps. No matter if you lost your data on an Android phone by accidental deletion or OS crashing, rooting error or virus attack.
This software protects your phone data without deleting anything on it. With the previewing feature, you can rescue the contacts, messages, call Logs, photos, videos, audios, documents, or data from WhatsApp you wish to recover after filtering and selecting on FonePaw Android Data Recovery. If you wish to scan hidden data on your phone, you should root your phone first and then deep scan it. But you don't need to worry about which software is a reliable one for you to root, because a link to a clear guide on how to root your Android phone is ready for you on this software.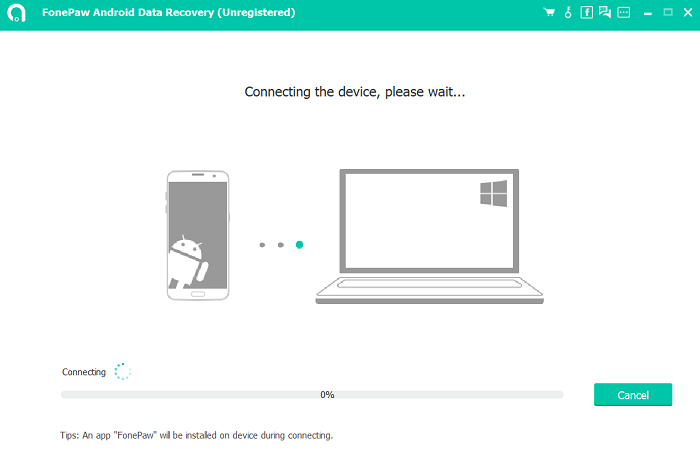 After you launch FonePaw Android Data Recovery, you will see the developer option and USB debugging guidelines. It's clear enough for you to turn on the switch even though it's the first time for you to do that. After a successful connection between your Android phone and the computer, select the type of files that you wish to recover and an app will be installed onto your phone. If you are not comfortable giving all data permission to it, just allow the file type that you are going to recover and reject other options. FonePaw allows you to do this.
Recovery Feature:
Recover deleted contacts, messages, call Logs, photos, videos, audios, documents, or data from WhatsApp from internal memory, Android SD cards or SIM cards.
Pros
Scan and find files free
Give access permission to a particular type of file when launching the app on the phone
Get a preview of the deleted file before recovery
Choose standard scan or deep scan
Select a file type to scan
Scan at a high speed
Filter the files after scanning
Cons
Purchase it before recovery
Need to root separately
Cancel purchasing/free upgrades at any time for a one-month/one-year license
Supported OS: Windows & Mac
Price: $34.95 (one-month License), $39.95(one-year license), $49.95(Single-User License)
Best for: FonePaw is for Android users who are ready to root the phone but worried about privacy on the phone and are willing to pay at a reasonable price.
Free Download Buy with 20% off Free Download Buy with 20% off
2. Wondershare Dr. Fone
With a history that is more than 10 years, Wondershare's Dr. Fone is a famous Android data recovery program. Besides Android data recovery, you can also try iOS data recovery and password management on it. This excellent tool can help you retrieve photos, videos, contacts, messages or call logs from various Android devices, even from a broken Samsung phone.
When you Launch Dr. Fone and connect your phone to the computer, if the OS version of your phone is 4.2.2 or above, you need to authorize your PC via your device first. Then you will need to install an app called Connector on your phone. When it's done, you could select a file type to recover. And another app named Dr. Fone for Android needs to be installed on your phone too, then Dr. Fone on your PC could start to scan and get recovery ready.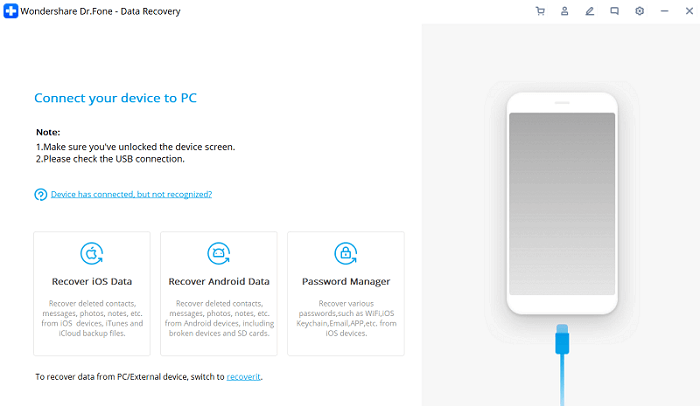 Recovery Feature:
Recover contacts, text messages, photos, WhatsApp messages, music, video and more documents from Android internal storage, SD cards, broken Samsung phones.
Pros
Complete debugging and root guidelines
Back up data from a broken Samsung phone to the PC
Manage password
Free scan files
Cheaper than others
Cons
Ads pops up in the lower right-hand corner
Need to install 2 apps on the phone with full access permission granted
Can only scan existing data from a phone without root
Recover/restore data to PC after payment
May not support Android of high version OS
Supported OS: Windows (Win 11/10/8.1/8/7)
Price: $39.95 (1 year License), $49.95(lifetime license)
Best for: Dr. Fone is a good choice for Samsung users who want to extract data from a broken phone or those who accept rooting Android phones for deleted data recovery at a medium price.
3. Cleverfiles Disk Drill
Cleverfiles Disk Drill is also one of the best software for Android file recovery. As a powerful tool with the ability to recover just one type of data less than FonePaw Android Data Recovery, this software is ready for contact, call log, message, picture, video, audio, or document recovery.
However, Disk Drill Android Data Recovery doesn't work on Windows even though you downloaded the software of Windows version, you will not find the function for Android Data Recovery. But you can recover Android data on a Mac computer. After you install it on your Mac, don't forget to enable full disk access to it before you launch.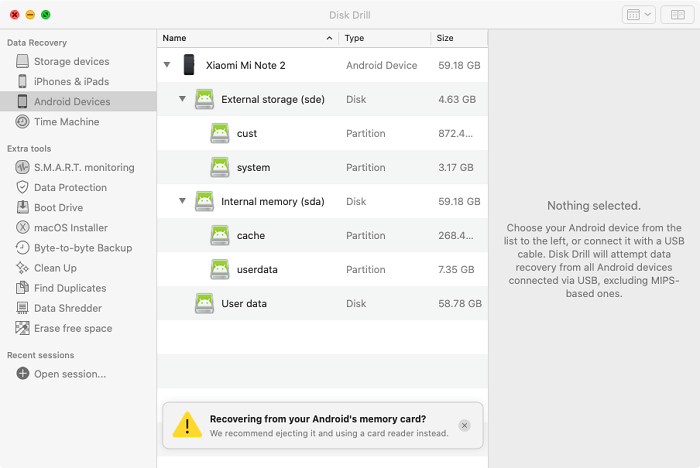 Recovery Feature:
Recover contacts, call logs, messages, pictures, videos, music, or documents from Android smartphones, tablets and potentially Android Wear Watches.
Pros
Scan and find the data free
Preview the file you choose
Supports quick scan and deep scan
Scan thoroughly
Recover files from Internal Memory, Android SD Card
Cons
Work on macOS only
Can't select a file to scan by type and is with ambiguous partition selection
Manual root needed without guidelines on the program
Need full access permission for the app installed on the phone
Expensive
Supported OS: Mac only
Price: $89 (pro), $499(enterprise)
Best for: Mac users who wish to recover Android files with a better chance even it's pricy should try it.
4. MiniTool Mobile Recovery for Android
With a well-designed interface, MiniTool is the best free android data recovery software and can be Dr. Fone's free alternative for Windows users. After launching it on your PC with your rooted Android phone connected, you can recover tons of data types from both your phone and the SD card on your phone.
When you connect your Android phone to the PC and hit Recover from Phone, there will be a window pops up asking if install Android USB Driver. But if your phone hasn't been rooted yet, MiniTool is not able to identify your device in the second step. Besides, there is not a Mac version for MiniTool while it is compatible on Windows XP/Windows Vista/Windows 7/Windows 8/Windows 8.1/Windows 10.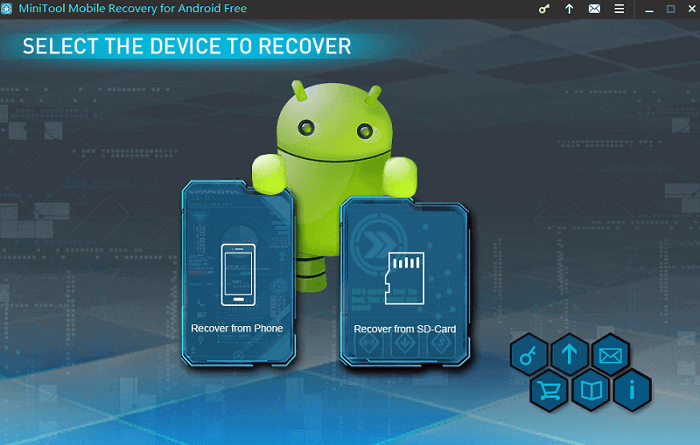 Recovery Feature:
Recover messages, contacts, call history, WhatsApp attachment and messages, document data, photos, videos and audios from Android phones, tablets, and SD cards.
Pros
Restore 10 items once free, recover only one type of data once
Preview files before recovery
Cons
Only supports rooted devices (you can't download the files from your unrooted Android phone to the computer with this program)
Works on Windows only
Purchase for recovery without limitation
Can't scan SIM card
Supported OS: Windows only
Price: $39.00 (1-year upgrade), $49(lifetime)
Best for: Minitool is best for Windows users who's got their Android phone rooted, don't need other files, and want to try a free recovery first.
5. FoneLab Data Recovery for Android
Being one of the best android data recovery software, FoneLab Android Data Recovery gains two more functions besides recovering data from a workable Android phone. Namely getting data from a broken phone and restoring and backing up data. FoneLab also supports various models of Android phones and types of data recovery.
If you launch it and click Android Data Recovery, you will be asked to turn on the debugging button and the developer option. After the connection, an app named FoneGo will require to be installed on your phone. You will need to allow it to access all kinds of data or else it won't start to scan.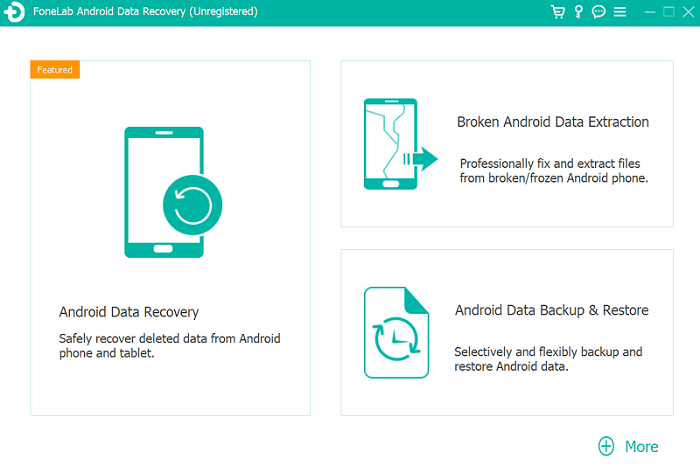 Recovery Feature:
Recover deleted photos, music, videos, documents, contacts, messages, call history and WhatsApp messages from Android phones, SD cards or SIM cards.
Pros
Free to scan and find your data
Extract Android data from a broken phone
Backup, restore to PC 3 times free
Preview before recovery
Cons
Purchase before getting back the data
Need to grant message, storage, contact, call log permission even though you just wish to recover a picture
Only support Android OS 4.0 and above
Supports Rooted phones
Supported OS: Windows & Mac
Price: $44.76 (lifetime)
Best for: If your Android phone is broken and wish to recover data from it, try FoneLab.
6. iMobie PhoneRescue for Android
iMobile Phone Rescue is the last best software this article is going to talk about. It helps to dig out files with or without root. Supporting hundreds of formats of file types, this software can restore your lost data directly to your phone.
After you connect the devices, the app PhoneRescue will ask for installation on your Android phone and you need to enable all permission accesses for it. Then you need to make a decision on if you deep scan your phone your quick scan it. Quick scanning is to scan the existing data on your phone and only deep scanning can help you recover your deleted files. But unlike other software listed above, this software can root your phone by itself. So make sure you've already backed up your existing files then you root the device.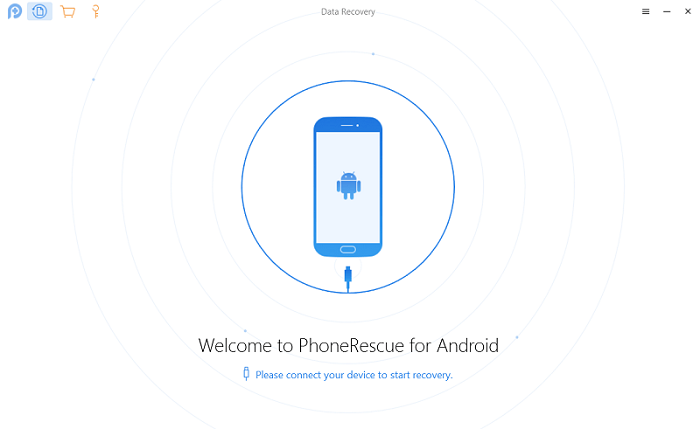 Recovery Features
Retrieve messages, photos, contacts, call logs, calendar, audios, videos, app documents, even WhatsApp and line from your device storage and tablet.
Pros
Quick and deep scan
Root your phone on this software without other tools
Scan and find files free
Cons
Pay for the recovery
Need to root before deep scanning
Need all data access permission for the installed app
Supported OS: Windows & Mac
Price: $39.99 (1-year License), $55.99 (lifetime license)
Best for: If you are tired of using other software to root your phone and don't care that much about phone privacy, don't miss iMobile.
Verdict
Literally, the 6 best Android data recovery software listed in this review can rescue your deleted files of almost all kinds from your Android phone and SD card. FonePaw respects your privacy and data safety; Disk Drill scans your partitions thoroughly; MiniTool allows you to recover data free; FoneLab and Dr. Fone support data recovery for broken Android phones and you can deep scan your phone data on iMobile without a third root tool. Hope this can help you choose the Android data recovery software that suits you the best.
Free Download Buy with 20% off Free Download Buy with 20% off