Factory reset is a useful and feasible way to fix a bunch of unpleasant Android issues, like slow reaction, insufficient storage space, and other common Android system issues, etc., and it will beyond doubt result in data loss. Hence, backing up your Android phone is what you should do before factory reset. However, things can happen that you don't have a backup and lose a lot of important data, which can be very upsetting. Then how to recover Android data in this situation? This post will be helpful for you. We'll offer you 2 types of methods to recover Android data after factory reset, with and without backup.
Feasibility: Can Data Be Recovered After Factory Reset?
For those who accidentally factory reset an Android phone, all they want to know is how to undo factory reset. Unfortunately, there is NO way to undo factory reset. But there are methods to recover pictures, contacts, or other data after factory reset it.
As a rule, lost data are still recoverable when are not yet overwritten in most cases. However, factory reset is a system operation so that it is hard to restore data on a phone after resetting to factory settings.
Although it is hard, there are still chances. If you have no backup available, you might as well try some third-party Android data recovery programs for a shot, and here we will recommend FonePaw Android Data Recovery. If you luckily did back up your device in advance using Android account, Google account, or a third-party Android data backup tool like Android Data Backup & Restore, you can get your data back on the phone with ease.
Solution 1: Recover Android Data After Factory Reset Without Backup
As we mention in the last part, you cannot undo the factory reset, but it doesn't mean that you cannot retrieve your data if you have not got an Android backup. If you mistakenly factory reset your Android phone, you can still use an Android data recovery tool to salvage your data before it's overwritten.

Tips:
To ensure the recovery rate, make sure that you prevent from using your Android phone after the factory reset, or the data may have been covered.
To restore lost data on Android without backup, you can try FonePaw Android Data Recovery and download it on your Windows/Mac computer in the first place. It's a professional data recovery tool applicable for situations that you have factory reset your phone or have permanently deleted something you need. For what FonePaw Android Data Recovery can do for you, you can check here:
Free Download Buy with 20% off Free Download Buy with 20% off
| | | | |
| --- | --- | --- | --- |
| Supported Files | Recovery Mode | Supported Devices | Supported Android OS |
| 100+ (videos, music, WhatsApp, contacts, etc.) | From internal memory/Android SD card/SIM card | Samsung, Sony, LG, HTC, Motorola, HUAWEI, Google Phone, XiaoMi, ZTE, etc. | Android 12/11/10/9/8.1/8/7/6/5 |
Now, please follow the steps below.
Step 1. Download FonePaw Android Data Recovery
Click the button below to install and launch the program on your computer.
Free Download Buy with 20% off Free Download Buy with 20% off
Step 2. Connect your Android to the program
Connect Android to it with USB cable.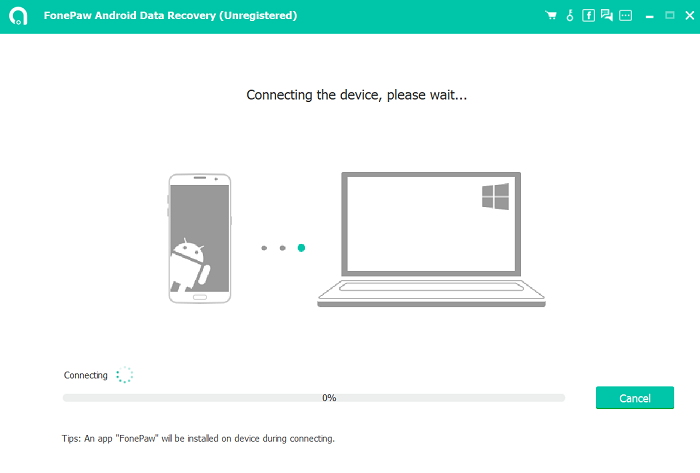 Then, follow the instruction to enable USB debugging for the program to detect your phone model.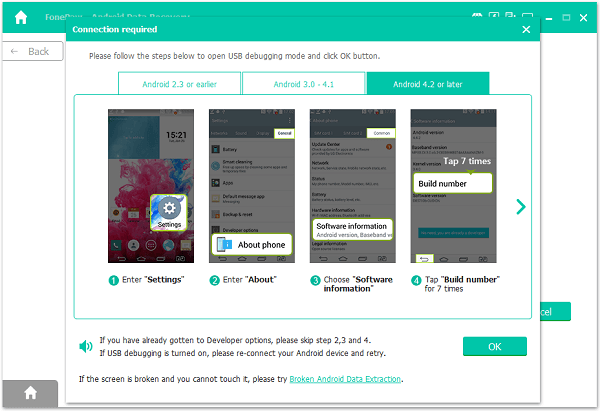 Step 3. Select the lost data to scan
Choose desired types of data and start scanning them. This will help you find back the data you want.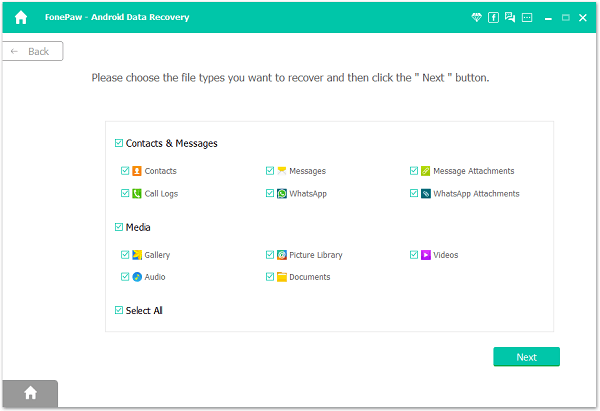 Step 4. Install the FonePaw app on Android
In order to get the permission to access your phone data and scan, the FonePaw app needs to be installed on your Android phone, and the program will ask you to enable "Install vis USB" and get it for you.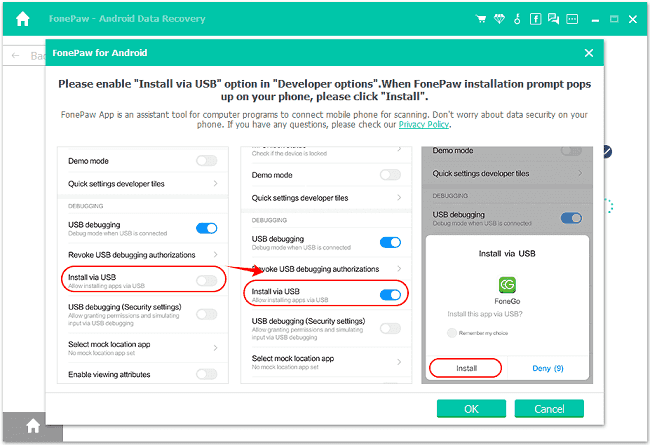 Step 5. Authorize the app to scan your phone
After you launch the FonePaw app, tap "allow" on your phone screen to authorize the program to access certain types of files on your phone.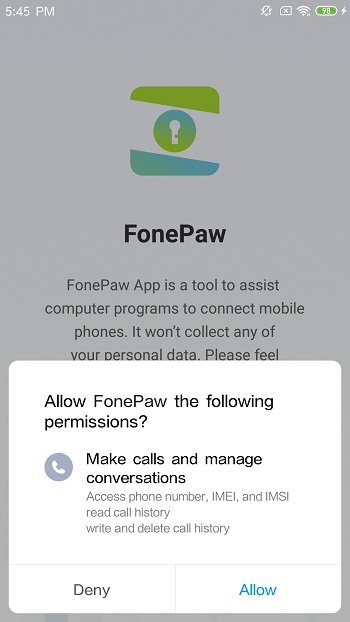 Now that you have authorize the file types you want, you can click "Scan authorized files" to scan.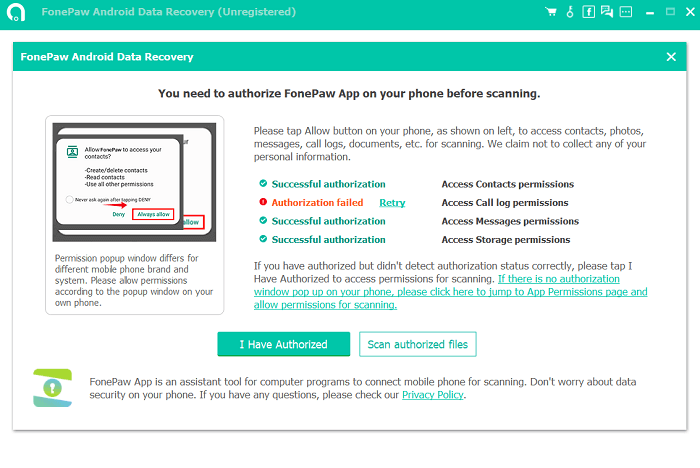 Step 6. Scan, preview, and recover your data
Now you can preview the found data one by one and click "Recover" to the computer. If you can't find all the data you want, you can also try "Deep Scan" to scan more data.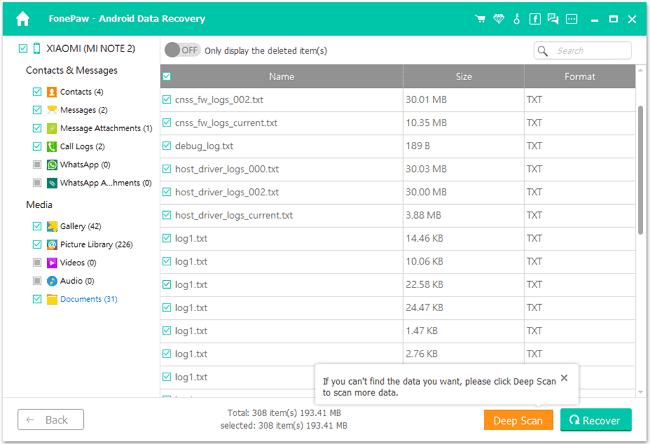 Free Download Buy with 20% off Free Download Buy with 20% off
Solution 2: Restore from Android Backup After Factory Reset
Good to you if you've backed up your Android to the computer. Then, it takes no effort to restore data back to your Android phone. You might backup your Android by different ways, so here we will show you how to backup your Android phone and restore the backup after factory reset.
Restore from Android Local Backup (Without Computer)
Most Android phones will provide an official way for you to conveniently backup and restore your data. Here we will take the Samsung phone as an example.
Step 1. Backup your Android Data
Navigate to "Settings > Backup and restore", and you will see the backup options. You are allowed to back up your phone in Cloud via the Samsung/Google account, or do the backup to an SD card or USB storage devices.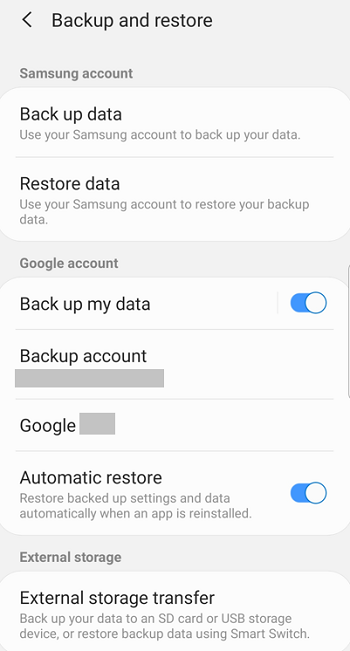 Step 2. Restore your backup
After the factory reset, get back to "Backup and restore" and choose the "Restore" option to retrieve your data.
Restore from Google Backup
Similarly, if you have logged in to a Google account on your Android phone, you can back your phone up at Google Drive and then restore it after factory reset. This method also allows you to recover data after factory reset on Android without computer.
Step 1. Backup Android Data via Google Drive
Go to "Settings > Google > Backup", and you can check the backup situation of your Android. Select "Back up now" to instantly do a backup, and you can edit more settings in the backup details.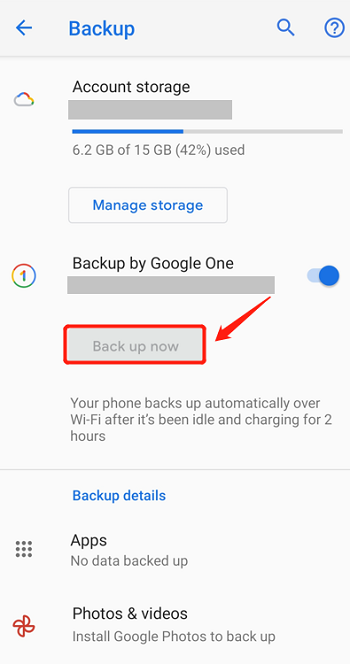 Step 2. Restore from Google backup
After you factory reset your phone, log in to your Google account again, and you will be able to access the backup you made before and choose to restore from it.
Backup and Restore your Data with Third-Party Tool
Besides the two methods above, you can also try to do a more flexibly backup and restore by using a third-party Android backup tool, like Android Data Backup & Restore. It allows you to selectively backup some of your data and can easily backup and restore your Android in one click.
Step 1. Launch Android Data Backup & Restore
Click to download and installed Android Data Backup & Restore on your computer. Then, hook up your Android to the program and enable USB debugging so that the device will be detected.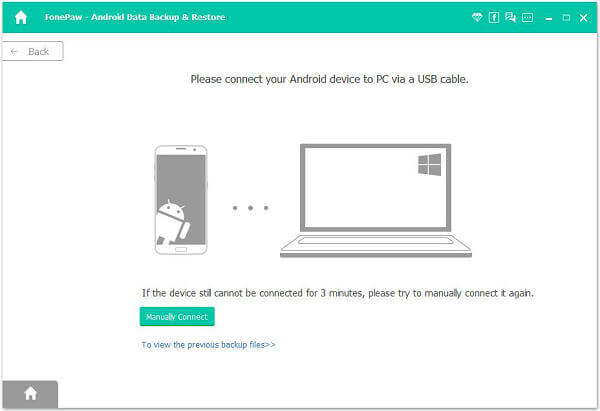 Step 2. Backup/Restore Data to Android
When your Android is detected, you can see on the screen like the image below. You can easily select to backup or restore the data.
If you have backed your data up through this program before, to restore all data back in Android with one click, you can simply select the "One-click Restore" button. To preview and selectively retrieve data, I recommend you use the "Device Data Restore" feature. Remember that this program only supports restoring the data backed up with it before.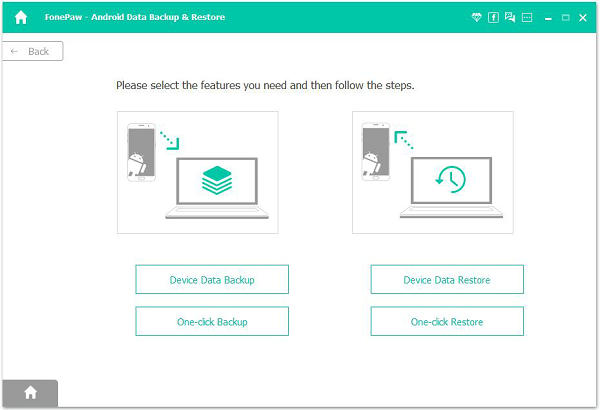 Now, please select an available backup to recover. After you're done the selection, the software will scan the backup. Then, you can view the details of data including Contacts, Messages, Call Logs, Gallery, Videos, Audio, and Documents.
Next, select the desired content and click "Restore to Device" to transfer data to your Android phone. Also, as you can see, the software supports recovering data to PC.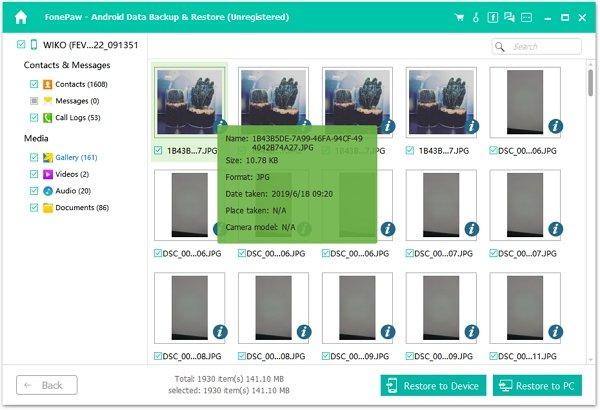 Conclusion
Now you have known that to restore data after factory reset on Android, you can choose different methods depending on if you back up the data. When you choose FonePaw Android Data Recovery, it can help you recover the data ignoring whether you have backup or not.
If you have the backup and want to utilize it, just choose the methods like recovering from Android local backup or Google backup, which are free from the computer. Besides, if you are searching for an all-in-one tool to help you back up and restore the data, FonePaw Android Data Backup & Restore is a reliable one.
Free Download Buy with 20% off Free Download Buy with 20% off