We may delete photos stored in Android gallery from time to time. Many Android users must have at least experienced once that some photos are mistakenly deleted. But on some old Android phones, there is no "Recently Deleted" folder or a trash bin on Android Gallery. Even if there is a recently deleted album, with the habit of deleting a photo twice (like me), you may also sadly find it disappear.
So, are those accidentally deleted gallery photos unrecoverable on Android devices? Of course not! Deleted photos from gallery that are stored in Android internal storage can be retrieved with local backup or cloud backup if there has one, and so can photos in external storage. But if you haven't backed up them, you need a third-party tool to help you recover deleted photos without backup, including deleted gallery photos.
Luckily, this post gives you the answer of recovering deleted photos like gallery photos from internal storage or external storage with or without backup. Keep reading and find the method helpful to you.
Can You Restore Permanently Deleted Photos from Android Phone?
The answer is definitely YES. You can recover deleted photos on Android, and the reason is that the photos are not really deleted. Although the deleted photos disappeared from the Android gallery or seems that you cannot find deleted photo in Android, the photos still exist on memory storage of your phone.
Whether stored in internal storage or external memory (SD Card), the deleted photos remain in the memory space but the space it occupies is marked as "unused" and can be used by new data at any minute. Once there is new data written into where the deleted photos are, the photos will be gone and unrecoverable.
Now, we'll show you how to recover deleted photos from Android gallery or other internal storage with an Android photo recovery program, as it's the most widely applicable way.
Important Tips for Android Pictures Recovery:
First, don't use the phone until you get back the deleted photos, for instance, do not use the phone to take a new photo, download new photos, send or receive new messages on the Android device.
Second, use a powerful Android photo recovery tool to restore the deleted photos as soon as possible and you'll need a computer to perform Android photo recovery without backup.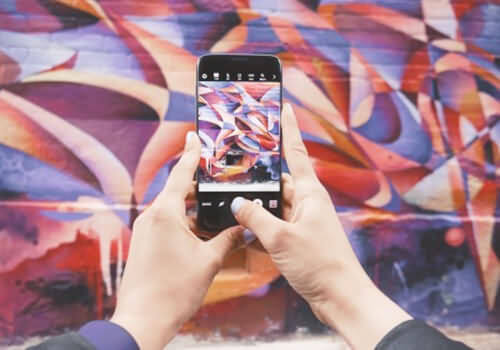 How to Recover Deleted Photos from Android Internal Storage
The most efficient method to recover deleted photos from Android gallery without backup, as mentioned, is using a reliable Android photos recovery tool. Because for those who don't have a "Recently Deleted" folder, the deleted photos from Android gallery cannot be retrieved directly. That's why we need a reliable Android data recovery tool to help us. Here we'd like to recommend you one: FonePaw Android Data Recovery.
Recover Deleted Photos from Android Gallery with FonePaw (Even Without Backup)
FonePaw Android Data Recovery is a desktop program that can quickly restore permanently deleted and old photos from Android phones and tablets. It supports images in .jpg, .png, .gif, .bmp, .webp, .tiff formats and more. It can be fully compatible with most Android brands and can recover deleted photos on Samsung Galaxy, LG G, Sony Xperia, HUAWEI Mate, Xiaomi, and so on. With it, you can easily undelete photos on Android from gallery.
Besides, if you want to recover photos from internal storage apart from gallery or external storage like SD card, FonePaw will also perform well. You can view its main features listed below:
Free Download Buy with 20% off Free Download Buy with 20% off
Recover permanently deleted photos from Android gallery without backup (photo library & app photos are also supported)
Find deleted pictures on Android in multiple scenarios (accidental deletion, OS crash, etc.)
Allow previewing deleted gallery photos before recovery
Offer quick scan (without root) & deep scan according to different needs
Easy-to-use UI to get started quickly
Free download the program on Windows PC or Mac. Now let's see how to recover permanently deleted photos from Android gallery with FonePaw Android Data Recovery.
STEP 1. Connect Android to PC.
Free Download Buy with 20% off Free Download Buy with 20% off
Connect your Android phone to PC and run FonePaw Android Data Recovery on the PC. Make sure that you have enabled USB debugging on the Android phone so that the phone can be detected by the program. And make sure your Android device will not power off during the data recovery.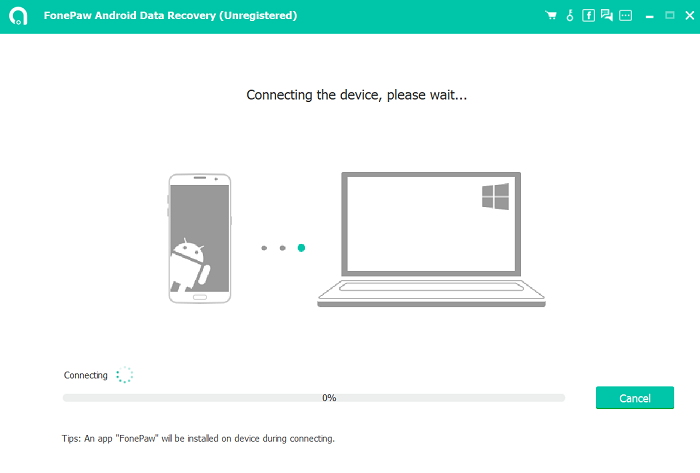 STEP 2. Choose to Find Deleted Photos on Android.
When your Android device is connected, you can see the interface as the below screenshot shows, which allows you to select categories of the deleted files. To retrieve deleted pictures from Android gallery, select "Gallery" or "Picture Library" and click the button "Next" to continue.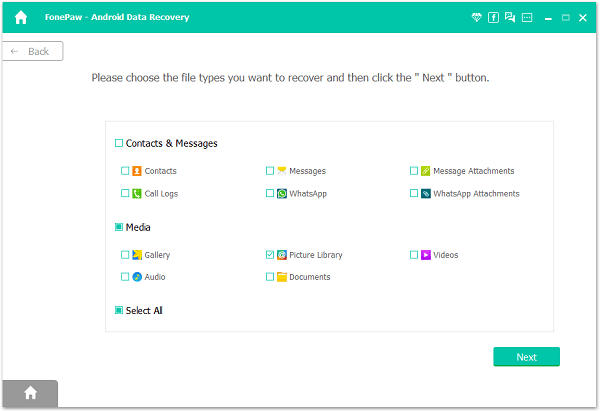 STEP 3. Allow the FonePaw Program to Scan Deleted Photos.
The program needs to get permission to access deleted data so it'll add an app to your phone asking for permission, which will be removed automatically after your photo recovery. Open your phone, turn on Install via USB in the Developer Options, and select Install to get the FonePaw app via USB.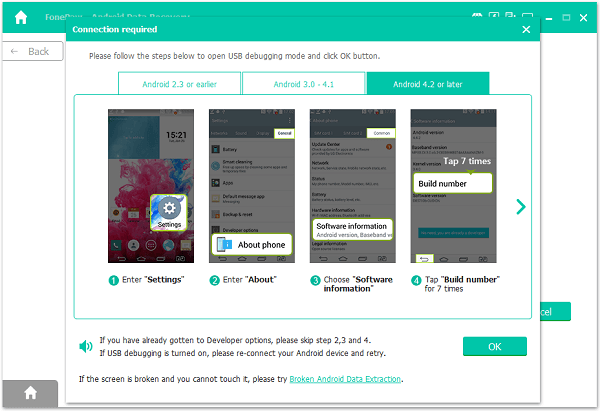 On your phone, allow the FonePaw app's requests to access your phone data. Without your permission, the photos recovery program won't be able to access your phone storage, let alone finding out the deleted photos in your Android. And it is totally safe to grant access to the FonePaw app as it won't collect any of your information and your phone data are processed and stored locally on your computer.
Click Scan Authorized Files to start scanning for deleted photos after giving the app permissions.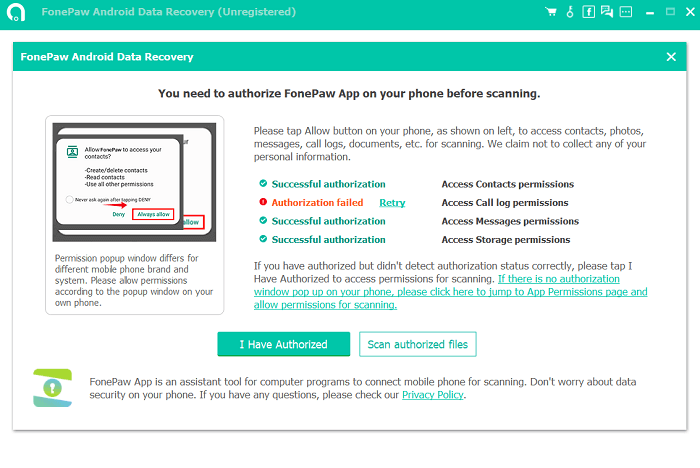 STEP 4. Preview and Restore Deleted Photos from Android.
The scanning process can take some time, especially when your Android phone stores many photos.
The FonePaw program can detect deleted images in two modes: Quick Scan and Deep Scan.
After Quick Scan, you can click "Gallery" or "Picture Library" at the left pane to check if there are the deleted photos that you need. If not, click Deep Scan for the program to search out more deleted photos from your phone (Root Required).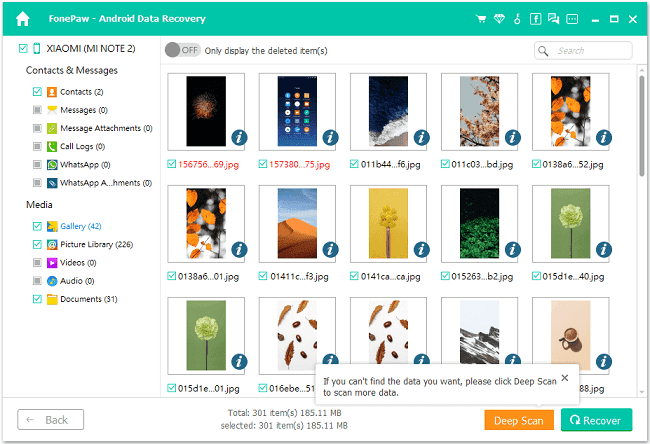 And with the registered version, you can preview the deleted photos in full size by double-clicking them. Mark the pictures you want to restore and click "Recover" to retrieve them to PC.
That's the whole process of how to undeleted photos on Android.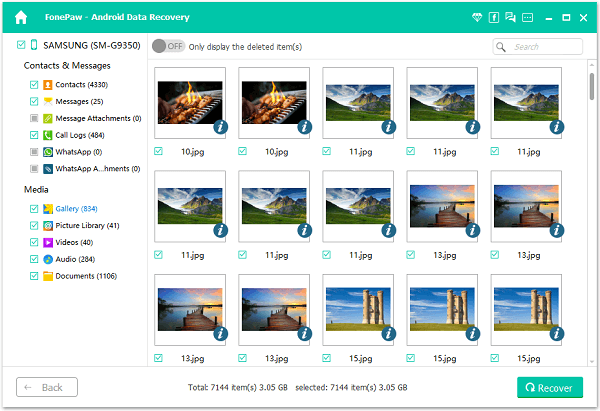 The gallery contains camera photos, screenshots, photos received from PC or other devices, downloaded photos. Picture Library includes cache images.
Restored Photos will be exported as .jpg and .png and they will be sorted by file types on your PC.
Since the recovered photos are saved on your computer, you may need to transfer the photos from PC back to your Android. To do that, you can connect the Android phone via a USB cable and use a data transfer tool - FonePaw DoTrans to transfer the Android photos quickly.
If you accidentally delete the photos from the SD memory card, or your device is broken, there is also a way to recover photos from the SD card.
Free Download Buy with 20% off Free Download Buy with 20% off
How to Retrieve Deleted Photos on Android from External Storage
Other than recovering photos from Android gallery, you can also restore photos from external memory, like SD card. Some of you may directly save your photos to the SD card, one of the external storage types, so that when you need to restore them, you cannot find them back from gallery or other parts of internal storage. Luckily, FonePaw also provides another tool to help you: FonePaw Data Recovery
It is one of the desktop apps that can recover photos and other data from SD memory cards, USB memory sticks, external hard drives. It is easy to use as well.
STEP 1. Install FonePaw Data Recovery to your computer.
STEP 2. Connect the card reader with an SD card to the computer, and FonePaw Data Recovery will detect the SD card memory and those deleted photos.
STEP 3. Then you can recover the deleted photos in one click.
Free Download Buy with 20% off Free Download Buy with 20% off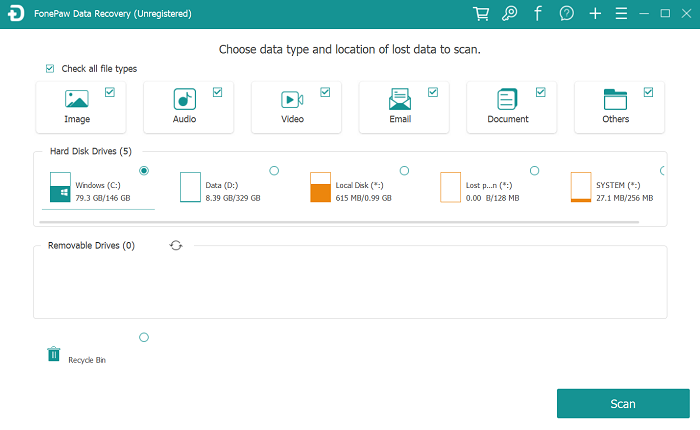 How to Recover Deleted Gallery Photos from the Cloud
If you have saved your Android gallery photos to certain cloud storage, like Google Photos, Onedrive, and Dropbox, you can easily recover deleted photos on Android without a computer and without root. For example, if you have synced photos to a Google account (which is usually a Gmail account), you can recover pictures deleted from Android but saved Google Photos easily.
Recover Deleted Photos from Google Photos
Run the "Google Photos"/"Photos" app on your Android. Then navigate to "Trash" by clicking the "≡" icon. Preview your deleted images and select desired ones to "Restore" on Android.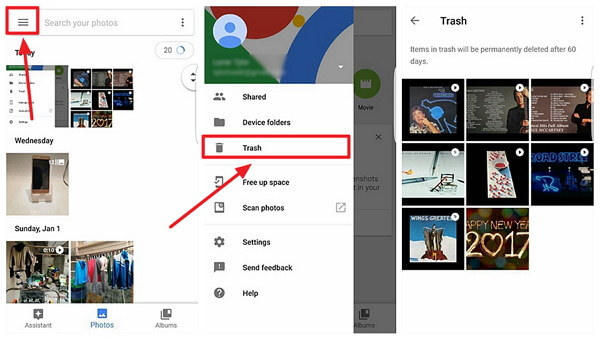 Note:
Deleted Google photos will be removed permanently from Google cloud after 60 days.
Recover Deleted Photos from OneDrive
If you have backed up the photos on Microsoft OneDrive, you can go to the official website and sign in with your Microsoft account.
On the left side of the screen, you will see the Recycle Bin option. Click on it and you will see the deleted photos for the past 30 days.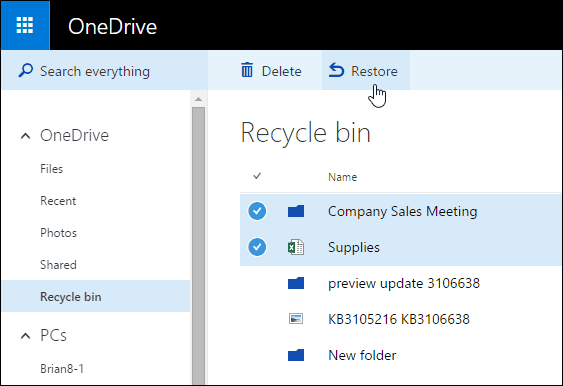 Select the photos you need and hit Restore to retrieve them.

Note:
The Recycle bin only saves your deleted photos for 30 days.
Recover Deleted Photos from Dropbox
Dropbox also has a trash folder that contains deleted photos for 30 days. To recover deleted photos from Dropbox:
Log in on Dropbox desktop and go to Files > Deleted Files, then select the photos > Restore. The deleted photos will be back in one click.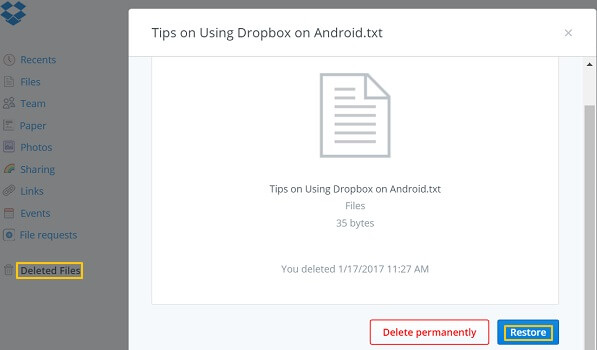 Tips:
Apart from retrieving photos from the Cloud, don't forget to check your emails, messages, social media, or just ask your friends. If you have shared the photos with someone and haven't cleared the history, it's also very likely to get back the deleted photos.
Extra Tip: How to Avoid Losing Android Photos Next Time
After learning how to get back your mistakenly deleted photos, you should also know the importance of backup now. Essentially, even though there are multiple effective ways to try, and FonePaw can even help you recover permanently deleted photos without backup, it cannot be denied that you may still not be able to retrieve your important photos in some cases, so avoiding loss from the beginning is the best.
Backup is the best way to tackle data loss. You can choose to upload your Android photos to the Cloud, or just connect your Android phone to PC and copy those important photos to the computer. If you want to save space on the computer, some helpful software like FonePaw DoTrans is a good choice to back up Android data to PC in a small size.
FAQs About Recovering Deleted Photos
Q1: Can I Recover Pictures on Android Without Computer?
Some users prefer an Android photo recovery app to recover deleted files on Android without a computer. They may be workable choices yet not recommended ones, since you are taking a risk - you need to operate the app with your phone, and the deleted data might be overwritten by the installation of it.
So it's better to turn off Wi-Fi and mobile data on the phone and put it aside. Then use desktop software FonePaw Android Data Recovery on a computer, connect your phone to the computer and let the program get the pictures back.
Q2: Can I Recover Deleted Photos on Android Without Root?
You may also wonder if you can recover deleted photos on Android without root. But I have to tell you that there is no way to avoid rooting your phone for getting back the deleted pictures.
Because deleted photos are stored in certain system folders that cannot be accessed on unrooted devices. Only after a device is root can you get full control of the phone and find the deleted pictures.
If you really don't want to root your device, the only possible way to find a deleted photo on Android is that you have back up the photos somewhere, whether on cloud storage, computer or SD card.
Conclusion
Altogether we've provided you with 3 different ways to recover permanently deleted photos in Android gallery, including recovering photos from internal storage, external storage and the cloud. For each way, we also offer various methods. Among them, we still think that Recovering deleted photos from Gallery with FonePaw Android Data Recovery is the useful as well as helpful one. You can free download it and try it now.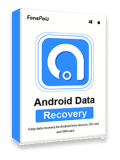 Android Data Recovery
Retrieve your lost data from your Android phone within seconds!