Summary:
Deleted files are not completely gone on your Android phone. FonePaw Android Data Recovery can magically bring your deleted data back. Give it a free try.
Sometimes you can delete files that you actually need on your Android phone, such as photos, downloaded MP3 audio files, contacts, messages, etc. Luckily, permanently deleted files in Android can be recovered as long as you do Android file recovery following the right way.
Here is the complete guide to show you the right way to recover deleted files on Android, both from Android internal memory as well as SD card external memory.
Where Do Deleted Files Go on Android?
Although Android doesn't have a recycle bin for deleted files (opens new window), files do not completely disappear from your phone memory after they are deleted. This is why it is possible to restore deleted files on Android.
When you delete a file in Android, your Android phone doesn't move the file to another place, nor does it wipe the deleted files from your memory space. What happens is that the deleted file still remains on the same spot of your memory space, only that the space it occupies is marked as "unused" and becomes available for new data to write in. Once the spot is used by new data, the deleted files are overwritten and deleted permanently.
---
For iPhone Users: How to Recover Deleted Files from iPhone (opens new window)
For Deleted Photos: How to Deleted Photos from Android (opens new window)
---
How Can I Recover Permanently Deleted Files in Android Phone?
As we have learned that deleted files are still in our Android phones, so long as we perform Android file recovery before the deleted files are overwritten, the deleted files can be restored.
To make sure that you can retrieve the deleted files in Android, there are two things to do:
Put Android phone in Airplane Mode and stop creating new data, for example, receiving new messages or taking new photos.
Recover the deleted files as soon as possible.
Then, with a reliable Android file recovery application, you can start to recover deleted files from your Android phone. And instead of recovering deleted files from Android without computer (opens new window)by a file recovery app, which could potentially overwrite the deleted files when the app is installed, you have a better chance to recover the deleted files with a desktop Android data recovery application on a computer.
So you are recommended to install FonePaw Android Data Recovery (opens new window), a data recovery program for Windows PC or Mac to undelete photos, audio files, videos, and more on Android in one click.
FonePaw Android Data Recovery (opens new window) is designed to recover deleted/lost data on Samsung Galaxy, Google Nexus, LG, Sony, HTC, Motorola, Huawei, OnePlus, AUSU, ZTE, and more. It can recover deleted photos, videos, music, text messages, WhatsApp (opens new window), contacts, call logs, and document files on Android phones. It can recover Android files within a few clicks. Here is how to use it.
◆ Click the Download button below to install FonePaw Android Data Recovery.
STEP 1. Connect Android to PC
To start with, install and run the phone memory recovery for Android on your computer. Then connect an Android phone, such as Samsung Galaxy S7/S8/S9/Note 9 to PC with a USB cable. USB debugging needs to be enabled on your Android phone for the Android Data Recovery program to communicate with the phone. Follow the on-screen instruction to enable USB debugging (opens new window).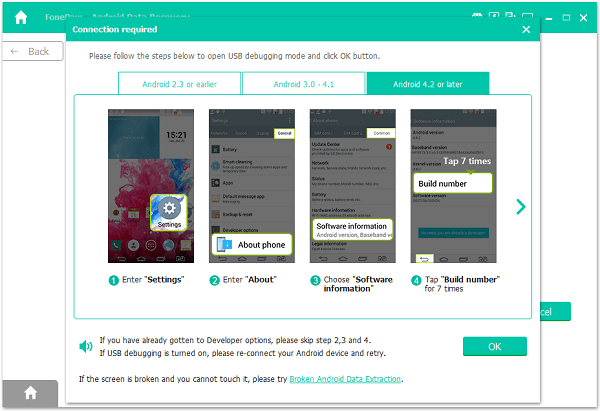 STEP 2. Choose File Types to Recover
After USB debugging is turned on, the Android phone is successfully connected to the program, you will be asked to select file types that you want to restore. Tick documents, photos, messages or other deleted files that you need, and then click the "Next" button.
STEP 3. Install FonePaw App to Get Permissions
The program will prompt you to install the FonePaw app, an app that is used to grant privileges for the program to access files on your Android. Only by using the app can the desktop program read and recover deleted files from your phone.
Therefore, follow the on-screen instruction to enable Install via USB and allow the FonePaw app to be installed on your phone.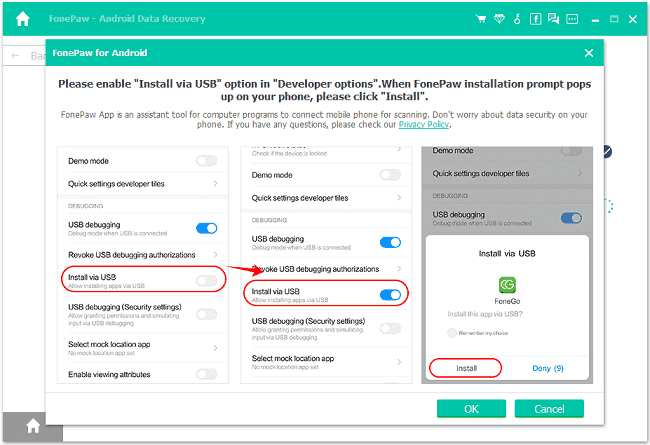 STEP 4. Get the Privileges to Scan Deleted Files
After the FonePaw app is installed, it will give the pop-up notification for you to allow access to contacts, messages, storage, call logs to scan out deleted files. Tap Allow to all messages and click Scan Authorized Files to begin searching for deleted files on your Android phone.
Step 5. Check Deleted Files Under Standard Scan
Once the program gets permission, it will start a standard scan, which can find out thumbnails of deleted photos as well as existing files on your Android phone. If you need to find more deleted files, click Deep Scan and wait patiently for phone file recovery to finish.
STEP 6. Recover Lost Files from Android Under Deep Scan
When Deep Scan is finished, all your Android files will be displayed. To look at only the deleted files, tap the "ON" icon on the top to set to display the deleted items only. Select the deleted files that you are looking for and click "Recover". The deleted files will be retrieved and saved on your computer.
That is how to get back deleted items from Android phones and tablets.
The deleted files will be recovered to your computer. The following table shows what FonePaw Android Data Recovery can recover and how the recovered data are saved.
Tip: After saving the deleted data, you can put the data back to your Android phone by transferring data between mobile phone and PC (opens new window).
If you have files that are important to you, make sure you always have a good backup of them (opens new window)!
Does It Possible to Recover Deleted Files from Android without Root?
Some users are looking for a method to recover deleted data on Android without root, however, we are sorry to tell you that it is impossible to retrieve the deleted data unless the phone is rooted. The deleted files are in the part of the file system that is only accessible with root privilege.
So if you really need to get the deleted files back, give the data recovery program root access to the phone. After the data are back, you can unroot your phone (opens new window) anytime you want.
Recover Deleted Files from Android External Memory (Without Phone)
If the photos, files, videos, audio that you deleted are stored on an SD card, you can also recover data from Android external memory storage. You can do SD card data recovery (opens new window)which requires two steps.