Have you experienced the suffocating moment that you find you have mistakenly deleted important files on your Android phone? And I believe that the next thing you do is to crazily look for the files throughout the phone, or hurriedly ask questions like "how to recover deleted files on Android phone" in the search engine.
Things like that happen to me for once. If you also get in trouble like this, please calm down first, and I should tell you, luckily, permanently deleted files in Android can be recovered.
For how to recover deleted files on Android, you can learn in detail from this complete guide, including retrieving lost data from both Android internal memory and external memory. Just scroll down to read on.
Can You Recover Deleted Files from Android?
The answer is YES.
Although Android doesn't have a recycle bin for deleted files, files do not completely disappear from your phone memory after they are deleted. When you delete a file in Android, your Android phone doesn't move the file to another place, nor does it wipe the deleted files from your memory space.
What happens is that the deleted file remains on the same spot of your memory space, only that the space it occupies is marked as "unused" and becomes available for new data to write in. Once the spot is used by new data, the deleted files are overwritten and deleted permanently.
How to Recover Deleted Files from Android Phone Internal Memory

HOT!
We have learned that deleted files are still in our Android phones. So, to make it clear, the principle of Android file recovery is – as long as we try to retrieve the deleted files before they are overwritten, the lost files can be restored.
However, although it looks easy, without the administrator right, it's hard for you to get access to the lost data directly. So, it's better to use a data recovery program for Android to help you safely find and recover the deleted files.
Here we recommend to you a powerful desktop android file recovery software - FonePaw Android Data Recovery. It supports over 6000 Android phone models, including famous brands like Samsung, Huawei, LG, Nokia, Sony, Xiaomi, and so on. With its help, you can retrieve lost data in a few clicks. Scroll down to see how to use it.
You can use FonePaw Android Data Recovery to recover:
Contact: Number; Name; Email.
Message: Number; Content; Date.
Call History: Name; number; Type; Duration.
Photo: Camera image; Transferred image; Cache image.
Video: Camera video; Transferred video.
Audio: Recorded voice; Music.
Documents: DOC/XLS/PPT/PDF/HTML/ZIP/RAR
STEP 1. Download FonePaw Android Data Recovery.
STEP 2. Connect Android to PC.
Launch the software on your computer. Then connect your Android phone to a PC with a USB cable. USB debugging needs to be enabled on your Android phone for the Android Data Recovery program to scan the phone. Follow the on-screen instruction to enable USB debugging.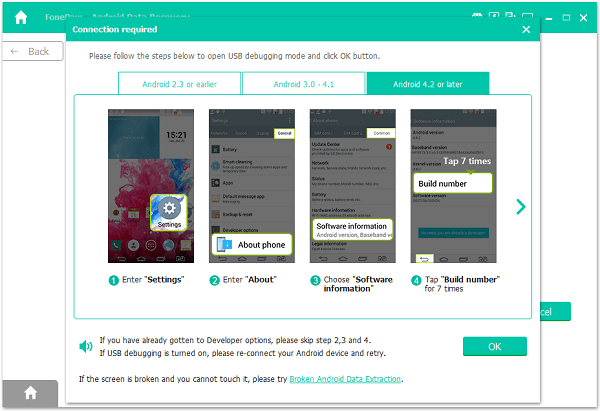 STEP 3. Choose File Types to Recover
After USB debugging is turned on and the Android phone is successfully connected to the program, you will be asked to select file types that you want to restore. Tick documents, photos, messages, or other deleted files that you need to restore, and click the Next button.
STEP 4. Install FonePaw App to Get Permissions
The program will prompt you to install the FonePaw app on your Android phone. It's an app that grants privileges for the program to access files on your Android. Only by using the app can the desktop program read and recover deleted files from your Android phone.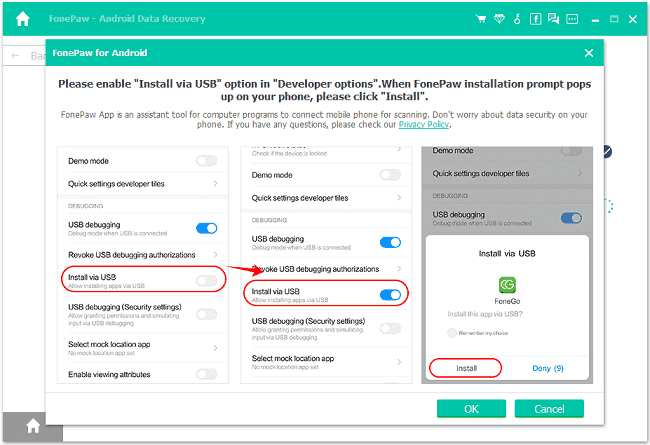 STEP 5. Get the Privileges to Scan Deleted Files
After the FonePaw app is installed, it will give the pop-up notification for you to allow access to contacts, messages, storage, call logs to scan out deleted files. Tap Allow to all messages and click Scan Authorized Files to begin Android file recovery.
STEP 6. Check Deleted Files Under Standard Scan (No Root Required)
Once the program gets permission, it will start a standard scan, which can find out thumbnails of deleted photos as well as existing files on your Android phone. This function is more efficient and can be realized without root.
STEP 7. Recover Lost Files from Android Under Deep Scan (Recommended, Root Required)
If you need to find more deleted files, click Deep Scan and wait patiently for phone file recovery to finish. This feature requires you to root the phone, but can definitely help you retrieve more delete items.
STEP 8. Preview and Retrieve the Deleted Files
When Deep Scan is finished, all your Android files will be displayed. To look at only the deleted files, tap the ON icon on the top to display the deleted items only. Select the deleted files that you need and click Recover. The deleted files will be recovered and saved on your computer.
That is how to get back deleted items from Android phones and tablets. The deleted files will be recovered and saved on your computer.
How to Recover Lost Data from Android External Memory
If the photos, files, videos, audio that you deleted are stored on an SD card, you can also recover deleted files from Android external memory storage. The SD card data recovery requires these two steps:
Stop reading or writing data on the SD card;

Use a data recovery tool to recover deleted files from the SD card immediately. FonePaw Data Recovery supports recovering data from SD card, USB drive, external hard drive, computer hard drive. You can use it to recover Android files from external memory.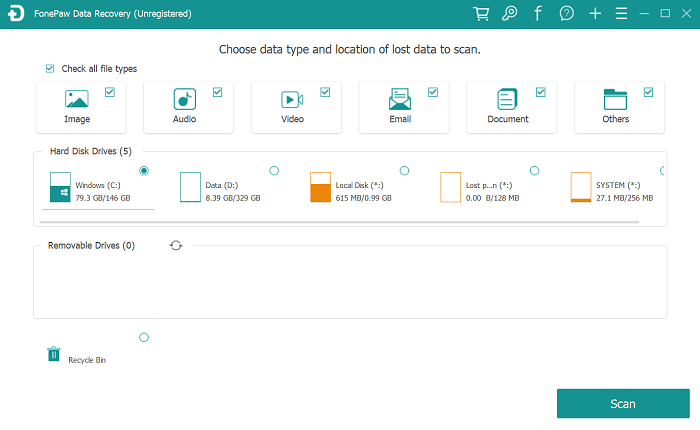 FAQ: Can I Recover Deleted Files from Android Without Root?
Yes, it's possible, but usually not workable enough.
Some users are looking for a method to recover deleted data on Android without root, actually you can recover some of the data in this way. Some Android data recovery apps, for example, FonePaw Android Data Recovery, provide a standard scan feature with no requirement for root and is able to find thumbnails of deleted files from your Android device.
However, rooting for data recovery is still recommended because much more of the deleted files are in the part of the file system that is only accessible with root privilege. That is to say, some deleted files which cannot be found under a standard scan is more likely to be discovered thorough a deep scan, which requires rooting your Android phone.
So, if you really need to get the deleted files back, we recommend you give the Android file recovery program root access to the phone. After the data are back, you can unroot your phone anytime you want.
FAQ: Can I Recover Deleted Files on Android Without Computer?
Perhaps you prefer recovering deleted files from Android without a computer because it looks more convenient. Actually, it's also possible, but the limitations are also obvious.
Restore Android Files from a Backup or Cloud
For one thing, you can try to recover the lost Android files from a backup or trash bin. Though we all know that Android does not offer a trash bin for all the files, files like photos, videos, and messages are very likely to be recoverable with a backup or trash bin. This requires you to have a local backup or use some Cloud service like Dropbox or Google Drive beforehand.
If you have a local backup, you can directly restore it on your Android. As for the cloud service, you can check your cloud storage and the recycle bin from the separated apps, and then you can make sure if the lost data are there or not.
Perform Android File Recovery with a Phone App?
For another, there are also some phone apps for Android file recovery in the market. Though they may function, we do not recommend you try this way, as a phone app could potentially overwrite the deleted files on your Android when the app is installed.
That's all about the Android file recovery you may need to know. Hope this passage can be of help for you to salvage your deleted files.