As we people become more reliable on our smartphones, the phone data is also more important to us. But the Android phone can be quickly filled up with data, and when we try to delete the useless files, it could happen that some important files are also deleted by accident. Luckily, the deleted files are not instantly erased and this makes data recovery from Android internal storage possible, even without any backup.
In this article, you will get to know a handy tool to help you recover deleted files from Android phone internal memory easily.
Why Recovering Data from Android Internal Memory is Possible
Actually, binary encoding is the main theory that your Android phone utilize for organizing data. When deleting data on your Android phone, it only deletes the virtual pointer to the data. And then your Android device will mark the space as zero, which means the file at this place is lost at the moment. The file is not actually deleted until new data overwrites it. As your Android smartphone can interpret the encoding method, the lost or deleted file is likely to be retrieved from internal memory if there is no new data replace the original spot.
Best Data Recovery Software to Recover Deleted Files from Android Internal Storage
Many third-party software programs even make recovering lost data from Android phone internal memory incredibly simple and convenient. With a strong ability to restore files from Android internal memory, FonePaw Android Data Recovery can handle various data loss scenarios of your Android phone, including lost data due to wrong usage, improper operations, or system errors even if you don't have a backup at hand.
Also, you can get back both text and media contents from the internal memory of the phone. Contacts, text messages, WhatsApp messages, call logs, photos, movies, and music can be restored with four simple steps. After restoring, these files are orderly sorted and stored into the appointed output folder of your computer. Below we will take recover deleted photos from Android internal memory as an example.
Free Download Buy with 20% off Free Download Buy with 20% off
Recover Lost Data from Internal Memory on Android
Step 1. Connect Android to Windows
To begin with, download a suitable version of the Android data recovery software on your computer. Next, go to the Android and turn on USB debugging. The computer and program will detect the device immediately.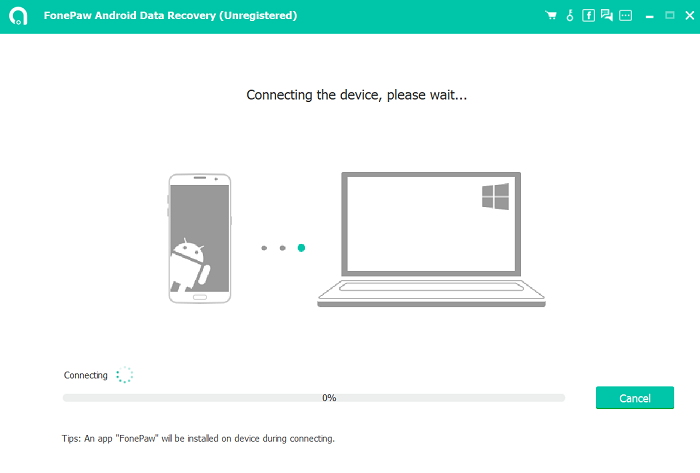 Step 2. Choose File Types to Scan and Restore
When connecting your Android phone to computer successfully, you should precisely choose a specific data type to scan then retrieve files from the internal memory of Android. Simply mark items you want and click the button "Next".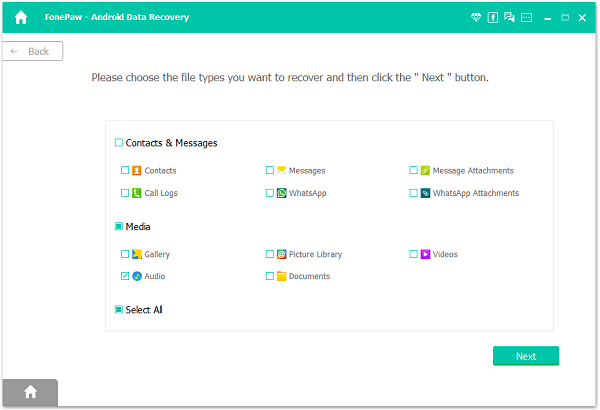 Step 3. Allow FonePaw Program to Enter Internal Memory
To access the internal memory of your phone for deleted data, the FonePaw app is neccessary to be installed on your Android phone. Turn on Install via USB and install the app.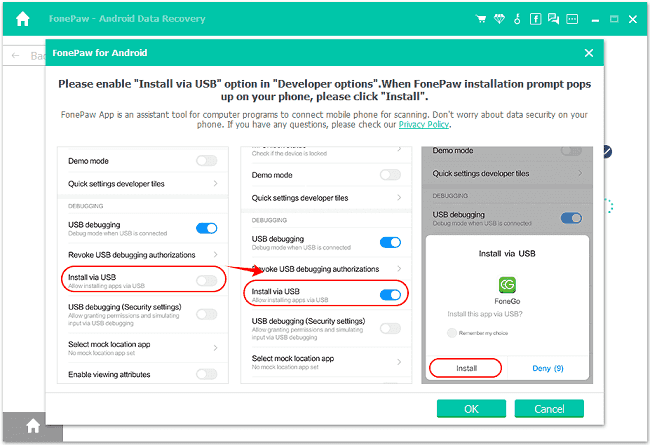 When the FonePaw app pops up the request messages for your permission to read data in the internal memory, tap "Allow" on the Android. Then the program will successfully get permission to scan the phone.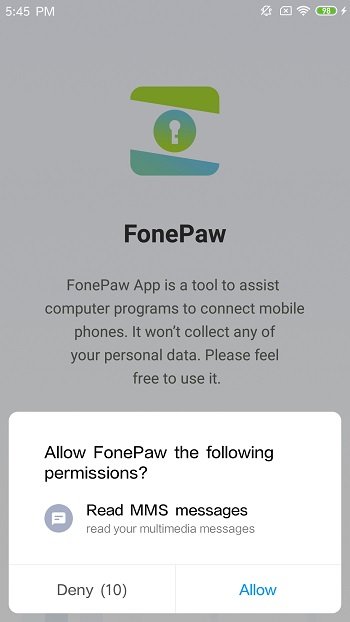 Then the program will successfully get permission to scan the phone. Click Scan Authorized Files on the desktop program to start scanning the internal memory.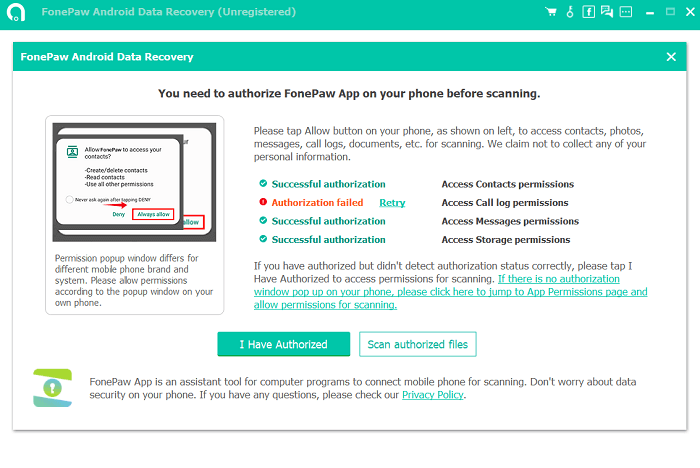 Step 4. Recover Data from Internal Memory of Android Device
When the phone is being scanned, keep it connected. Once the first scan is completed, you can check if there is the deleted data you need. If not, you can click Deep Scan for more hidden data. As Deep Scan can dig out more files, it will take more time to finish the entire process.

Note:
Deep Scan will require you to root your Android phone. If you are not sure whether to root or not, you can check the information first. After root and get your deleted files recovered, you can also unroot it to normal status.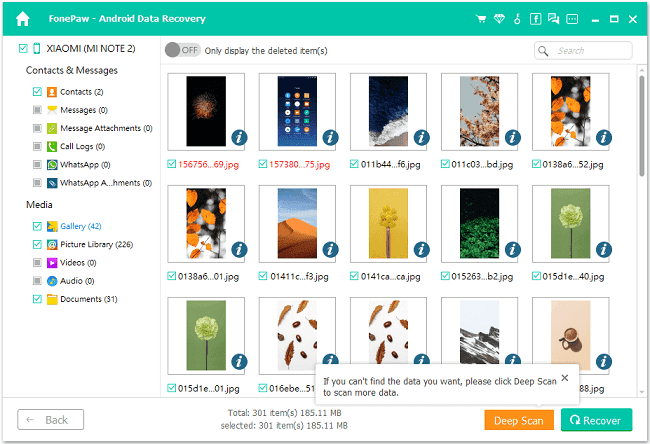 After the deep scan is completed, click file types at the left and preview the deleted data in detail, for example, phone numbers and names of contacts, text contents and phone numbers of SMS, phone numbers, names, and call type of call logs.
Then you are allowed to mark contents you want to restore and click the button "Recover". FonePaw will help you restore data from your Android internal memory.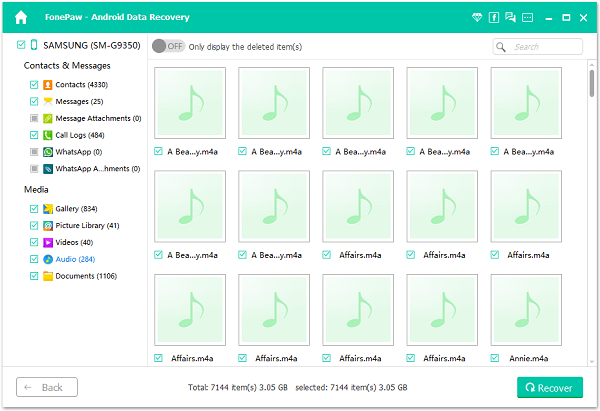 Video Tutorial: How to Recover Deleted Files Android Internal Storage without Backup
Free Download Buy with 20% off Free Download Buy with 20% off
FAQs of Android File Recovery from Internal Storage
1. How can I recover deleted files from Android internal storage?
If you deleted important files on your Android phone internal memory and want to get it back, it's usually two ways: recover files from your Android backups or use Android data recovery software.
The first option is only available when you have got a backup. For example, if you log into a Google account and sync your phone data, you can check through if you have a Google backup that may store your deleted files and then restore it. It's quite easy for restoring files from backups. There are also other backup services like Samsung Cloud, Dropbox, OneDrive, etc.
If unfortunately, you don't have any backup, you may need to get help from the Android data recovery programs. There are many such tools in the market which can help you scan and retrieve the deleted data on your Android internal storage. Try to find a reliable one and get back your data, and here I would recommend FonePaw Android Data Recovery.
2. Where are recently deleted files on Android?
Where the deleted files on your Android phone go usually depend on which types of files you have deleted and whether there's a recycle bin for it. Although Android does not provide you with a specific recycle bin for all files, some apps and services do have a trash bin to store your recently deleted files, for example, the Gallery app, Google Photos, File Manager, File Explorer, and etc.
But if you are not using any of them, the deleted files are not easily accessed on your Android. Although they still temporarily remain on your Android phone, they are actually waiting for being overwritten. It's hard to directly get the deleted data unless you use some professional data recovery software for your Android internal storage.
Final Words
Well, it's so easy to recover data from an internal memory card on Android, right? FonePaw Android Data Recovery can also get back content in the SD inserted in your Android phone. Still, don't forget to constantly create a backup on your Android phone, and this can be the last defence for your data.
Free Download Buy with 20% off Free Download Buy with 20% off