You probably have an old Android phone as a stop-gap whose storge space may be less than 128GB. And obviously, insufficient storge space can always be a pain point. The good thing is that old Android models usually come with a SD card slot for extra storage. Still, due to the reason that SD cards have a limited lifespan for reading or writing data, unexpected failure may happen and somehow lead to data loss. Don't panic! You still have a chance to restore deleted or lost files from the Android SD card when error occurs.
But remember that you should stop using your Android phone when data on your SD card cannot be accessed. Otherwise, the lost or deleted files can be overwritten by new content, which makes Android SD card recovery a tricky task. On premises that the old data are not replaced on the SD card or Android phone's internal memory, it is possible to recover files from SD card on Android with 2 quick methods.
Solution 1: Restore Lost Files from SD Card on Android
As we've mentioned above, the lost data on your SD card are recoverable because there have chances that the data are just marked as 'lost' but not actually permanently removed from the storage. Therefore, you can perform SD card data recovery to get back the lost or deleted data. Several third-party tools can help you finish the task successfully. And here we recommend FonePaw Android Data Recovery if you don't have an SD card adapter at hand.
This powerful Android data recovery tool runs smoothly in recovering files of various types. It performs amazingly especially when retrieving media files such as images, photos, videos, audio, and even your WhatsApp attachments or chat history.
Just connect your phone to the computer (both Windows and Mac are supported), you can enable the SD card to be scanned and recovered. The program would not destroy your file so that you can get back a full-size photo and a complete music/video file. Besides, deleted items can be extracted from heaps of files so that you are able to recover important files in Android with it.
Free Download Buy with 20% off Free Download Buy with 20% off
Step 1. Connect Android Phone to Computer
Run FonePaw Android Data Recovery on a Windows/Mac computer. Then connect your Android phone (with SD Card) to the computer with Android USB cable. Turn on USB debugging on your Android phone. After that, your device should be detected by the computer.
Step 2. Select File Types to Scan
In this step, the program will require you to select file types to scan. All compatible file types are listed in the menu, for example, photos, music, and videos. Choose the types you are intended to recover and click the button "Next".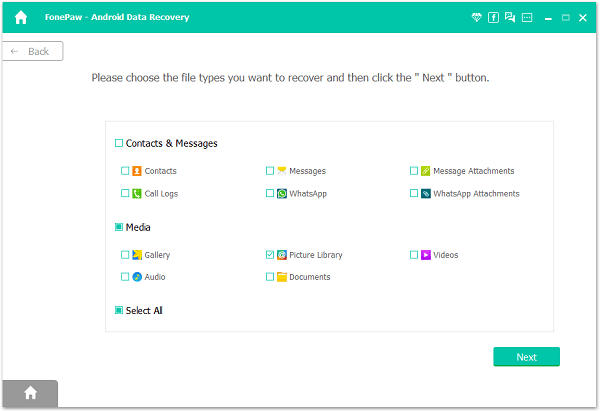 Step 3. Allow FonePaw Program to Access Android SD Card
FonePaw Android Data Recovery will try to install an app to get permission to access data on the SD card. On your Android phone, open Settings and enable Install via USB to install the FonePaw app.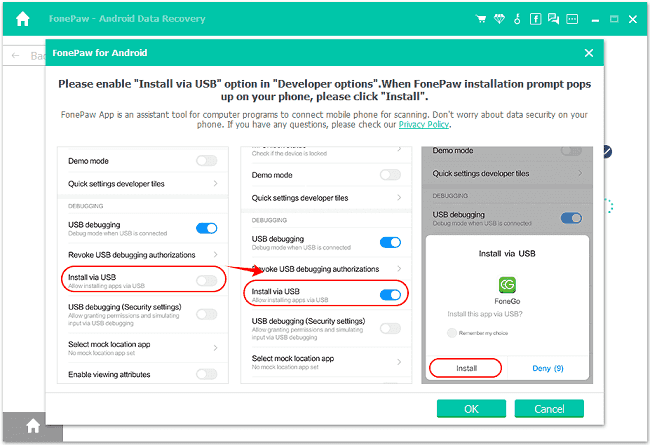 After the app is installed, it will pop up with messages asking for permission to read phone data, just tap the button "Allow".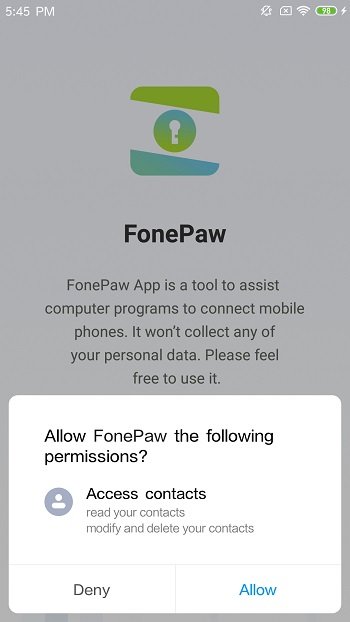 Step 4. Scan Deleted Files in Android SD Card
After getting the access permission, FonePaw Android Data Recovery will scan your Android SD card and try to find out all deleted files. It will apply a standard scan at first, if the deleted files on SD card don't appear after that, click Deep Scan.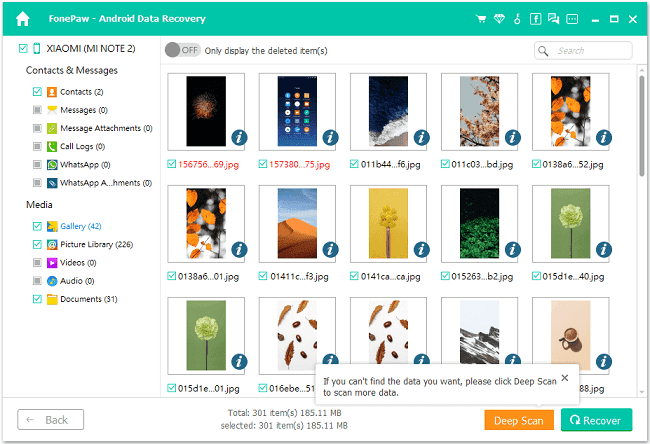 Step 5. Choose Files to Restore from Android SD Card
Scan complete! In the left pane, you can see the scan result. Choose file types. Then you can preview data in detail. Remind that the names of deleted ones are in red font. And you can tap the ON/OFF button and set to displayed deleted items only. Check the contents you want. Click the button "Recover". You can get them back lost files from Android SD card.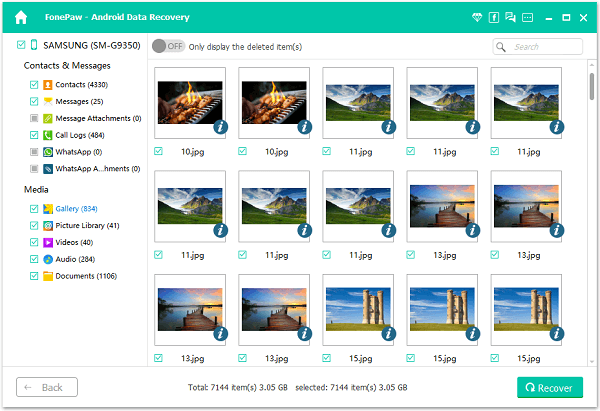 Nice job! You have restored deleted files from your Android SD card to your computer successfully. Just don't forget to back up your important files regularly. This can surely secure your data. And no doubt that recovering from an existing backup is much easier than relying on an app to scan and dig up your lost or deleted files.
Solution 2: Perform Android SD Card Recovery Without Root
Another effective way to recover files from an SD card is to remove the card from your phone, then plug the SD card to the computer with an SD card adapter and use FonePaw Data Recovery to apply SD card recovery on the card. The lost files on the SD card can be recovered without rootor inserting the card to phone. Deleted Documents, photos, videos, etc. can all be recovered easily.
Free Download Buy with 20% off Free Download Buy with 20% off
Here's how the android file recovery works.
Step 1. Insert the card into the card reader and then connect the card reader to PC.
Step 2. Double click to open FonePaw Data Recovery on Windows. On the homepage, you will see your memory card is recognized as Removable Drive.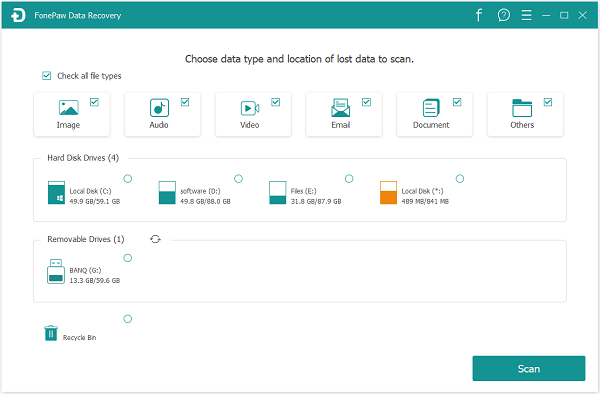 Step 3. Select data types/all data and tick the circle of your SD card in the Removable Drive list.
Step 4. Go scanning and you can use Quick Scan or Deep Scan to find the lost data back. Please note that Deep Scan will take a longer time but display more deleted files for you.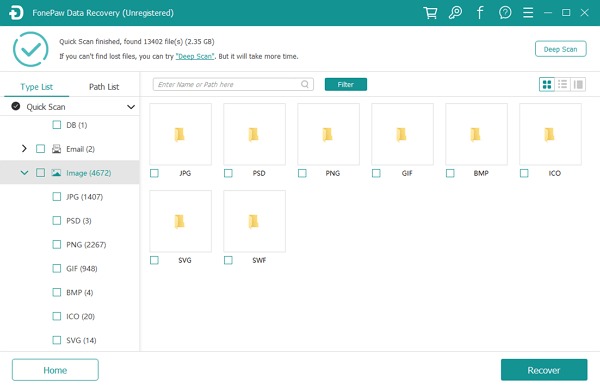 Step 5. Check the scanned results and restore those lost files back to your computer.
Final Words
Now you may form an idea of SD card recovery on Android. The two methods mentioned above should help you get back the lost data easily. Also, be noticed that data recovery will cost much time and effort because there are tons of files for the software to scan. Therefore, always keep a backup to prevent unexpected data loss.