Contact is one of the most important parts of our phone, and there can be a lot of trouble without contacts. If you accidentally delete or lose your contacts originally stored on a SIM card/memory card, you may be upset and want to find them back. Luckily, it's workable to recover deleted/lost contacts from Android SIM card, and the most recommended and effective way is using a reliable data recovery tool.
In this post, we'll introduce the best contact recovery tool: FonePaw Android Data Recovery to you, and also offer other useful tips to get your lost contacts back and avoid losing them again.
Double-check Contacts on SIM/memory Card or on Your Phone First
If you unfortunately encounter a situation where you cannot find all the contacts on your phone, do not panic. Double-check it first. See if it is because you accidentally pressed the wrong button or changed the setting that you should not change.
If you are sure that you didn't do anything wrong on your phone, reboot it, and see if your contacts are back. When you've rebooted your phone and find that your contacts are still missing, you can keep reading this post to find the answer. Now, let's first learn the possible reasons that lead to contact loss.
Causes for Contact Loss from SIM Card on Android
There are several reasons for contact loss from SIM Card on Android. Here we just list some of the most common ones of them:
Delete the contacts from your phone's SIM/memory card accidently
The SIM card gets blocked
Perform the factory reset while the SIM card is still in the phone
Incomplete Android OS update
Hardware Crash
The SIM card gets damaged
Lost the SIM card
Virus or malware attacks
Even if you carefully save the contacts, it's possible to find them back. Among all methods to recover lost contacts from Android SIM card, using a third-party tool is the most helpful one. Here, we recommend you to choose a reliable contacts recovery tool: FonePaw Android Data Recovery. Detailed introduction will be presented in the following.
Free Download Buy with 20% off Free Download Buy with 20% off
How to Recover Deleted Contacts from SIM Card
On Android phones, you can either save the contacts on your phone, or save them on SIM cards.
To recover deleted SIM card contacts on Android, using an Android data recovery application is the most effective method. Here we introduce you a best Android data recovery application - FonePaw Android Data Recovery. It enables users to recover deleted contacts from SIM card on Android simply and effectively.
This data recovery application can find out deleted contacts from both the SIM card and phone memory on Android. It can recover names, phone numbers, email addresses of contacts from Android. It supports over 6,000 Android phone models from Android 2.3 to Android 12.0, and you can use it to restore data from Samsung, HTC, Nokia, Huawei, LG, Sony, Xiaomi… virtually all Android phone models are supported. You can view more detailed features in the list:
Recover contacts and other commonly-used data formats from SIM card, SD card and Android phone memory
Offer Deep Scan & Quick Scan modes to meet different needs
Use Quick Scan mode to scan contacts without root
Support partial recovery to recover the particular contacts you want
With the useful Android data recovery tool, you can find your contacts back without effort. It takes only 4 steps to get your contacts from the SIM card.
Here is the video tutorial of following steps:
STEP 1. Connect Android Phone to PC
Launch FonePaw Android Data Recovery on a computer and connect your Android phone to the computer with a USB cable.
Note: To get your Android phone detected by the computer, ensure that you have enabled the USB debugging on your Android phone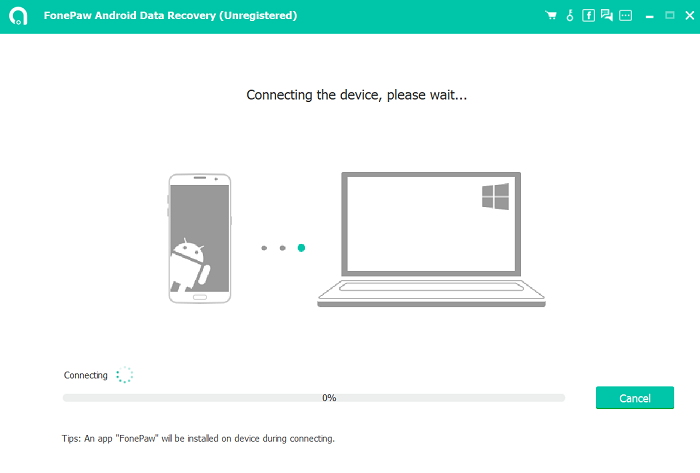 STEP 2. Choose Contacts Recovery
When the Android phone is recognized by the computer, you can choose the categories of the lost data that you want to recover. To recover deleted contacts on the SIM card, select Contacts and click the Next button.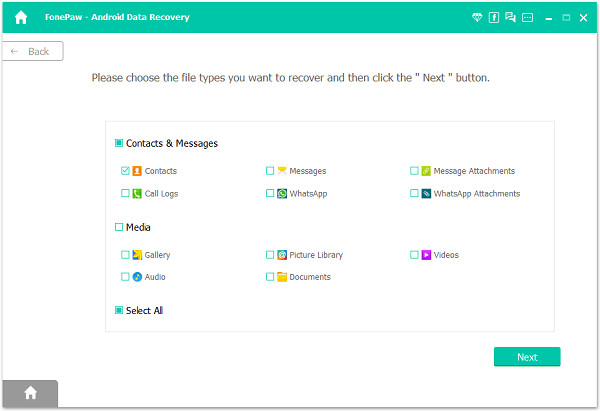 STEP 3. Allow the Program to Scan Contacts on Android SIM Card
The program needs permission to scan deleted phone numbers and others from your Android SIM card. Follow the instruction to install the FonePaw app on the phone.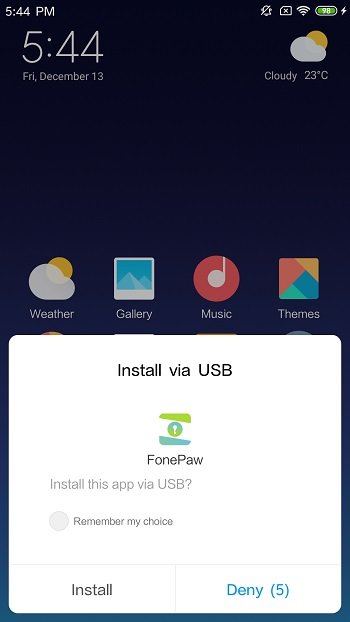 After the app is installed, it will ask for your permission to access contacts on your phone, tap Allow and click Scan Authorized Files. Then the program will be able to find lost contacts from the SIM card.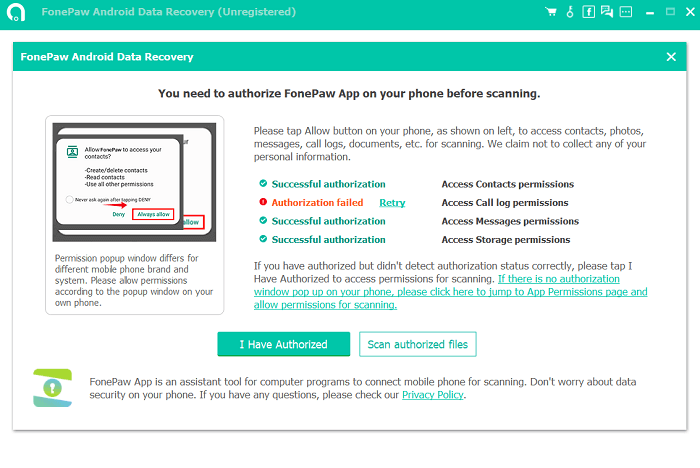 STEP 4. Preview and Recover Deleted Contacts from SIM Card on Android
After scanning, select Contacts, you can then view names, phone numbers, emails on the SIM card. If you can't find the deleted contacts in the results, click Deep Scan to search for the deleted contact items.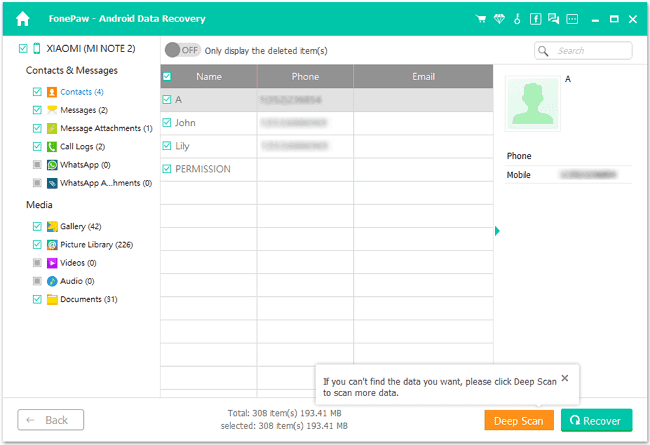 After the deep scan is finished, select the phone number you want to restore, click Recover to get the lost contacts back.

Note
The Phone numbers show in red are which you have deleted.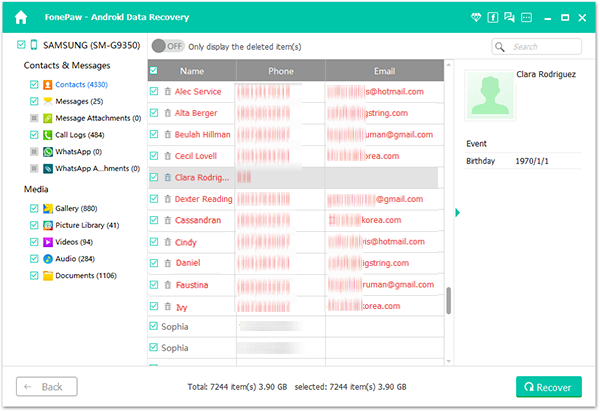 All the recovered contacts will be stored on your computer as VCF/HTML. You can import the VCF files to your Android SIM card via Gmail, Outlook, or FonePaw DoTrans, a program that can directly add contacts to Android devices on the computer. Moreover, it can transfer contacts, photos, etc. from Android to Android, Android to iPhone, and more.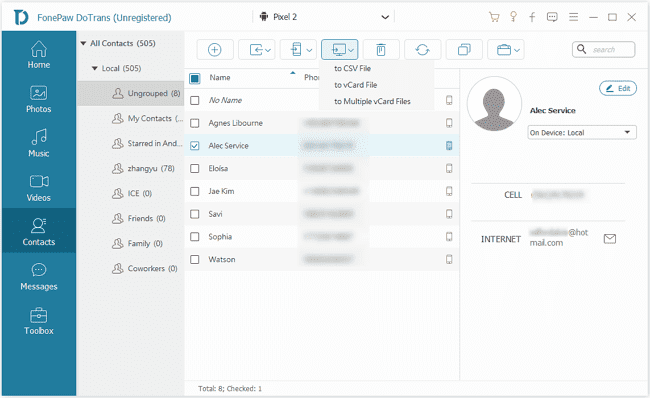 Things to pay attention to when you need to recover deleted contacts from SIM card
If you have deleted the contacts saved on SIM/memory card of your Android phone, of course you can get them back in an easy way with FonePaw Android Data Recovery. But you may wonder how it can extract the deleted contacts, and here we'll explain it for you.
As when you delete the contact from SIM card, it doesn't get deleted permanently, but the space of the contacts is marked as empty. So you still have a chance to retrieve the deleted contacts from SIM card as it only becomes invisible to you but still remains on your phone.
Hence, if you want to recover deleted contacts from SIM card on Android, then remember do not add any new contact or any other data on your phone after you deleted your important contacts accidently, or the new contacts may overwrite the deleted ones.
Restore Lost Contacts from SIM card via Google Contacts
You can retrieve your deleted contacts from SIM card on Android via Google Contacts if you have ever been synced the contacts with Google using your Gmail account.
Step 1. Click the link and open https://contacts.google.com/ and then log in with your Gmail account used on your phone.
Step 2. Click on the Settings icon at the top-right corner of the screen. And then tap on the Undo changes.
Step 3. Select the time to retrieve your contacts to the state where you haven't deleted any of them.
Step 4. Tap on the Undo button, and now you can go to check whether the deleted contacts are restored or not.

Extra Tips: How to Avoid Losing Contacts on Android
Though it's possible to recover contacts from Android SIM card, the best way is to save them properly and not lose them again. This part will give you the tip on how to back up and export contacts to avoid accidental deletion.
How to Back up Contacts on Android
Whether you save contacts on phone internal memory or SD card, you should always back up important contacts on your phone. Generally, you have two options.
Back up contacts on PC so that you can easily transfer your contacts to another phone when the SIM card is lost or the phone is broken. FonePaw DoTrans can help you create an encrypted or unencrypted backup of your contacts from SIM card and phone memory on a computer. It can also back up photos, videos, music, etc. on your phone.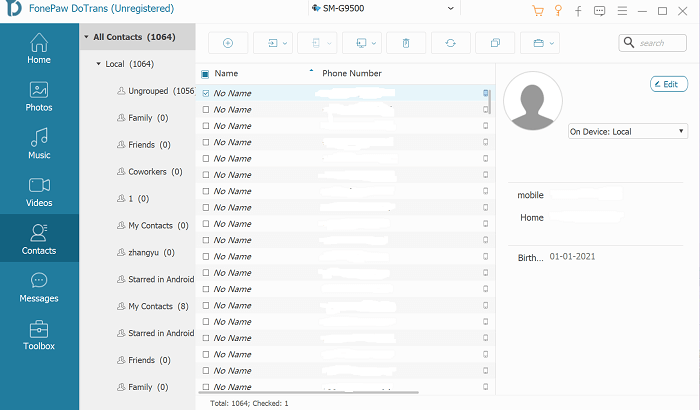 Sync contacts to your Gmail account so that you won't lose the contact information even if something goes wrong with your phone. Open Settings, make sure you have signed in to your Gmail account and the Contacts option is checked.

Tips:
You can turn on automatic backup feature to make sure all your contacts and other data are automatically backed up:
Go to Settings > System > Backup, and turn Back up to Google Drive on.
How to Export Contacts for Backup
You can also choose to export the contacts directly to make a backup, and it's easy. Just open Contacts app on your Android, and tap Fix & manage > Export to file, and choose the account to export contacts from. Then, you can select Export to .VCF file.
When all the steps are done, the exported contacts will be saved in the output destination you choose.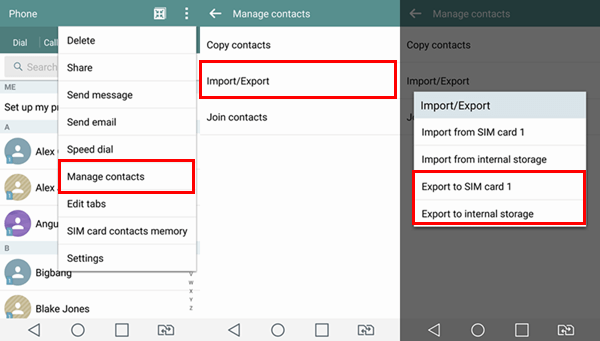 Conclusion
To sum up, this article introduces a convenient method to recover deleted contacts from SIM cards – using FonePaw Android Data Recovery. What's more, phone users should always bear in mind that it is crucial to back up SIM card contacts, which can easily be achieved with the help of FonePaw DoTrans. Feel free to send us your user experience or suggestions for the software!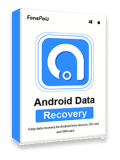 Android Data Recovery
Retrieve your lost data from your Android phone within seconds!