Have you ever been troubled by how to recover deleted contacts on Android? Contacts are an essential part of daily life, keeping track of our important relationships and connections. However, accidentally deleting a contact, losing contacts due to phone malfunctions, or having data overwritten after flashing can be frustrating and inconvenient experiences that keep you busy trying to retrieve lost information.
But fear not, there are several solutions available to restore deleted contacts and regain access to valuable information. This article will explore four of the most commonly used methods for getting deleted contacts back on Android devices. Let's delve into it and learn more!
1. Restore Deleted Contacts on Android via Contacts App
In some cases, contacts may not be permanently deleted but simply hidden unintentionally. You can easily restore such contacts by unhiding them via the Contacts app. The process is quite simple, and you can follow these general steps regardless of your Android version and Contacts app. Here's how to retrieve deleted contacts on Android via the Contacts app:
Open the Contacts app on your Android device, and tap on the three-dot menu icon in the top-right corner of the Contacts app's screen to expand the options menu.
Select the "Contacts to display" option from the expanded options menu and ensure that the "All contacts" option is selected.
If the "All contacts" option is not already selected, tap on it to make it the selected option. Then, all your contacts, including those that may have been accidentally hidden, should be visible in the Contacts app.
If the contacts you are looking for are still not visible after following these steps, it is possible that they have been permanently deleted and will require other solutions to restore them.
2. Retrieve Deleted Contacts on Android from Google Account
If you have accidentally deleted contacts on your Android device, don't worry. The Recycle Bin on your Android device stores deleted contacts temporarily, which makes it easy to recover them within 30 days. You can easily get deleted contacts back from your Google Account using the Google Contacts website or the Contacts app on your Android device. Here's a step-by-step guide to help you through the process:
On Google Contacts App
Open the Google Contacts app on your Android device and move to the "Fix & manage" tab at the bottom.
Tap the "Bin" or "Trash" option (depending on your locale). Then, you'll find a list of all the contacts that have been deleted within the past 30 days. Search for the specific contacts you wish to recover.
To restore a deleted contact, simply tap on its name to select. Then, tap on the "Recover" button to get it back to your contact list.
On Google Contacts Website
Navigate to the Google Contacts website and sign in to your Google account. Then, click on the "Settings" gear icon to select the "Undo changes" option.
A pop-up window will appear, allowing you to select a time range to restore your removed contacts from. You can choose from specific dates or custom periods within the past 30 days.
Once you've selected the desired timeframe, click on the "Undo" button to initiate the restoration process. Then, all deleted contacts on Android at the selected time range will be restored.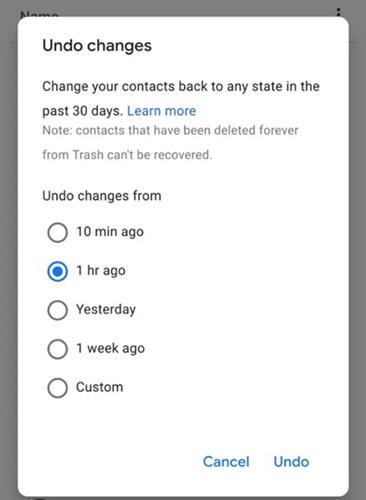 3. Recover Permanently Deleted Android Contacts with FonePaw
For instances beyond the 30-day valid period or when contacts have been permanently deleted, data recovery software for Android phones emerges as a savior.
FonePaw Android Data Recovery is a powerful one designed to recover lost or deleted data from Android devices in a variety of situations, including accidental deletion, factory resets, and SD card corruption. With it, you can meticulously scan and preview your device's internal storage, SD card, or SIM card and then effectively restore deleted contacts, along with other 100+ valuable files like messages, photos, videos, call logs, audio files, documents, and more.
Free Download Buy with 20% off Free Download Buy with 20% off
👍 Key Features of FonePaw Android Data Recovery:
Recover from Multiple Scenarios: It can handle various data loss scenarios, including accidental deletion, formatting, factory resets, and even virus infections.
Offer Comprehensive Contact Recovery: Fonepaw can recover a wide range of contact information, including names, phone numbers, email addresses, and more.
Support Flexible Recovery Options: It offers two scanning modes to suit different data loss scenarios - "Standard Scan" for recently deleted contacts, and "Deep Scan" for contacts lost from a long time ago.
Restore from internal and external storage: FonePaw can recover removed contacts stored on both internal and external storage, including SD cards and microSD cards.
Next, we will explore how to easily recover Android contacts on FonePaw Android Data Recovery. You can download and install it and perform the following actions.
Step 1. Connect Your Android Device to a Computer
Once installed, launch the program and connect your Android device to your computer using a USB cable. Then, ensure USB debugging is enabled on your Android device. If not, then follow the on-screen instructions to turn on USB debugging on your Android device.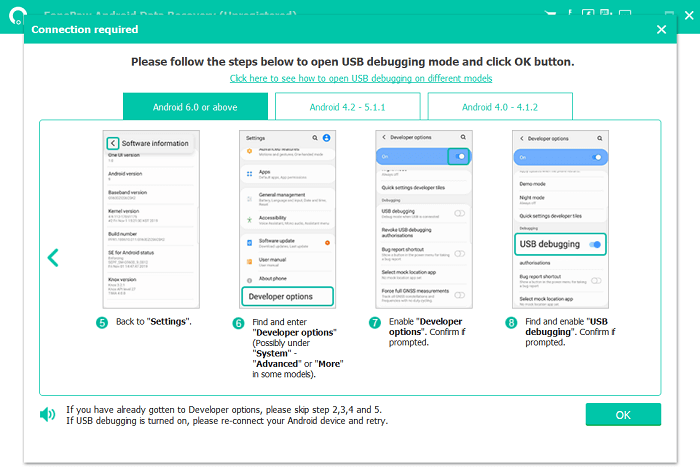 Step 2. Select Contacts to Recover
Once USB debugging is enabled, FonePaw Android Data Recovery will automatically detect your device. In the program's interface, select "Contacts" from the list of file types that can be recovered. Then, click on the "Next" button to proceed.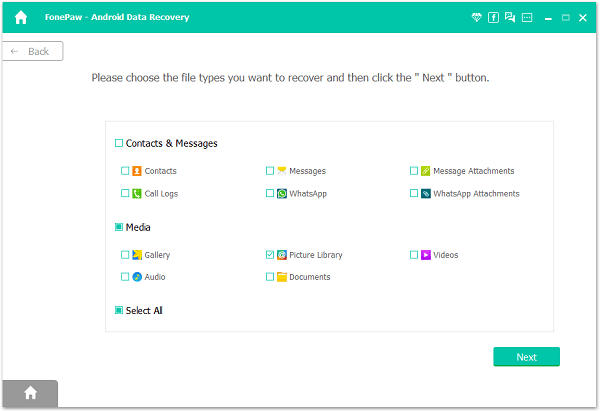 Step 3. Scan Your Android Phone
To deeply scan the data on your Android phone, you need to install the FonePaw app on your phone. If you cannot see the request for permission on your phone, please check if the "Install via USB" switch in the developer options is turned on.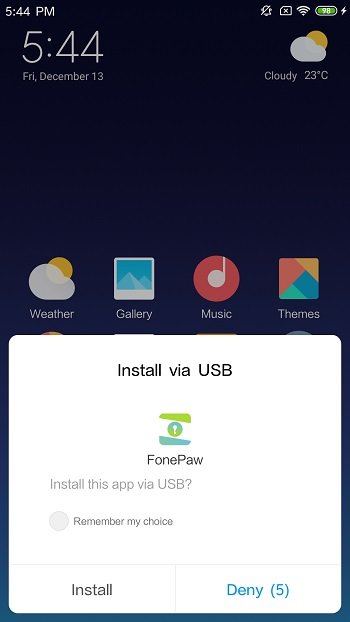 Once the installation is complete, tap "Allow" and then, "Scan authorized files" to give the FonePaw app permission to read data on your your Android device.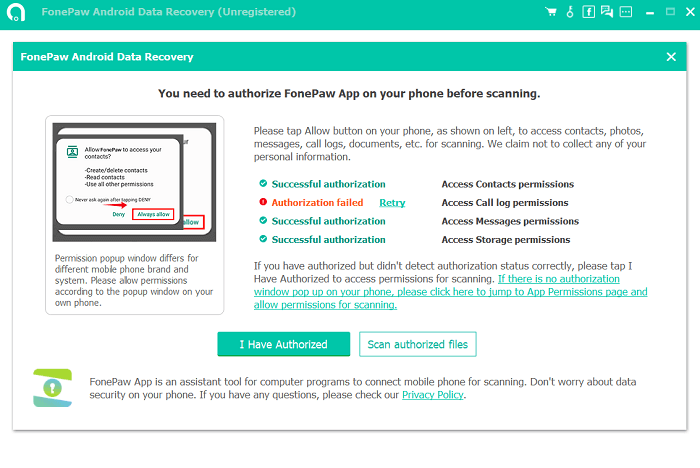 Step 4. Preview and Restore Deleted Android Contacts
While recovering deleted contacts on your Samsung or other Android device, Standard mode will automatically start and quickly scan your existing contacts. If you don't find the permanently deleted contacts you want, click on the "Deep Scan" button to get a more detailed list of deleted contacts. Finally, hit "Recover" to restore Android contacts on the SIM card, SD card, or internal memory.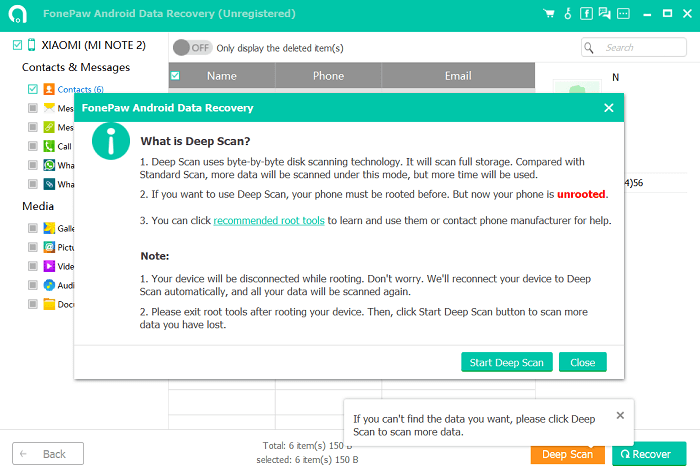 4. Get Deleted Contacts on Android Back from Google Backup
Recovering deleted contacts from a Google Backup on your Android device involves restoring your contacts from a previous backup date. This method is effective if you've recently deleted contacts and still have a backup that includes them. However, note that this method cannot restore backups from higher Android versions to devices running lower Android versions. Here's a step-by-step guide:
Access "Settings" on your Android device, navigate to the "Google" section within the Settings menu, and tap the "Set up & restore" option to select "Restore contacts".
If you have multiple Google accounts associated with your device, choose the account that contains the contacts you wish to restore. Also, you can choose to only turn on the "SIM card" or "Device storage" option to recover contacts that don't exist on your local number list.
Tap on the "Restore" button to begin the process of restoring your contacts from Google Backup.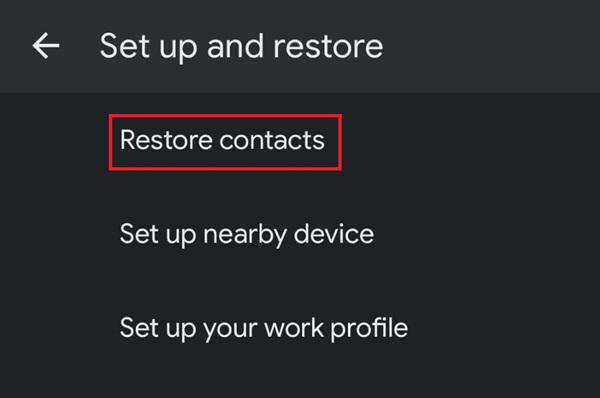 Remember that the restore process can only retrieve contacts that were backed up before deletion. If you delete contacts after the last backup, they will not be restored. To recover deleted contacts on Android without backup, you can try FonePaw Android Data Recovery to get better service support.
FAQs About Recovering Deleted Contacts on Android
Q1: Where Is the Recycle Bin to Restore Contacts on Android?
The location of the Recycle Bin on Android for deleted contacts can vary depending on the specific device and operating system version. However, in general, the Recycle Bin, also known as the "Trash" or "Deleted Contacts," can be found within the Contacts app itself.
If you don't see the "Recycle Bin" or "Trash" option in the Contacts app settings, it is possible that your device (Android 11 and later) does not have this feature. In this case, you may need to use a third-party data recovery such as FonePaw Android Data Recovery to restore your deleted contacts.
Free Download Buy with 20% off Free Download Buy with 20% off
Q2: Why Can't I Restore Android Contacts on Google?
Recovering deleted Android contacts on Google can be a straightforward process, but there are instances when you might encounter failures. Here are some of the most common causes:
You are not signed in to the correct Google account associated with your Android device and contacts.
Google Contacts retains deleted contacts for a period of 30 days. If you attempt to restore contacts deleted beyond this timeframe, you won't be able to retrieve them.
Corrupted or incomplete Google Contacts backups can hinder restoration.
Google imposes limits on the number and size of contacts you can store. You can have up to 25,000 contact entries or 20MB of contact storage.
If you've checked these potential causes and still can't restore your contacts from phone memory, consider using a data recovery tool like FondPaw Android Data Recovery to scan and recover deleted contacts from your Android device.
Conclusion
After reading, you must have learned effective methods to restore deleted contacts on Android devices. While Google Contacts offers a built-in option for restoring recently deleted contacts, FonePaw Android Data Recovery emerges as a powerful and versatile tool for recovering lost contacts from a wider range of scenarios. Why not download it and give it a shot?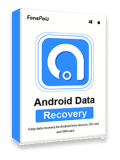 Android Data Recovery
Retrieve your lost data from your Android phone within seconds!