This morning when I looked through Google+, I see a new feed from my friend Elena who was asking people to send a message with their phone number. Similar to Elena, when losing their Android contacts, many Android users have no other choice but sending a message on Google+, Facebook, and more to ask people to send their phone number. It helps, but quietly troublesome. Actually you can directly restore contacts from Android phones with FonePaw Android Data Recovery.
# Fact About Contacts: Where Are the Data Stored
Where are contacts stored? Most people would say the "Contact" folder or "People" app of the Android device. In fact, besides the contact information that we can see in the "Contact" folder or "People" app, there is a contact database in our phone memory. You can try to track it down through the path: data/data/com.android.providers.contacts/databases/contacts.db (the exact location of the contacts database might differ because of your manufacturer's "customization" of Android system.)
When you remove a contact from "Contact" folder or "People" app, the data about the contact haven't been removed from the database. By using the data in contact database, a recovery program can help you restore the deleted contacts.
FonePaw Android Data Recovery (opens new window) is an extraordinary recovery program which enjoys a good name. The program is able to restore Android phone book with five steps – Connect Device to PC, Select File Types to Scan, Allow Superuser Request, Scan Contacts, and Restore Android Contacts.Once the "Recover" button is enabled, the program will get back everything of the phone book, including phone number, name, e-mail address, job title, etc. Steps are exemplified in the below section.
Heads-up: To avoid deleted contacts data being wiped out by new data, please stop using your Android phone once the data loss happens.
# The Way to Restore Lost Contacts from Android Device
Step 1. Connect Android Phone to the Computer
Stop using your phone once you realize the data loss. Hurry to install and run FonePaw Android Data Recovery on a Windows/Mac computer. Then connect the phone (Nexus 5 for example) to the computer via USB cable. After that, enable USB debugging (opens new window) on your phone.
Step 2. Select File Types to Scan
To get back Android contacts, you are required to select according file types to scan first. Check "Contacts" from the list and click "Next".
Step 3. *Authorize FonePaw App on Your Phone Before Scanning*
FonePaw Android Data Recovery will ask for permission to enter your device before scanning. Go to your Android phone. And choose "Allow" in the pop-up note. On your computer, click "I Have Authorized".
Read more details about how to authorize FonePaw on your phone.
Step 4. Scan Contacts in Android
FonePaw Android Data Recovery has got the right to access your phone. It will start scanning the phone number list in your Android device.
Step 5. Restore Contacts from Android Phone
Standard Scan can only find out the files that already in your device. If you need to recover the hidden or deleted files, try Deep Scan.
When deep scan is over, check "Contacts" at the left pane. Then you can preview all items of the phone book one by one. Next, select whichever ones you want and click "Recover" to get them back.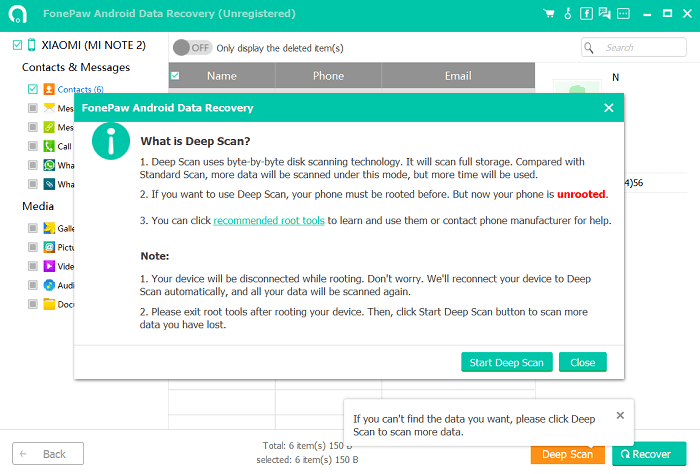 Done! FonePaw Android Data Recovery is easy to use to retrieve contacts from Android, right? Now that the lost phone number list has been retrieved and exported to your computer. Go to the destination folder. You can find the vCard, CSV, and HTML file of your phone book. Import the vCard file into your phone (opens new window). The Android phone book will restore.
Last, remember to create a backup of contacts in your phone for rainy days. One simple way to back up contacts is to sync with your Gmail account. Firstly, add Gmail account on your phone by going to "Settings" > "Accounts and sync" > "Add account" > "Google" > "Next" > "Sign in" and signing in with your Gmail account. After that, click "Sync Contacts". You contacts will be synced to your Gmail account.