With a storage limitation of the call record, depending on the device type, some Android phones are able to keep 500 latest call history and some are up to 2000. However, call history is barely paid attention to in people's daily life if nothing special happens, which leads it to be deleted easily, manually or automatically. When finding some logs with great importance are gone, you will have to recover the deleted call history… How do you retrieve deleted call history on Android? Let's dig more details on it.
Is It Possible to Retrieve Deleted Call History from Android?
Yes, it is.
Some people usually delete useless files or records including call history on their phones to free up storage space. But when it comes to phone number storing or proof collecting, it might freak them out if they have deleted by themselves. Some will find the call logs are deleted by the system due to the record limitation or system updates.
Things are easier to cope with nowadays. No matter what causes the call history deletion, there are several ways to retrieve deleted call history.
You should prevent gaining more call logs or updating your Android system before you get the logs recovered in case the call history is covered by new data.
Recover Call Log or Call History from Android via Data Recovery Software
Using Data Recovery software is the first and most efficient way for deleted call history recovery on Android. FonePaw Android Data Recovery is one of the best tools.
Why Choose FonePaw Android Data Recovery
FonePaw is stable and easy to use. Every Android Data Recovery tool requires you to turn on the debugging switch on your phone. If you are not familiar with this, the software has a step-by-step guide on how to find the switch, which saves you the trouble of exploring on this internet. Besides, you can enjoy some other advantages from FonePaw Android Data Recovery:
Quick and deep scan modes
Scan and find the call logs at a high speed
Protect the phone data without deleting anything
Filter the loaded logs for better tracking
Scan and preview the deleted call history free
Recover various types of deleted data (i.e., photos, videos, audios, WhatsApp, text messages, contacts, call logs and documents from Android devices and SD cards)
How to Recover Deleted Call History and Call Logs with FonePaw Android Data Recovery
Download the software before you start and get your USB transmission line by your side during this time. With simple steps, FonePaw Android Data Recovery will recover your deleted call history on Android:
Free Download Buy with 20% off Free Download Buy with 20% off
Step 1. Launch FonePaw Android Data Recovery and connect the device
After the installation on your computer, launch this software and plug the USB cable into an open USB port on the computer with the other side connected to your phone. Then you will see a pop-up window telling you to open USB debugging mode. You could follow the guides on it and get the mode opened, once done, click OK at the bottom right.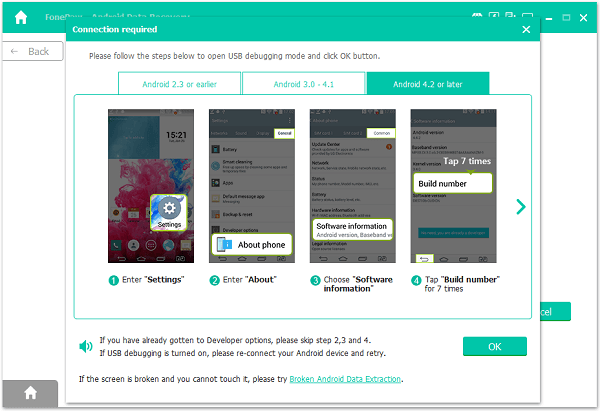 If you've done the setting but FonePaw Android Data Recovery still tells you your phone is not connected to the computer, try unplugging the USB cable and plug it in again, then click retry
Step 2. Select call logs from the file type list
After the cellphone connects to the computer successfully, you will see all the file types that this software can help you recover. Select Call Logs and then click Next at the bottom right.
FYI: You can select all to scan as well, but it would take a longer time.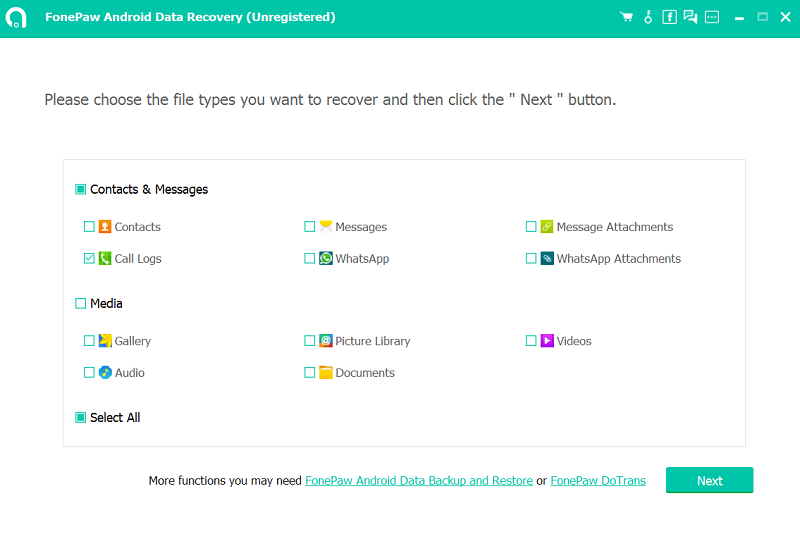 Step 3. Install FonePaw app on your android phone
Then there will be a page that pops up on your phone. This is an app from FonePaw, and you'll need to install it and allow it to read your contacts, call logs and storage during the installation so that the data in your phone can be detected by the computer.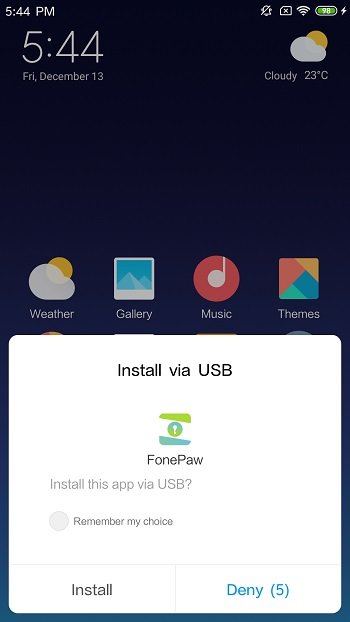 Step 4. Select Call Logs in the list you wish to recover
Turn on the filter on the top of the list to only display the deleted items. Then check the box for the logs that you wish to recover and hit Recover, then choose an output folder for the recovered files.
If you can't find the history that you need, try Deep Scan after getting your phone rooted. It would take you a longer time to scan but you would get a bigger chance to recover the deleted call history. After the recovery is done, you would find your call logs as an HTML file on your computer.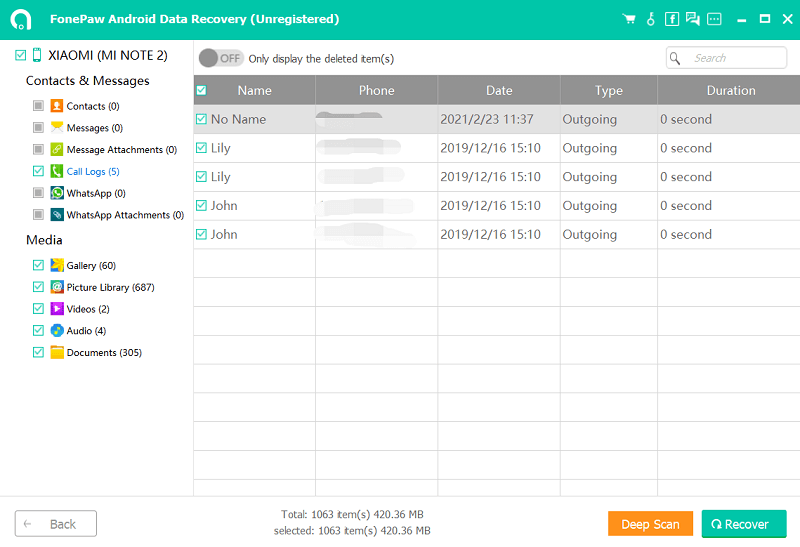 Get Back Deleted Call History by Contacting Mobile Service Provider
If you wish to restore call history from Android without a computer and free, try turning to the mobile service provider. They always keep your call logs (missed calls, received calls and dialed calls) as the information will be synced from the server on their end. The naming of the buttons may vary but the process is similar for all types of devices. Here is a simple guide:
Step 1. Log in/ sign up and log into the application on your phone or their website;
Step 2. Click my billing > View bill > View call details.
After that, you will see the call logs as well as the detailed balance deduction information.
However, calls made through Wi-Fi don't suit the scenario because it only records the history that's made over mobile data. If you need to do the call made through the internet, you may still need to seek help from FonePaw Android Data Recovery.
Free Download Buy with 20% off Free Download Buy with 20% off
Android Call History Recovery FAQs
Q1: Can I recover call logs or call history without downloading software?
Yes, you can.
The first method is to contact your mobile service provider or get the call logs back via the service provider on your phone as is listed above.

The second method is downloading call logs from Google drive. If you have logged into your Google accounts on your Android phone and turned on the syncing button which allows the phone to synchronize your call logs as well as other data to Google. If you are able to retrieve old call history easily.
Q2: How do I check the full call history and download them on Android phone?
Method 1: Check the call history on your Android phone app directly.
Tap Phone on the device;
Find Recents;
Scroll and you can check all the call history.
Method 2: Check the full call logs on google drive if you've got them backed up.
Tap Google Drive on your phone;
Hit Menu on the top left > Backups > Device > Call history
Methods 3: Check the full call history and download them on FonePaw Android Data Recovery.
If some of the call logs don't appear due to the storage limitation or have been deleted without any backups, you'll need to check the full call history with FonePaw Android Data Recovery, using the steps listed in part two in this article.
Q3: Is there any tip for avoiding call history loss?
Yes, there is. Backing up is a great idea to avoid call history loss. You can try backing up call history on Google Drive or downloading the logs via FonePaw and saving the log file on your computer.
Steps to back up call logs on Google Drive:
Settings > System > Backup > Back up to Google Drive On (with account logging in) > Device and data choose call log > Back up now
Verdict
Both FonePaw Android Data Recovery and checking on mobile service provider can help you with deleted call history recovery. The former one can restore the deleted call logs and those are automatically replaced due to the storage limitation as well as some other files on your Android phone. But if you would rather know how to recover deleted call logs free and without computer software, check the service provider.
All in all, software or app can help you with recovery, but avoiding losing call logs is the key point. Remember to Back up call logs from time to time as it is way easier than getting them back.
Free Download Buy with 20% off Free Download Buy with 20% off