WhatsApp is a frequently-used app on Android that can store many messages useful for our life and work. However, we believe that many of us have encountered the situation where we delete an important WhatsApp message or chat from WhatsApp messenger. If your important WhatsApp chats have been deleted accidentally or intentionally but there is no backup for them, it's a headache when you notice you need them later. So how to recover deleted WhatsApp messages from Android?
This passage will give you an answer. Generally, you can use an Android Data Recovery to recover deleted WhatsApp messages without backup. But if you do have a backup, you may restore WhatsApp chat history with the latest or less recent backups on Google Drive or local storage.
People Also Read:
Method 1: How to Restore Deleted WhatsApp Messages Without Backup on Android
If you unfortunately find that you delete some important WhatsApp messages and don't know how to deal with the backup, we'd like to introduce a reliable third-party tool to you: FonePaw Android Data Recovery. This method ignores the backup and can directly restore WhatsApp messages.
With FonePaw Android Data Recovery (opens new window), you can quickly retrieve deleted WhatsApp messages, photos, and videos from Android devices, including Samsung, HTC, LG, Sony, Motorola, and more android phones and tablets. Better yet, you can recover older WhatsApp chats without losing the current messages. To help you better understand this software, we list its key features here for you:
Able to scan 1000+ messages (and other files) at a time
Fast scanning & recovery speed to save your time
Support recovering messages lost in different conditions (accidental deletion, OS crash, broken screen, etc.)
Offer 3 recovery modes to ultimately restore messages
Intuitive interface to help you get started easily
Download the program and have a try now.
Free Download Buy with 20% off Free Download Buy with 20% off
1. Connect your Android Phone to PC
After downloading, install and run FonePaw Android Data Recovery on your computer. Then, connect the Android phone to the computer via a USB cable. If you have enabled USB debugging on your phone, the program will detect the phone quickly.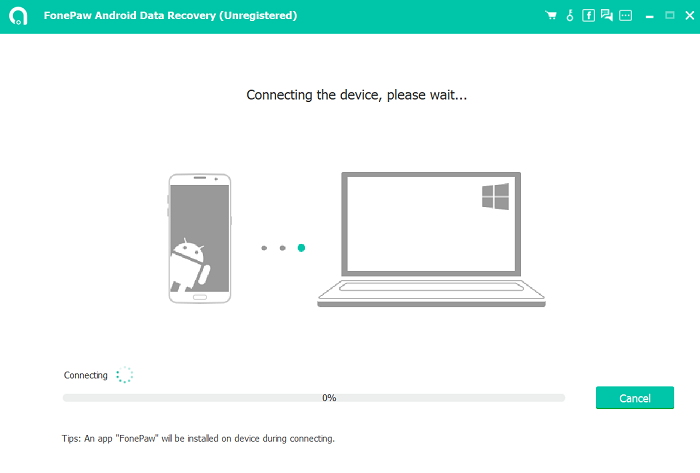 Otherwise, you should follow the on-screen instruction to enable USB debugging (opens new window) on your phone.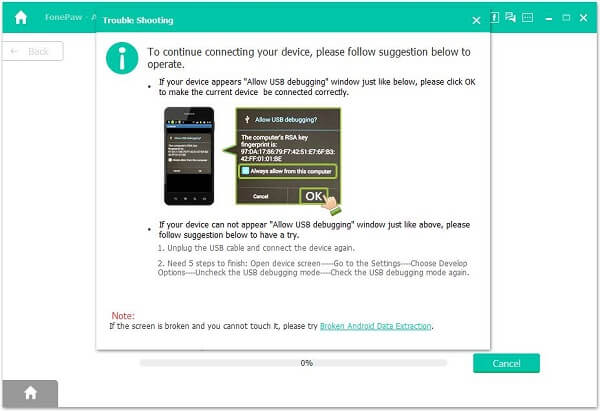 2. Select File Types to Scan
When your phone is recognized, the program will ask you to choose the file type you want to recover. Here, we can only check "WhatsApp" and "WhatsApp Attachment" to recover deleted WhatsApp messages and images.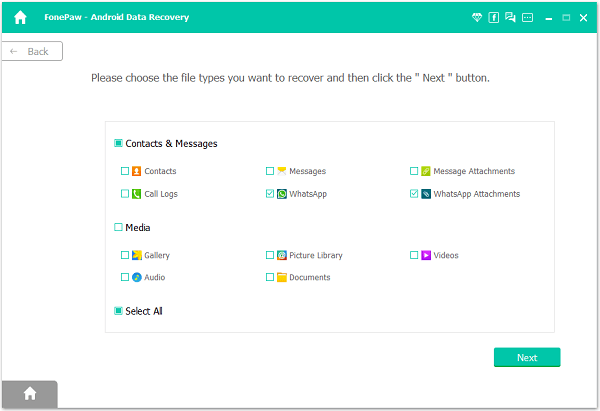 3. Grant Access to the WhatsApp Messages
The program is going to scan WhatsApp messages on your Samsung or other Android devices, but before it can do that, it needs to get the privileges to access your phone memory. FonePaw app is designed to help the desktop program to get access privileges. On your Android phone, enable Install via USB and install the FonePaw app. So hit the "Allow" button to each request sent by the FonePaw app.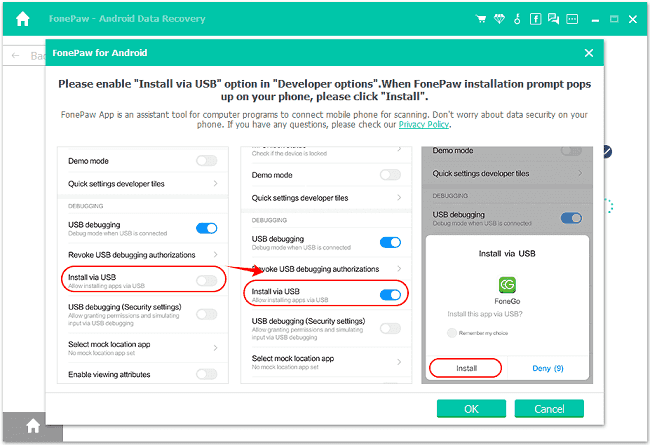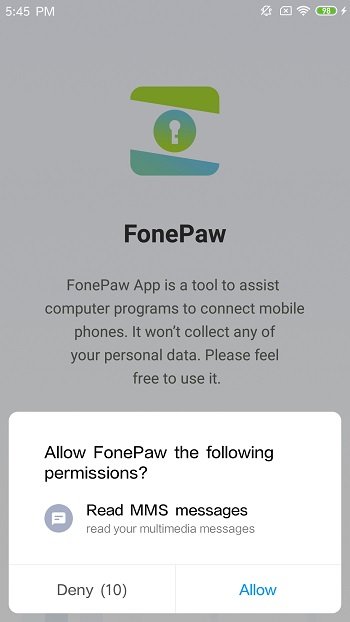 4. Deep Scan Android for Deleted WhatsApp Data
Once the FonePaw app has been given permission, go to the desktop program and click Scan Authorized Files to read WhatsApp messages from your Android phone.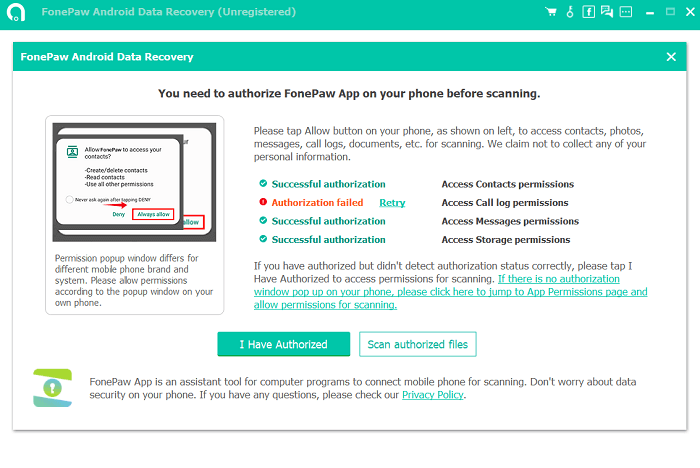 Deleted WhatsApp messages can't be found after the first scan, click Deep Scan to find out the deleted WhatsApp data.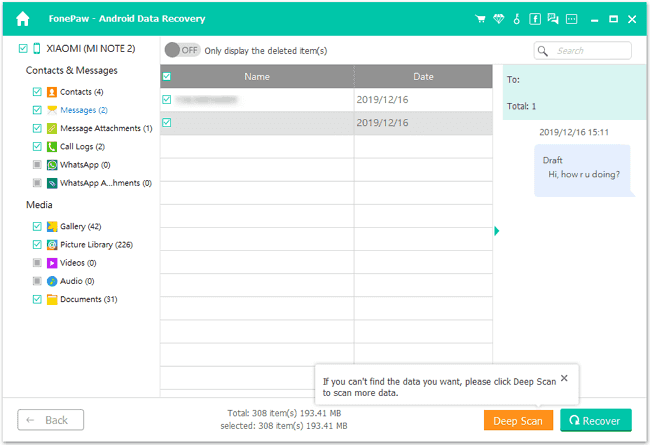 5. Recover WhatsApp Messages and Attachments
If you want to recover WhatsApp chat history, click "WhatsApp" at the left hand. If you need WhatsApp photos and videos, choose "WhatsApp Attachments". Then, view these items and tick those you want to get back. Now, click "Recover".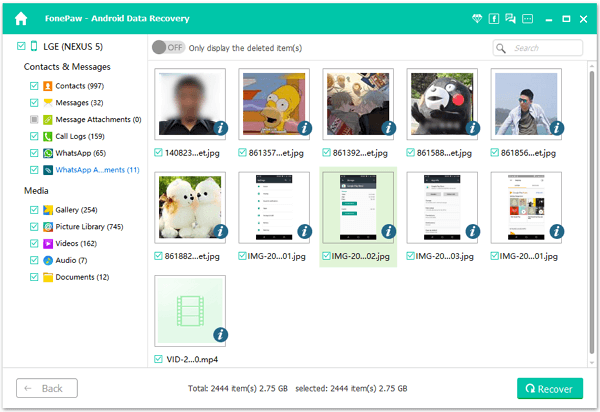 Method 2: How to Recover Deleted Messages on WhatsApp with Backup from Android
A backup shows its importance when it comes to data loss. WhatsApp offers the function of backing up chat history in Google Drive. Therefore, if you have backed up your WhatsApp chat history in advance, you can easily restore WhatsApp chats history from the backups. You could backup WhatsApp to Google Drive or local storage.
Before we go to the guide on how to restore WhatsApp messages, we recommend you to confirm if you actually back up them, or you may just find nothing when you try to restore WhatsApp messages from backup:
Step 1. Open WhatsApp > More options > Settings > Chats > Chat Backup.
Step 2. Choose your Google Account to back up your WhatsApp chat history, or create a local backup on your Android device.
Step 3. Tap BACK UP. Then, the WhatsApp messages can be saved and backed up.
Now, you've confirmed that you back up the messages. Let's see how to recover WhatsApp messages from Android with backup.
Option 1. Restore WhatsApp Messages from Google Drive/Local Backup
Whether you have a Google Drive backup or local backup, you can easily restore WhatsApp backup in the following steps.
Step 1. Uninstall the "WhatsApp" app and reinstall it from Google Play Store.
Step 2. Open the app, follow the on-screen instruction to type in your phone number, which associates with your WhatsApp account.
Step 3. After verifying your account, WhatsApp will be automatically searching for backups on Google Drive or your phone memory.
Step 4. Tap "RESTORE" to restore WhatsApp chat.
Note that when it initializes your WhatsApp, you will be asked to set up Google Drive backup. Please do finish the settings.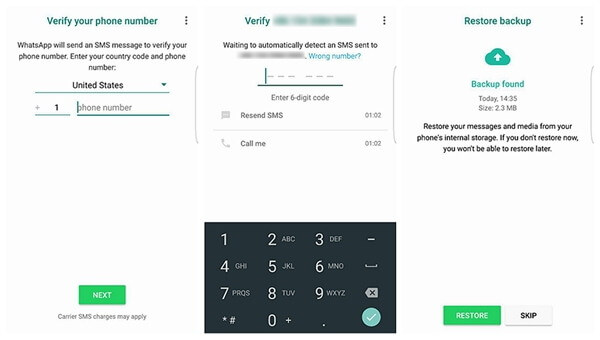 Option 2. Restore WhatsApp Chat with Less Recent Backups
Usually WhatsApp will retrieve WhatsApp messages from most recent backups. However, what if you want to recover WhatsApp messages deleted days ago? If your WhatsApp backups are created locally, you can restore the less recent backups in the following steps. However, your phone only holds backups created within 7 days.
Step 1. Use a file management app on your phone to go to internal storage/WhatsApp/Databases or main storage/WhatsApp/Databases. If you use a SD card on the phone, you should find sdcard/WhatsApp/Databases.
Step 2. You'll see all the available backups with file name like msgstore-YYYY-MM-DD.1.db.crypt12. Rename the backup that may contain the deleted WhatsApp messages to msgstore.db.crypt12.
Step 3. Reinstall WhatsApp and restore the backup to get back deleted WhatsApp messages.
However, if you need to recover several months or 1 year old WhatsApp messages, you should use FonePaw Android Data Recovery (opens new window). Aside from messages, this program can recover WhatsApp photos and videos from your Android phone.
Conclusion
Above all, you have known two different methods to recover deleted WhatsApp messages. No matter you have backed up the chat history or not, you can download and try FonePaw Android Data Recovery without hesitation, for it can meet almost all kinds of your needs. Of course, if you make sure you have the backup and don't want to waste it, you can choose to restore deleted messages on WhatsApp with backup directly. Hoping that this post can help you!
Free Download Buy with 20% off Free Download Buy with 20% off