Photo recovery software is a good way to help us undelete our photos (opens new window). However, with so many software asserting their capability to recover deleted photos in Android phone, it is difficult to decide which one is our best choice. Here we list Top 5 Android photo recovery software in the market to help you make a better choice.
# Top 1 FonePaw Android Data Recovery
Summary: Fast, easy-to-use, WhatsApp photos supported.
It is possible to scan only photo files and only display deleted items.
Free Download Buy with 20% off Free Download Buy with 20% off
This is probably the best data recovery tool you could find for Android devices. The interface of this FonePaw software (opens new window) is user-friendly, directing users to complete photos recovery in three steps: connect, choose file types and scan.
The software runs extremely fast, and is able to detect files in Android device in a few seconds.To further shorten scanning time, users can choose certain file type to scan, for example, photos only.
The FonePaw software displays both deleted and existing pictures on the device. To locate the deleted photos, users can enable only display deleted items option. The software can undelete different kinds of photos: Gallery (photos in phone camera, transferred from PC or Bluetooth, and screenshots), Picture Library (cache images from internet), WhatsApp attachments (photos sent by WhatsApp), Attachment (photos sent by message).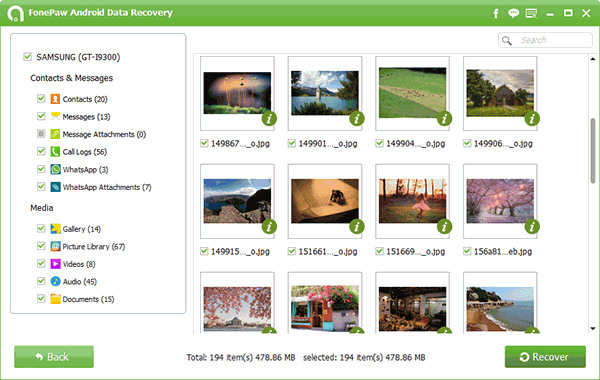 # Top 2 Myjad Android Data Recovery
Summary: Unable to scan only photos, the path of a photos are displayed.
Once the Myjad software on your computer detect your Android phone, you can choose "Scan contacts, call history and messages" or "Scan photos, videos or other files". To undelete photos, tick "Scan photos, videos or other files" and click "Start" to scan data. You can't choose to scan only photos so it might take longer time to finish scanning.
The photos are displayed according to their path. So if you want to identify the photos, you need to click the name to preview the photos.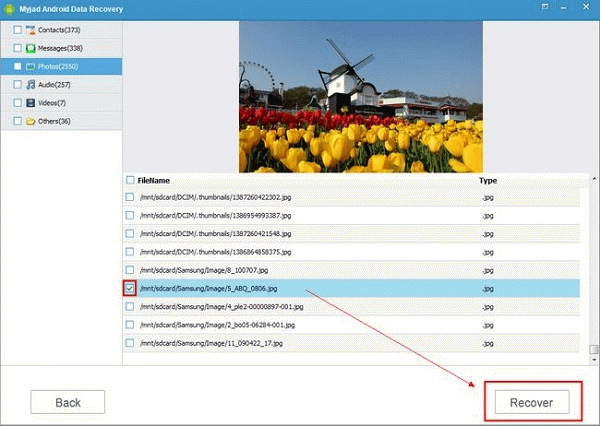 # Top 3 MobiKin Doctor for Android
Summary: Small size, recover photos only from SD cards, photos displayed based on different pictures formats.
The MobiKin software is small-sized so that your computer storage can be saved. To recover photos or other media files with the Mobikin software, users should have SD cards on their Android device and hit "Android UMS Com..." option on the device.
Photos are saved in different folders according to its file type. So you can choose these folders and preview the pictures. Moreover, to faster locate the deleted photos, you can display photos in a Thumbnail view mode.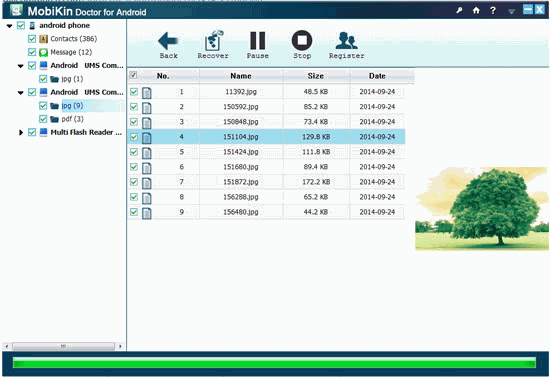 # Top 4 Dr.Fone for Android
Summary: Three recovery modes provided, display deleted files only option available.
It is possible to scan only photo files. And it takes relatively longer time to scan data.
There are three recovery modes available on the Dr.Fone software: Android data recovery, Android SD card recovery, Android broken data recovery (after testing, we find that the third mode only works with some Samsung models.)
The software also make it possible to choose only photos to scan, but comparing with FonePaw, the software takes longer time to complete data scanning. After scanning, users is able to find photos in gallery folder, while FonePaw further divides the pictures into two categories: camera photos, photos downloaded from internet.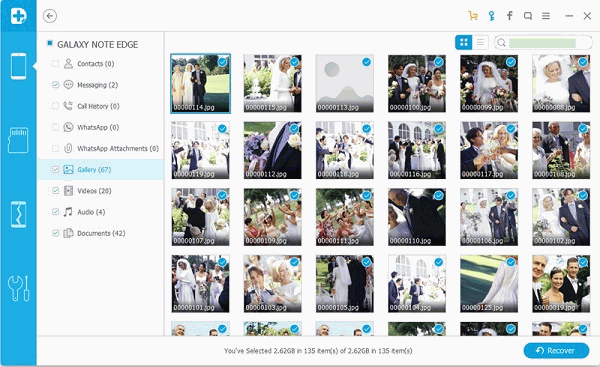 # Top 5 7-Data Android Recovery
Summary: SD cards needed, displayed files in the original tree structure of external card. Multiple languages supported.
The 7-Data software can only detect files from external SD card. After the software have scanned your devices, you can browse and preview the files listed in the original tree structure of the internal memory/external card. If you finds it hard to find the deleted photos, click the "Thumbnails" to view the photo in thumbnails instead of list.
The software stands out with its multiple language versions. It supports English, Japanese, French, Italian, Spanish, Chinese, Germany, and more.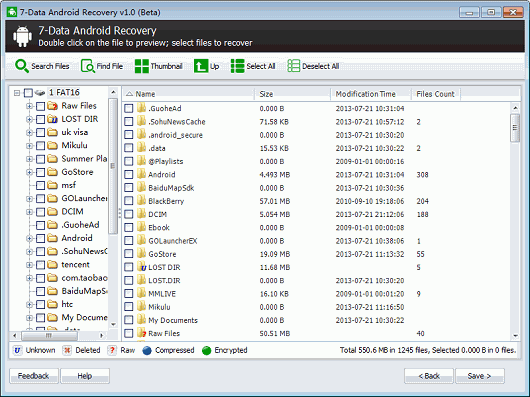 That's the top five photos recovery software. Which one do you like? Share your opinions on the comment section below.