To recover deleted files on Android, you may have tried a few Android data recovery apps and found that all of them require you to root your phone. So what really is rooting? And does rooting damage your phone? Is there a way to recover deleted text messages, photos, videos from Android without root. With all these questions, read on to learn everything you should know about Android data recovery without root.
What's Root?
In Android world, rooting means to gain superuser privilege so that you can bypass the restrictions from your manufacturer or carrier and get full access to the entire operating system. On Windows computer, there are administrative accounts which can do more than normal accounts and a superuser account is akin to an administrative account.
With root access, you can reach any file on the file system, including deleted Android files that are on the root of your system and make tweaks that cannot be done by normal users, such as recover deleted data, removing bloatware, etc.
Rooting could be risky (it will void your warranty and in rare cases, it might break your phone); but it is not that scary. Actually, as there are more and more tools to root Android with or without computer, it is getting safer and easier to root a phone (especially those on older version of Android). You can simply root or unroot a phone in one click.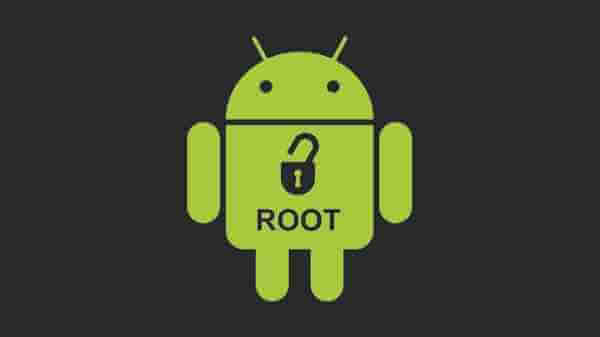 Why Do You Need to Root Android to Recover Deleted Files?
When you delete a message, photo or video on your Android phone, the data of the deleted file are stored in the system folder that cannot be accessed by normal users. So all Android data recovery software require you to root your phone and give superuser permission for the programs to dive deep into the system folder that contains the deleted data. That's why you need to root your Android phone before you are able to get back the deleted text messages or media files.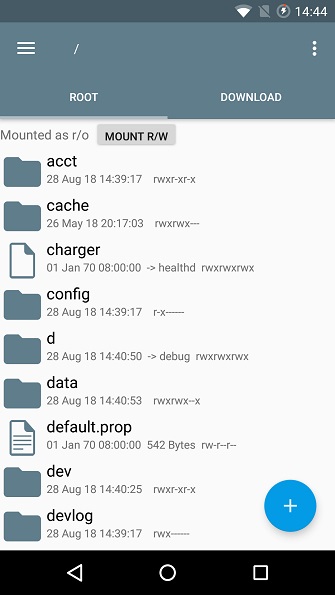 How Can I Recover Deleted Text Messages on Android Without Root
From the above passages, we can come to the conclusion that there is no way to recover deleted files on Android without root since without root privilege, you cannot access the deleted data. However, to guarantee the safety of your phone, you can choose a well-designed Android data software that can help safely root your Android phone and retrieve the deleted data.
FonePaw Android Data Recovery can easily and safely root your Samsung, Motorola, HTC, LG, etc. and then recover deleted text messages, photos, videos, contacts and more. With the program, you don't have to root your Android device beforehand, but just connect your phone and let the program do its job. So you don't need to learn how to root the phone by yourself and worry if you are doing it right. The FonePaw Android Data Recovery supports data recovery for most Android devices with no root.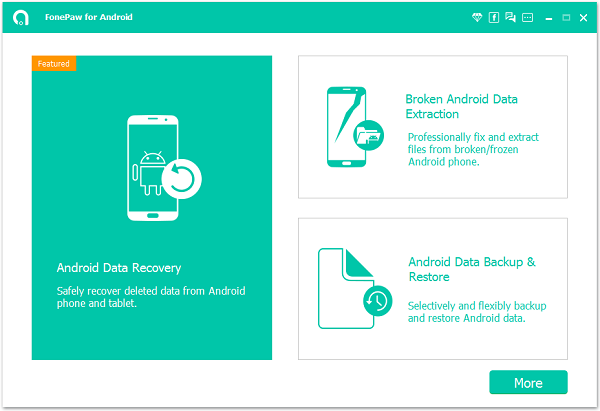 More tips
Your Android phone only holds the deleted text messages, photos, files for a short period of time and could overwrite the deleted data at any time. So stop using your phone and apply data recovery on your Android phone as soon as possible.
Step 1 Download FonePaw Android Data Recovery on your computer.
Free Download Buy with 20% off Free Download Buy with 20% off
Step 2 When running the program, click Android Data Recovery, connect your unrooted Android device to the computer and enable USB debugging on your devices. If you don't know how to turn on USB debugging, read how to enable USB debugging on Android.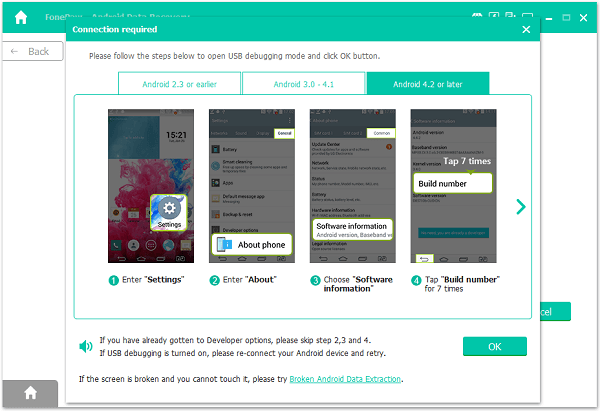 Step 3 To recover deleted text messages, click Messages > Next. (If you need to recover deleted photos or other from unrooted Android, select other data types).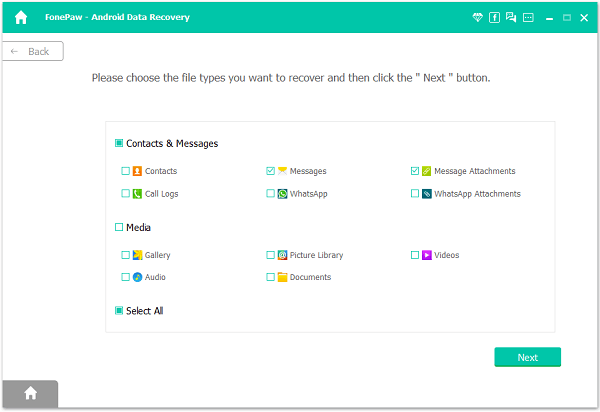 Step 4 The program will need to request permission to access your Android phone. Make sure Install via USB is enabled on your phone settings and install the FonePaw app.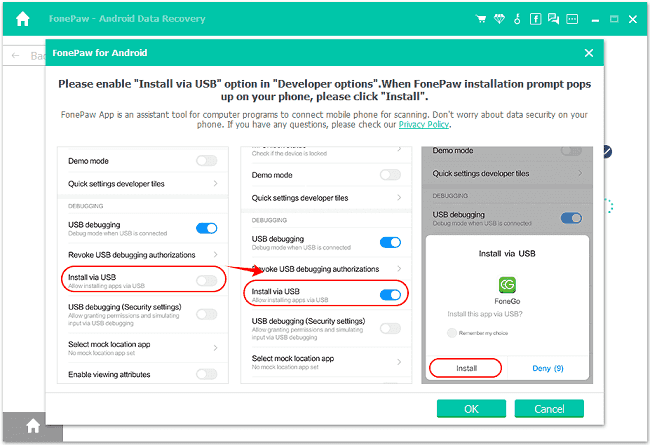 Step 5 The app will pop up the permission requests to read files on your Android, tap Allow to each request and select Scan Authorized Files to continue.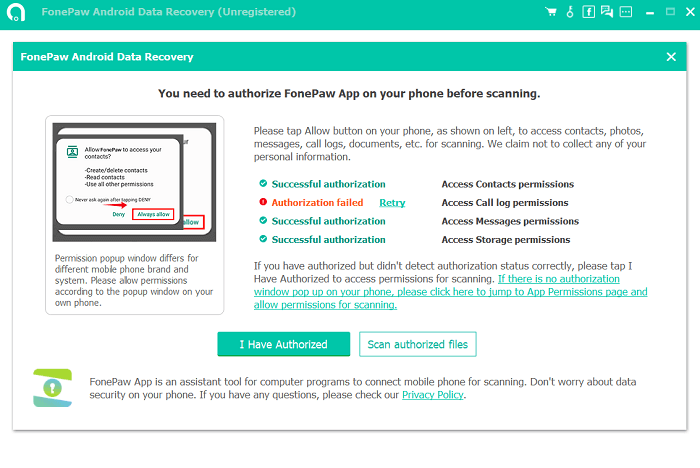 Step 6 The program will start a standard scan on the phone, which won't root your phone. Check if the deleted files appear after the standard scan. If it does, recover the needed files. If not, click Deep Scan, which will root your phone.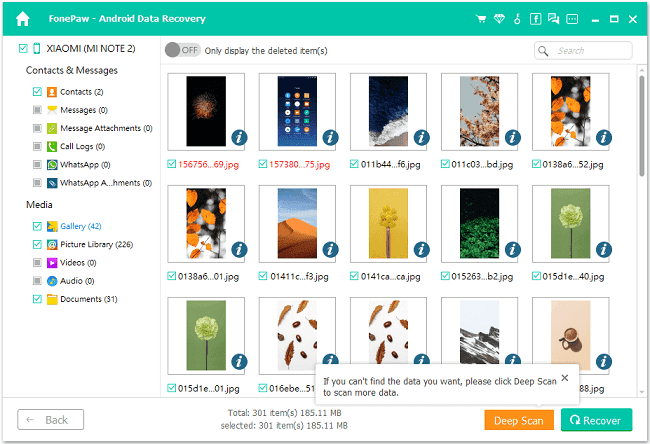 Step 7 The program analyze your Android device and gain root access automatically. Open your phone and tap Allow when you see the request asking for superuser permission.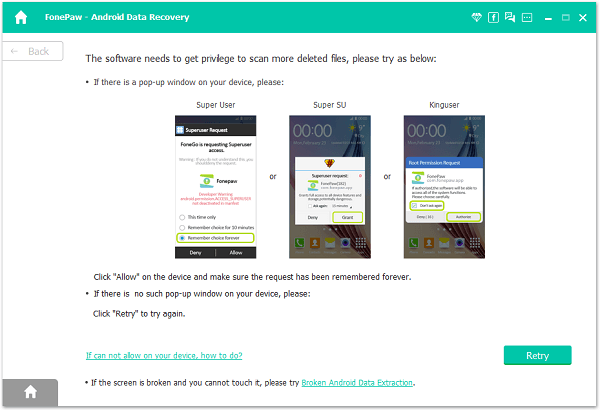 Step 8 The program can then recover your deleted text messages. View the messages and select those you need. Click Recover to get them back.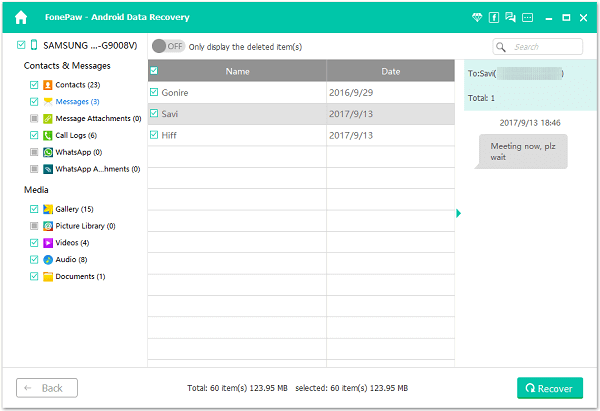 After you have successfully recovered the deleted text messages, you can then unroot your Android device if you don't need the superuser privilege anymore.
How Can I Recover Deleted Photos/Videos on Android Without Root
Similarly, to recover deleted photos and videos on Android, you can also use FonePaw Android Data Recovery. But if the photos and videos are deleted from Android SD card, you can recover the deleted Android photos and videos without root with FonePaw Data Recovery.
FonePaw Data Recovery can recover deleted photos, videos, audio and other files from SD card, flash drive and more. No root required. Just download FonePaw Data Recovery on your Windows PC to begin.
Free Download Buy with 20% off
Step 1 Take the SD card out of your Android phone. And insert it into the computer via a card reader.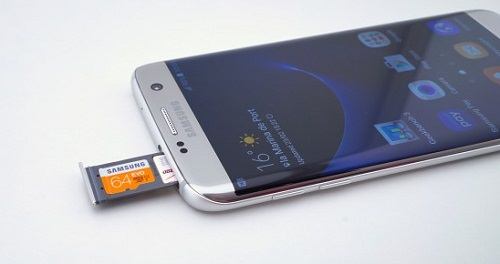 Step 2 Launch FonePaw Data Recovery. Tick Images and Videos.
Step 3 Under Removable Drive, you'll see the connected Android SD card. Check the box beside it and click Scan.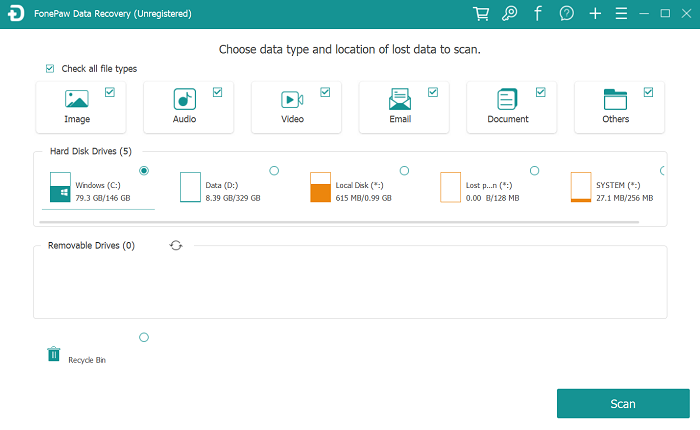 Step 4 The program will search out all photos and videos on the Android SD card, including the deleted ones.
Step 5 Tick the deleted Android photos and videos and click Recover to save the files on your computer. Then you can transfer the photos and videos back to your Android phone.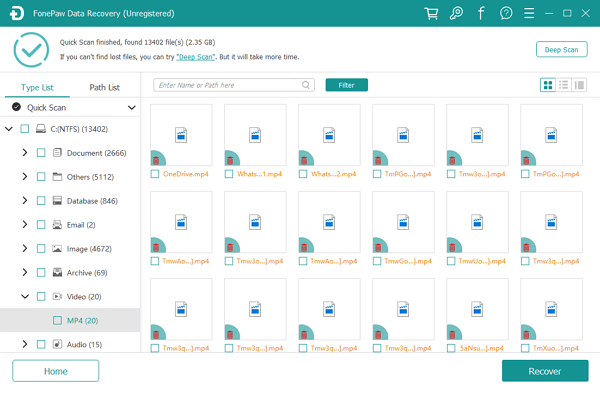 That's how to recover deleted files on Android without root. If you have any problem in SMS, photos or video data recovery with no root, leave your question below.