More and more people have the need of recording their computer screens for many different reasons. In response to these needs, there emerge a lot of desktop screen recorders. So you can freely download any screen recorder for use as you like. However, many people want to record computer screen online with no download and installation. Therefore, online screen recorders show up. How does an online screen recorder work? And which is your best choice to record screen online for free? Here is the answer.
Can I record my computer screen online?
We would like to open a screen recorder online and start to record web pages and desktop screens without downloading or installing any software. Unfortunately, that's not the way an online screen recorder works.
As a matter of fact, all online screen recorders require you to download and install a web-based launcher or plugin before you can start a recording from the web. So what we call "online screen recorder" is basically the same as a desktop recorder, except that an online screen recorder is activated from the web while a desktop one is launched from a computer.
Desktop or online screen recorder? Well, it depends. Desktop screen recorders are usually more stable for recording and generally with more functionalities while online screen recorders are smaller in size and enable you to record screen from the web (thus online screen recorders will not be available if there's something wrong with your internet connection).
So, if you want a more stable screen recording experience, you'd better use some desktop screen recorders. One of the most popular desktop screen recorders that are worth a try is FonePaw Screen Recorder (opens new window).
FonePaw Screen Recorder is a dedicated screen recorder for Windows and Mac computer to capture online videos (opens new window), computer games and any other screen activities with audio. You can also use FonePaw Screen Recorder to take snapshots.

One of the most useful features of this app is that it allows you to add annotations like arrow, text, etc. to your recordings and snapshots. Mouse actions can be highlighted or hidden in your screen recording. What's more, you can start a scheduled recording, which means you can set the record length as well as the beginning time of the recording.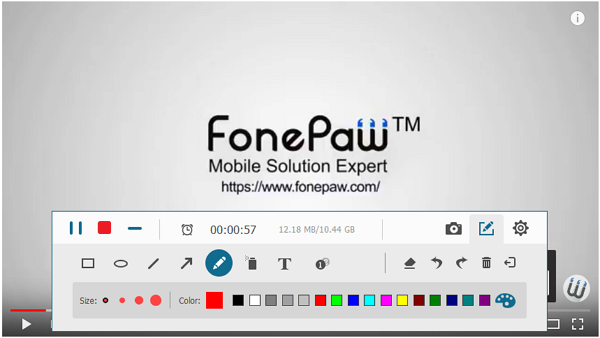 After finishing the recording, this FonePaw recorder allows you to trim our the unnecessary part of the recording. If you want to have a try on FonePaw Screen Recorder, click the button below to free download it.
Free Download Buy with 20% off Free Download Buy with 20% off
If you want to know more about online screen recorders, keep reading this article, 3 useful online screen recorders will be introduced below.
Screencast-O-Matic
Screencast-O-Matic is a fast and easy-to-use screen and webcam recorder used by millions of people worldwide. After you download the software from its official website, you can launch it from the web with one click. Screen and webcam recording are both supported by Screencast-O-Matic. The frame can be dragged and resized to record any part of your screen. You can also add your voice to your video as the voiceover. After finishing recording, you can trim the start and end of the video. Finally, you can save your video file to your computer or upload the video to Screencast-O-Matic or YouTube. When your video is uploaded, you can use the video link or simply use the quick share buttons to share your video to others.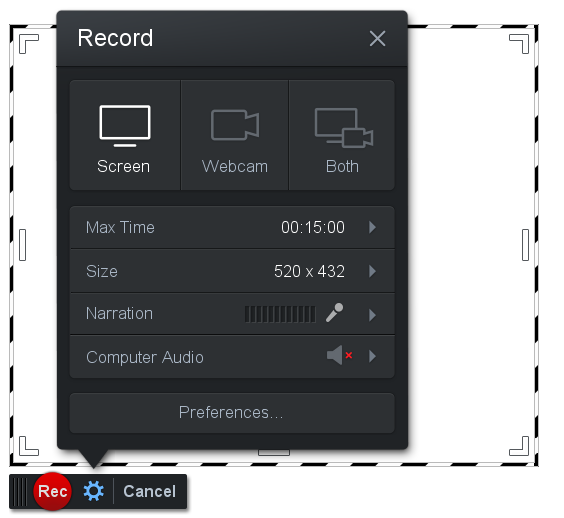 Note: The free version can only record videos up to 15 minutes and doesn't support recording computer audio. You need to upgrade the recorder to enjoy more features.
Screencastify
Screencastify is a simple tool to record screencast within the Chrome browser. First, you need to install the extension. After that, you can find its icon on the top right corner of the Chrome browser. Now with Screencastify, you can record screencast without an internet connection. This tool allows you to record browse tap, desktop, etc., and you can add your webcam recording or voice to narrate your video so as to make your recording personal. Useful annotation tools like a spotlight on the mouse, pen tool can help to spice up your screencast. You can also crop and trim the videos as you like. After you stop the recording, your video will be saved to Google Drive and you can share it with others.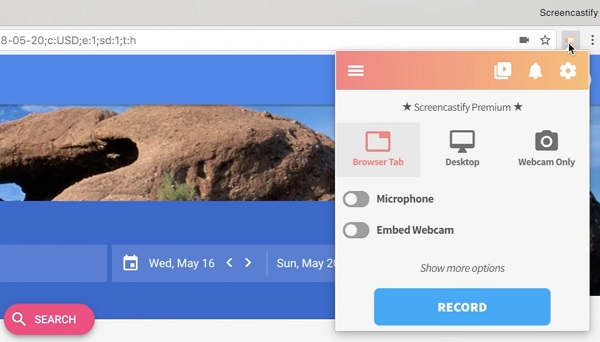 AceThinker Free Screen Recorder
AceThinker Free Screen Recorder is another convenient online screen recorder with versatility. After downloading the needed software, you can launch it online to capture screencast. It enables you to record both screen and webcam video as well as system sound and microphone sound. Besides, it allows you to record videos of different quality you need, and you can also choose the format of the output video. The videos you record can also be directly uploaded to YouTube or Google Drive.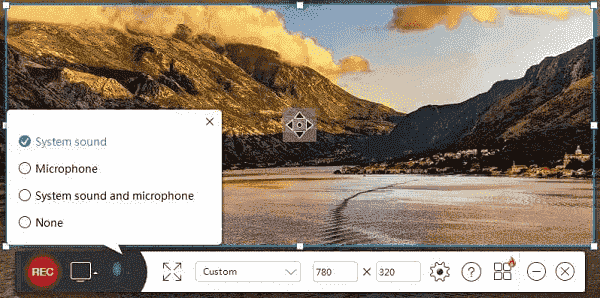 Actually there are many more other online screen recorders, but basically, they have similar functions to those of these three recorders. Hope that the online recorders mentioned above will be of help for you.