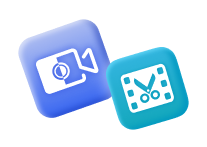 Screen Recorder + Video Converter Ultimate
Shop Now
When there're more needs for us to capture screen activities and share with others, we also want to process the recording in more convenient way. That's why we like to us online screen recorders, which don't need us to install software for a screen recording and can be easily accessed on all devices, including computers, smartphones, and tablets.
In this article, we have collected 7 best free online screen recorders that can help you capture screen online without any cost. You can have a look and try the one that can best meet your needs.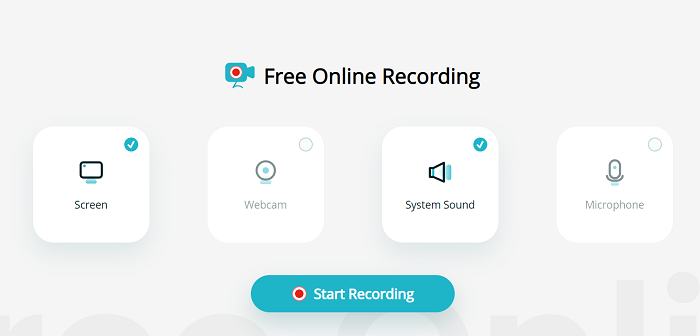 Apowersoft Free Online Screen Recorder can easily help people to get started with the screen recording by selecting a mode after entering its home page. The tool offers screen, webcam, system sound and microphone recording modes for people to select based on their needs. It will allow you to select the content you want to share, so that processes the recording for you quickly. You can record the entire screen or certain window opened in the browser. When the recording is finished, Apowersoft Free Online Screen Recorder will allow you to directly share the recording on YouTube, RecCloud, and other platforms, or save it offline in MP4, AVI, WMV, or other formats.
👍 Pros:
Sets no limits to the recording time
Provides 4 modes to record the screen flexibly
Allows to select the recording area freely
Supports to record webcam at the same time while capturing the screen
Won't add watermarks to the recordings
👎 Cons:
People need to install a launcher before starting using the online recorder
Gameplay recording is not supported
Sometimes the recording is not stable and will keep buffering
Screen Capture is another free online screen recorder to record the screen using different modes. People can freely select to record the screen with microphone, system sound, or webcam turned on. If you want to create a tutorial with watermark added, Screen Capture can also help you. On the home screen of the online recorder, just select the thing you want to record with the screen and click the "Start Recording" button, Screen Capture will begin the recording for you.
At present, Screen Capture is supported on Google Chrome, Mozilla Firefox, Microsoft Edge, and Opera browsers. So just make sure your browser can be compatible with the recorder and begin to capture HD videos with it online! The tool is free to try.
👍 Pros:
Offers recording service completely for free
Compatible with the mainstream browsers
Don't need to sign in or install software to use
👎 Cons:
The watermark will be added to every recording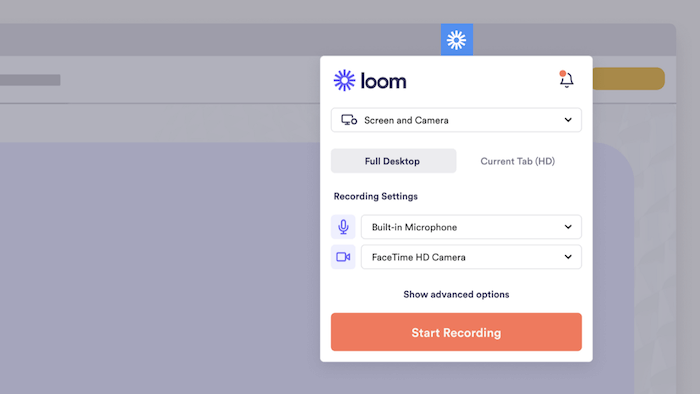 Loom can not only help you record the screen online freely, but also allows you to share the recordings in links to others after the recordings are finished. It is used as the team working tool, as many teams would use it to hold online meetings, so equipped with the recording function, it becomes much easier for people to keep the important things in meetings without missing any of them. Loom also provides editing and engagement tools inside to let you adjust the recordings and monitor who is watching your recordings. As a result, for team working purposes, Loom can be a good choice you should consider.
👍 Pros:
Allows to work with team conveniently
Offers free plan to access the recording function without cost
Provides editing tools inside to adjust the recordings easily
Shares the recordings quickly by links
👎 Cons:
The free plan users can only record the screen for up to 5 minutes
Less recording modes provided to select
You need to create and sign in account to start recording
The output settings can't be adjusted freely
Only workable in Chrome browser
For those who want to record the screen for creating professional video lessons or presentations, Panopto Express is a reliable online screen recorder you can try. It sets no time limit for you to capture the screen. When the recording is finished, you can continue sharing the recorded videos online such as to YouTUbe, Google Classroom to reach your audiences. Panopto Express will need no account or software installation to use the recording function. Also, its free version won't add watermarks to the recordings that bring the poor user-friendly experience. As a result, Panopto Express is a good choice if you are finding a professional but free online screen recorder to create good online lessons for your students.
👍 Pros:
Won't add a watermark to the created recordings even when using it for free
Provides helpful editing functions inside the recorder
Offers slides and video recording modes for free selection
Allows to record webcam as well
Supports to share online after recording finished
👎 Cons:
The performance of this online recorder is not smooth and stable enough
No format settings are provided and users can only save recordings in MP4 format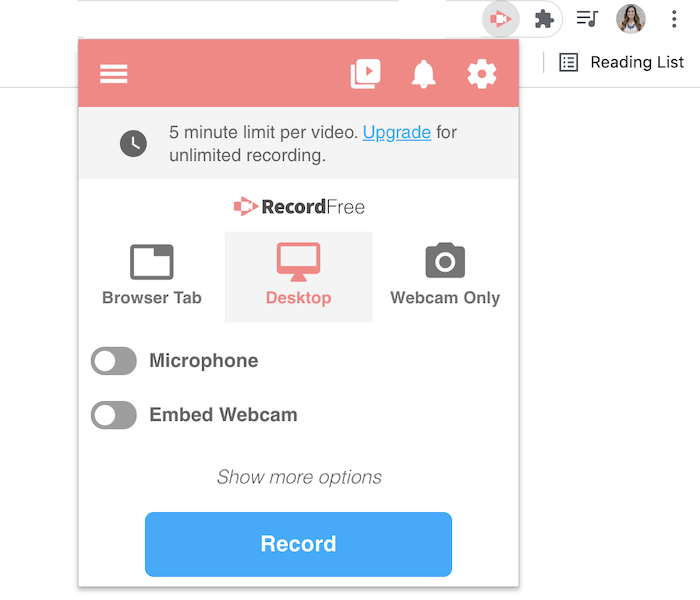 Screencastify is another free online screen recorder to help people record the screen without installing software at all. By adding Screencastify to the browser, every time when people need to capture the screen with audio or webcam, they only need to click the added extension icon of Screencastify in browser and select a recording mode to get started. The tool also provides an editing bar, which allows people to cut, crop, zoom, blur, adding text to the recordings easily. As a free tool, Screencastify will not add watermarks and it also offers selectable output formats such as MP4, GIF, or MP3 to save the recordings freely. So when you are finding an easy-to-use screen recorder with full functions, Screencastify can be a good choice too.
👍 Pros:
Doesn't add watermark to the recordings
Offers good quality to record the screen
Provides format options to select saving the recordings offline
Supports to run offline to record the screen without network connection
👎 Cons:
The free plan only allows you to record 5 minutes for each recording
The performance would be slow if your computers or browsers are in the old versions
The editing tools provided in the recorder are not free to use
As a free online screen recorder, Screencast-o-Matic also provides the simple-to-use recording functions for people to easily record the screen without software at all. However, the recording area of this record is fixed, which only provides 800x600 and 640x480 to process the recording. But equipped with the instant online sharing feature, it would be convenient for people to share the recorded videos to social media platforms when the recording is finished. Screencast-o-Matic also provides some annotations to add to the recordings, such as some overlays, text notes, and so on. As a result, it would be convenient for people to take notes on the recordings while processing the screen capture on the devices.
👍 Pros:
Allows to record audio and webcam at the same time
Offers options to share the recordings online such as on YouTube
Provides annotations to take notes during the recording
👎 Cons:
Sometimes the performance of the platform would be slow and clunky
Doesn't support recording videos of high quality
The editing functions are very limited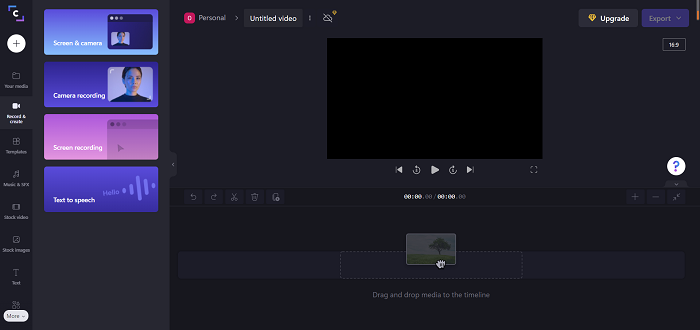 Clipchamp requires no software installed but provides the free screen recording service to let people capture the screen in 480p quality. Although the recordings are watermarked, the operation and provided functions together with the screen recording feature are both helpful for us. Clipchamp also provides different common formats to save the recordings offline, so that people can play them on any media player as they have installed. As a result, if you don't have high demands for quality or whether the recordings are watermarked, Clipchamp is a reliable tool for its convenient and easy-to-use screen recording functions.
👍 Pros:
Offers free services to record and edit videos at the same time
Provides different output formats to save the recordings
Offers professional editing tools to edit the recordings easily
Allows to back up recordings to Google Drive, Dropbox, and so on
👎 Cons:
The best output quality for the free plan can only reach 480p
Watermarks will exist
Extra Pick: FonePaw Screen Recorder
Generally, online screen recorders would come with certain limitations while processing the screen recording, For example, some of these free tools may have watermarks added; they may not provide customized parameter settings to save the recordings; or the recording quality is not as good as you can imagine. Therefore, here would like to introduce a lightweight and high-quality screen recorder software, FonePaw Screen Recorder to you.
Although FonePaw Screen Recorder is not an online tool, it has a small window and user-friendly UI, allowing people to control the recording in very simple clicks. But powerfully, the software offers more recording modes and output settings to control the recording more flexibly, like using hotkeys, adding annotations, and allows people to adjust the output settings, even the quality to save the recordings in the best condition for later playback. With stable and smooth recording performance, FonePaw Screen Recorder is a good choice for those who want to capture screen with high quality on computers simply.
Free Download Buy with 20% off Free Download Buy with 20% off
Key Features:
Allows to record screen with microphone, system sounds, and webcam at the same time
Offers real-time editing functions for people to take notes on the recordings
Different recording modes to record screens of different activities as you want
Provides more high-class functions such as scheduled recordings, lock recording, extra game recorder, and so on to have a better recording experience
Supports to customize the recordings and output settings as people need freely

Conclusion
Online screen recorders offer an easy way for people to easily record the screen without the need to install software on computers or smartphones anymore. These 7 recommended free online screen recorders are all reliable to use if you are finding one to help, though they may still have some disadvantages exist. As a result, when you also want an extra desktop screen recorder, FonePaw Screen Recorder can help solve the shortcomings of the online screen recorders. Have a try!