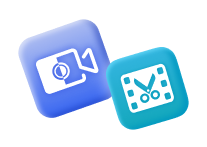 Screen Recorder + Video Converter Ultimate
Shop Now
As recording videos to share our knowledge and keep good memories become increasingly popular, it's also more common that we need to use a screen recorder. Here we are going to introduce one of the best screen recorders compatible with both Windows and Mac to you - FonePaw Screen Recorder. With this in-depth review, you will be able to comprehensively know about the software from the features, pros & cons to the way to use it and more.
What is FonePaw Screen Recorder?
FonePaw Screen Recorder is an outstanding desktop program developed to help Windows and macOS users to capture all screen activities without restrictions. The program provides Video Recorder, Audio Recorder, Webcam Recorder, Gameplay Recorder, and more flexible modes to cater with different user demands in daily scenarios.
Equipped with the flexible customization settings such as the personalized parameters and hotkeys controls, you can take full control of the screen recordings and record any activity, including the gameplay, video calls, webinar, lessons, meetings, and more in selectable output parameters with your personal recording habits. FonePaw Screen Recorder will give you the enjoyable experience of capturing computer screens with qualified quality and also with the least effort.
Free Download Buy with 20% off Free Download Buy with 20% off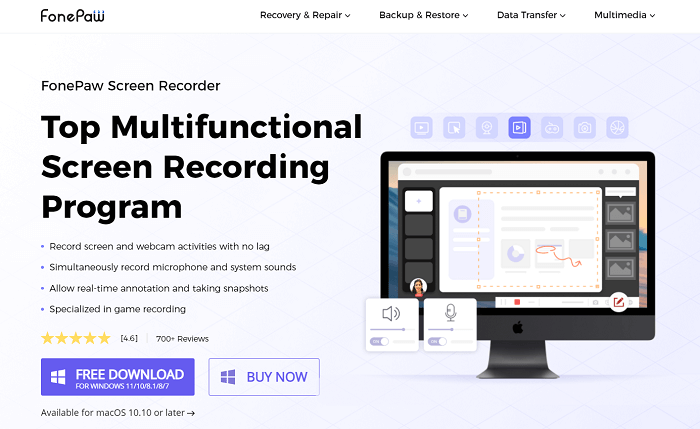 FonePaw Screen Recorder: An Overview
System Requirements
Windows OS: Windows 11/10/8.1/8/7/Vista/XP
Mac OS: Mac OS X 10.12 or above
Supported Interface Language
English, Japanese, German, French, Spanish, Traditional Language
Extra Features
- Lock / exclude recording window
- Add annotations & mouse effects
- Preview & clip recordings
- Set recording length & task schedule
- Take screenshots
- Hotkey settings
- Noise cancellation
...
Supported Video Outputs
WMV, MP4, MOV, F4V, AVI, TS, GIF
Supported Audio Outputs
MP3, WMA, AAC and M4A
Supported Services
Email ask, lifetime update for software after registration
Licensing and Pricing
$19.56 (monthly), $38.46 (annually), $79.77 (lifetime)
Money-Back Guarantee
30 days
Free Download Buy with 20% off Free Download Buy with 20% off
FonePaw Screen Recorder: Features & Highlights
💡 Versatile Recording Modes
To cater to a wide range of screen recording demands, FonePaw Screen Recorder has provided multiple recording modes, which can be compatible with different recording content, they include:
Basic video record - available to record screen with full audio and webcam, the capturing area can be customized sizes.
Audio record - both system sound and microphone voice can be recorded, determining if you turn the options on.
Webcam record - your computer camera can also be captured in case you may need to record some video calls or online meetings with the webcam turned on.
Gameplay record - for video game players, the HD resolutions and high FPS rate are both supported to capture the gameplay without delaying.
Mobile screen record - by connecting your mobile devices with the program, it can also function to capture the screens of your mobile phones with decent quality.
💡 Practical Features for Better Experience
In order to provide better recording experience and versatile outputs, some supplementary functions are equipped to assist you to capture computer activities more conveniently:
Lock recording mode - available to prevent unexpected affection while capturing a window.
Scheduled recording - preset the starting and editing timing to automatically proceed the screen record without manual manipulation.
Snapshot taking - leave you a way to snapshot the important moment even during the recording process.
Unsaved recording retained - instantly save the recordings without losing them when sudden errors occur.
Noise cancellation mode - record the voice in a much clearer way to deliver better sound quality by toggling on the feature to omit the noise.
💡 Useful Features and Effects
Despite the basic recording function, FonePaw Screen Recorder is equipped with other useful features and effects to enable the screen recording process to be more convenient:
Annotation adding - while the recording is proceeding, a panel is provided with instant painting and editing tools, enabling users to add annotations, highlights, or notes to the videos at real-time.
Mouse effect - for people who wish to create video tutorials with mouse effects, the program also provides the corresponding setting to reveal the mouse tracing, assisting to create tutorials with easy manipulations.
Hotkey settings - based on personal using habits, it is supported to customize the hotkey settings to control the recording in the way you like the most, which also helps to facilitate the recording efficiency greatly.
Review and trim recordings - before exporting the recordings locally, you can preview the recording effect in the previewing window, and adjust the length of the content with the provided clipping feature as you wish to create perfect recording.
💡 Intuitive UI and Simple Recording
As a lightweight recorder which is oriented to all users, including the beginners and the advanced users, FonePaw Screen Recorder is developed with the intuitive UI with clear functions, helping users to master the recording process within a short period. To record the screen with audio or webcam turned on, only several easy procedures need to be followed. For those who wish to have the effortless experience of capturing screens, FonePaw Screen Recorder is definitely the best option.
💡 Multiple Output Formats of High Quality
FonePaw Screen Recorder also provides multiple high HD quality encoders to export the recordings, including the universally-supported MP4, WMV, MOV, F4V, TS, AVI for videos, and MP3, M4A, AAC, WMA for audios, in that the saved videos/audios can be stored on all devices to stream later on. The 1:1 ratio recording will deliver you the nice streaming effect as you are watching the original screens!
Free Download Buy with 20% off Free Download Buy with 20% off
Pricing of FonePaw Screen Recorder
FonePaw Screen Recorder is a registered program which requires you to access its full features after purchasing a license key to activate the registered version. In its free trial, normally, there are certain restrictions:
Only 3 minutes of each recording can be stored locally.
The noise cancellation and microphone enhancement features are not available.
The video/audio clipping function provided in the previewing window can't be utilized.
No technical support provided to help resolve any instant issues occured while utilizing the program.
Of course, FonePaw Screen Recorder provides optional subscription plans for you to register the license, which include the monthly option ($19.56), annual plan ($38.46), and lifetime license for a single computer ($79.77). You can select the affordable one in your preferences.
How to Record a Video with FonePaw Screen Recorder
To record your screen within FonePaw Screen Recorder, only several easy procedures ought to be walked through. The following manipulation guide will show you how.
Free Download Buy with 20% off Free Download Buy with 20% off
Step 1. Select Recording Mode
First, install FonePaw Screen Recorder and open it. On the main feed, you ought to select the recording mode catering to your need. Here we take Video Recorder as an example.

Step 2. Customize Recording Settings
After entering Video Recorder, you can customize the recording area to capture the full screen or in the size you determine. What's more, you can select to turn on the webcam and record your computer camera at the same time. Adjusting the volume of the system and microphone audio before proceeding the recording is available, too.

Step 3. Configure Output Settings in Preferences
Subsequently, by tapping the setting button and open the Preferences window, you can switch to Output and customize the parameters such as the codec, quality, and frame rate to export the recordings. Besides, other settings such as the mouse effect, hotkeys, and more can also be adjusted here as you need.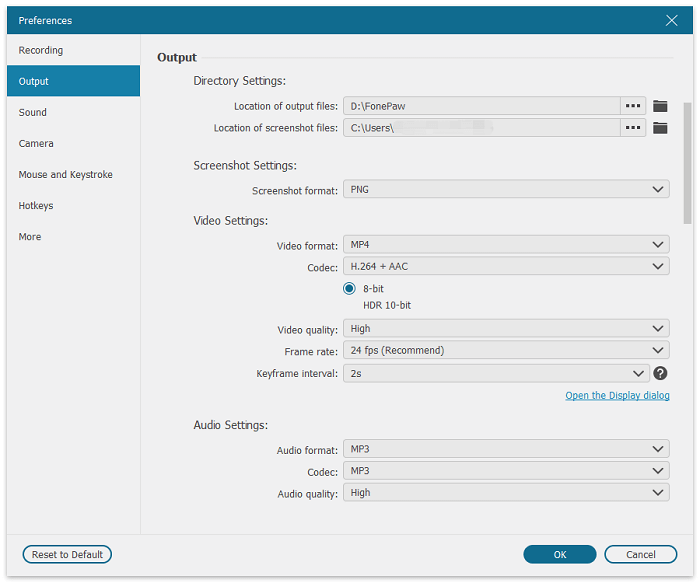 Step 4. Proceed Recording the Screen
When the settings are completed, return back to the main feed of the Video Recorder to tap the REC button and initiate the recording. You can turn to the scheduled recording and preset the ending time here to auto-process the screen recording without manually manipulation.

Step 5. Save the Recording
The recording bar is provided to take full control or draw on the recording instantly. When it ends, simply tap on the Stop button and FonePaw Screen Recorder will direct you to the previewing window. You can adjust the length of the recording by trimming the unnecessary parts. Finally, click on the Save button to export the recording locally.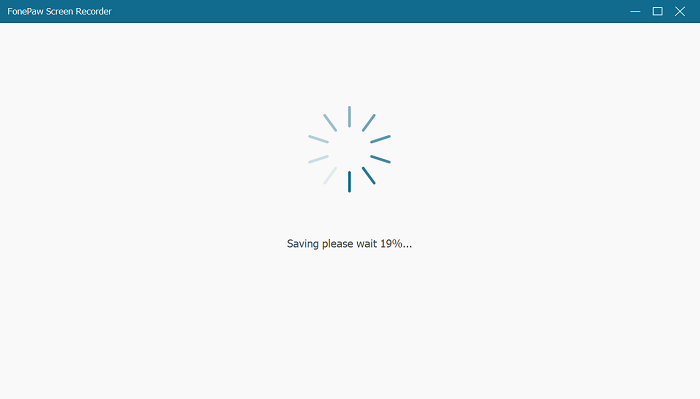 FAQs of FonePaw Screen Recorder
Continue with the FAQs without missing any important details of FonePaw Screen Recorder as well!
1. Is FonePaw Screen Recorder safe?
FonePaw Screen Recorder won't require extra add-ons installation during setup or processing the screen recordings (except that it will install an audio plug-in on Mac if you want to record the Mac system audio directly). Moreover, the program won't access or keep any user data without your permission. Therefore, FonePaw Screen Recorder is definitely a safe program for everyone to install and utilize.
2. Does FonePaw Screen Recorder have watermark?
Even under the free trial, FonePaw Screen Recorder won't add watermarks to the recordings like many other open-source screen recorders do. However, it will restrict the recording length to 3 minutes. If you are going to record the screen for more than 3 minutes, subscription for the registered version is required.
3. How to register FonePaw Screen Recorder?
When you have purchased the license key for the registered version from FonePaw's official website, it will be sent to your purchase email. Once receive, open FonePaw Screen Recorder and utilize both the license key and email, then the program can be activated. For any activation issue, you can contact FonePaw's customer support to help out.
4. What should I do if FonePaw Screen Recorder is not working on my computer?
When the program fails to work properly on your computer, first, you ought to check whether you have installed the version that is incompatible with your computer system.
Also consider if you have proceeded the recording with the correct procedures.
When you have double-checked the above factors but FonePaw Screen Recorder is still not working, initiate a feedback to the customer support and ask for technical help to figure it out.
Verdict
After walking through all the details of FonePaw Screen Recorder, you probably have a more comprehensive understanding of the functions, attractive features, manipulation, and other information of the program. Before purchasing the license key, you are welcome to freely install to try out its trial in advance. Tap the Free Download button provided here to install it on your computers in no time: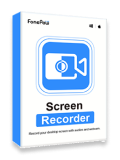 Screen Recorder
Capture every loving moment of your screen on Windows and Mac!