Nowadays, many of us have gotten used to working or studying from home, and therefore the use of Zoom for online meetings, interviews, and webinars is growing. When having a Zoom meeting, sometimes you may want to record the meeting so that you can review some important points afterward.
Then can you screen record a Zoom meeting?
By default, only the host can record Zoom meetings on Mac/Windows. If you want to record a zoom meeting as an attendee, you may need to get permission from the host first or you have to secretly record a Zoom meeting. This post is going to show you how to record Zoom meetings on Mac/Windows with or without permission.
How to Record Zoom Meeting Without Permission on Mac/Windows
Usually, as a participant, you need to request a recording privilege from the host before you record a Zoom meeting. But for some reason, you may not be granted permission. In such a context, you have to seek an alternative way to help you out if you stick to recording on Zoom.
Actually, you can turn to some best third-party Zoom meeting recorders for help. Those screen recorders can record or snapshot all the screen activities with audio on your desktop, and they can edit or cut recording videos. That is to say, your Zoom meeting can also be captured without permission. And here we recommend FonePaw Screen Recorder.
Full Tutorials on Zoom Meeting Recorder
FonePaw Screen Recorder is one of the best Zoom video recorders for PC and Mac. With this tool, you can record online meetings in high quality even if you are not a host, and the recording can contain you and all the members with full voice. Taking screenshots is also supported during the recording. Therefore, it is easy to start a Zoom recording without permission by using FonePaw Screen Recorder.
Free Download Buy with 20% off Free Download Buy with 20% off
Here are some highlighted features of FonePaw Screen Recorder

It can record your screen with facecam, system sound, and your voice simultaneously or respectively.
It supports customizing recording areas, setting frame rates, etc.
It supports real-time annotation like adding texts and arrows to the recording/screenshot.
It can change its screen capture modes with the difference of computer.
It boasts various output formats, including MP4, WMV, MOV, F4V, AVI, TS, or GIF.
It supports watermark and screenshots.
Steps on how to record Zoom meetings without permission.
Step 1. Download and install
Download FonePaw Screen Recorder and install it according to the introductions.
Free Download Buy with 20% off Free Download Buy with 20% off
Step 2. Click Video Recorder
Open your Zoom meeting. Then launch FonePaw Screen Recorder and choose Video Recorder on the main interface.

Step 3. Setting up before recording
You will see four sections that you can customize before recording. To record a Zoom meeting, usually, you should turn on the system sound and the microphone (if you want to record your voiceover), turn off the webcam, and then select the recording area.

Step 4. Start recording
With all the settings done, you can begin to record a Zoom meeting by clicking the "REC" button.


Tip:
You can also click Task Schedule to schedule an automatic recording for your meeting.
Step 5. Advanced features
You can freely use the drawing panel to add annotations or take screenshots during the recording. If you want to end it, click the red button to stop the Zoom recording anytime you like. Also, you can cut the unwanted parts from your recording with the Clip feature before saving the Zoom video locally.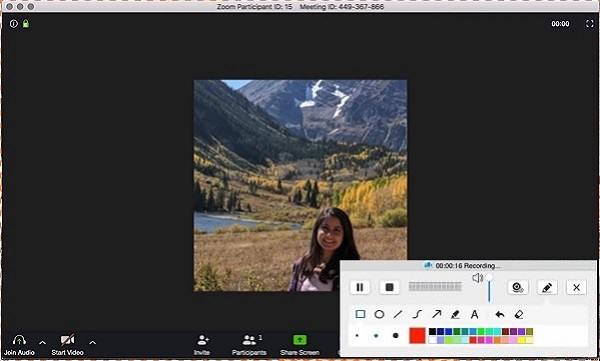 Right now you have learned how to record Zoom meetings without permission, but we suggest that you'd better not share your videos in a big way. After all, unauthorized Zoom recording is impolite and illegal for your job privacy.
How to Start Recording on Zoom [Built-in Feature]
Zoom is a video conferencing application that allows users to meet with or without audio online. And Zoom provides users with the function of recording so that you can easily record a Zoom meeting as long as you are a host or you have been privileged by the host.
Give Permission to Record on Zoom
Step 1. Click on Manage Participants in a Zoom Meeting.
Step 2. Click "More" next to the name of the participant who will be privileged.
Step 3. Select the option "Allow Record". And the participant will receive a permission notification.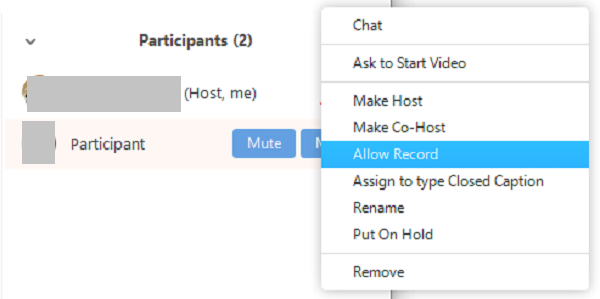 Step 4. When the participant is recording, a red bubble will be displayed next to the user's name.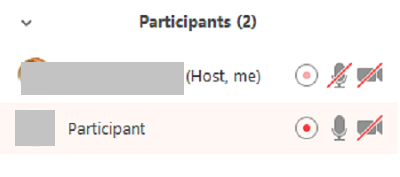 Step 5. The host can disable the participant's ability to record by repeating Step 2, then selecting "Forbid Record". The participant will be notified as well.
Record Zoom Meeting as Attendee
Step 1. Join a meeting. Click "Record" at the bottom-right of the screen.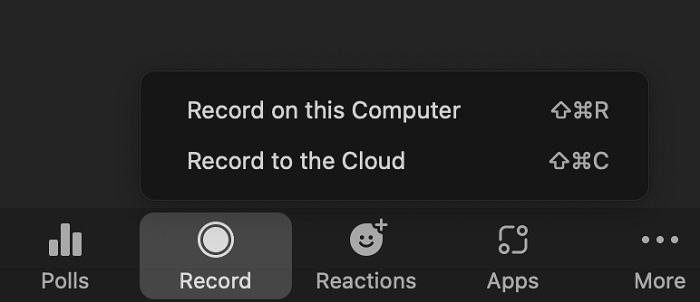 Step 2. Select "Record on this computer", and The recording will begin.
Step 3. You can control the recording by clicking the "Pause" and "Stop" buttons.


Tip:
1. If you click "Pause", the recording will be tagged and you can restart it again.
2. When you select "Stop", the mission will stop at once and a pop-up will tell you that "the recording file will be converted to mp4 when the meeting ends".
Step 4. After the meeting has ended, Zoom will convert the recording and keep it in a folder.

Tip:
You can start a Zoom meeting recording with keyboard shortcuts.
On PC, activate a recording by the "Alt+R" shortcut;
On a Mac, it is "Up Arrow + CMD + R"(local recording) or "Up Arrow + CMD + C" (cloud recording).
Where are Zoom Recordings Stored on Mac/Windows
If you have trouble finding Zoom recording files, you can read the introductions below to check your recordings.
How to Find Zoom Recordings on Mac/Windows
If it is a local recording, the file should be saved in the default location:
On PC, go to C:\Users\User Name\Documents\Zoom.
On Mac, go to /Users/User Name/Documents/Zoom.
To view a local recording file of a Zoom meeting, you can:
Open Zoom desktop, click Meetings;
All the meeting recordings are shown under the Recorded tab;
You can open or play the recording file.

How to View Zoom Recordings on Cloud
If the recording files are saved to your cloud storage, you can access and download the files in the following steps.
Open the Zoom web portal;
Click Recordings to view all the meetings that you have recorded;
Click the Download button next to a recording to save the Zoom recording in MP4 files.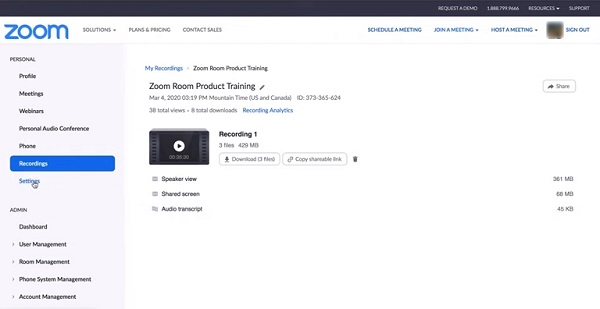 Conclusions
That's all about how to record Zoom meetings on Mac/Windows with or without permission. If you can't get the privilege from the meeting host, you are recommended to use FonePaw Screen Recorder to capture the meeting for playback. For one thing, it possesses many functions that can help you make more kaleidoscopic videos. For another, FonePaw Screen Recorder can not only record Zoom meetings but also record gameplay and record discord calls with its other two functions – Game Recorder and Audio Recorder.