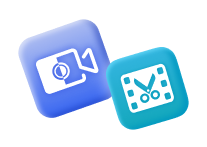 Screen Recorder + Video Converter Ultimate
Shop Now
When people heavily rely on Zoom to conduct online meetings, the demands for recording Zoom meetings without permission are also rising. When there is plenty of screen recording software available to capture a long Zoom meeting, how can we pick the best one out of them? For your convenience, this blog has collected the 6 best Zoom recording software with their out-performing advantages provided in detail. Check now if you also require such reliable zoom meeting recorders.
What Should You Look for in Zoom Meeting Recorder?
When we consider picking a recorder for Zoom meetings, we'd better consider the qualifications from the following aspects:
Is it convenient to use?
The convenient control of the recorder boosts efficiency while you require to record an online meeting through very easy clicks.
Is webcam recording available?
We usually need to turn on our webcam while attending a Zoom meeting. Hence, whether the screen recorder can also capture the webcam would be a highlight of it.
Does it have any recording duration limitations?
Whether the recording would be limited to a certain duration is an important thing we should know in advance, or you would miss recording some important notes when the recording fails to record the whole Zoom meeting properly.
Does it provide good recording quality?
The smooth performance and lightweight screen recorder would be a better option to record Zoom meetings as it won't take up much CPU so that it is available to record the meetings without getting stuck frequently.
What about the price?
The recorder with reasonable pricing (better with free services) saves a lot of expense for users who have frequent requirements for recording Zoo meetings.
Are extra features available?
Users may require extra features from the Zoom recording software such as instant note taking, cloud preservation, etc. to process the recording or backup them more easily.
Concluded from all these aspects, we selected the 6 best screen recorders for Zoom meetings as your references to select from. Now, check the list and compare them to pick out the best one, and try recording Zoom meetings next time when you participate in one.
1. FonePaw Screen Recorder
Among all the screen recorders we have tested, FonePaw Screen Recorder absolutely stands on the top of the list for its easy-to-grasp manipulation, and clear design, which enables the software to be simple to handle no matter what screen activities users require to capture.

As a reliable Zoom meeting recorder, it doesn't require you to ask for the host's permission when starting the recording on your screen. Meanwhile, FonePaw Screen Recorder is able to record the meeting window, your webcam, the system sound, and also your microphone simultaneously. With the flexible hotkey settings, you are able to control the meeting recording much more conveniently.

Speaking of the recording quality, FonePaw Screen Recorder will preserve the original state as how we could see from the screen. It also provides the preferences settings to enable users to customize the output parameters such as the format, codec, quality, etc. in personal requirements. Additionally, to ensure the perfect sound recording quality, FonePaw Screen Recorder even provides the audio testing functionality to make double check the voice can be recorded clearly.

FonePaw Screen Recorder also provides instant annotations adding and note-taking features to enable users to mark down some important notes while attending Zoom meetings. For efficiency, performance, quality, and functionality, FonePaw Screen Recorder is the best pick you shall never miss.
Free Download Buy with 20% off Free Download Buy with 20% off
Tech Specification: Windows 11/10/8.1/8/7, macOS 10.10 or later
Free Plan: Available
2. Panopto
Panopto is an all-featured video platform that is available for users to do live streaming, record videos, access more video resources, or manage their personal video resources within one single platform. To cater to the current trend in sharing knowledge and information, Panopto gives a platform to enhance people's communications and connect with each other closer.
Therefore, there are also many users who rely on Panopto to record Zoom meetings, as they could easily capture the videos with high quality, meanwhile, manage the recordings on the platform conveniently. You are able to access the recorded content within Panopto after the end of the meeting. With Panopto, you won't lose any important meetings and can take them back to review more times when you need.
Such a professional and powerful screen recorder for Zoom is completely free! It means that you won't cost a penny to capture the Zoom meetings with the software. Users are able to record 5 hours of video and enjoy 100 hours of video streaming every month, which can meet most users' needs when they don't have frequent Zoom meetings to attend.
Tech Specification: Windows 8.1 and above, macOS 10.15 and above
Free Plan: Available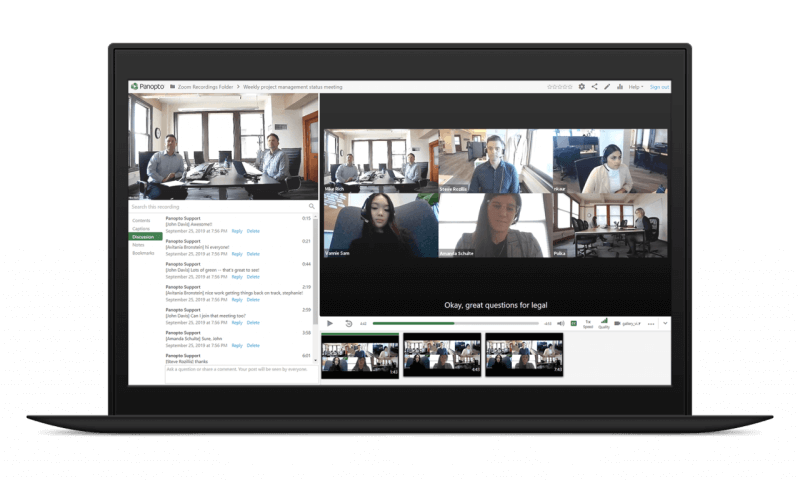 3. iTOP Screen Recorder
iTOP Screen Recorder provides both an online recorder and a desktop version for users to record Zoom meetings in the way they like. With both versions available, users are able to flexibly process Zoom recording across platforms with or without the software installed (although the online recorder doesn't support webcam recording currently).
iTOP Screen Recorder also ensures the quality to ensure great output quality of each recording, with the resolutions such as 480p, 720p, 1080p, and even 4K options available. The software also provides mainstream formats such as MP4, AVI, MOV, FLV, MKV, GIF, TS, etc. to save all recorded Zoom meeting videos. With iTOP Screen Recorder, users are able to capture any Zoom meeting and save it offline for streaming conveniently as the meetings are over.
Additionally, the intuitive interface of iTOP Screen Recorder is also a highlight as users are able to grasp its usage quickly. With the ability to record the screen, speaker, microphone, mouse tracks, and webcam at the same time, it could greatly capture any information on the Zoom meetings for review later to take all important notes without missing them.
Tech Specification: PC, Mac
Free Plan: Available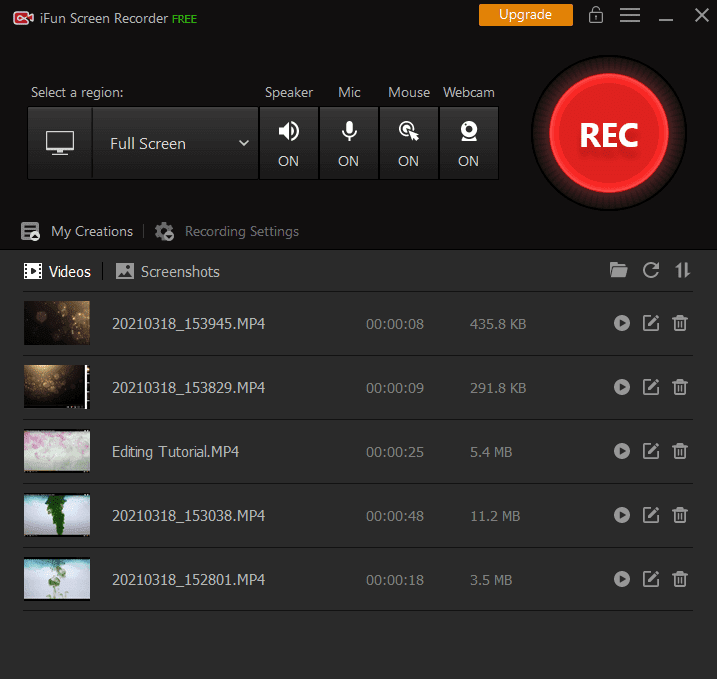 4. Movavi Screen Recorder Studio
As a well-known brand, there are also many people who would try Movavi Screen Recorder Studio as their Zoom recording software to capture important online meetings from Zoom. The operation of this recorder is also easy to grasp. Meanwhile, the output quality will be maintained at the best condition, even up to 4K without compressing the image effects at all.
To bring convenience to users as they may require to take notes during the Zoom meetings, Movavi Screen Recorder Studio also offers instant editing tools to fulfill the basic requirements of video editions. When there comes any important point during the meeting, the snapshot-taking feature is also available to screenshot the moment in real-time.
Like FonePaw, Movavi Screen Recorder Studio is able to record audio, webcam, and also microphone sound at the same time to preserve the full Zoom meeting content for streaming later. It won't need to ask for permissions from the hosts before processing the recording, too.
Tech Specification: Windows 7/8/10/11, Mac OS X 10.13 or higher
Free Plan: Available
5. ApowerRec
ApowerRec is a cross-platform Zoom recording software, which is compatible with Windows, Mac, Android, and iOS systems at the same time. That means no matter whether you are using any of these devices, you are able to process the Zoom meeting recording by installing ApowerRec. The software supports recording the full screen equipped with audio, webcam, and microphone at the same time. In addition, if you require to take notes, its annotations adding feature is also helpful for you to keep up with the meeting without losing your idea behind.
ApowerRec also attracts users for its bonus features, such as the scheduled recording, Zoom recording, locked window recording, and spotlight recording. Therefore, this software works more than a single meeting recorder, but is also compatible with more types of screen activities you may need in daily life.
Tech Specification: Windows 7/8/10, Mac OS X 10.10 or later, iOS 7 or later, Android 5.0 or later
Free Plan: Available

6. Sendspark
Sendspark is a web-based recorder developed to be a new means for people to connect with the world through personal records. Due to its great ability in recording computer screens, many people also use it to record Zoom meetings for preserving the recordings without missing any important point. No matter whether you are attending Zoom meetings from the official website in the browser or the desktop software, Sendspark is compatible with recording them both (it provides the Chrome extension for installing in the browser to process the recording quickly in one click).
Another highlight of Sendspark should be its instant sharing functionality. The well-recorded Zoom meetings are able to be shared once the recording ends through email or message. So you are able to send the recordings to those who can't attend the meetings to help them to grasp the important notes without missing any of them!
Tech Specification: All devices, Chrome browser (extension)
Free Plan: Available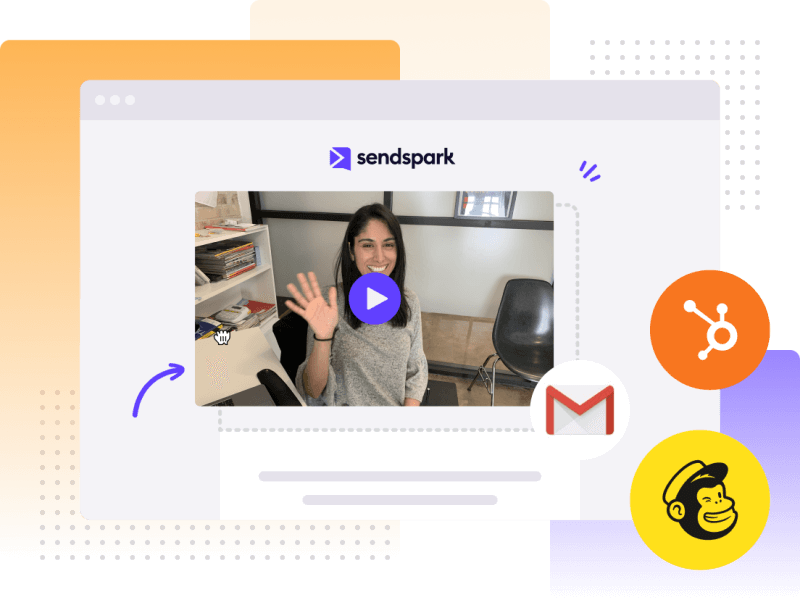 Summary
Recording Zoom meetings is not a difficult task as there have been these 6 best Zoom recording software available to help. Based on their features and compatible systems (devices), you are able to pick the best option and get started from now on. Next time, you don't need to worry about missing any important thing by recording the Zoom meetings down!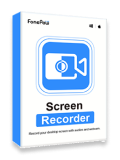 Screen Recorder
Capture every loving moment of your screen on Windows and Mac!