As you tabbed the keyboard repeatedly, a fierce game competition ended up with a great triumph. And then, an idea sprung to your mind that you want to record steam game. But what is the best recorder for games? And how to record games on Steam?
Most recommended Steam screen recorders usually feature with smooth operation, ease of use and flexible customization settings. What's more, they can help you record Steam videos without causing lag, and export HD videos with no watermark. It would be better if they could support webcam recording and even editing.
Given that, 3 Steam video recording software will be recommended to you and you can learn their tutorials on how to Steam record video easily.
How to Record Videos on Steam without Lag with FonePaw Screen Recorder
Instead of introducing common methods such as leveraging the built-in screen recorder on your computer, we recommend FonePaw Screen Recorder as the reliable option. It boasts the most all-around functions. By enabling hardware acceleration, FonePaw Screen Recorder can record Steam gameplay with little impact on the overall performance so that it won't slow down the game. What's more, this screen recording software possesses a professional function: Game Recorder. It is a function specially designed for gaming video recording.
FonePaw Screen Recorder has nearly everything you need in recording gameplay on Steam:
Multiple video recording modes, supporting browser overlay, system information overlay, and more.

Start and stop recording games with hotkeys, or schedule a gameplay recording at a specific time.

Support webcam overlay so that you can record your face along with the gameplay.

Record game audio as well as your commentary through the microphone.

Support annotating in videos with texts, circles, arrows, lines, and more.

Record videos on Steam to MP4, WMV, AVI, GIF, TS, MOV, and F4V files.

Take screenshots of wonderful game moments.

Restore the unsaved gameplay videos.
Not only that it is fully featured, but the recorder is also well-designed with a user-friendly interface for you to start screen recording without extra instruction needed.
Method 1 Using Game Recorder to Record Steam Games
As mentioned above, FonePaw Screen Recorder is specially designed with professional function of Game Recorder. Taking users' experiences and suggustions into consideration, Game Recorder will automatically locate and block your game windows to prevent recording other pages mistakenly.
Step 1. Download FonePaw Screen Recorder
Download and install the FonePaw Screen Recorder on your Windows or Mac computer.
Free Download Buy with 20% off Free Download Buy with 20% off
Step 2. Launch the program. Click Game Recorder
Step 3. Change Settings Before Recording
On the setting page of Game Recorder, you can select the game you want to record. The program will automatically locate the game without being interfered with by the other programs. Then customize the audio settings. Also, it's suggested that you have a soundcheck beforehand in case you have to adjust the volume while recording.
Click REC to start recording your Steam video.


Tips
1. The webcam can be turned on/off during the recording. The volume of the sound can also be adjusted.

2. It is recommended to turn on "Microphone noise cancellation" and "Microphone enhancement" in the drop-down menu of the microphone setting to make the voice clearer. Having a sound check beforehand is also highly recommended.
Step 4. Take Screenshots, Add Annotation/Texts (Optional)
While recording, you are free to take screenshots, but adding annotations and texts is not supported.

Tips
There are also 2 ways to take snapshots on Steam

1. Press "F12", the screenshot shortcut key of Steam by default. If you want to change the shortcut, you can set it at Settings-In-Game. After gaming, the screenshots will be shown at your Screenshot Uploader.

2. Press "PstSc" on your keyboard, and then paste it to Microsoft Paint. The drawback is that you can only take one screenshot at a time, or the new capture.
Step 5. Save the Game Video
Now that the video of the Steam game is recorded, you can preview the recorded video and trim it to get the most amazing clip. After saving the game video locally, if you want to share it with others, there is a Share button for you. Just click it to upload the video to YouTube, Facebook, Vimeo, or other social media.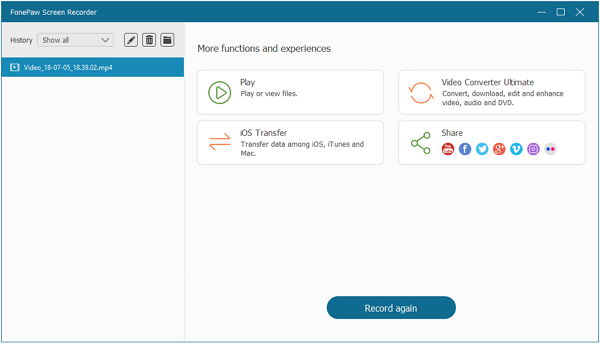 Method 2 Using Video Recorder to Record Steam Games
Compared with the previous Game Recorder, Video Recorder is much flexible. You can select a custom region to record or directly capture full screen for any desktop activity. Both video and audio can be recorded in high quality. Of course, those who prefer to record reaction when playing games, FonePaw also provides the option turn on the webcam and customize the overlay size.
Now, follow me to see how to record wonderful Steam game videos with this function.
Step 1. Download FonePaw Screen Recorder
Download and install the FonePaw Screen Recorder on your Windows or Mac computer.
Free Download Buy with 20% off Free Download Buy with 20% off
Step 2. Customize the Recording Settings
Launch the recorder, and click Video Recorder. Choose your recording region, turn on/off the webcam, the system sound, and the microphone.

Then click the gear icon to open the Preferences menu, where you can change settings such as hotkeys, video quality, frame rate, video format, etc. Click OK after you have selected the ideal settings.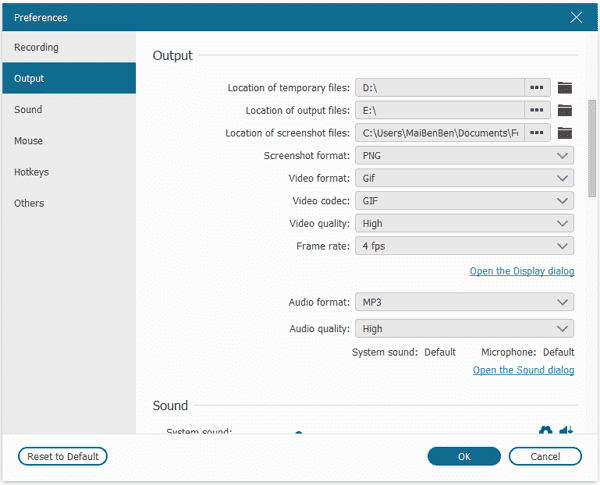 Step 3. Start Recording Steam Gameplay
Launch the game. Click Advanced Recorder to make some extra settings if you, in particular, want to record Steam gameplay only or exclude the screen activities of certain apps from recording.
When you are ready, click the Rec button or press Ctrl + Alt + S hotkeys to begin recording videos of the game.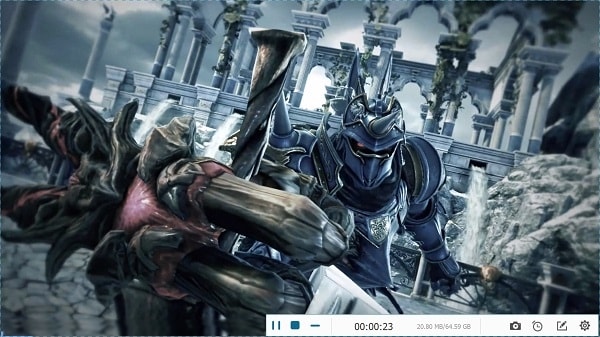 Step 4. Take Screenshots, Add Annotation/Texts (Optional)
During the gameplay recording, you can use a keyboard shortcut to take a screenshot anytime you want. Also, there are annotation tools you can use if you want to highlight something in the game.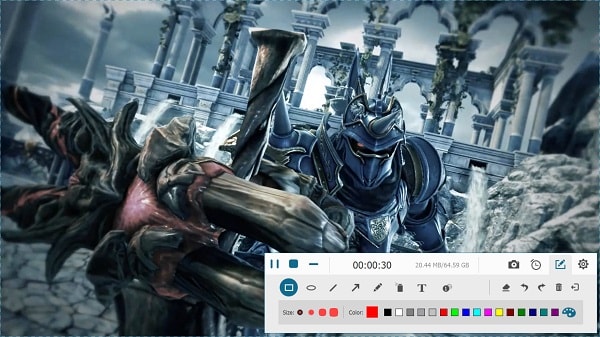 Step 5. End Gameplay Recording on Steam
When the game is over or you feel like ending the recording, press the Ctrl + Alt + S keyboard shortcut or click the Rec button to end it. You can also click the Clock icon to preset a recording length and let the recorder automatically stop video recording when time is up.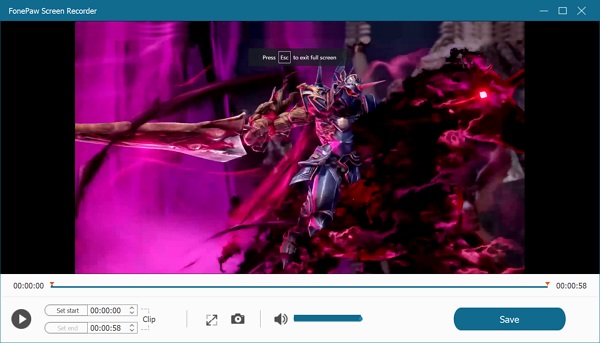 Advantages and Disadvantages
Advantages
1. Game Recorder of FonePaw Screen Recorder recognizes and captures your game windows only and automatically starts and ends up recording videos along with your game running.
2. It enables you to customize the screen and do real-time editing.
3. It can export HD videos at 60fps with no watermark.
4. It can share steam record videos with one click.
5. It supports recording your gameplay with a facecam.
Disdvantages
1. It is not free.
2. Trial version supports recording 3 min videos within 30 days.
How to Record Steam Games with OBS
On the internet, OBS is highly recommended because it is free and works well. Not only it can record videos on Steam, but it can also stream your gameplay to Twitch, YouTube, and more. It can record Steam DirectX 8/9/10/11/12, and OpenGL games on Steam at up to 60 fps. Games, webcam overlay, and audio can all be recorded. Follow these steps and you can record and create a stunning gameplay video with OBS.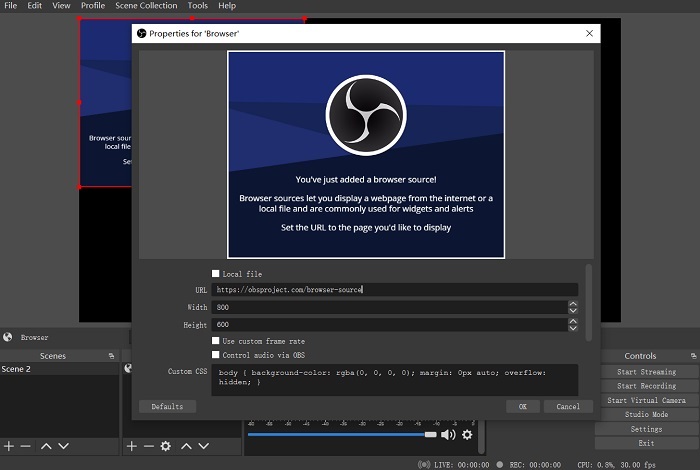 Step 1. Download and install OBS on your computer. To install OBS, you need to run its Auto-Configuration Wizard, which may change your computer's settings of recording, resolution, bitrate, encoder, and more.
Step 2. To record game audio on Steam, make sure you have selected the right audio devices. And you can adjust volume levels in the mixer section of its main window.
Step 3. Sources are what you are going to record with OBS. To record games on Steam, click Game Capture. If you need to add a webcam, click Video Capture Device.
Step 4. Open the game on Steam and click Start Recording on OBS to start recording your gameplay.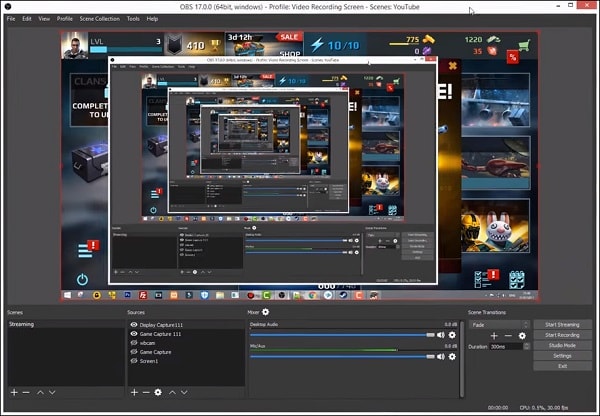 Advantages and Disadvantages
Advantages
1. OBS Studio is a free, open-source platform.
2. It offers many configuration options.
3. It streams to most live streaming video platforms.
4. It owns over 20 plugins that enhance functionality.
Disadvantages
1. OBS is complicated with a daunting interface.
2. It can't link to an audio file as a source.
3. It sometimes shows the black screen.

Tips
How to Record on Steam with Xbox Game Bar
Xbox Game Bar is a built-in game recorder for Windows 10. That is, you don't need to download it or download other software. By pressing Win + G buttons, you can initiate the Xbox Game Bar, which can record gameplay on Steam with audio, microphone, and webcam.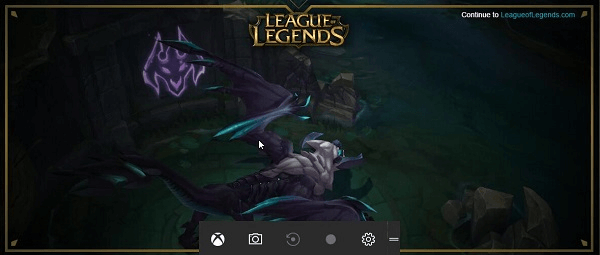 Step 1. Click the Start menu to find Xbox Game Bar or use the default keyboard shortcut "Windows + G" to launch it.
Step 2. Before recording, you can reset the recording setting, such as "General", "Broadcasting", "Audio", and other settings. And then, you can open a game to record.
Step 3. After the record is done, you click Stop to end the game recording, and the game video is saved on your computer.

Tips
1. Windows + G: Open this software

2. Windows + Alt + R: Start/stop recording

3. Windows + Alt + T: Show/hide recording timer
Advantages and Disadvantages
Advantages
1. It is free.
2. It requires no steep learning curve to create screen recordings.
3. It will save your recorded videos in MP4 format, so you can share them.
Disadvantages
1. It is only available on Windows.
2. The recording ceiling is 2 hours.
3. It will cause lags or frame drops sometimes.
Wrap Up
Above all, you can see that each recorder has its features.
FonePaw Screen Recorder is versatile and records Steam videos on Windows/Mac in high quality.
For those who like to explore software, OBS is a good choice.
If you don't want to download other applications, you can just record Steam with Xbox Game Bar.
To sum up, the 3 recorders mentioned above are all professional. however, in comparison, Xbox Game Bar is like a green hand; OBS is truly powerful, but it is a little complicated for persons who are not tech-savvy. In terms of the FonePaw Screen Recorder, though it is not 100% perfect, it is easy for beginners to get started and owns multiple functions that can meet gamers' demands. Right now, you must have made up your own decision, and you can record any highlighted moments on steam and share them with everyone.