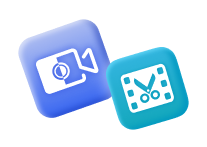 Screen Recorder + Video Converter Ultimate
Shop Now
If you are a game lover, you must be finding an all-around game recorder to record gameplay videos. Thus you can share the exciting moments with your friends, or upload gameplay video clips to YouTube.
However, not all game recorders can work as you expect. Some may record with dropping FPS, while some cannot record the webcam or even add ugly watermarks on your recordings. To find the best game recorder that you just need, we've made a test among popular game recording software and picked up the 8 best screen recorders for gaming. The table below shows our devices, test items, and criteria. Just read on to explore!
💻 Our Devices
HP ProBook
(Intel i5)
Alienware x17 R2
(Intel i9)
MacBook Pro 16"
(Apple M2 Ultra)
🎮 Tested Games
● Minecraft, ● Overwatch 2, ● League of Legends
🎥 Recording Tests
● Highlight clips, ● 30min gameplay, ● Long-term recording
🧾 How Do We Value the Best Game Recorder
Video Quality
Output Formats
Webcam Recording
Area Selection
No Watermark
No Lag
Compatibility
Video Editor
Ease of Use
🥇 The Winner
🏆FonePaw Game Recorder🏆

1. FonePaw Game Recorder
🔎 Best gameplay recorder for beginners to get started with easy steps
💻 Supported OS: Windows, Mac

Free Download Buy with 20% off Free Download Buy with 20% off
As the top 1 pick game recorder for Windows and Mac, FonePaw Game Recorder stands out for its easy-to-grasp functionality in recording any on-screen activity. It can capture gaming moments with original resolution and up to 60 FPS. It's also designed as a lightweight gaming screen recorder that takes low CPU usage, ensuring a smooth gameplay recording without lag during the gameplay.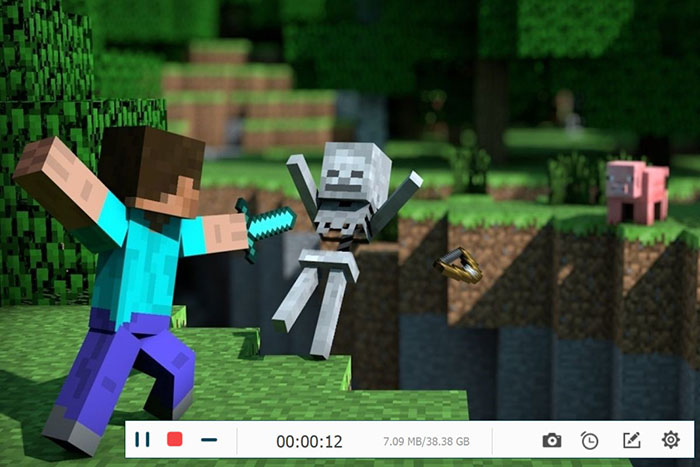 Specially designed for game video recording, FonePaw Game Recorder is equipped with some advanced features. Such as the hotkeys control, with which you can use the keyboard to control the gaming recording process flexibly(won't conflict with your game shortcuts). In addition, the flexible customization of the recording area, the magnifying glass effect, the post-recording editor, etc. help you produce the perfect game-recording video.
Free Download Buy with 20% off Free Download Buy with 20% off
👍 Pros
Record gameplay video with no lag, no flash;
Capture gameplay in up to 4K 60FPS high resolution;
Support mouse effect & keystroke callouts in real time;
No watermark & customizable watermark supported;
Add a webcam overlay to your gameplay recordings;
Microphone enhancement to clearly capture your voice;
A built-in editor for trimming your game video recordings.
👎 Cons
Although FonePaw Screen Recorder offers a free trial, only a 3-minute duration of each recording could be saved.
2. Windows Game Bar
🔎 Best for Windows 10/11 users to capture the gaming process without extra help for free
💻 Supported OS: Windows 10/11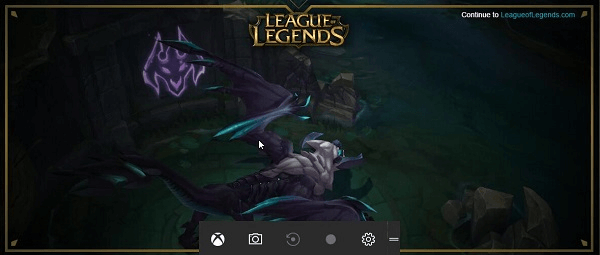 It would be hassle-free for Windows 10/11 users to record the gaming moments, as the system has provided the built-in game recording software called Windows Game Bar. This game recorder is compatible with UWP game recording, which may be lacking in many other game recording software.
You can launch this game recorder feature on your Windows 10/11 computer by pressing the default shortcut of "Win + Alt + R" to specify the 30fps or 60fps gaming recording in the standard 720p or higher 1080p HD resolutions. Despite this, this Windows 10/11 built-in screen recorder for gaming only takes low CPU usage, so the performance of your desktops won't lag behind while recording the gaming process.
👍 Pros
No extra software installation required;
GPU acceleration added to the latest version for boosting efficiency;
Easy-to-control functionality;
Totally free to use.
👎 Cons
Not always working properly like recording some demanding games;
Devices on lower-spec GPUs would fail to use the functionality successfully;
Only available on Windows 10 system;
Limited customization options available.
3. OBS Studio
🔎 Best for game players requiring to record gaming with the gameplay window and also capture footage from a webcam simultaneously
💻 Supported OS: Windows, Mac, Linux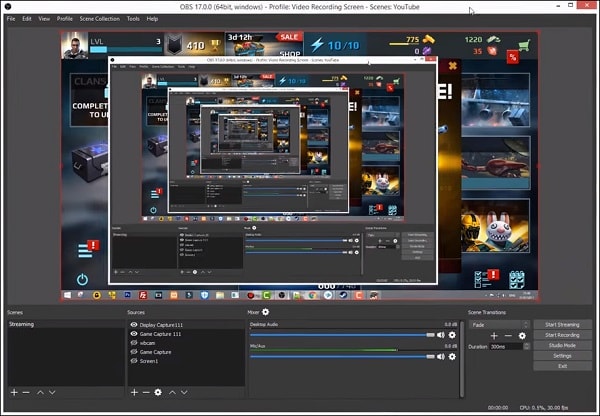 OBS Studio is an open-source game recording software developed for desktop users to freely capture the screen without any restriction. It is compatible with both streaming and recording tasks with high resolutions, and it won't set limitations on the length of the recordings you are going to have.
Although OBS Studio would perform weaker at taking a screenshot, its screen recording functionality can be highly guaranteed. As this game recording software is able to directly record from the graphics card, it works to record gaming in full-screen mode with hotkeys in a flexible way. Additionally, the OBS game recorder will make full use of the multi-core CPU to ensure a smooth recording performance during the gaming process, and also record the gameplay at 60fps, or even higher.
👍 Pros
Open source software without payment requirement;
Multiple platforms supported;
High resolution and FPS support for record gaming;
Fast and smooth recording performance.
👎 Cons
The functionality may be too complicated for some new users to get started with.
4. Bandicam
🔎 Best for Windows users requiring professional screen recording software to capture games in Ultra HD resolution
💻 Supported OS: Windows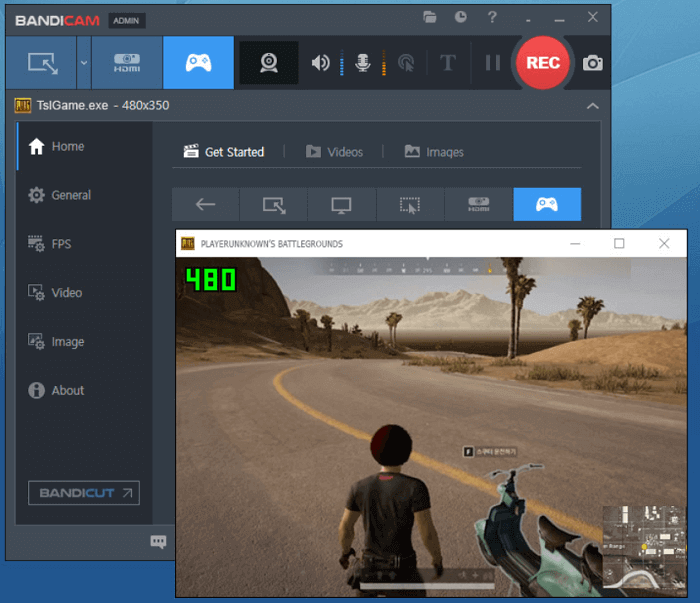 Bandicam is a game recorder specially developed for Windows users to record gameplay videos with the best resolution in the simplest operation process. It is regarded as one of the best game recording software for its high bitrates and frames to output gameplay recordings. You are able to adjust the frame rates as you like and select to output the gaming recordings at the best 4K Ultra HD resolution.
To help save storage space for video game players with high gaming recording demands, Bandicam also applies a built-in compression feature, enabling users to save high-resolution recordings without sacrificing the storage space at all. This game recorder will smartly balance the quality and file size to bring you the perfect outcomes for saving your gaming recordings for convenient uploading, sharing, preserving, and storing.
👍 Pros
Two different recording modes available;
Built-in compression feature to keep high-quality recordings at the smallest size;
Output recordings to mainstream formats for ensuring high compatibility;
Recording webcam simultaneously supported;
Available for customizing the recording area based on personal requirements.
👎 Cons
The upgraded version would be more pricy;
Only Windows users are able to install this game recorder;
Lag issue may happen during recording the high-demanding video games.
5. Action!
🔎 Best for players requiring excellent performance in both smooth gaming recording and live streaming functionality
💻 Supported OS: Windows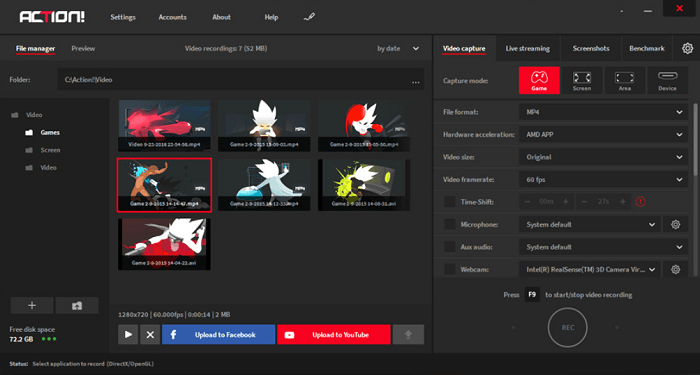 Developed by a leading brand Mirillis, Action! is also an out-performing screen recorder for gaming, which supports recording gaming with a webcam overlay to the recording gaming. This game recorder enables users to flexibly switch back and forth from the full-screen gameplay while processing the recording without any interruption. Additionally, it even allows users to control the recording through the Action! mobile app!
For its recording performance, Action! has been empowered by NVIDIA, AMD, or Intel hardware acceleration to ensure no-lagging performance while processing the gaming recording. In addition, this game recording software outputs up to 4K video, with a high frame rate to greatly ensure the original quality of the gameplay recordings.
An amazing functionality for gaming live streamers is Action! supports streaming the recordings through popular platforms, including YouTube, Twitch, Livestream, etc., so you can instantly share the moments with players from all over the world via this game recorder.
👍 Pros
Various helpful features to ensure high-quality gaming recording;
Intuitive interface with easy-to-grasp functionality;
Powerful performance acceleration tech applied;
Convenient options for recording sharing.
👎 Cons
No compression feature applied to control the file size, which would easily take up much storage;
Expensive cost for purchasing the full license;
Unavailable to adjust frame rates by ourselves.
6. Nvidia ShadowPlay
🔎 Best for desktops with NVIDIA graphics card to record gaming without lagging and high video resolution
💻 Supported OS: Windows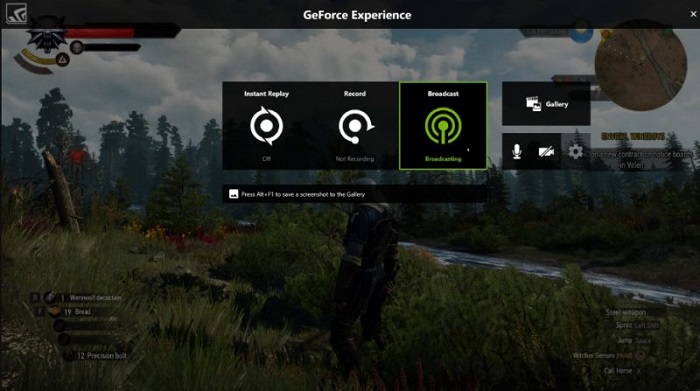 If your computer is equipped with an NVIDIA graphics card, the Nvidia ShadowPlay game recorder is an ideal pick to help handle the gaming recording with excellent performance. Despite its basic features, for example, this game recording software is cost-free and offers an intuitive UI, ShadowPlay is also popular for its high recording resolutions (8K at 30FPS, or 4K at 60FPS), ensuring quality-guaranteed, lag-free outputs.
Also, this screen recorder for gaming is able to help broadcast gaming moments and live stream them to social live-streaming platforms such as Facebook Live, YouTube Live, or Twitch. Besides, the instant reply functionality of this game recorder helps save the last 30 seconds of the gaming recording all the time. Last but not least, ShadowPlay also enables users to generate GIFs with up to 15 seconds from the captured gaming moments to the best 8K for preserving locally.
👍 Pros
Absolutely a freeware to use;
Straightforward user interface designed to process the gaming recording without hassle;
Accelerate the recording performance taking only a very low CPU.
👎 Cons
Only workable for the devices using NVIDIA GPU;
The functionality of the screen recorder may be less than some of its professional competitors.
7. Fraps
🔎 Best for users who desire a reliable screen recorder for gaming launch through years with continuous enhancement focusing on gaming recording
💻 Supported OS: Windows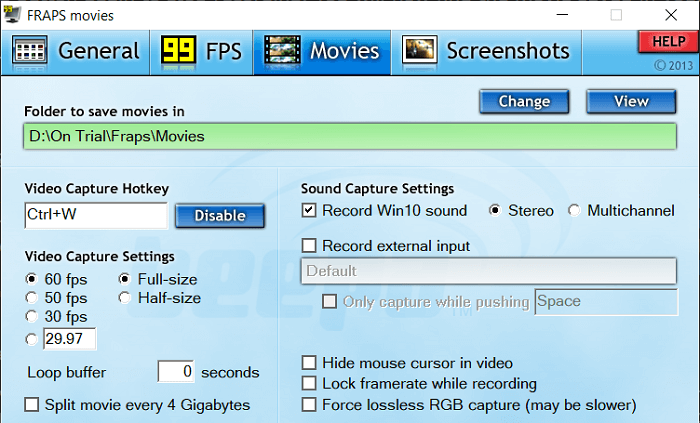 Firstly launched in 1999, Fraps has been one of the gaming recorders with a long history and a large number of users basic. For decades, Fraps has provided its out-performing functionality to record gaming on Windows devices. This game recorder focuses on taking screenshots and video recording, so it is developed at a lightweight condition, which will not take a high CPU while processing the gaming recording.
Don't worry about the output quality, Fraps has been always keeping up with users' demands. You can set up the frame rate accordingly, which is ranging from 30 to 120FPS while using this game recording software, thus producing a high-quality gameplay video.
👍 Pros
Lightweight software with easy-to-grasp functionality;
Freely customize the FPS based on personal requirements;
Smooth performance guaranteed to process the quick recording experience while gaming.
👎 Cons
The output video size is high as no compression feature is built inside to process the size-and-quality balance;
Watermarks are added under the free trial period;
No gaming live streaming feature provided.
8. Gecata
🔎 Best for users with gaming recording demands to capture gameplay at 4K and even higher FPS
💻 Supported OS: Windows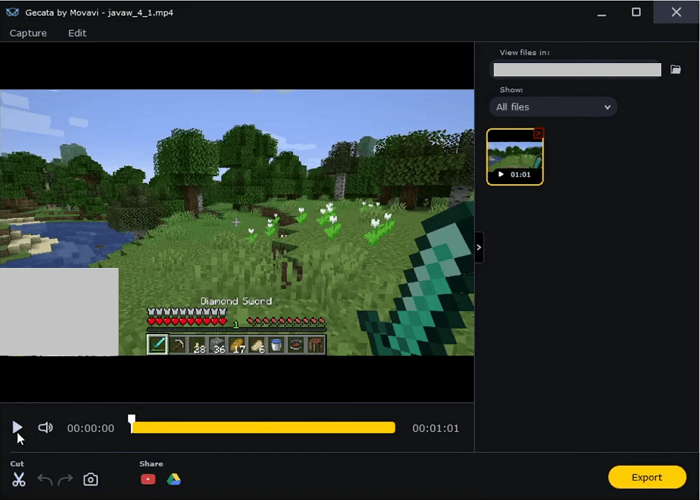 Gecata is the game recording software developed by Movavi to record games on Windows desktops with high resolution. For gaming recordings, the video resolution can reach up to 4K and 120FPS. Also, this game recorder helps you to broadcast and stream the window while processing the recording.
Gecata provides an intuitive interface, making the game recording software quite easy to grasp even if you are a starter trying to record gaming for the first time. In addition, with the helpful hotkeys provided, controlling the gaming recording would be even more convenient, without interrupting the gaming at all.
Amazingly, Gecata allows users to save and edit different audio streams separately without combining them together. In this way, you don't need to worry about interrupting the game audio while processing the gaming recording.
👍 Pros
Easy setup and user-friendly interface for every user to get started;
Fully compatible with all Windows systems;
Available to take quick screenshots while processing the gaming recording for sharing;
Able to record high demanding games such as Minecraft, League of Legends, and so on.
👎 Cons
Registration is required for accessing the full-licensed version;
Only available for Windows users.
FAQs about Game Recording Software
How to record gameplay without lag?
You can use FonePaw Game Recorder to record gameplay without lag, steps are as follows:
1. Launch your game and FonePaw Screen Recorder, choose Game Recorder.
2. Select your game as the recording source.
3. Start recording, and enjoy your game.
What is the best gameplay recorder?
Top 5 game recording software:
1. FonePaw Game Recorder: Easy to use professional game recording software.
2. Windows Game Bar: Free game recorder for Windows 10/11
3. OBS Studio: Open-source gameplay recording tool
4. Bandicam: Capture game play video in extremely high quality
5. Action!: A game recorder comes with live-streaming feature
Conclusion
After reading this in-depth review of the 8 best screen recorders for gaming on desktops, have you grasped the most ideal pick for yourself now? Considering all aspects, FonePaw Game Recorder stands out for its compatibility and stability. Whether you are a beginner or an advanced user, you can use this game recording software to record your gameplay highlights in high quality. Just click the download button to start with a free trial right now!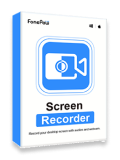 Screen Recorder
Capture every loving moment of your screen on Windows and Mac!