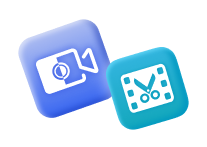 Screen Recorder + Video Converter Ultimate
Shop Now
If you are an excellent gamer, recording gameplay videos can be a good choice for you to share achievements or create a video game walkthrough for other gamers. Nowadays it's easy to do it because you can capture gameplay as long as you have a computer at hand instead of trying to acquire other professional devices as in the past.
However, recording games on a PC always requires better conditions compared to recording some other desktop activities, because inappropriate settings may badly influence the fluency and quality of the recorded video. It may lead to a question: how to record gameplay on PC in the best way?
To conveniently record the screen when playing games, a third-party screen recorder usually shows greater flexibility than a built-in screen recording tool such as the Xbox Game Bar on Windows 10, which sets no limit on the recording time and can capture high-quality gameplay without losing FPS. However, as there are so many screen recorders available, which one should you choose?
In the passage, we will recommend the 3 best gameplay recorders for you. Also, you can look through the detailed steps of how to record gameplay on PC with these amazing tools.
What to Know for Gameplay Recording
Before we go directly to the recommendations, here are some important points that you can pay attention to for better preparation for your gameplay recording. We will briefly show you 2 points:
A Capable PC: Usually, if your PC runs with the latest upgraded system and a powerful CPU, there's no need to worry about the recording. Also, if your computer runs with high performance, this can somehow help you avoid getting a laggy recording.
Enough Hard Drive Space: Some of you may tend to record long videos with high quality, which will occupy much space. If your computer doesn't have sufficient space for storage, you have to sacrifice picture quality for a smaller file size. Or worse, the recording process may suddenly end and you fail to gain a well-recorded video.
Now, let's focus on the main point of this post, also the most important part of gameplay recording – find a stable screen recorder.
Use a Reliable Screen Recorder to Capture Gameplay
FonePaw Screen Recorder is such a helpful and easy-to-use gameplay recorder for Windows PC (Mac is also available).
Free Download Buy with 20% off Free Download Buy with 20% off
As PC gaming tends to support high frame rates, you may care about whether this screen recorder has the ability to record games with high FPS and also worry about FPS drop. The good thing is that the highest frame rate that FonePaw supports capturing is 60 FPS, which is also the commonly used spec for many video games. And therefore, you can rest assured to have a great result.
A smooth and stable recording function is just the basics of this powerful screen recorder. As it comes with a game recorder feature specially designed for PC gaming, FonePaw also boasts other useful features to improve your gameplay recording experience. In the following part, detailed information about FonePaw Screen Recorder will be displayed.
Free Download Buy with 20% off Free Download Buy with 20% off
📌 Lock Game Recording Window
It's for sure that you don't like being distracted when you are recording a gameplay. FonePaw can prevent your game recording from mixing with other windows by providing a lock recording window feature to you. In this way, you can open several windows if you need but only your game playing will be recorded.
📌 Noise Cancellation
It must be annoying if you find your microphone voice or the game sounds are disturbed by the noise in the recorded video. Besides the helpful feature that allows you to add voiceover to video, FonePaw also helps you reduce noise while recording. Therefore, you and the audience will not be bothered by the unpleasant sounds when watching the recorded videos.
📌 Scheduled Recording & Recording Length Setting
To help you capture gameplay more flexibly, FonePaw Screen Recorder also provides a task scheduler feature. You can set the beginning time and the time length of the recording in advance. When time's up, the recording task will stop automatically and prompt you to preview the result.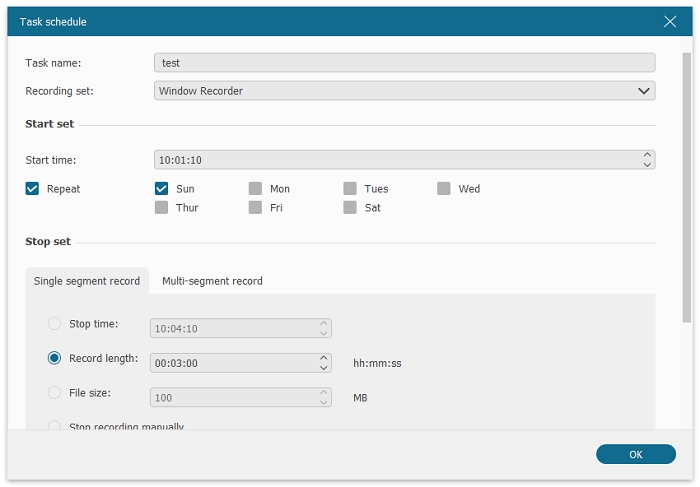 📌 Unsaved Recording Continuing
None of us can predict when or how the computer will go on strike. Once it happens when you are doing gameplay recording, you may be mad at your efforts in vain. No worry! FonePaw Screen Recorder can automatically save the unfinished recording. If you launch the software again, the recording will continue. A considerate function, isn't it?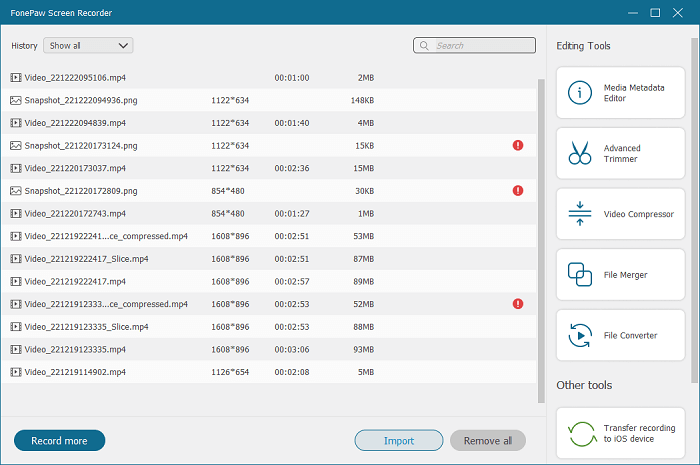 📌 Phone Screen to Computer Mirroring
Maybe you are playing games on your mobile phone and want to record it, but screen recording on the phone can be troublesome. To record the phone screen on the PC, FonePaw Screen Recorder can be your trustable assistant. You just need to connect your phone to the computer, and you can record your phone screen together with the audio on the PC. Besides, the output resolution can reach 1080p.
Now, you have an idea of what FonePaw Screen Recorder is and how it can help you record gameplay for creating a Let's Play video or else video content. Next, you can check the following steps to get started with this screen recorder.
How to Record Gameplay on PC with FonePaw Screen Recorder
It's never hard to use FonePaw Screen Recorder. Here we will provide you with a full guide on how how to record gameplay on PC via this tool.
Step 1. Download, Install and Launch FonePaw Screen Recorder
Free Download Buy with 20% off Free Download Buy with 20% off
After the installation, double-click its icon to launch it. You can see "Game Recorder" on the interface. Just Tap it to begin gameplay recording.
Besides, most settings can be found and set on the interface. Just choose the ones you need to adjust.
Step 2. Start Your Game for Recording
Start your game and select the game program on the setting page of Game Recorder. The recorder can automatically locate the region of the game program to record. Adjust the sound settings according to your needs. Click "REC" to start recording gameplay.


Note:
It is recommended to check the sound before recording to ensure the sound quality of the video. Just open the drop-down list and click "Sound Check". A pop-up window will help you finish the soundcheck.
Step 3. Set the Parameters
When the basic settings are done, you can check some parameters concerning recording quality. Move your mouse to the top-right corner of the interface, and click "Preferences".

Here you can adjust the framerate and video codec according to your expectation. Normally, MP4, H.264, and 24 fps are the recommended and default settings. Of course, you can choose H.265 and a higher frame rate if necessary.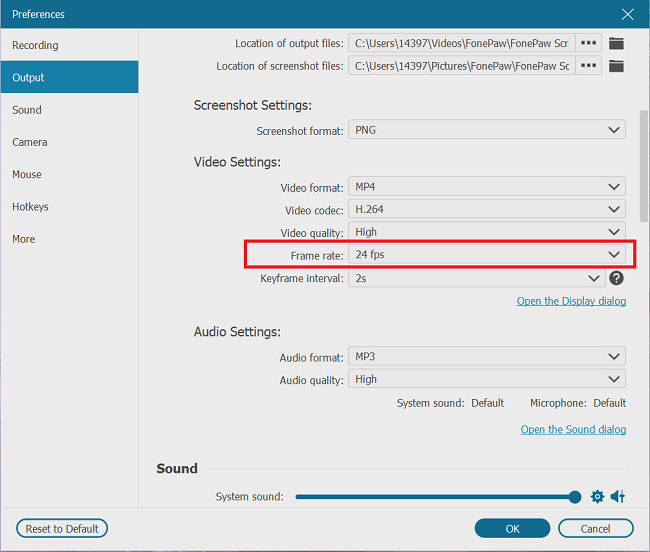 Note:
H.265 is yet to be high-quality, and a higher frame rate requires much more RAM and space. If you are not recording gameplay with a high frequency of movements like a car race or gun battle, H.264 and 24 fps are useful.
Step 4. Edit the Recording (Optional)
While recording, you can take a screenshot or do some real-time annotation for a more vivid effect. Click the square button to end the recording. You can also edit the recorded video in the final session.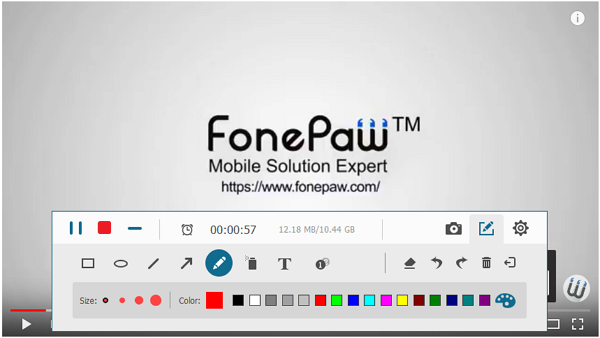 Step 5. Finish the Recording
With all the steps done, click "Save" and choose the output path for the video.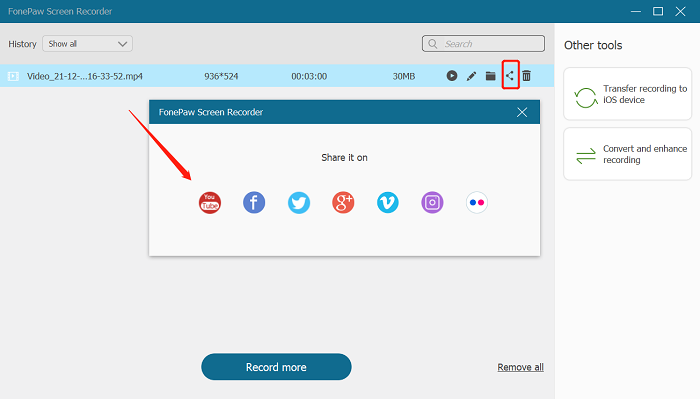 Free Download Buy with 20% off Free Download Buy with 20% off
Other Screen Recorders to Record Games (2 Alternatives)
There's no doubt that FonePaw Screen Recorder is an amazing game recorder for you to get started. Still, you can turn to other useful screen recorders that have excellent performance in capturing gaming. In this part, we will introduce 2 alternatives to FonePaw Screen Recorder for capturing gameplay on PC.
Game Bar
If you search "how to record gameplay on Windows 10" on the internet, this tool has always been mentioned. It is a built-in screen recording tool for Windows 10. In other words, capturing gameplay on Windows 10 with Game Bar becomes direct and easy. It is also a handy feature included in the Xbox app.
Simply press Windows + G keys to launch it. Game Bar can detect whether you've launched a game so you can start recording efficiently. The entire interface is sleek and it provides every basic feature you need. Besides, you can also take a screenshot of the awesome moment during the game.
For Windows 10 users, you don't need to download from extra sites, which is convenient for beginners and avoids troubles. Apart from the simple pressing Windows + G, there are various hotkeys you can use for Game Bar recording, and you can even set some hotkeys by yourself. Though its recording time length is limited, it can be helpful if you don't need to record a long video.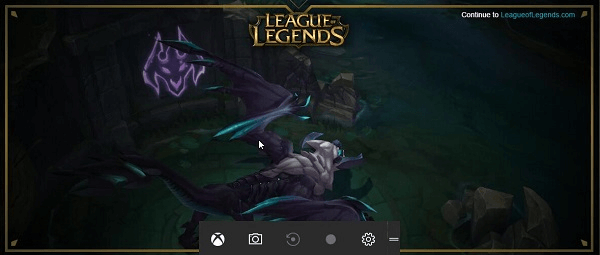 OBS
We've just mentioned that Game Bar cannot record long-time videos, but this software we introduce here can make it. OBS is a powerful screen recorder, and it can even help you live stream on a platform like Youtube.
It is also specialized in gameplay recording. You can access its multiple professional functions for high-quality footage, and can also create several views at the same time with several sources (your webcam and microphone, footage from games, etc.) to record more than one window.
What's more, the comprehensive settings of OBS allow you to fine-tune every possible feature of the recording. If you want to make your game recording gain the best effect, you can try OBS.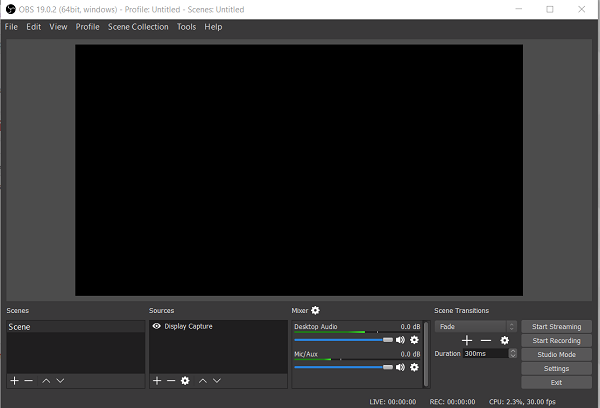 Conclusion
Recording gameplay on PC and sharing the video with others is an enjoyable task. To make your video a high-quality and interesting one, you cannot miss FonePaw Screen Recorder. Now just download this software save the highlights, and begin your journey of creating gameplay video!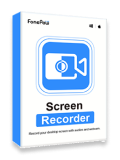 Screen Recorder
Capture every loving moment of your screen on Windows and Mac!