As a great gamer, you may sometime want to record your gramplay to share your accomplishment or show advanced gaming skills to the newbies. If you play games on a Windows computer, you will find the following two methods very useful in capturing Minecraft, LoL, Dota, World of Warcraft, Overwatch, Grand Theft Auto V, Call of Duty, Gears of War gameplay videos on Windows 10.
How to Capture Gameplay on Windows 10 with Game Bar
Game Bar is introduced by Windows 10 as a built-in tool to record gameplay video. It is a feature included in Xbox app. It can record a video of your gaming as well as take a screenshot of the amazing moment during the gaming.
1. Launch Game Bar
Press Windows + G keys to launch Game Bar. If Windows thinks that you are not playing a video game, you may get the following window, click Yes to open Game Bar.
Tip: If you don't see any pop-up windows, you could be playing game in full-screen mode. Just switch to windowed mode.
2. Record Gameplay in Windows 10
Click Reord button to begin recording your gameplay. Or you can use the shortcut Windows + Alt + R to begin the recording. When you are done, press Windows + G keys again to bring up the window and click the red Stop button.
Tip: If you need to take a screenshot during the gameplay, click the camera icon to take a screenshot.
3. Adjust Recording Settings If You Need
Click Settings button, you can choose to include audio and microphone sound when capturing game clips, activate background recordings, set up shortcuts, show timer and more.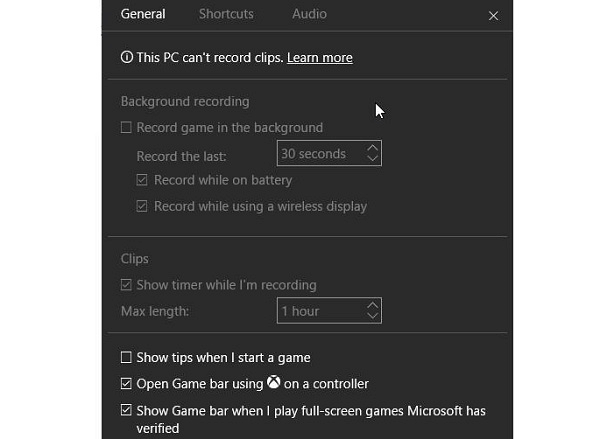 4. Locate and Share Your Game Clips
After you have captured a game clip with Game Bar on Windows 10, you can go to your user account's Video > Capture folder. The captured video will be saved in MP4 format. You can then share your gameplay video to YouTube or Instagram, Facebook and more social media.
What If Windows 10 Game Recording Not Working
Though using Windows default game recording tool is convenient, the tool may not work for you. If you can't record gameplay with Game Bar, please:
Make sure you are using Windows 10. Computers running on Windows 7/8/XP/Vista doesn't have the game recording tool by default.
Make sure you didn't disable Game Bar. Select Settings > Game DVR and check if the Record game clips and screenshots using Game DVR setting is On.
Check if the record drak out. If so, your PC doesn't meet the hardware requirements for game recording.
How to Capture Gameplay on Windows 10 with Screen Recorder
If your computers runs on Windows 7/8/XP/Vista or game recording doesn't work on your Windows 10, you can use Screen Recorder as an alternative. In fact, FonePaw Screen Recorder (opens new window)is much more powerful tool for game recording than Game Bar. Some users have experienced some quality issues because of Game Bar's high resource requirements, while Screen Recorder works perfectly with different Windows computer. And besides recording gameplay, the recorder come with snapshot and adding annotation to the recordings.
1. Download Screen Recorder on Your Windows
Click the button below to free download FonePaw Screen Recorder on your computer. After installing the recorder, launch the program and select Video Recorder.
2. Record Gameplay on Windows
Click Record button. Before that, you can choose to select an area to record or record the full screen. And you can also adjust the system sound or microphone to choose whether to include audio and microphone sound in the gameplay video. After you have done choosing, click REC button to begin recording the video.
3. Edit Gameplay Video
When capturing the video, you can use the tools on the bar to edit the video: add rectangle, arrow or highlight an area. You can also choose to take a screenshot of certain interface. After the video is done, click Record button to stop.
4. Preview and Rename the Video
The video will be displayed in the program. You can play the video and save it in certain folder. You are able to rename it with clicking the Pencil icon. For further editing, here suggest you try Video Converter Ultimate to enhance the video.
Tip: Click More Settings, you can adjust the Screen Recorder to fit your need. For example, setting up shortcut to activate, pause, stop the recording; adjusting the video, audio quality; choosing whether to show the mouse cursor, bar; etc.
With these two methods, you will that it is so easy to capture your gameplay videos and share them to your friends.