Nowadays, whenever you're going to record a tutorial video, it's a good idea to record yourself in the video to make the course more interactive and more attractive. But such recording requires a fully functional webcam recorder.
How to choose the right webcam recording tool is also a difficult problem. But you don't have to worry, you can read this article, which compiles the 8 best webcam capturing software and the corresponding advantages and disadvantages you can also find in the article.
Best Webcam Recorders for Windows
1. FonePaw Screen Recorder
Free Download Buy with 20% off Free Download Buy with 20% off
FonePaw Screen Recorder is an almost all-purpose desktop application. Not that it can be applied to different recording scenarios – recording screen, recording audio, and recording gameplay, but it supports recording the webcam when different recording modes are selected.
On FonePaw Screen Recorder, except for audio recording which does not support recording the webcam simultaneously, the other two recording methods - screen recording and game recording - both support real-time recording of the computer camera. Of course, this is also supported if you only want to record the webcam.
Moreover, FonePaw Screen Recorder is a multi-functional recording tool that integrates recording, snapshotting, and video editing. That is to say, when you are recording the webcam, you can take screenshots of the important images of the video at any time. And you can use some edition tools to annotate and highlight some contents during the recording. Not only that, when you finish recording the video, you can also make amendments to the video such as the deletion of unsatisfactory parts. Preview is also supported when you edit your recording.


Note:
👍 Pros
Free Download Buy with 20% off Free Download Buy with 20% off
It owns a simple interface and is easy to get started.
It is versatile that it can be applied to a variety of recording scenarios.
High-quality video output with low latency.
It boasts multiple output formats and one-click share.
Some advanced features and settings can save you a lot of time.
👎 Cons
2. Apowersoft
Apowersoft is a screen recording tool that enables you to record desktop screens and webcams. Its main function embraces Screen Recorder, Audio Recorder, and Webcam Recorder. With its usage, you can capture your desktop screen with a webcam simultaneously and create a captivating picture-in-picture video. Whether you want to record a lesson or other entertainment videos with the webcam attached, Apowersoft can help you make it. Also, you can edit and annotate videos with its built-in modification function.

👍 Pros
It offers versatile screen-capture options.
It owns a user-friendly interface and is easy to use.
High-quality videos are lag-free.
Many edition and annotation tools are supported.
👎 Cons
You have to subscribe to use its full functions.
3. Windows Camera
If you distaste for downloading third-party to record webcam, Windows Camera must be on your radar. Windows Camera is built-in webcam recording software on Windows and its mobile counterpart. Windows Camera is free and easy. With several clicks, you can open it and start to record your screen or camera, and the recorded videos will be saved locally.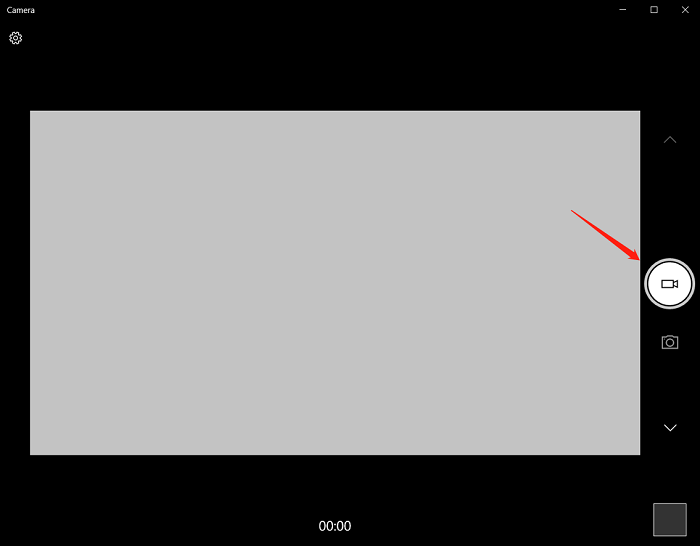 👍 Pros
It is a free, download-free, and one-touch recording tool.
It supports HDR mode capture and auto video stabilization.
Its storage location is easy to find.
👎 Cons
Digital video stabilization and HDR mode are only available on devices with compatible hardware.
It isn't equipped with a built-in editor.
It can't be used to livestream videos.
Best Webcam Recording Software for Mac
4. QuickTime Player
QuickTime Player serves as a media player on Macbook, but it can help you record screen, audio, and webcam as well. It comes pre-installed on your Mac. You can choose the facetime camera and internal microphone to finish your webcam recording. Recording the screen and the webcam and forming the picture-in-picture is only one of QuickTime's capabilities. It can also edit with trim and copy and paste.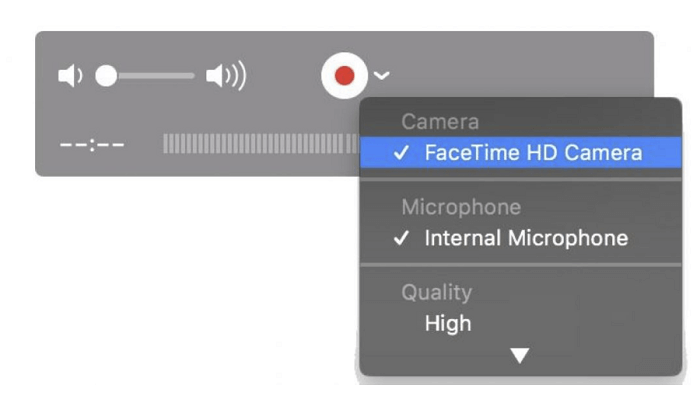 👍 Pros
It is free and easy to use.
It features both a webcam recorder and a screen recorder.
It supports no watermark.
👎 Cons
It has no video editing tools besides trimming.
It only supports recording the internal microphone.
5. Logitech Capture
Logitech Capture is free and high-tech recording capture software that is specialized in recording webcams. The usual software will support a camera and a screen to record at the same time, but this software supports recording screen while two cameras are running simultaneously. This feature is pretty convenient. In addition, you can record, edit, and share your videos to live streaming platforms.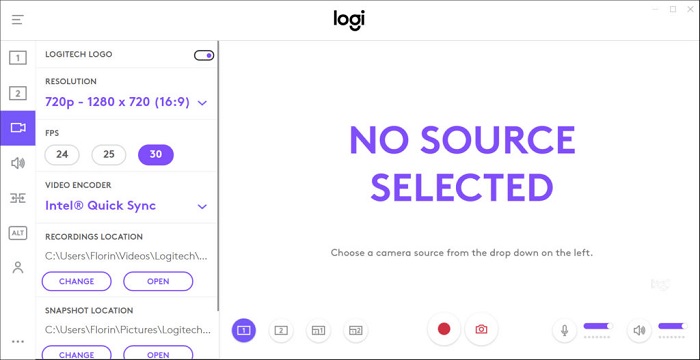 👍 Pros
It is free to use.
It supports multiple cameras simultaneously.
It can Record 9:16 vertical videos for mobile viewing.
👎 Cons
It is only compatible with Logitech webcams which are expensive.
It exports videos in MP4 format only.
Account registration is mandatory to access all features.
6. Debut Screen Recorder
Debut Screen Recorder is also a two-in-one recorder that uses video overlay to record your screen and webcam simultaneously, forming a picture-in-picture video. And Debut Screen Recorder has a simple interface that you can record webcam with ease and you can preview the recording before saving it. Among its various editing features, adding subtitles and adding effects stand out, which can make the video more interesting.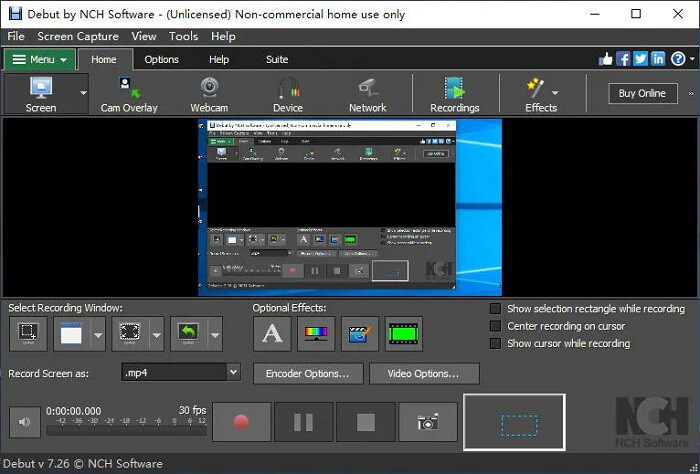 👍 Pros
It supports video overlays for Picture-in-Picture recordings.
It can remove or replace the background.
It supports adding effects and subtitles.
It has multiple output formats.
👎 Cons
You need to pay to use all functions.
Its interface is outdated.
Best Webcam Recording Software Online
7. Webcamera.io
Webcamera is a web page where you can record your webcam as long as you have a good internet link. When you go to Webcamera, the page will actively request permission for your camera and microphone. If you are looking for a handy webcam recording tool, Webcamera is worth trying.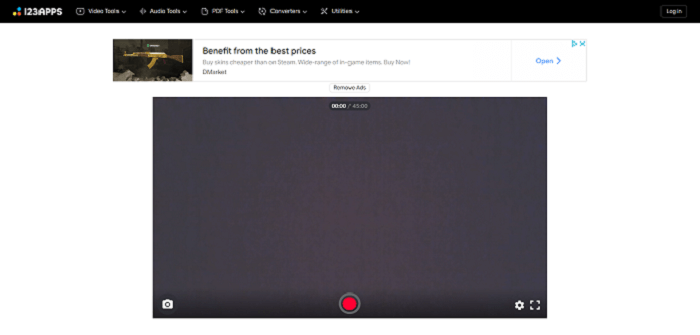 👍 Pros
It is free to use.
It doesn't require downloading other applications.
You can adjust the video quality and switch on mirror mode.
👎 Cons
You can only record your camera within 45 min.
It has no built-in editor.
It exports videos in MP4 format only.
8. Clipchamp
Clipchamp is said to be the best online webcam recorder. First of all, it is elaborate. After you sign up and log in, Clipchamp will ask you to classify your identity and the kind of creation. Secondly, it is professional. Depending on the different platforms or video topics your videos are posted on, it provides users with many templates to refer to. If you are a newbie, you can try this software.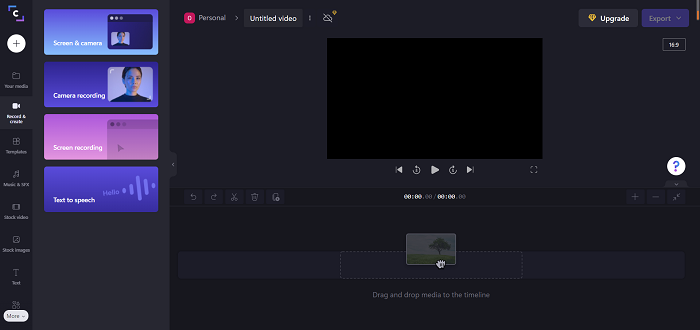 👍 Pros
Its simple interface is easy-to-use.
It supports directly sharing videos to YouTube, Vimeo, and Facebook.
It doesn't require other external apps.
👎 Cons
Conclusion
These are the 8 recommended webcam recording software for you. You can choose the right tool according to your own habits and equipment. But if you are not a tech-savvy person, FonePaw Screen Recorder is still the most recommended. Because it has a full range of features to meet the needs of video recording or webcam recording. Besides, some text instructions included in the software can help you better record videos. If you're still confused, you may as well click the download button below to try it out.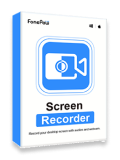 Screen Recorder
Capture every loving moment of your screen on Windows and Mac!