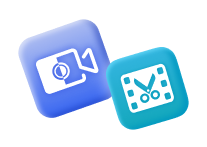 Screen Recorder + Video Converter Ultimate
Shop Now
When the screen capturing demands are rising, people would like to find the best screen recorder for desktop to capture important moments on screens. You may have known about Apowersoft's free online screen recorder, but today's focus will be on its desktop recorder, ApowerREC. The following review will completely introduce ApowerREC from all aspects to help you conclude whether it is the screen recording software you are seeking for. Now, let's get started!
What is ApowerREC?
With an intuitive interface design, ApowerREC delivers very easy-to-grasp functionality for users to record desktop screens without hassle. It provides flexible recording options, including the screen recording with customized size settings, gameplay recorder mode, audio recording, and webcam capture. It also enables users to take screenshots whenever they desire, even while the video recording is processing on screen.
Compared with many other screen recording software that is designed with overwhelming functions, ApowerREC enables the simplest operation to control, letting everyone easily get started with the software.

Key Features
The popularity of ApowerREC comes with reasons, as the software does deliver the screen recording function with full features to its dear users. Here are some key highlights of ApowerREC that drive to its success.
#1. Flexible Recording Options to Capture All Activities
ApowerREC is equipped with the screen, webcam, and audio recorders, enabling users to capture all activities on screens with only one software. With these 3 modes, you can almost capture all content displayed on your desktop at once!
Screen record: Everything  you display on desktop screen can be captured with ApowerREC.
Audio record: Both the system and microphone sound are available to recorded simultaneously.
Webcam record: Users are able to capture webcam only or together with the screen at once.

#2. Toolkit Available to Edit Recordings as You Need
While processing the screen recording, ApowerREC provides the handy toolkit, with which users are able to add add texts, lines, arrow, or other real-time elements to the recordings as a way to mark down some notes.
In addition, ApowerREC also provides the built-in editor to trim, adding watermark, or enhance the recording outputs to ensure better streaming experience after the recording is output.
#3. Advanced Screen Recording Features
In addition to the basic recording functionality, ApowerREC also equips some advanced features to deliver more user-friendly in-app control and higher-quality to output the recordings for local playback. Here are some of them:
Task recording: Users are available to preset a specific starting or editing time to auto-process the screen recording without keeping eyes on it.
Zoom recording: Flexibly control to enlarge or smaller certain recording area by simply pressing on the F10 hotkey.
Locked windows recording: Keep the recorder focus on recording a specific window or program separately, ensuring the recording process won't be interrupted or ended accidentally.
Spotlight recording: When you need to spotlight the content of a recording, by pressing the F4 key then the recording details on the recording screen will be highlighted.
Other Highlighted Features of ApowerREC
Cross-platform supported (Windows, Mac, Android, iOS compatible);
Customized recording settings;
Hotkeys are provided to control the recording to process in a more convenient way;
Instant sharing functionality available to upload recordings for sharing online;
Recording backup service supported to prevent sudden losing important recorded content easily.
ApowerREC Vs. Apowersoft Screen Recorder Pro Vs. Apowersoft Free Online Screen Recorder
You may discover that Apowersoft launches 3 screen recording software of different names on its official website, including ApowerREC, Apowersoft Screen Recorder Pro, and Apowersoft Free Online Screen Recorder. So what are the main differences among them? This following chart will give you a clear understanding:
Software
Features
Prices
Available Devices
ApowerREC
- Record screen, audio, and webcam;
- Take screenshot;
- Add annotation;
- Edit videos;
- Schedule tasks;
- Zoom recording;
- Locked window recording;
- Spotlight recording;
- Instant recording sharing and backup.
Yearly plan: US$39.95
Lifetime: US$69.95
Windows, Mac, Android, iOS
Apowersoft Screen Recorder Pro
- Record screen, audio, and webcam;
- Take screenshot;
- Add annotation;
- Edit videos;
- Schedule tasks;
- Zoom recording;
- Locked window recording;
- Spotlight recording;
- Instant recording sharing and backup;
- Customize output formats;
- Mouse tracking;
- Real-time screencast editor;
- Real-time screen monitoring.
Yearly plan: US$39.95
Lifetime: US$69.95
Windows, Mac
Apowersoft Free Online Screen Recorder
- Record screen, audio, and webcam;
- Manage Cloud videos;
- No software installation required.
Free
All devices
NOTE: Actually, ApowerREC can be considered as a lite version of Apowersoft Screen Recorder Pro, which provides all the core functions but still lacking in some.
Pros & Cons
Let's draw a conclusion on the pros and cons of ApowerREC now.
👍 Pros
Flexible recording modes available to capture all activities on screens;
Helpful advanced recording features provided to deliver a more convenient recording experience;
High-quality output guaranteed;
Smooth recording process;
Lightweight software takes low CPU to run;
Helpful instant editing and note taking features equipped.
👎 Cons
Less output settings available to customize the recordings;
Customer support is less responsive.
The Best Alternative: FonePaw Screen Recorder
If you consider another reliable screen recorder with more customized recording and output settings to deliver you better screen recording experience, FonePaw Screen Recorder is a nice alternative to ApowerREC, which comes full customization on the recording settings and control on the output parameters.  
You are able to preset the hotkeys based on your using habits, and the preferences settings also enables you to freely adjust the output format, quality, codec, etc. to ensure the quality in your own requirements. Despite these, FonePaw Screen Recorder also provides all recording modes that ApowerREC will contain to capture all screen activities. Hence, you can consider FonePaw Screen Recorder as an ideal alternative to ApowerREC.
Free Download Buy with 20% off Free Download Buy with 20% off

Main Features of FonePaw Screen Recorder
Available to record video, audio, webcam without lag;
Real-time annotation and screenshot taking supported;
Customize output parameters;
Gameplay and mobile device recording modes are both provided;
Noise cancellation to capture audio of the best quality;
Mouse track feature making tutorial making to be simple enough;
Scheduled and locked window recording boosts a more convenient recording experience;
Video/audio trimming function equipped.
Final Words
All in all, as a lightweight screen recorder, ApowerREC does provide efficient screen recording features for everyone to easily capture the desktop screen without hassle. But still, there would have certain shortcomings to selecting ApowerPEC. Hence, simply based on your requirements to decide whether to get started with it!