Summary:
This article has complied multiple solutions to stop lags and reduce file size in QuickTime screen recording. And if you are disappointed with QuickTime, we also have a recommended alternative - FonePaw Screen Recorder, which enables you to record high-quality video with smaller size and no lagging.
"How do I stop my QuickTime from lagging when I am recording my games?"
"How do I reduce QuickTime recordings file size?"
-- Users from Apple Community
Many MacBook users may come into the same problems mentioned above. As the built-in video player and screen recorder of MacBook and iMac, QuickTime can be counted as convenient and versatile. However, when it comes to its performance while recording Mac screen and the file size of the recorded videos it produces, QuickTime will lose its competitive edge.
Some Mac users complain that QuickTime will become choppy both when it is recording and playing videos. And it is common to find that the size of the recorded file can be way too big, like 1 GB for a 2-minute recording, which is hogging big chunks of disk space in his 128 GB MacBook Air.
But this doesn't mean you are out of luck. With the following methods, the QuickTime lagging issue will be fixed and QuickTime can create a smaller recording file for you.
How to Stop Lags and Reduce File Size in QuickTime
In order to solve the lagging issue and the large file size of QuickTime recording, we will first demonstrate 2 feasible methods that you can easily make in the QuickTime settings. But it's noted that as the default format of QuickTime recording, MOV, cannot be changed, you may need to compromise to lower quality when you avoid the lagging problem.
Here are the two methods you can refer to:
Other than making adjustments in QuickTime, there are also workable ways when you make use of some third-party apps. For example, you can try to replace QuickTime with a third-party recorder, so the recording will be more flexible. Or you can also use a video converter to help you compress the large-size QuickTime video and avoid quality loss.
Here are the details of the recommended methods and tools:
Method 1. Change Resolution from System Preferences in QuickTime
Changing display resolution on MacBook/iMac to lower resolution can somehow fix QuickTime lag and produce the recorded videos smaller in size. But notice that this may sacrifice a little visual quality.
Double-click the gear icon (System Preferences) from the toolbar on the bottom.
Click the menu icon on the top.
Click the Displays on the window.
Choose Resolution>>Scaled.
Click a comparatively lower resolution.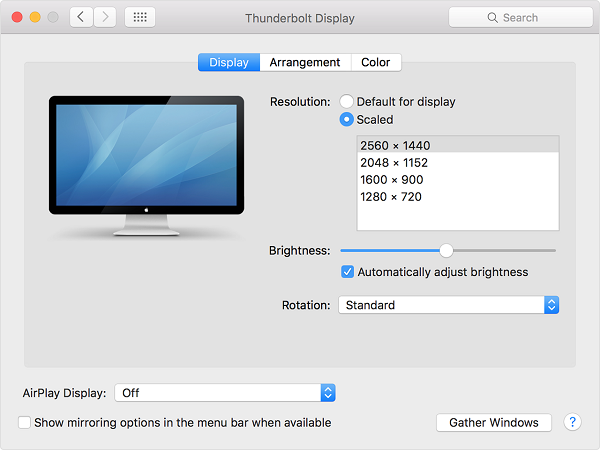 Method 2. Export QuickTime Video as Medium Quality
Another way to reduce the file size of QuickTime recordings is by exporting the recording in medium quality after the recording is finished.
On QuickTime, choose File >> Export As after finishing recording and you will get 4 options from the QuickTime Player menu bar: 1080p/720p/480p/Audio Only.
Select a medium or low definition like 720p or 480p.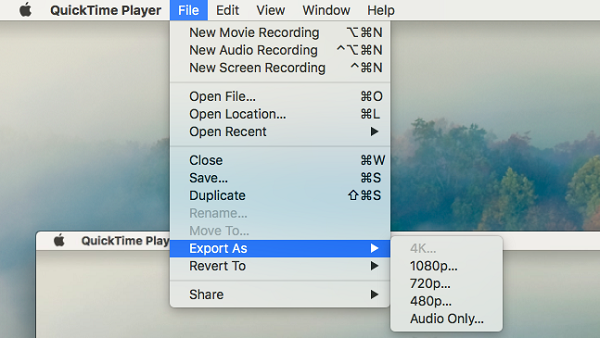 Note: users with the older version of QuickTime should adjust the video quality from the drop-down menu on the recording-control panel.
Method 3. Record Screen Without QuickTime
A shortcut to fix these QuickTime recording issues is by replacing it with a more multifunctional screen recording tool. FonePaw Screen Recorder for Mac is a professional QuickTime alternative when it comes to recording Mac screen. And it is now free to download.
Free Download Buy with 20% off
QuickTime Alternative - FonePaw Screen Recorder (Features Explained)
Smaller size: The recorded video of the same length and quality by FonePaw is considerably smaller in size compared with QuickTime Player. In my experiment, a 40 seconds long video recorded by the FonePaw recorder is 304 KB while the same recording in QuickTime takes 3.1 MB.
Never lag: FonePaw Screen Recorder supports recording your Mac screen in 60fps. This useful feature should create a smoother video and helps avoid lagging or delay in the picture when playing the recorded files.
Various output formats: Compared to the MOV-only output format of QuickTime, FonePaw is available for a diversity of video formats, for instance, MP4, MOV, WMV, F4V, TS, AVI, and GIF to satisfy more viewing needs.
Easy to use & Straightforward UI: If you compare the interface of FonePaw Screen Recorder with QuickTime recorder, you'll find the former one is more clear and you can finish the entire screen recording process even without any instructions. FonePaw Screen Recorder is also more user-friendly. For example, during the recording, there is a floating bar that lets you pause screen recording, enable the webcam and tell you how long you have recorded, etc.

Snapshot when recording screen: During the screen recording, the clicking of the camera icon on the floating bar enables you to capture the current frame of your video.
Annotation panel for better demonstrating: Click the pen icon and an annotation panel will be displayed, allowing you to draw or write in the screen recording.
Free Download Buy with 20% off
How to use FonePaw Screen Recorder on Mac
STEP 1. Double-click its icon to open FonePaw Screen Recorder on your Mac. Choose Video Recorder from the homepage.

STEP 2. You will see a floating bar where you can select a screen area, enable the webcam, record audio, and take screenshots.

STEP 3. After you have selected the recording area and set up all the recording settings, click the REC button to start recording.
STEP 4. During the recording, you'll see a new toolbar, where you can pause or stop the recording. On the toolbar, you can also click the pen icon to add annotations to your screen.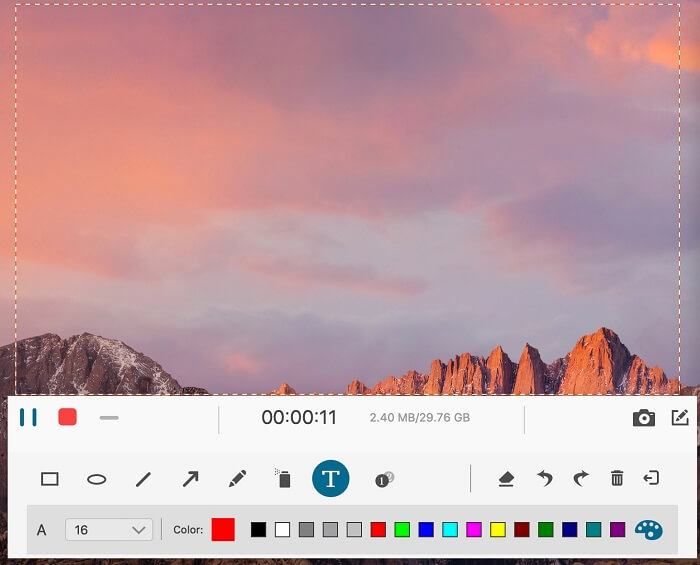 STEP 5. When you stop the recording, the recorded video will be saved in MP4. To access the recorded video, click the button on the top right corner to view the recording history, where you can see and share all recorded screen videos and screenshots.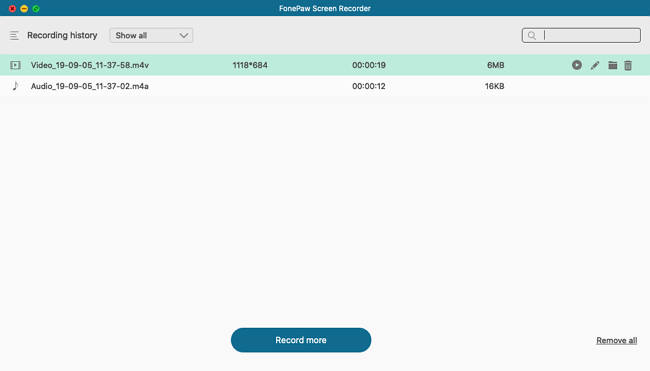 Free Download Buy with 20% off
Method 4. Reduce QuickTime Recordings File Size
QuickTime screen recordings are saved as .mov video files. Given the fact that MOV uses lossless compression, video stream encoded in MOV container is usually larger in size than in many other multimedia formats.
To reduce file size, it is advisable to convert the recorded MOV files to MP4 or compress the QuickTime video to reduce the file size. FonePaw Video Converter Ultimate is capable to handle both the compression and conversion job. If you worry that the video quality will be damaged after compressing or converting, you can also get ease because it's usually hard to find the difference with naked eye.
Free Download Buy with 20% off
In fact, by converting QuickTime videos to MP4 or compress the video directly, you not only save the storage space of your MacBook but also enable the videos to be easily playable on PC with the Windows system.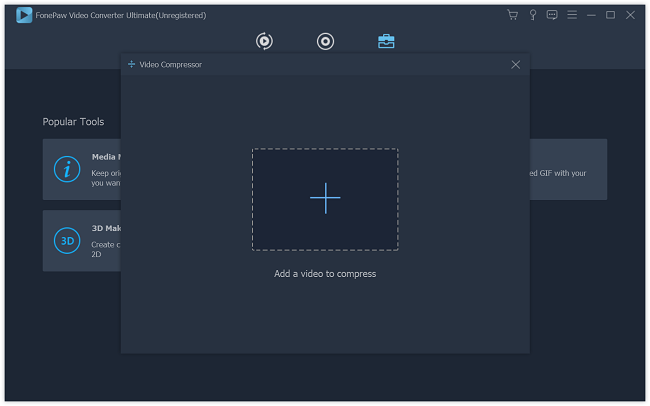 Above are the four methods that you can try to record Mac screen without lags and in smaller size. You can try to customize your recording settings in QuickTime. Or if you are fret about the limited features of QuickTime, you can also turn to other useful recording tools like FonePaw Screen Recorder.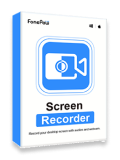 Screen Recorder
Capture every loving moment of your screen on Windows and Mac!