Summary:
If you are still running Windows 7/8/8.1, you may feel at a loss when you need to record the desktop activity, an online meeting, or a live streaming. No worry, the following will introduce 3 best methods to record screen on Windows 7/8. You can also try out the versatile FonePaw Screen Recorder at first to capture both screen and audio on your computer. The choice is all yours.
Free Download Buy with 20% off Free Download Buy with 20% off
Unlike Windows 10 computers, Windows 7 and Windows 8 computers don't provide a direct option to record computer screen. Perhaps you've been looking for a powerful and easy-friendly screen recorder that is perfectly compatible with Windows 7/8/8.1. Lucky for you, we've rounded up several feasible options that can balance between practicality and ease of use. They are all useful if you have such needs:
Record full screen activity;

Record system sound and microphone audio;

Record instructional video;

Online meeting recording;

Online lecture recording;

Business presentation recording;
...
Keep on reading to learn how to leverage these screen capture tools on Windows 7/8.
Method 1. Record Computer Screen Using Third-Party Software (The Easiest Way)
FonePaw Screen Recorder is our top recommendation when it comes to screen recording. This lightweight screen recorder can not only capture video and audio that are happening on your computer screen but also record your webcam if necessary. Besides the basic screencasting function, it also builds in with various features. For instance, you can flexibly record a customized area or a specific program. To help you create an interactive video recording, FonePaw Screen Recorder also provides the following options to improve your using experience.
Add mouse click effects to video recording;
Write, draw, and add annotations in the screen recording in real-time;
Add a webcam overlay to record your face and the screen at the same time;
Capture screenshots any time;
Test sound quality and effects before recording;
Restore unfinished video to find and save the accidentally closed recording project.
Besides, if you have the need to record a gameplay, FonePaw Screen Recorder supports recording in high and even lossless quality. And the output frame rate can be up to 60fps, keeping the visual quality close to the original gameplay.
So how to use this screen recorder for Windows 7/8? The method is simple.
How to Record My Computer Screen on Windows 7/8
FonePaw Screen Recorder for Windows 7/8 now provides a free trial version. Get this program now and start record video of your Windows 7/8 screen with ease.
Free Download Buy with 20% off
Step 1. Launch the screen recorder. Click Video Recorder for video screen capture.
Step 2. Select the recording area. You may record full screen or a certain area of the screen.

Step 3. Choose whether to enable to record your webcam, the sound of the system and the microphone. Click REC to start recording.

More tips
Tip: It is recommended to operate a sound check before recording. Click the gear icon > Sound to enter advanced sound settings.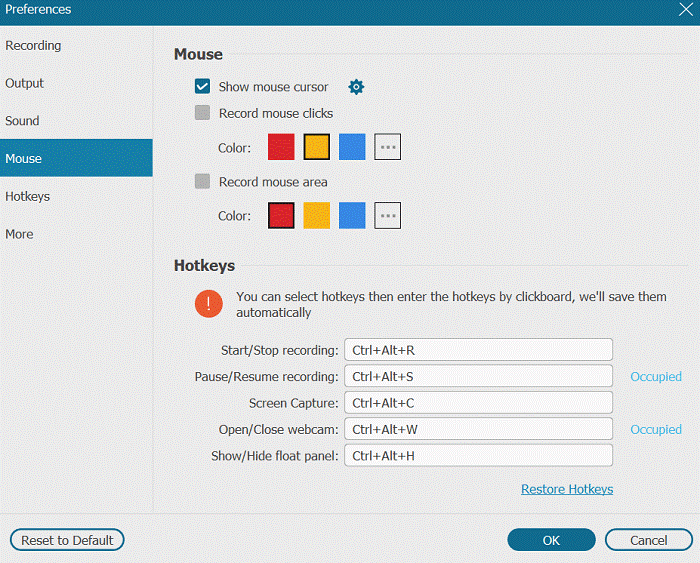 Step 4. During the recording, you can take screenshots or add annotations (text, line, circle) to your screen video.

More tips
Tip: You can also schedule your recording by clicking the clock icon and entering and duration of the screen recording.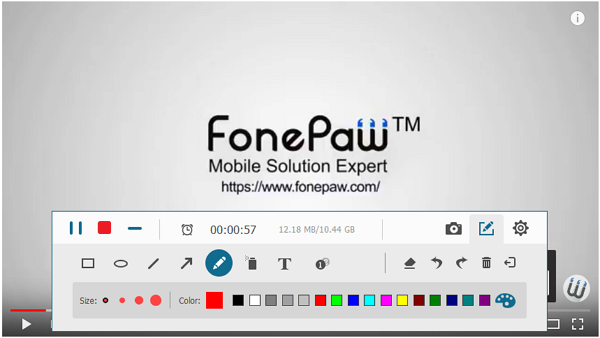 Step 5. Click the Stop button to stop filming. Then, you can preview, edit and save the video on Windows 7/8 PC. You can also upload it to YouTube, Vimeo, Twitch.
Method 2. Record Screen with Steps Recorder on Windows 7 (The Official Method)
Although Windows 7 and Windows 8 don't have built-in screen recorders, they do design with a hidden screen recorder called Problem Steps Recorder, which can help you record steps you take on the computer.
However, the recording is saved as an HTML file. So, Problem Steps Recorder is NOT a screen recorder that can capture screen video, but it is handy when you need to record a computer problem or demonstrate the steps of using apps/games on the computer.
Step 1. Click Start button > Accessories > Problem Steps Recorder (P.S. This method also applies to Windows 10. Click Windows Accessories > Steps Recorder).
Step 2. The Steps Recorder window will show up. Click Start Record.

Step 3. Go through all the steps you want to record and during the recording, you can click Add Comment, highlight the area you want to annotate, and type in your comments.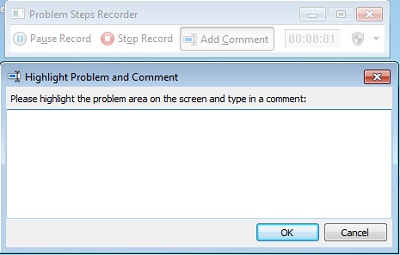 Step 4. When you are done, click Stop Record. The recording will be saved as a .zip file, which can be unzipped later and be viewed by a web browser.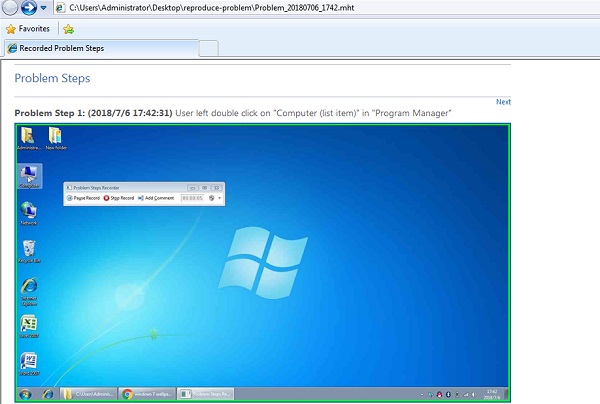 The table below presents the difference between FonePaw Screen Recorder and Windows 7/8 hidden screen steps recorder:
| | | |
| --- | --- | --- |
| | FonePaw Screen Recorder | Steps Recorder |
| Saving Format | MP4, MP3, WMV, and so on | .zip |
| Recording Area | Full screen and customized area | full screen |
| Audio | System & microphone sound | not supported |
| Annotation | Screenshots & real-time drawing | comments |
Method 3. Record Your Screen Using PowerPoint on Windows 7/8
In fact, your frequently-used productivity app, PowerPoint, can also serve as a screen recording app to record computer screen and associated audio that are playing. PowerPoint even allows you to save the recording as a separate video file.
Here's how to record computer screen with Microsoft PowerPoint.
Step 1. Launch PowerPoint, and create a new slide. Then head to the Insert tab and click the Screen Recording button.
Step 2. A new screen recording dock will be opened, and then you can click the Select Area button to customize a specific region that you want to record. By default, your system audio and your curser activity will be captured as well. Simply toggle these options, or press Windows logo key+Shift+U to deselect Audio and press Windows logo key+Shift+O to disable the setting to Record Pointer if you don't want.
Step 3. Once you are ready, click on the Record button to start capturing your screen. When PowerPoint record your screen, you can have three buttons to control the recording process.

Step 4. To end your recording, click on the Stop icon and then the recording will be saved and embedded on the slide you open. To save the recording as a separate file, you can right click the preview picture, and select Save Media as. Choose an output location, and name your recording. Finally, click on the Save button and your recording will be preserved successfully.
To conclude, this article introduces the best and easiest screen recorder for Windows 7/8 – FonePaw Screen Recorder. In comparison with the hidden Problem Steps Recorder and PowerPoint on Windows 7/8, the powerful FonePaw Screen Recorder has manifest advantages that can help you capture screen activities fast and efficiently.