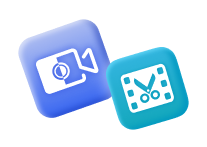 Screen Recorder + Video Converter Ultimate
Shop Now
Nowadays, you may need a reliable open source screen recorder to help you record online streams, movies, gaming, live events, meetings, lectures, and so on. Or, you may want to record your own videos to present your masterpieces to others. Be it a YouTuber or a regular user, you can sort out your best pick from the ranking of the top 10 best open source screen recorder software. Now, let's go over them one by one.
FonePaw Screen Recorder [Special Recommendation]
Supported OS: Windows 11/10/8.1/8/7/Vista/XP (32 bit or 64 bit), macOS X 10.10 or above
Before we go any further, FonePaw Screen Recorder is a powerful and versatile screen recorder for both Windows and Mac that you may want to check out and then compare with the following open source screen recorders. It's an all-in-one screen recorder to cater to any scenario with various record modes, including Video Recorder, Audio Recorder, Webcam Recorder, Game Recorder, Window Recorder, Android Recover, iOS Recover, and Last Recorder.
Free Download Buy with 20% off Free Download Buy with 20% off
Unlike free open source screen recorder software, it also comes out with a real-time editing toolbar that lets you produce a detailed and professional video. Moreover, it provides you with practical video tools after recording, like Advanced Trimmer, Recording Compressor, Video Merger, and Video Converter. FonePaw Screen Recorder will lead you through all the way from start to end.
Features of FonePaw Screen Recorder
● Easy to use as falling off a log.
● Cover all the scenarios with 7 record modes.
● Add shapes, arrows, lines, texts, steps, and pictures in real time.
● Apply mouse and keystroke effects to follow your route.
● Highlight the importance of your video using a cute little magnifier.
● Record any activity on the screen with a webcam overlay if needed.
● Record the full screen, a fit window, or a custom area of the display.
● Record online videos, live events, TV shows, and many sorts of online streams.
● Trim, compress, merge, and convert the recording when it's completed.
● Enable a scheduled task to start and end the recording automatically.
● Capture screenshots during the recording.


1. OBS Studio
Supported OS: Windows 11/10, macOS 10.15 and newer, Ubuntu 20.04 and newer
Speaking of free open source screen recorder software, OBS Studio should rank first. It's a dedicated broadcaster program that enables you to record a video or go live on the internet. It offers advanced features to make your recording smooth and stand out with filters & scenes. You can also take control of the recording with widgets. However, it cannot record onscreen activities and your webcam at the same time.
Features of OBS Studio
1. Free open source screen recorder.
2. Go live on YouTube, Twitch, Instagram, Facebook, and others.
3. Apply 20+ filters for your recording.
4. Record gaming and online videos on the screen.
5. Save recordings in MP4, FLV, MOV, MKV, TS, and M3U8.
6. Support up to lossless output video quality.
7. Preset scenes to make seamless transitions.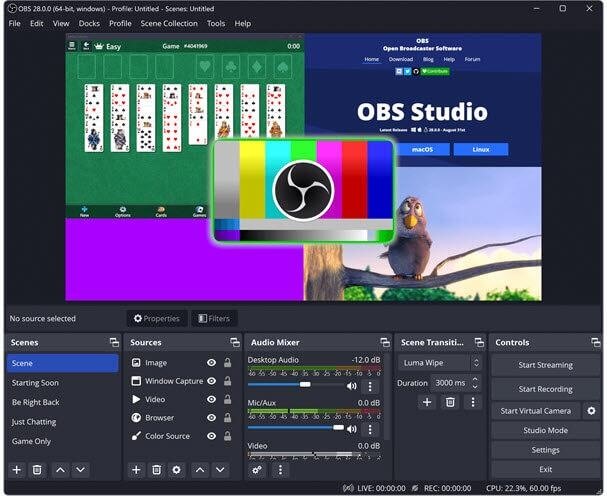 2. ShareX
Supported OS: Windows 11/10/8/7/XP
ShareX is a popular open source screen recorder for Windows. It can record a fit window, monitor, custom region, or full screen according to your needs. It also has an auto-capture feature to capture active windows automatically. Also, you can add annotations with its tool during the recording. If you're familiar with ShareX, you can also customize a workflow system to increase efficiency.
Features of ShareX
1. Free to use but a bit complicated for new starters.
2. Ad-free and lightweight for Windows computers.
3. Add real-time annotations in the process of recording.
4. Share your recording videos by URLs.
5. Offer a range of productivity tools.
6. Record a gif with ease.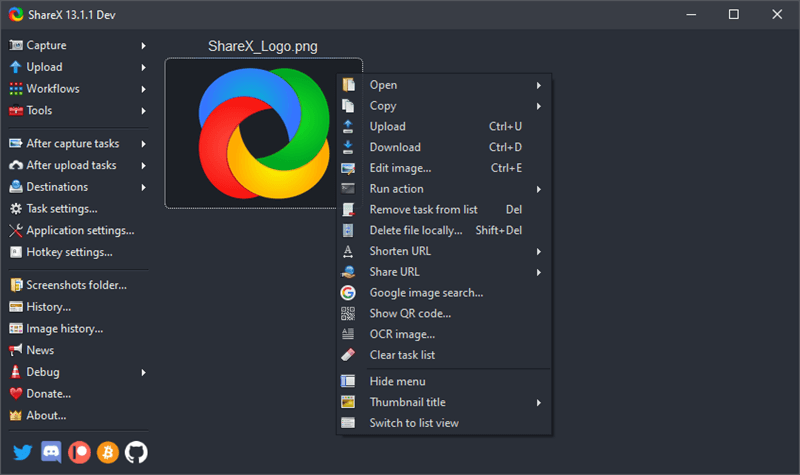 3. CamStudio
Supported OS: Windows 11/10/8/7/XP
CamStudio is also a windows-exclusive desktop screen recorder, which can record all the activities on the screen with sound. If necessary, you set the custom cursor effect for your recording. Moreover, it comes with a unique Video Annotation feature that lets you change the voice of your sound in the recording. The recording will be saved in the AVI format or turned into SWFs (Streaming Flash videos).
Features of CamStudio
1. Open source and free to perform on Windows.
2. Apply effects when recording the video.
3. Record both the screen and the webcam.
4. Customize the output video quality.
5. Offer Video Annotation to orally demonstrate the video.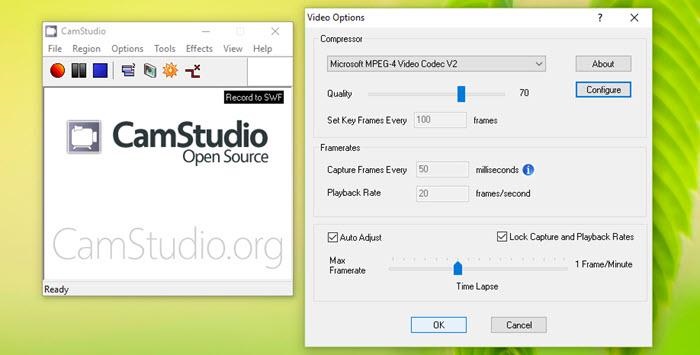 4. VirtualDub
Supported OS: Windows 98/ME/NT4/2000/XP/Vista/7 (32 bit or 64 bit)
VirtualDub was developed by Avery Lee and initially released in 2000. Therefore, it's quite an old-school screen recorder open source and free to use. It has a simple UI layout including a caption button, menu bar, info panel, and status bar, so it's easy to use indeed.
During the recording, it would perform real-time downsizing, noise reduction, and field swapping to make HD videos. However, it only supports the output format in AVI. Also, it cannot record the webcam along the way or edit the video after recording.
Features of VirtualDub
1. Free to use on computers running Windows.
2. Easy to use with a clean interface.
3. Record onscreen video and audio activities to AVI.
4. Ensure high-quality recordings.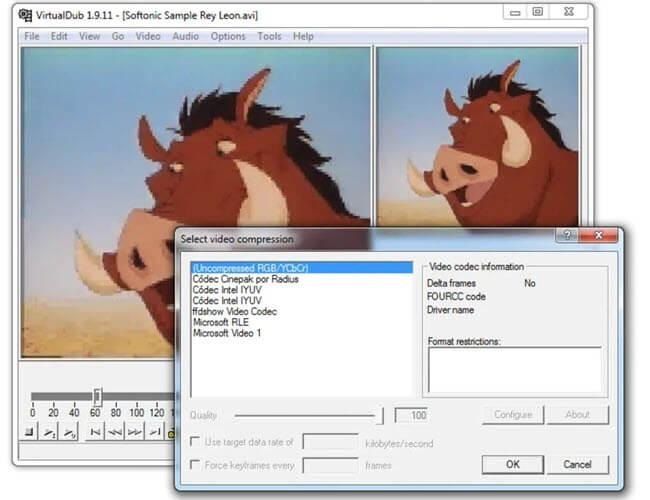 5. RecordMyDesktop
Supported OS: Linux
RecordMyDesktop is an open source screen recording application written for Linux, so you cannot download it on your Windows or Mac. It is divided into a command line tool and front-ends in Python for the respective functionality. Moreover, it's capable of capturing the audio via ALSA, OSS, and the JACK audio server. However, it doesn't come with any editing tools, so you cannot trim your recording before saving to your local storage.
Features of RecordMyDesktop
1. Easy to use with an easy-to-go interface.
2. Free open source for Linux.
3. Record the full screen or a select window.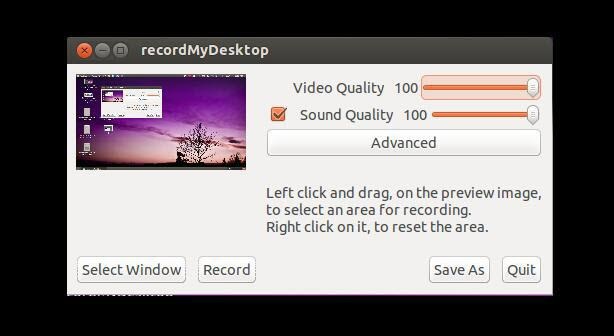 6. ScreenCam
Supported OS: Windows 8/7/Vista/XP
ScreenCam is a high-performance recorder and easy to use. It's able to record onscreen activities and even videos/movies on CD/DVD. Though it doesn't enable real-time annotation in the recording, it lets you add shapes, arrows, texts, stickers, and pictures to merge with the recording using its simple video editor. However, it's not available for Windows 10 and 11 so far.
Features of ScreenCam
1. Come with an intuitive user interface.
2. Free to use without any extra fee.
3. Provide a simple video editor for post-processing.
4. Record videos and audio on DVD/CD disks.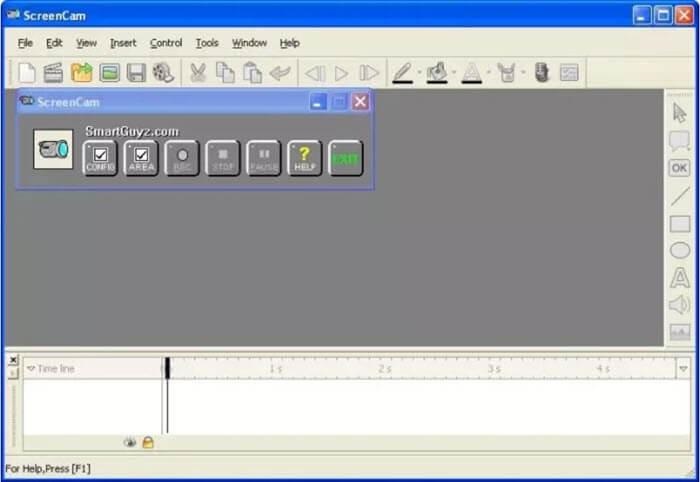 7. SimpleScreenRecorder
Supported OS: Linux
SimpleScreenRecorder is an open source Linux program that has a straightforward user interface. It enables you to record the entire screen, an active window, or a fixed area. What's more, you can set whether to follow the mouse cursor or even hide it during the recording. As for the video quality, you can set it to 30fps or 60fps. To rock your video out, you can add audio input from ALSA, OSS, and the JACK audio server. However, it does not yet support recording a webcam.
Features of SimpleScreen Recorder
1. Have an easy-to-go interface design.
2. Free to use on Linux.
3. Add audio input to your recording.
4. Scale the video to a certain resolution.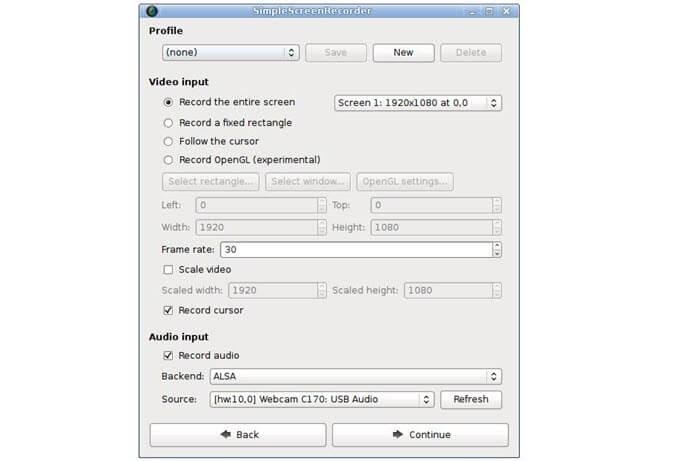 8. Freeseer
Supported OS: Written in Python and available on GitHub
Freeseer is a free open source screen recorder that can record desktop activities, such as presentations, demos, lectures, and so on. It's mainly used to filter and record hundreds of talks to OGG files. Also, you can upload OGG and WebM files to YouTube directly using Freeseer. If you are an expert at Python, you can add extra features with plugins on your own.
Features of Freeseer
1. Easy to use with a simple interface.
2. Upload files in OGG/WebM videos to YouTube.
3. Fully open its source code for developers.

9. Captura
Supported OS: Windows
Captura is regarded as one of the best open source screen recorder software. All credits go to Mathew Sachin. It's designed to record onscreen video and audio with or without a webcam overlay. Moreover, the webcam can be saved as a separate file. You can also use it to record your favorite games if supported. When the recording is in progress, you can add real-time drawings and apply keystroke effects. When done, you can output the recording to various formats at up to 60fps.
Features of Captura
1. Come with a clean and well-designed interface.
2. Free and easy to use on Windows desktops and laptops.
3. Record the computer screen and yourself with the camera.
4. Capture screenshots during the recording.
5. Encode your recording with different codecs.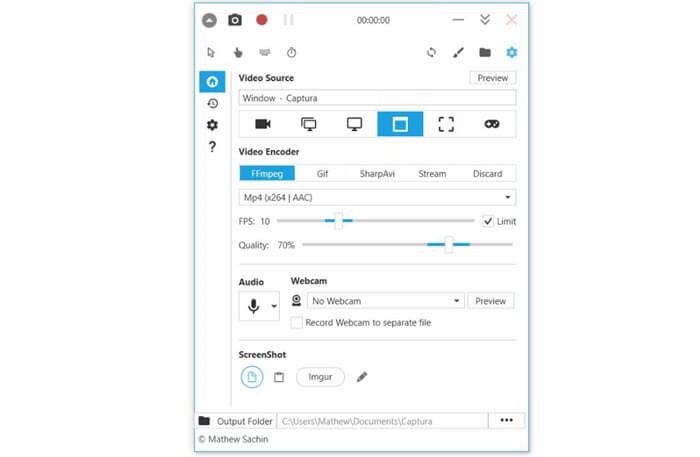 10. XVidCap
Supported OS: Windows
XVidCap is a lightweight open source screen recorder for Windows developed by Karl. It's still workable to record activities on the computer display and add drawings/shapes using its pen tool in the process of recording, but it has not been updated since 2006. The recordings will be stored in MPEG files with an optional sample rate and bitrate. However, it doesn't support to record your internal or external webcam along with the recording.
Features of XVidCap
1. Free and easy to start with a user-friendly interface.
2. Capture onscreen activities to MPEG file.
3. Allow users to adjust the recording quality.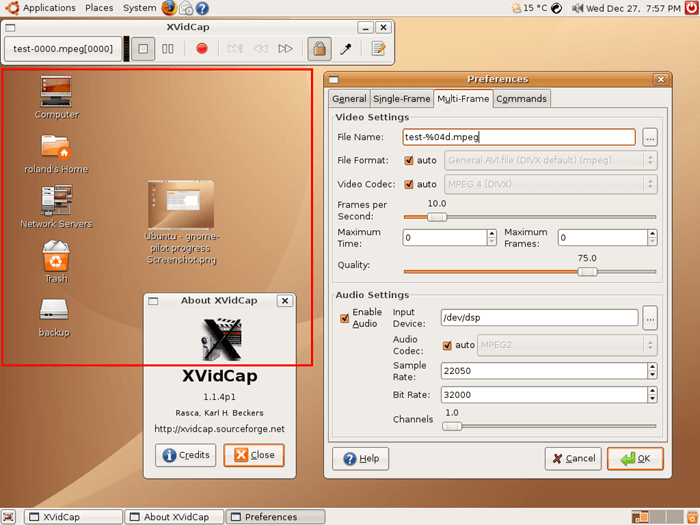 Comparison Table
After going over all the open source screen recorders, which one do you prefer? If you have trouble picking the preferred one. You may take a look at the comparison chart below and make up your mind later.
Open source screen recorders are available on Windows or Linux, but few of them can record the screen on Mac. If you're looking for a screen recorder for Mac, you might as well try FonePaw Screen Recorder. What's more, compared to the top 10 best free open source recording software, it's obvious that FonePaw Screen Recorder stands out with its multifunctional features and professional service. It allows users to add real-time annotations and post-process the recording with its toolkit. Try it out and you'll see.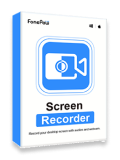 Screen Recorder
Capture every loving moment of your screen on Windows and Mac!