You can accidentally delete important text messages because of a wrong tap or lose all the messages after a factory reset, system crash, Android update, rooting, etc. The good news is, you can still recover the deleted texts from your Android device so long as they are not overwritten by new data.
Can You Retrieve Deleted Texts?
Although there is no recycle bin on Android phone, nor there is a undo button to undelete text messages on Android, text messages CAN be recovered after being deleted from Android.
The truth is after you delete a text message from your Android phone, the phone doesn't immediately delete the message from its memory space, instead, it changes the space the deleted messages occupied as "unused" and when you continue to use the phone and create new data, the new data will overwrite the deleted messages and occupy the space. This gives you a chance to retrieve deleted messages before they are overwritten.
I'm not gonna lie to you, although it is possible to recover deleted text messages from Android, it is not easy to actually get the deleted text messages back
For one thing, the location of the deleted messages is hidden in the phone storage. There is no normal way that enables you to access the folder that contains the deleted messages, even with the best file manager app. Only by using an SMS recovery software can you access the deleted Android messages.
For another thing, if you continue to use the Android phone after deleting the messages, there is a chance that the deleted messages have already been overwritten by new data and become unrecoverable, especially when the messages have been deleted for days or even months.
Video Tutorial: How to Recover Deleted Messages on Android
Best Solution: Use Android SMS Recovery Software
FonePaw Android Data Recovery is a PC-based application that can find deleted, old text messages from Android phone memory and get them back. It is very easy-to-use: all you need is connect your phone to a computer and follow the on-screen instruction of the program to restore the deleted text messages that you need.
Main Features
Easily recover deleted Android SMS, MMS on Android phone, including the texts, contacts information, date;

Provide a preview of the deleted text messages so that you can select the needed texts to recover;

Save that recovered Android messages in HTML, CSV to better view the deleted messages on the computer;

Supports Android text/data recovery on Samsung Galaxy(e.g. Galaxy S10/S9/Note9/S8/S7/S6/S5), HTC, Motorola, LG, Sony, Google Nexus, OnePlus, ASUS, Huawei, Xiaomi and more, covering most Android brands;

Also can recover WhatsApp messages, photos, call logs, contacts, and other data on an Android phone.
Free download FonePaw Android Data Recovery on your Windows PC or Mac and then follow the steps to recover deleted text messages from Android phones.
After you lost your Android data, please note that:
Stop using the device to prevent the newly written data from overwriting the lost data and affecting data recovery.
Keep enough battery & prepare for a USB.
STEP 1. Connect Android to Windows
First of all, launch Android Data Recovery on a computer. Connect your phone (Samsung Galaxy S10/S9/S8/Note 9) to a computer with a USB cable. The program will immediately detect your Android phone and prompt you to enable USB debugging on the phone if you haven't.
Free Download Buy with 20% off Free Download Buy with 20% off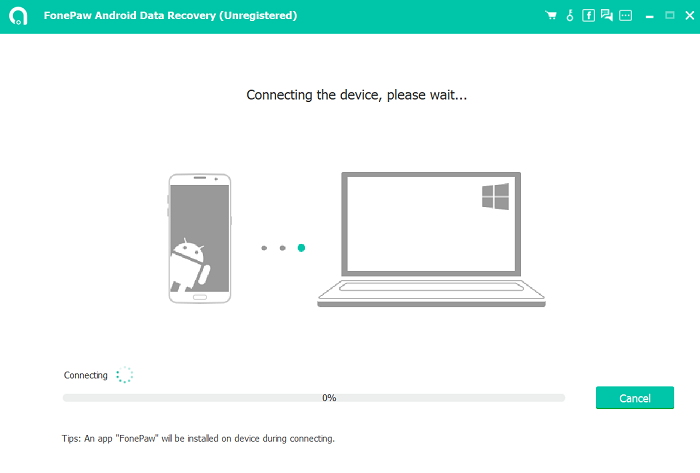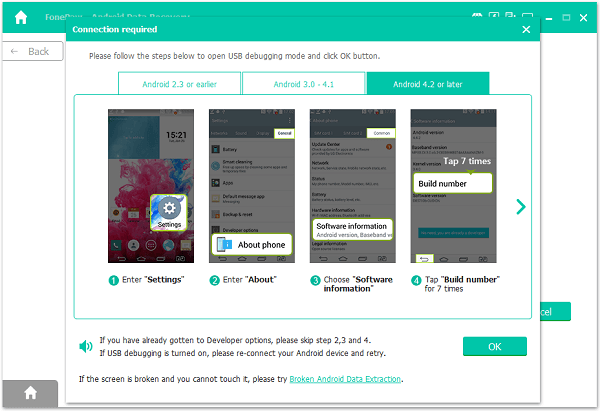 STEP 2. Choose to Restore Text Messages
Once the computer and the phone are connected, the program will show the below screen and you can choose what kind of data you would like to recover from Android. You can choose to recover deleted photos, WhatsApp messages, contacts, videos from Android. In this case, choose "Messages" and click "Next".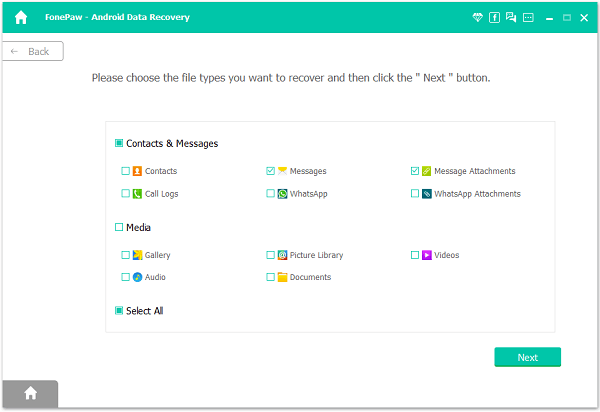 STEP 3. Install FonePaw App
The program will try to scan your Android phone for deleted messages. To gain permission to access your phone data, the FonePaw app needs to be installed on your phone. Therefore, the Android Data Recovery program will ask you to enable Install via USB.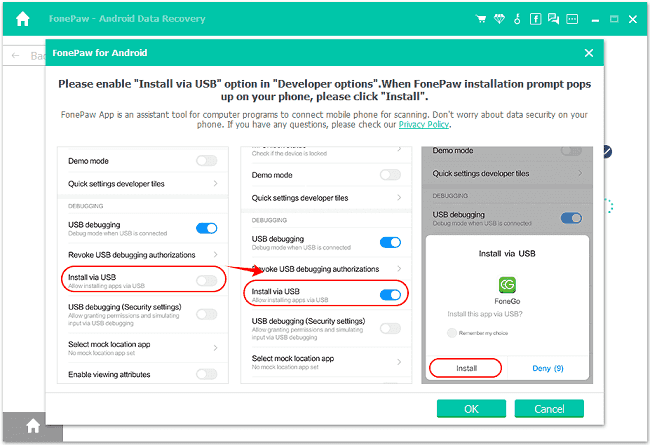 Follow the on-screen instruction to enable the option and tap Install when you see the following pop-up on your Android phone.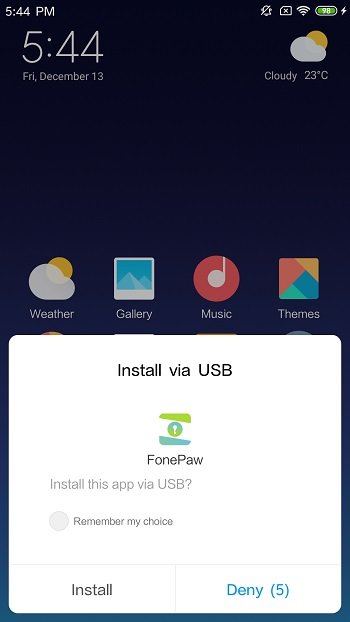 STEP 4. Give Permission to Scan Deleted Messages
Once the FonePaw app is installed, you can give permission to Android Data Recovery to access your deleted data. When FonePaw asks you to allow its access to read messages on your phone, tap Allow. Otherwise, the program is unable to find deleted text messages from your Android phone.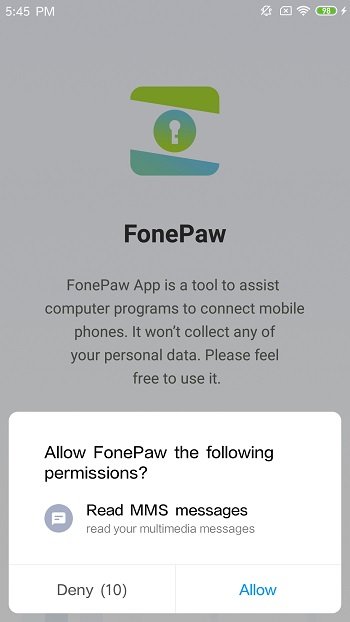 After you have granted all privileges, click Scan Authorized Files to scan out the deleted messages.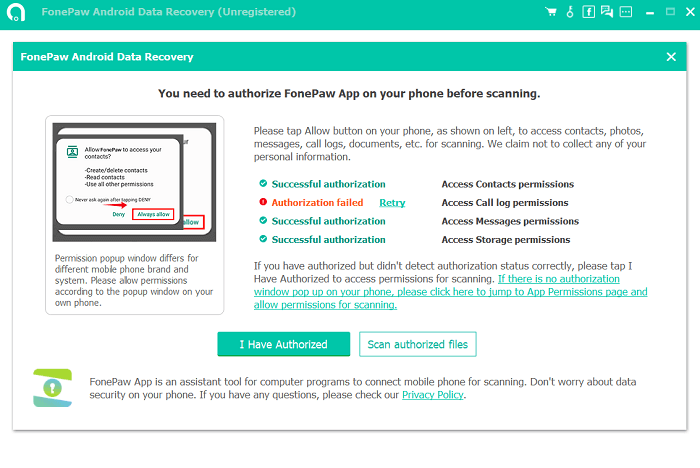 STEP 5. Preview and Recover Text Messages from Android
The program will first perform a standard scan on your phone. If you can't find the missing messages that you need after the standard scan, click Deep Scan to find more.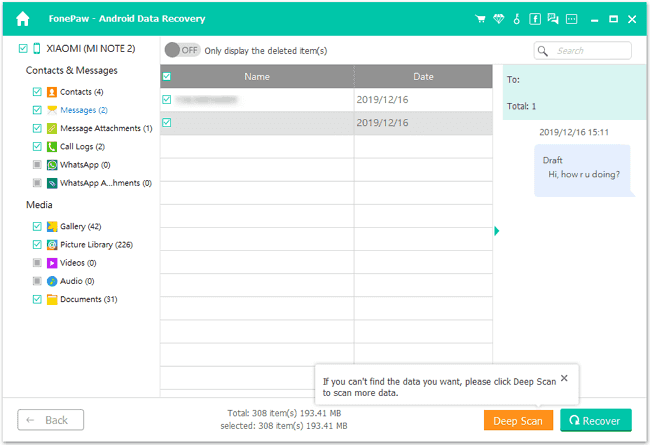 After the deep scan, deleted messages will be displayed in red font. If you want to look at the deleted SMS only, just tap "Only display the deleted items" to ON.
Click the text messages you want to restore and then press the "Recover" button; the program will recover the messages to PC.
As it is shown in the following screenshot, FonePaw Android Data Recovery saves the deleted messages on your computer in CSV and HTML formats. You can open the CSV file in Microsoft Excel or in a text editor like Notepad. It is small-sized and easy to be printed out.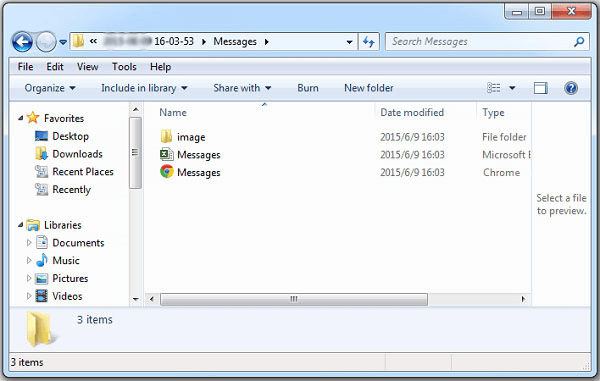 And the HTML file will display the recovered messages in a more organized and clear manner. So if you just want to read the messages, HTML might be a better choice for you.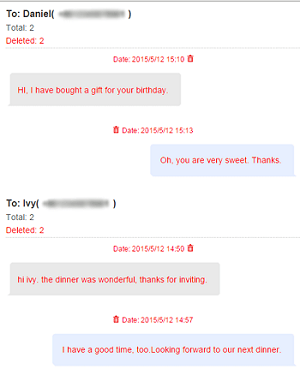 FAQ: Can I Recover Deleted Messages on Android without Root?
Deleted text messages are stored in a hidden folder of your phone memory, which can't be accessed by regular file explorer. Only after rooting your Android phone can an Android data recovery app gain access to the deleted messages.
Therefore, although there are apps claiming that they can retrieve deleted text messages from Android without rooting, it is actually impossible to get back your deleted text messages without rooting.
Hot Tip: Back up Messages on Android Phones
How long before deleted texts are overwritten?
There is no way to find out how long it will take before the deleted texts will be overwritten, but it is for sure that the sooner you take action, the greater chance the deleted messages can be recovered.
Once you know that some important text messages are deleted, you should:
Put your Android phone in Airplane mode. By turning off network connection on your phone, it prevents the deleted messages from being overwritten by new messages, phone calls or other data.

Avoid creating new files on your Android phone. For example, try not to use it to take new photos, download a new file, etc.
Then you'll need to act fast - get an SMS recovery software for your Android phone as soon as possible to recover your deleted text messages before they are overwritten.
Therefore, to protect your text messages from being deleted again, it is a good idea to back up important Android SMS regularly so that you can have an extra copy of the important text messages in case they are deleted by mistake.
How to Back up SMS text messages to Google Drive
Open Google Drive app, tap Settings > Google backup > SMS messages and enable SMS backup.
How to Back up SMS text messages to PC
Another option is to back up text messages to a computer. FonePaw Android Data Backup & Restore allows you to make a backup of your text messages. If some messages are mistakenly deleted from your phone in the future, you can always find the deleted messages on the PC and restore them to your phone.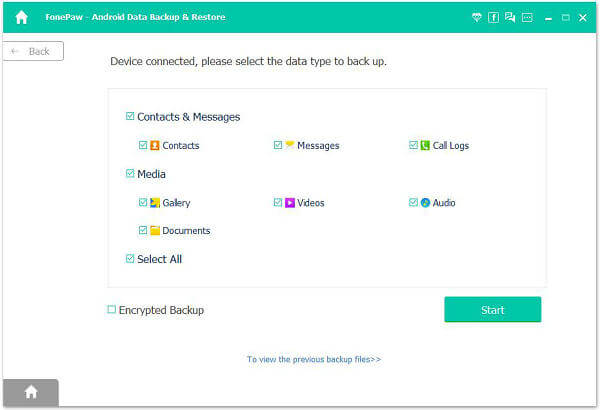 Above is the whole guide to retrieve deleted messages from Android. If you have any problem, let us know by dropping a comment below!