Call history is something we tend to ignore on the phone. You might regularly back up photos, videos, contacts, messages but hardly bother to make a copy of the call logs. So when you urgently need to recover deleted call logs on Android, you may be stumped.
This post is going to help you troubleshoot the call history recovery issue. It is possible to retrieve deleted phone calls from any Android phone even though there is no backup. The method on the post can retrieve deleted call log on Samsung, Google Pixel, Nexus, HTC, LG, Huawei, Xiaomi and more.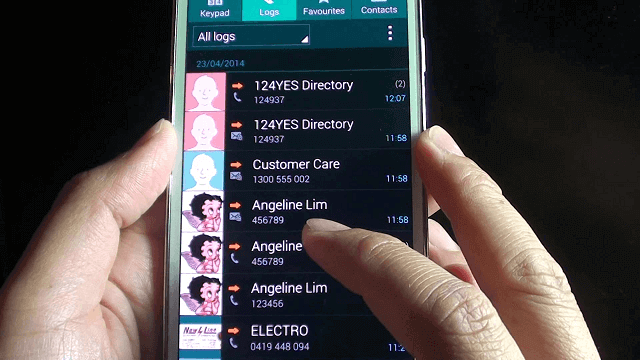 # How Does Deleted Call History Recovery Work?
Even though the call log history has been deleted and you can't find them in Recent Calls on the phone, the call logs actually continue to exist somewhere on your phone memory and SIM card. What you need to is:
A computer;
An Android call log recovery program to retrieve the deleted call logs as soon as possible. We have to act fast as the deleted call logs can be overwritten by new data at any minute.
Tip: You may want to avoid using data recovery app to recover call logs, contacts, messages without a computer. Because the installation of the app on your phone could overwrite the deleted data and make them unrecoverable.
FonePaw Android Data Recovery (opens new window) has helped many users to recover deleted call logs in Android. By running this call history recovery tool, you can see the deleted phone calls on Android, retrieve deleted phone numbers from call logs and export the whole call history in HTML file. It provides all details of a phone call, including caller & recipient, phone number, date, duration.
Free download FonePaw Android Data Recovery on PC or Mac.
Free Download Buy with 20% off Free Download Buy with 20% off
# Steps to Recover Deleted Call Logs from Android
STEP 1. Plug Android Phone to Windows
Run the call history recovery program. Next, plug the Android phone to the computer using a USB cable.
Tips: Make sure your Android device can be detected by a computer, and there is more than 20% battery left on your phone.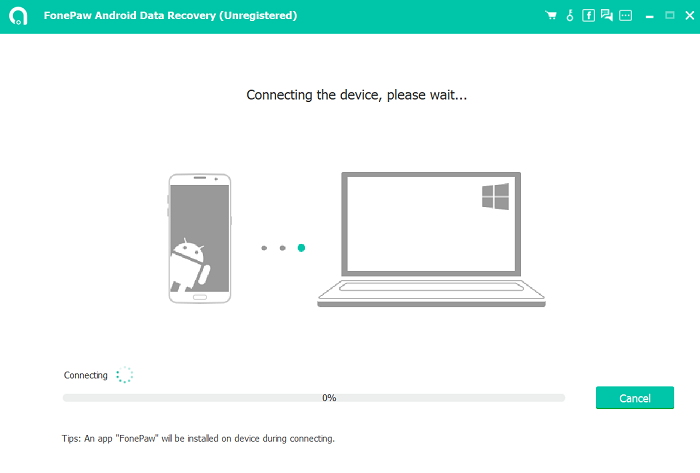 STEP 2. Enable USB Debugging
You need to open USB debugging for the program to detect your Android device. You can easily turn on USB Debugging by following the screenshot guideline on the program. (Learn more: how to enable USB debugging on devices running on different Android OS (opens new window).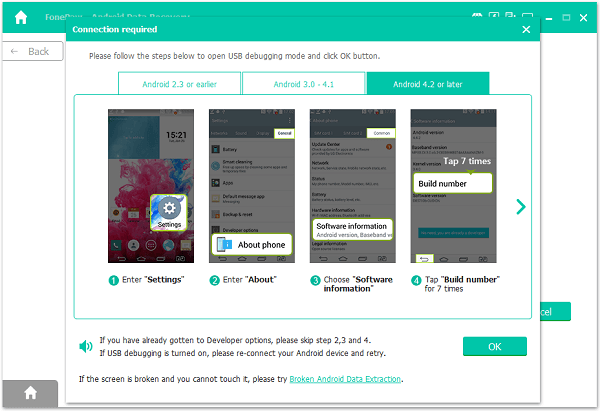 STEP 3. Choose to Scan Deleted Call History
The program will display all file types that it can recover. It can recover deleted call logs, text messages, WhatsApp messages, contacts and more.
To recover only phone calls, choose "Call Logs" and then press the "Next" icon.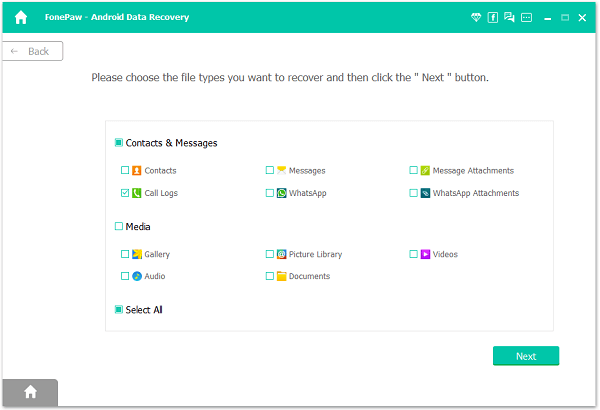 People Also Read:
How to Recover Deleted Text Messages on Android 2021 (opens new window)
STEP 4. Allow to Install FonePaw App
In this step, the program requires you to turn on Install via USB on your Android phone and install the FonePaw app, which is designed to gain permission to read deleted call history from the Android phone. Follow the built-in guide to install the app on your phone.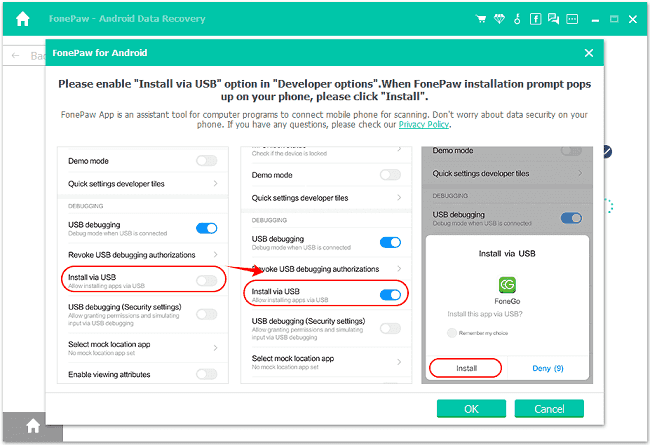 Step 5. Grant Access to Call Logs on Android
The FonePaw app will pop up several messages asking for your permission to access phone data. Open your phone and tap Allow, enabling the app to read call history, contacts, etc. from your Android phone. Then click Scan authorized files to start recovering call logs from your phone.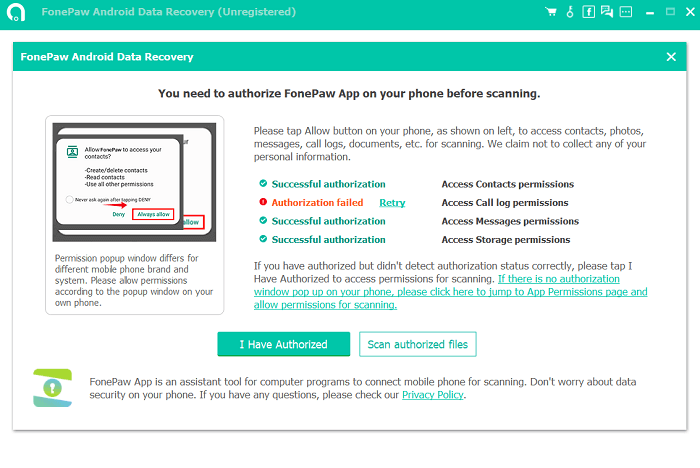 STEP 6. Retrieve Call Logs from Android Phone
The program will scan out all existing call history on your Android phone at first, click Deep Scan to restoring the deleted call history.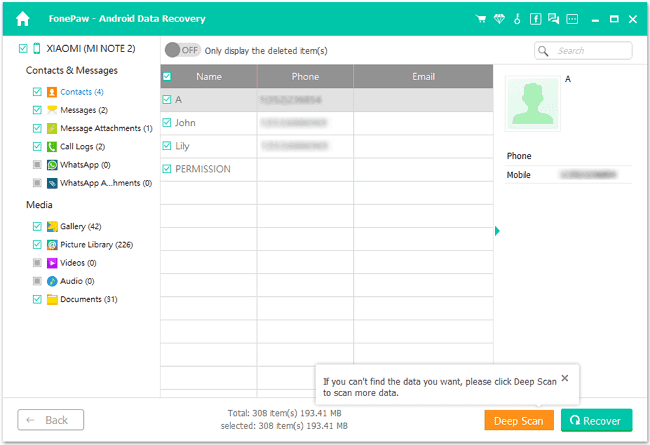 After getting all call history from Android phone, the program will display it chronologically. Click "Call Logs" at the left side to view the deleted and existing call history in details, including name, phone number, date, type, and duration.
Tick the call logs that you need and click "Recover". They will be exported to your PC in HTML formats. Thus you have done the deleted call logs recovery.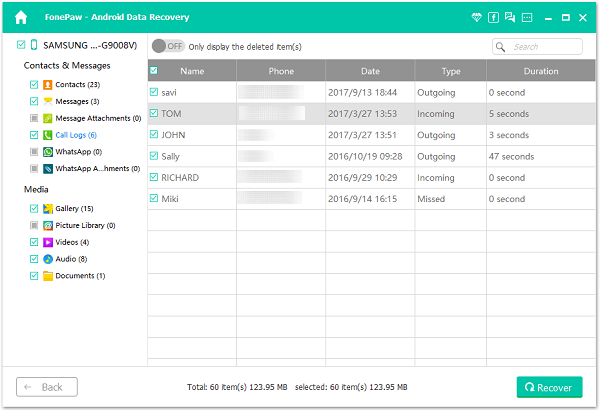 One more tip: don't forget to back up your Android phone (opens new window) from time to time so that you can always recover the data if they are mistakenly deleted.
Besides deleted call logs, FonePaw Android Data Recovery can also retrieve lost contacts and text messages from Samsung Galaxy Note 8/S9/S9 Plus/S8, Sony Xperia XZ, LG G6/G5, HTC U11/10, OnePlus 3, Huawei P10/P9 and more.
Free Download Buy with 20% off Free Download Buy with 20% off
# Fun Facts: How Many Call logs Can You Have On A Cell Phone
On most Android smartphones, the call log limit is set to 500 records, including incoming, outgoing and missed calls. Most of us find the number satisfactory. But for those who need to keep a longer record of call history or track back the earlier record, the 500 limits could be a problem. And thanks to the developers who pay attention to the need of the minority, it is possible using 3rd party apps to store unlimited call history on your phone, for example, apps like Unlimited Call Log, BearContact.