Summary:
When the phone screen is broken, how to get photos, contacts off the phone? This guide will show you all the possible ways to recover data from Android phone with a broken screen.
A smartphone is just a fragile little device, no matter how the manufacturer brags about its ability to resist water and dust. Sometimes accidents happen, breaking the phone screen.
Does it mean that you have to say goodbye to both the phone and important data inside it? Maybe there is little you can do to fix the broken phone, but you definitely can retrieve data from the broken phone with the right methods. Here are methods to access and recover data from Android phone with a broken screen, including Samsung, LG, HTC, Nexus, Google Pixel, etc.
Retrieve Data from Broken Phone
To perform Android broken screen data recovery, our first method is to use a third-party program - Broken Android Data Extraction, which can recover files from broken Android phone(only Samsung) without USB debugging.
It allows users to access Samsung phone with a broken screen and get photos, videos, messages, contacts, documents, etc. off it.

It can extract data not only from phone with a broken screen, but also from a dead, unresponsive, locked Samsung phone.
STEP 1. Launch Broken Android Data Extraction on your PC. Click the Start button.
Free Download Buy with 20% off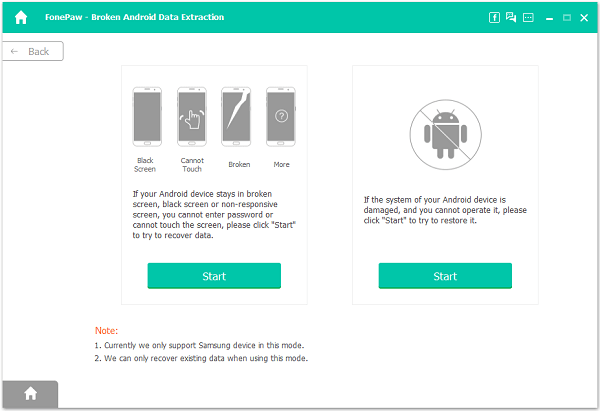 STEP 2. Then choose your device name and model. If you are not sure, click the question mark to get instructions. In the article, we use the program to get photos off a Samsung Galaxy S4 with broken screen.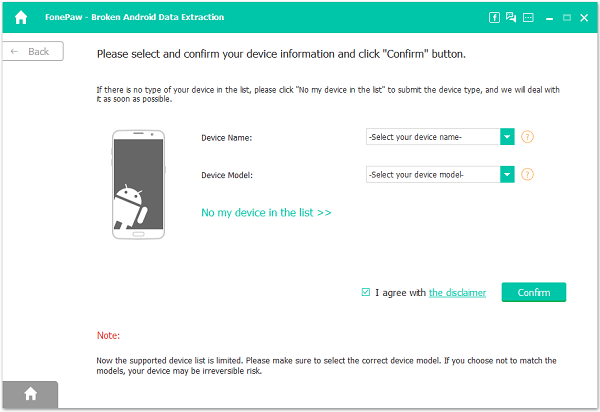 STEP 3. Put your broken phone in Download mode. If you don't know how to do that, click Start to follow the instruction to enter Download mode. Then connect the phone with broken screen to PC via USB cable.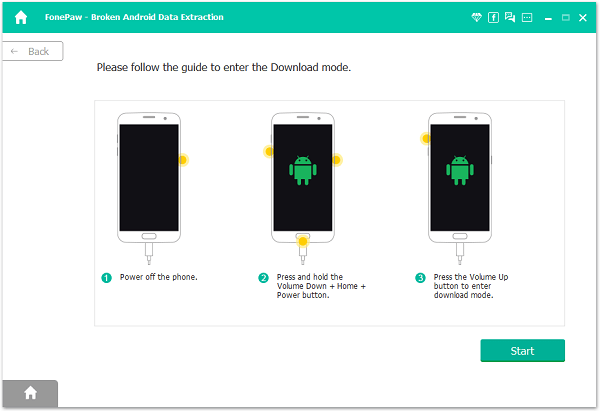 STEP 4. The program will begin to download the recovery package for your broken phone and recover phone data. Wait patiently until the progress bar reaches 100%.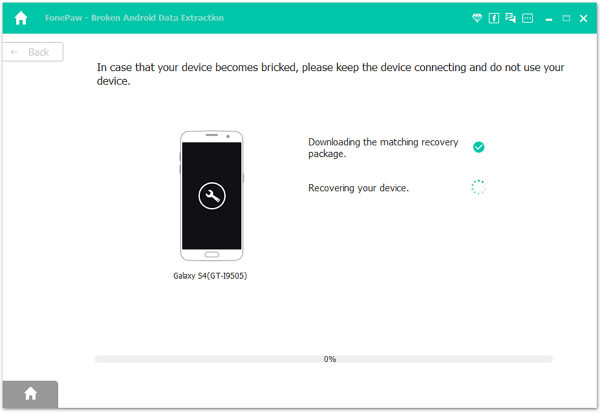 STEP 5. All photos, messages, videos, etc. from the phone will be displayed by categories. Choose the needed data and click the Recover button to get data off the broken phone.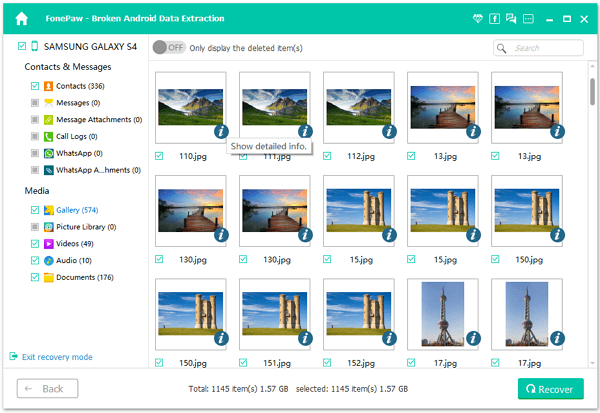 Video Guide: How to Perform Broken Android Data Recovery
Broken Android Data Recovery with AutoPlay
If you have USB debugging enabled before the Android phone screen is broken, you can also connect the phone to a Windows PC and get photos off the broken phone with Windows' AutoPlay.
STEP 1. Connect your Samsung, HTC, Sony, LG, Pixel with a broken screen to PC.
STEP 2. If the USB debugging is enabled on the phone, the AutoPlay window will pop up automatically. Click "Open folder to view file" to access the phone memory. Copy files off the phone to PC.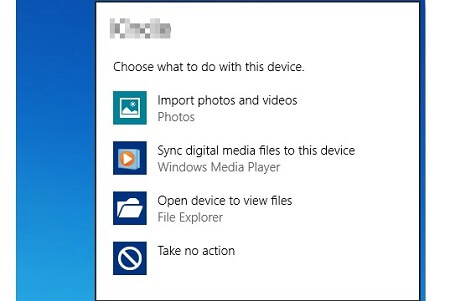 Retrieve Data from Broken Phone with SD Card/SIM Card
Many people might save photos, videos on their phones to an SD card and contacts to the SIM card. When we couldn't turn on or unlock an Android phone because the phone is dead or its front screen is broken, we can insert an SD card/SIM card to another workable phone to rescue phone data. The method is simple.
STEP 1. Remove SD card or SIM card from a broken phone. If the phone has a removable back, like Galaxy S6, LG V20, you can easily pry off the back cover and remove the SD card and SIM card. But now many Android phones come with non-removable back covers, like HTC One M8, Samsung S7. You'll need to:
Insert the tip of the tray eject tool that came with your phone (or a small paperclip) into little hole next to the microSD/SiM card slot.
When the card tray ejects, pull the card tray out and remove the microSD card or SIM card.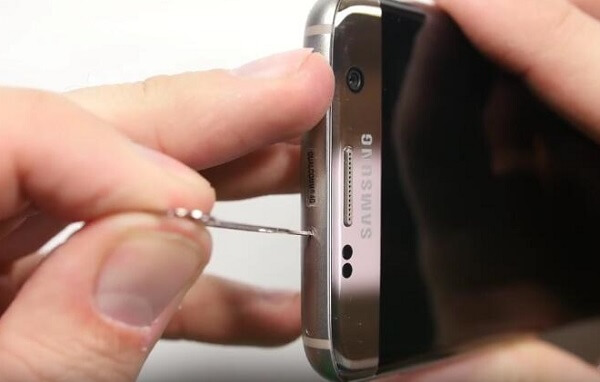 STEP 2. Insert the SD card or SIM card into a workable smartphone. Then you can move needed data from the card to the phone. However, in most cases, we can only find part of the photos, music, videos from the SD card, and some contacts from the SIM card.
If you want to find more photos, contacts, music from SD card, there are SD card recovery software programs (opens new window) that can help you get lost files from the SD card.
Some users wonder if they can retrieve data from internal memory chips as they did with an SD card. In fact, an internal memory chip is soldered to the mainboard on the phone. It is hard to desolder it; or even if you do manage to desolder it, you can't easily get data out of it because the chip isn't an SD card that can be read by a standard reader or fit the card slot of a smartphone.
Tip: How to Access Android Phone with Broken Screen from PC
Accessing Android phone with the broken screen via PC is a good idea. And there is a tool named Android Control from XDA Forum, allowing you to access your Android device via a PC. However, to use the tool, USB debugging needs to be enabled on the phone and you also need to use ADB on your computer, which is a little complicated.
STEP 1: Download Android Control and Install ADB on your PC.
STEP 2: Launch ADB tool and enter the following commands:
Adb shell
echo "persist.service.adb.enable=1" >>/system/build.prop
echo "persist.service.debuggable=1" >>/system/build.prop
echo "persist.sys.usb.config=mass_storage,adb" >>/system/build.prop"
STEP 3: After the PC reboots, connect your Android device to your PC. You'll see Android Control, from which you control your broken device via your computer.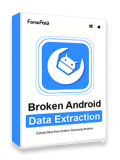 Broken Android Data Extraction
Save your important files from frozen or broken Android devices!