Many iPhone users may wonder whether iCloud backups text messages on their iPhone and if they've subscribed the iCloud storage plan, they are likely to be curious about how to view text messages on iCloud. In fact, Apple gives options for all users to check iMessages online. And it is even possible to access iPhone messages from a Windows computer. This post will focus on all feasible solutions to view text messages and iMessage on Windows and Mac platforms. Even old models such as the iPhone 6 or iPhone 6S can leverage this feature. Getting your text messages and iMessage out of iCloud can be as easy as pie.
Part 1. Can I View iPhone Messages on iCloud?
Usually, iCloud saves messages history including iMessage, SMS (text messages), and MMS messages on your iPhone. The new feature Messages on iCloud allows users to save iMessage to iCloud storage and view iPhone messages on Mac, iPad, and more.
However, Apple doesn't give the specific location where your iCloud backup files are stored. You can view photos, contacts, notes, reminders, etc. on iCloud.com, but text messages/iMessages are not typically viewable on iCloud.com.
What happens if I turn off iCloud messages?
iCloud allows you to sync all messages better across all your devices with the same Apple ID. If you turn on iCloud messages, messages and conversations you receive from on device will also appear on your other devices. Similarly, if you delete any message on one of your iOS devices, it will be deleted from all your devices.
To avoid losing important messages on all your iOS devices, you can choose to turn off iCloud messages. When you turn off it, your message history will be included in a separate iCloud backup. Your other devices that remain on in iCloud messages will continue to save and sync the messages you receive from other iOS devices.
However, even if iCloud can keep and sync all your messages, you cannot view the messages on iCloud or online directly. Due to this reason, even if someone has your Apple ID, they cannot see your text messages. So how to access messages on iCloud and see them?
Luckily, with an iPhone backup extractor like FonePaw iPhone Data Recovery, you can access iMessages, text messages on iCloud backup.
Part 2. How to View Text Messages on iCloud from PC/ Mac?
View iMessage on a Mac
If you sign in with the same Apple ID as your iPhone, you can view iMessage/text messages on Mac. And if you have enabled Messages in iCloud on iOS 11.4 or above (including iOS 13 and iOS 14), the iPhone messages will sync with Mac.
View iMessage on a PC
Since iMessage is a service developed by Apple, you cannot view iMessage on a Windows PC as you do with the Mac computer. The only way to receive or check iMessage is via other Apple devices like iPhone, iPad, iPod Touch, or Mac.
Besides, your iPhone messages history would be kept on the Apple server but you cannot check the messages online directly or read text messages from another phone on iCloud.
Still, you may wonder how to check Mac text messages remotely or view iPhone text messages on Windows PC, or in other cases.
And does it really mean there is no way to meet the need? Of course not! And even if you want to check Verizon texts from a computer, you don't necessarily have to restore all of the text messages to the iPhone or check iMessage online. As you can remotely view or even download your text messages from iCloud on your PC via the following tool.
Part 3. How to See iPhone Messages on iCloud Free?
As you may have tried to view messages on iCloud on your iPhone or Mac, the iCloud drive doesn't provide the preview text message option. Luckily, we got a useful tool, FonePaw iPhone Data Recovery, which can help you view text messages, iMessage or WhatsApp chats that iCloud has backed up. After getting the data, you are able to read text messages and download them to the computer.
Besides managing backups, the FonePaw iPhone Data Recovery is very helpful in recovering deleted text messages, photos, contacts, WhatsApp chat history, videos, etc. on your iPhone, including iPhone 13 Pro Max, XS/XR/X, iPhone 8, iPhone 7/7 Plus, and more.
Free download the trial version of this program and follow the instructions below to access text messages or iMessages on iCloud and check text messages from the computer.
Free Download Buy with 20% off Free Download Buy with 20% off

Tip:
Make sure that you have backed up your iPhone or iPad to iCloud previously so as to avoid unexpected issues. To view deleted messages from your iPhone, you'd better stop using it to create more new data that may overwrite the deleted data.


Also Refer to: How to Recover iMessage History
1. Log into Apple iCloud for iMessage Online
Launch FonePaw iPhone Data Recovery after downloading and connect your iPhone to your computer. Then, select "Recover from iCloud" on the left-side menu. Next, enter your iCloud ID and password to have your iCloud login.
2. Select and download the required iCloud messages backup
Once you have logged into your iCloud account, you'll see a list of all your iCloud backup files. Access iCloud Message and simply select the one you want to download and click the "Download" button, which you'll find under the "State" column on the right-hand side of the window.
3. Read text messages/iMessages on iCloud
After downloading and scanning your iCloud backup files, you are now free to lookup text messages/iMessages from iCloud and find the iMessage logs. Click "Messages" and "Message Attachments" to access messages on iCloud one by one. The deleted messages from iCloud will be shown in red.
4. Get text messages from iCloud for viewing
After reading the messages, mark down all text messages/iMessage you want to download from iCloud and then click the "Recover" button. After the program exports iMessage conversation, the messages on iCloud will be retrieved from your computer and it will be saved on your PC. You can thus check your iPhone messages from the computer.
Now you can try to use FonePaw iPhone Data Recovery to view messages on iCloud from PC/ Mac. Apart from it, FonePaw iPhone Data Recovery can also help you handle the following things:
Able to retrieve data from iOS devices/ iTunes backup/ iCloud backup
Can find data back even when your iOS devices are broken
30+ file types are available to recover (messages, photos, videos, app documents, etc.)
Just download it and explore more features when using it.
Part 4. FAQs on Backing Up Messages to iCloud
Q: What can you see on iCloud?
You can get access to many kinds of content when logging in iCloud.com. The prerequisite is that you have enabled the apps to use iCloud on your iPhone's Settings > iCloud > Apps Using iCloud. You can see these in iCloud:
Personal information like Contacts, Calendars, Bookmarks, Mail, Notes;
Media files: shared photos, iCloud Photo Library, My Photo Stream, and files you store in iCloud Drive.

Note
You can only see photos on iCloud if you have turned on the iCloud Photo Library on your iPhone.
Q: How to Back Up Text Messages or iMessages to iCloud?
Since iCloud backup includes iMessages, SMS, MMS, to back up iPhone messages to iCloud, you have to enable iCloud backup on your iPhone and make a backup.
On Settings > iCloud > Backup and turn on iCloud backup.

The iPhone will automatically back up everything including messages to iCloud every night when the iPhone is locked, plugged in, and connected to Wi-Fi.

You can also tap "Back up now" to manually backup your iPhone to iCloud.
Q: How to Sync/Save Messages with iCloud?
If your iPhone has been updated to iOS 11.4, you can sync text messages, iMessages to iCloud, and view the messages on all your iPhone, iPad, Mac.
Step 1. Settings > your Apple ID > iCloud.
Step 2. Toggle on the button for Messages and Apple will prompt you to enable two-factor authentication. Once you set it up, your iMessages, SMS, MMS will be saved on iCloud storage.
# Q: How to Download Message History?
You can download all your Messages on your computer by FonePaw iPhone Data Recovery (opens new window).
Step 1. Launch this tool and connect your phone to the computer.
Step 2. Click Recover from iOS Device on the left panel and hit start scan on the right pane.
Step 3. Wait for a few minutes of scanning, select messages on the left panel.
Step 4. Click Recover at the bottom right corner and all the messages selected will be transferred from your iPhone to the computer.
# Q: How to See Text Messages on Another iPhone?
To see text messages on another iPhone, you will need to back up your messages to iCloud. Then login to the other phone with the same Apple ID that you use on the original iPhone first. Then download the backup on the new phone.
Or if you Find Settings > Messages and you there is a "Text Message Forwarding", you can directly forward your messages and your text messages or imessages will appear across both devices.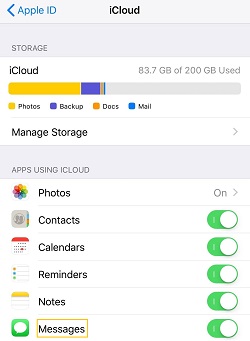 The Bottom Line
Here is how to access and download text messages/iMessages on iCloud. If you also want to access photos, contacts, videos, WhatsApp, voice memos, etc. on iCloud, you can apply the same way to download iCloud backup files on your computer and then view them easily.

iPhone Data Recovery
The best solution to recover lost data from iOS devices!