"Oops, I deleted my messages…"
Accidents may happen when you want to review your conversation of iMessages on iPhone, like you delete your messages by mistake, or you fail to find the iMessage history, and realize that you have deleted them. The lost iMessages can be important, storing the information or memories that you want to keep. So, can you recover the iMessages on your iPhone that have been deleted?
Don't worry. The answer is yes. You still have got 5 ways that you can try to get your deleted messages back. Using an iMessage recovery program, trying the Recently Deleted feature, checking your backups, or contacting your carrier – let's try all the methods to get your data back.
Overview: 5 Methods for iMessage Recovery on iPhone
Before diving into the tutorials on how to get back deleted iMessages, we list a chart for your reference.
How to Recover Deleted iMessages on iPhone with FonePaw [High Success Rate]
Actually, the most common way to retrieve your iMessages is to restore them from your iCloud or iTunes backup. iCloud or iTunes do back up iMessages or text messages on your iOS device; however, this way can't work when you have never made an iPhone backup, or your backup does not contain the deleted iMessages you need. So, can you retrieve the deleted iMessages on iPhone without backup?
Luckily, you can. You can use a data recovery app to get back deleted iMessages without backup. Here we recommend you use FonePaw iPhone Data Recovery, a professional iMessage recovery program that can undelete iMessages that are recently deleted or deleted a long time ago.
Free Download Buy with 20% off Free Download Buy with 20% off
When iMessages were deleted on iPhone/iPad, the deleted messages still remain on the iPhone. Thus, FonePaw iPhone Data Recovery can dive deep into your iPhone, iPad memory space and find deleted iMessages. But the deleted iMessages won't stay on iPhone forever, so you have to act fast and stop using the iPhone in case the deleted messages might be permanently overwritten by new data.
Besides, FonePaw iPhone Data Recovery can also detect all your iTunes and iCloud backups and restores only the iMessages conversations you need from iTunes/iCloud backup so that you don't have to wipe your iPhone and restore the whole backup..
Also, you can recover deleted WhatsApp messages, contacts, call logs, photos, etc. on iPhone, iPad with the program.
Free download FonePaw iPhone Data Recovery to recover deleted iMessages, text messages on Mac or Windows.
Free Download Buy with 20% off Free Download Buy with 20% off
1.1 Undelete iMessages on iPhone
STEP 1: Download, install and run iPhone Data Recovery. It provides 3 modes to recover deleted messages from iPhone. Click Recover from iOS Device if you don't have any backup.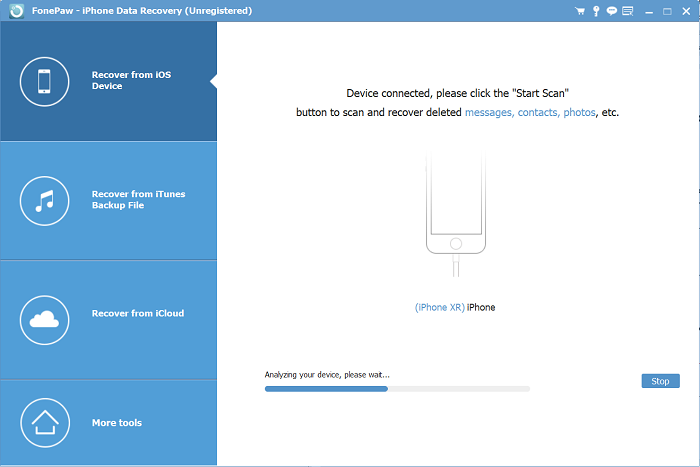 STEP 2: After connecting your iPhone, click the Start Scan button for the program to search for old or deleted iMessages.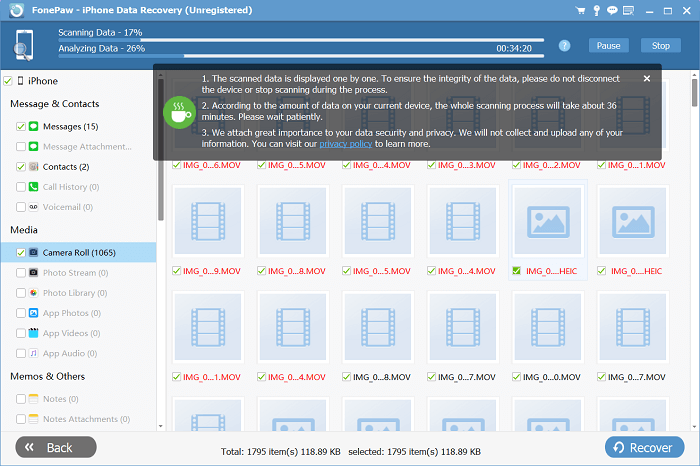 STEP 3: After scanning is done, all data on your iPhone will be displayed by categories. Click Messages to view iPhone text messages and iMessages.
The deleted ones will be marked in red color, with phone number, sent date and messages content. Tick the deleted iMessages that you need and then click the "Recover" button to retrieve them from your iPhone.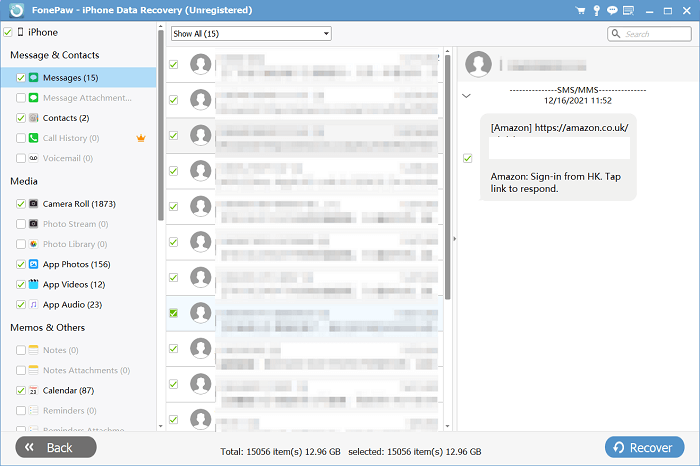 This's how you undelete iMessages on your iPhone without a backup. Isn't it easy?
1.2 Extract iMessages from iTunes Backup
If you have backed up your iPhone to iTunes at some point, the iTunes backups also include your iMessages. And FonePaw iPhone Data Recovery also allows you to recover deleted messages from iTunes backups. Compared to restoring an entire iTunes backup, the advantage of FonePaw is that it doesn't have to wipe your iPhone to recover old messages from iTunes backup.
Choose "Recover from iTunes Backup File" on the left sidebar of the window, and all iTunes backup files on your Mac or PC will be found and displayed automatically. Select one of the backups that may have the messages you are looking for and click the "Start Scan" button. The FonePaw program will extract all iMessages and text messages from the iTunes backup. You can then see the deleted messages and recover them.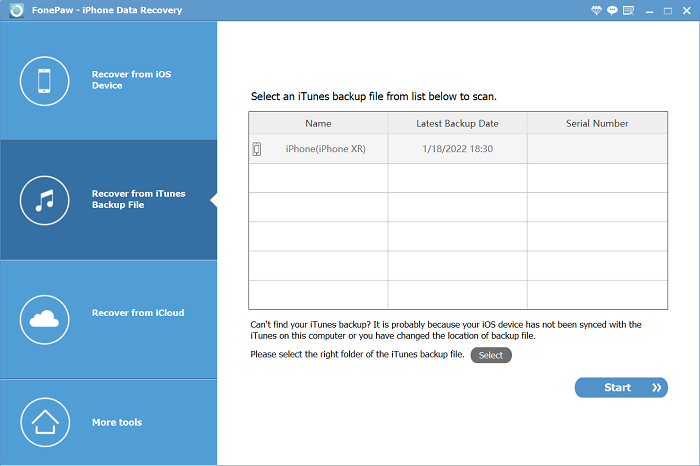 1.3 View iMessages on iCloud without Restoring iPhone
Many of you may have backed up iMessages to iCloud. FonePaw also provides a "Recover from iCloud Backup File" option for you to view and restore deleted iMessages on iCloud.
Enter your iCloud account with your Apple ID and password. If you have enabled two-factor authentication on your iPhone, you need to disable it. Then you can download one of the iCloud backups and restore the deleted iMessages.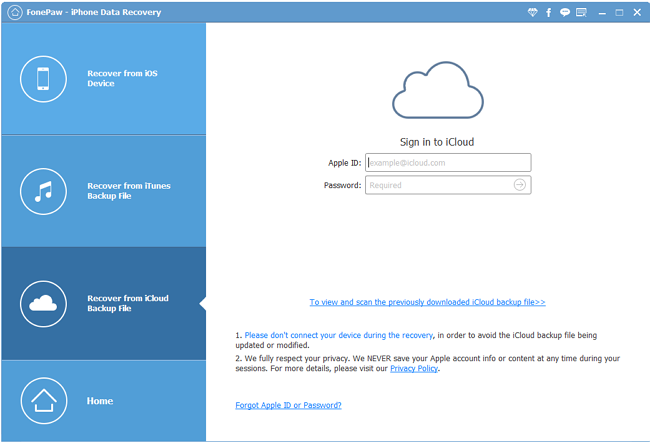 FonePaw iPhone Data Recovery can not only help to get back your deleted iMessages, but also the deleted contacts, videos, music, photos, text messages, calendars, bookmarks, notes, and so on. It is easy to use but effective to recover lost files from iPhone. Utilize it to get your old iMessages back!
Free Download Buy with 20% off Free Download Buy with 20% off
How to Recover Deleted iMessages with Recently Deleted Feature (iOS 16)
Though it's not good to find your iMessages lost, there's still good news for iOS 16 users who haven't known about this yet – you now have a Recently Deleted folder for messages on your iPhone, which can store your deleted messages for up to 40 days.
As we know, there's a long time that we have got a Recently Deleted folder for photos, files, and other apps, and such change finally comes as wishes in the latest iOS 16 update. That also means, if we now delete an iMessage, we can simply find it in the Recently Deleted folder and get it back.

Note:
Be aware that this way is only available when you are already using iOS 16. If you update your iPhone to iOS 16 after losing your iMessages, you still cannot find them in the Recently Deleted Folder.
STEP 1. Open the Messages App, tap "Filter" at the top left and go back to the main interface of Messages, where you will see the Recently Deleted Folder.
STEP 2. Open the Recently Deleted Folder, then select and tap "Recover" at the bottom right to recover the deleted iMessages you need.
If there is no "Recently Deleted" show on your main interface of messages, it means that you have no recently deleted text messages or iMessages on your iPhone.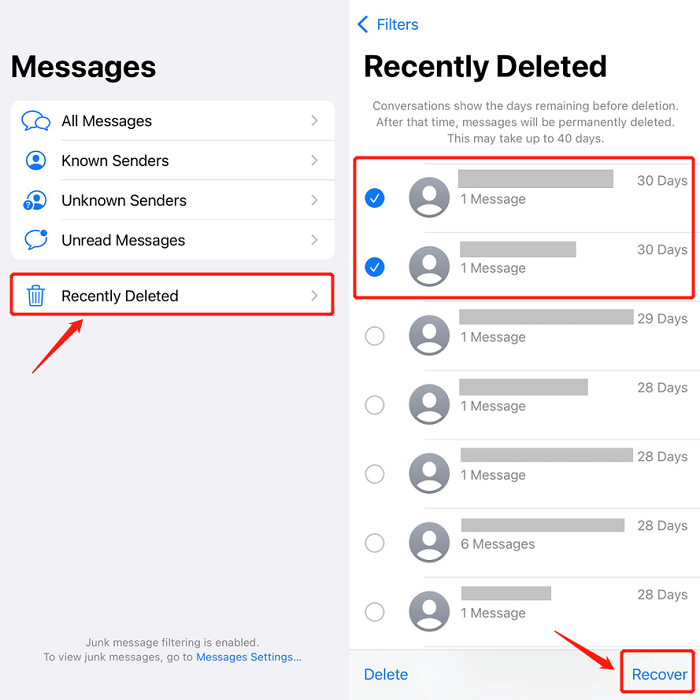 How to Restore Deleted iMessages on iCloud
Starting from iOS 11.4 to iOS 16 now, you can sync iMessage on iPhone to iCloud so that they can be accessed via all your devices (iPad, Mac), which is called Messages in iCloud by Apple. With Messages in iCloud enabled on your iPhone, once you delete an iMessage on your iPhone, the message will be gone on all your devices. But if you didn't turn on Message syncing, you can try checking the deleted iMessages on your other Apple devices using the same Apple ID.
Retrieve the iMessages You Just Deleted
If you've toggled on the iCloud syncing button for Messages before, after you just deleted the imessages/text messages, move to Settings > Apple ID > iCloud and get the Messages syncing toggled off. You can Disable and Download Messages to retrieve the messages you just deleted. But this only works for iOS 11.4 and higher versions.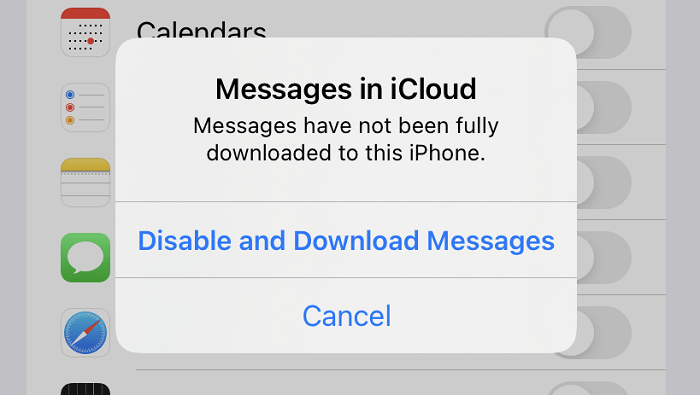 Restore Deleted iMessages from iCloud Backup [Erase iPhone Data]
iCloud backup won't backup iMessages if you have turned off Messages in iCloud. So if you aren't using Messages syncing with iCloud and have accidentally deleted important iMessages, you should directly turn to FonePaw iPhone Data Recovery since iCloud backup doesn't have your messages.
If you've backed up your messages in iCloud, even if they are deleted on your iPhone now, iCloud does include your iMessages in your previous backups. So, to restore deleted iMessages, you can restore an iCloud backup directly on your iPhone.

Note:
All the contents on the iPhone now will be erased and replaced by what's in the backup you choose.
STEP 1. Go to Settings > General > Transfer or Reset iPhone > Erase All Content and Settings.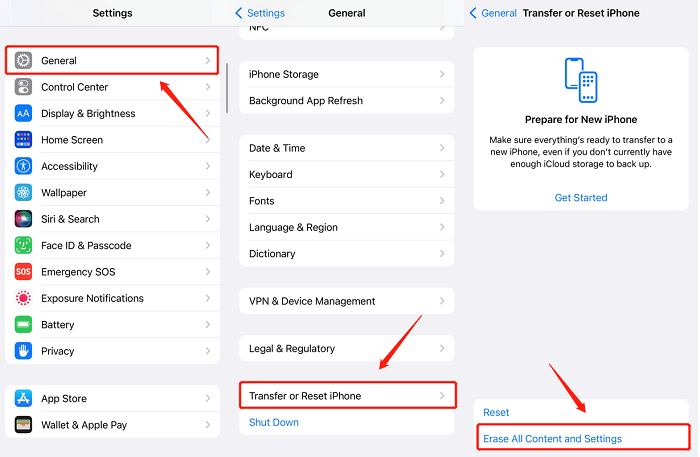 STEP 2. After your device is erased, it will reboot and need to be set up.
STEP 3. Follow the on-screen instruction to set up your iPhone. When it comes to the "Apps & Data" screen, tap "Restore from iCloud backup".
STEP 4. Enter your iCloud account and password. Then select a backup to restore. Select the backup that may contain your deleted iMessages according to the date it was created.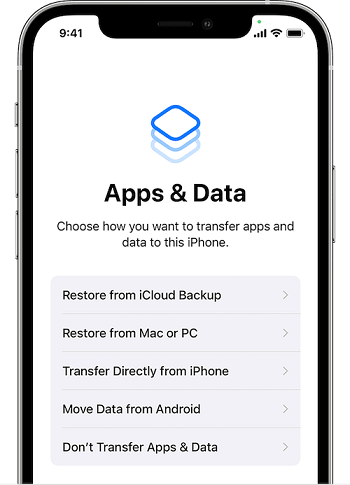 After finishing the setup, you can open the Messages app and see if you could find the deleted iMessages and get old iMessages back.
How to Retrieve Deleted iMessages with iTunes Backup
If you have backed up iPhone to iTunes on the computer, restore the iTunes backup to restore deleted iMessages.
STEP 1. Launch iTunes on a computer and connect iPhone to iTunes via USB.
STEP 2. On iTunes, as your device is detected. Choose the iPhone icon, and one the sidebar, turn to Summary > Restore iPhone to restore the iTunes backup that may have the lost iMessages.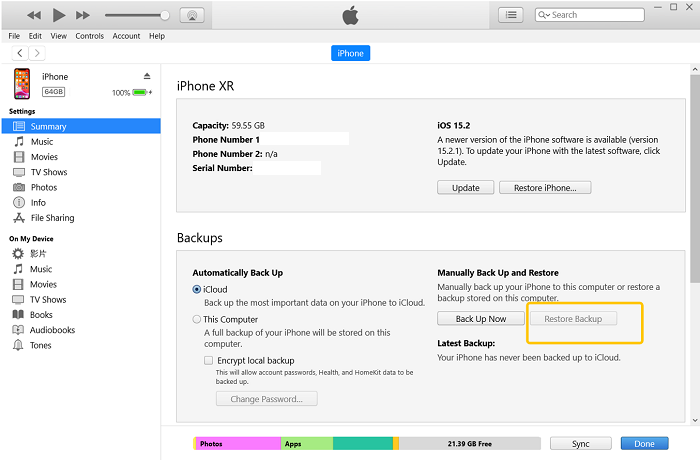 ​

Note:
But after restoring the iTunes backup, your recent data on the iPhone will be overwritten by the backup. If you want to restore just the deleted iMessages without restoring iPhone, use
FonePaw iPhone Data Recovery
.
How to Get Back Deleted iMessages from Carrier
You may wonder can I get back deleted iMessages by contacting the carrier? The answer is not sure. Your cell provider stores your messages on a server in case they're ever needed for law enforcement; most employees won't have access to them. If you just want to retrieve the deleted iMessages for your own reason, it doesn't 100% work. You can have a try!
In order to retrieve the deleted iMessages, you need to jump through a bunch of hoops to prove your identity. This method may help you when you've tried the above solution but have no results.
Extra Tip: How to Back up iMessages to Computer
Mistaken deletion happens all the time. One way to tackle mistaken deletion is to make a regular backup. Backing up iMessages to your PC is the safest option since no matter what happens to your phone, you'll still have the messages. FonePaw iOS Data Backup & Restore is a tool that can help you to backup data from an iOS device to a computer. The process is quite simple.
STEP 1. Download the program on your computer.
Free Download Buy with 20% off Free Download Buy with 20% off
STEP 2. Connect iPhone/iPad to the computer and the program will detect the device.
STEP 3. Choose iOS Data Backup. You can then choose to make a standard backup or encrypted backup.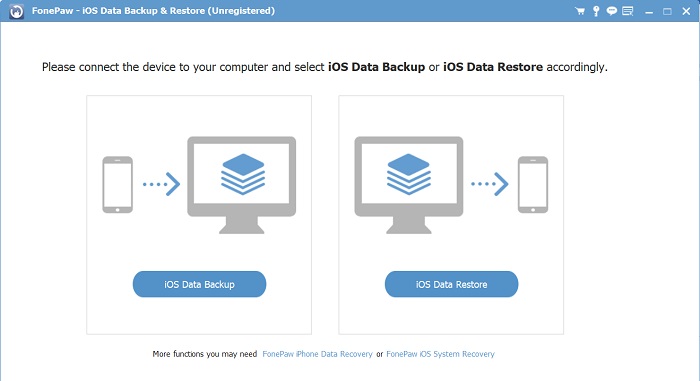 STEP 4. Select Messages & Attachment to backup iMessages only. The program will quickly make a backup of all iMessages on your iPhone.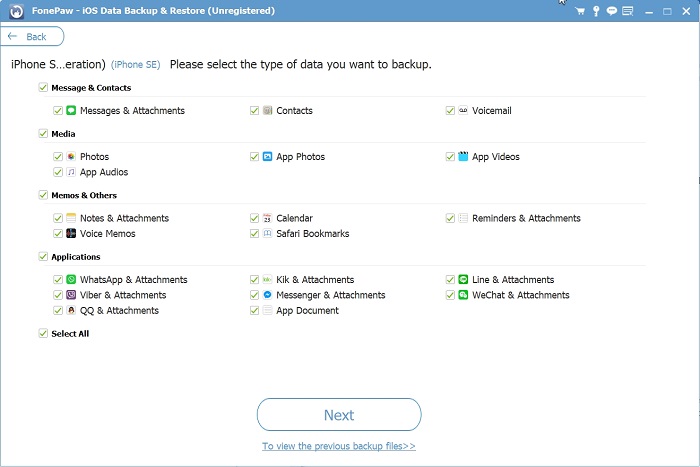 FAQs About iMessages Recovery on iPhone
Q1: Can I recover deleted iMessages on iPhone?
Yes. No matter you have recently or permanently deleted your iMessages or text messages on iPhone, you have methods to recover them accordingly.
The simplest way for iOS 16 users to recover deleted iMessages is to recover from Recently Deleted folder. If you don't have got such a folder, checking your iCloud sync, iCloud backup, or iTunes backups are also applicable ways.
When you don't have any backup or wish not to reset your iPhone, utilize a powerful third-party data recovery software for iPhone is the best way, and FonePaw iPhone Data Recovery would be a nice choice.
Q2: Can I recover junk messages on iPhone?
Yes. Even if you have reported and removed some messages on your iPhone as junk messages, you can still view and restore them if you need.
Junk messages are stored in a separate place where you commonly find all messages. Instead, you can find them at Settings > Messages > Message Filtering > Junk on your iPhone. Then you can choose to view and restore or clear them.

(opens new window)
Here are the five methods and tutorials on how to get back deleted iMessages. If you haven't backed up before, FonePaw iPhone Data Recovery is the best solution for you to recover deleted iMessages without backup. Download and have a try!

iPhone Data Recovery
The best solution to recover lost data from iOS devices!