When you have messages deleted on Facebook Messenger and you want to get them back, you may have no clue what to do as Facebook doesn't offer any backup for your chat history on Messenger.
Actually, there are viable ways to recover the "deleted" Messenger messages according to your situation. Some of the messages are not literally gone but are just hidden; even some have been permanently deleted, it's still possible to retrieve them with the help of a reliable message recovery tool.
Now, read on to find the exact way you need to get your Messenger messages back.
Can I retrieve deleted Facebook messages?
As we say above, yes you can, but you have to verify whether your Messenger messages have really been deleted on your iPhone first. When a message cannot be found on your Facebook Messenger, except that it has been removed, another possible reason is that it's archived. Because of the two reasons, the approaches to recovering messages are different.
When Your Messenger Messages Are Archived
By archiving a conversation, it means that a Facebook conversation is hidden from your inbox.
Luckily, it's not a hard job to get back the archived messages. The easiest way is to open Messenger, tap Home and type the keyword of the lost messages on the search bar on the top of the screen, and just see if there are the deleted messages you are looking in the search result.
If this way does not work, there are still other methods but may require some settings with your Messenger. Head to Part 3 to check in detail.
When Your Messages Are Permanently Deleted
Things can be a bit more complicated when your messages are really removed. In this case, there's no way to directly retrieve data with your Messenger app. But you can use a third-party iPhone data recovery program for help.
As Messenger messages are deleted, usually they are not completely removed on your iPhone, but are just marked as data that can be overwritten. For this reason, even if you cannot find them on your iPhone, the recovery software can also help you to scan the data and get your messages back.
Be sure to avoid using your iPhone or saving anything after the messages are deleted. The more frequent you use it, the higher possibility that the data on your phone is overwritten, so that it can be harder for you to get the Facebook Messenger messages back.
Check the following Part 2 to learn about how to get back the permanently deleted messages.
How to Recover Permanently Deleted Messages on Messenger
If you are sure your Messenger messages on iPhone are completely deleted. Don't be too anxious, here's a quick way to fix the problem.
FonePaw iPhone Data Recovery is a reliable tool to find deleted messages from Facebook Messenger on iPhone. This tool can recover deleted messages from Facebook Messenger by scanning the iPhone itself, iTunes backup, and also iCloud backup. It supports recovery of multiple file types including messages, images, videos, and etc. Most importantly, you can partially or completely recover the messages, and also preview them before recovering.
Download the tool and follow the tutorials below to recover the Messenger messages on your iPhone. Your messages will be back in a few easy steps.
Free Download Buy with 20% off Free Download Buy with 20% off
Recover Deleted Facebook Messenger Messages from iPhone
Messages on Facebook Messenger are or have been saved on your iPhone storage. Even after you delete a message from Messenger, the message is not completely gone from your iPhone. What FonePaw iPhone Data Recovery do is to find the traces of the deleted messages and recover them to texts that you can read. Here is how to do so:
Step 1 Launch FonePaw iPhone Data Recovery on a PC or Mac.
Step 2 Select Recover Data from iOS Devices and plug your iPhone into the computer with a lightning cable.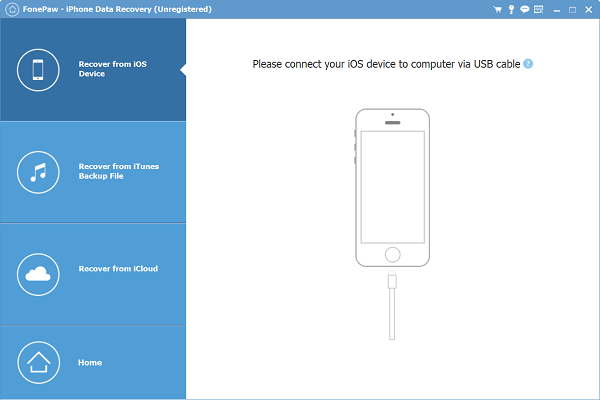 Step 3 When the iPhone is recognized, click Start Scan.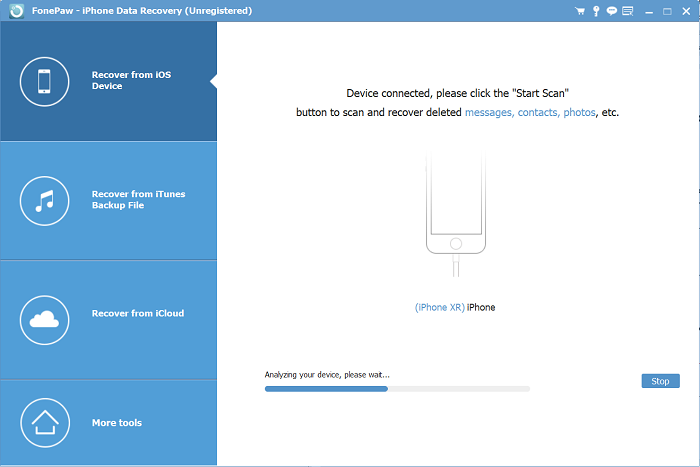 Step 4 The tool will begin to search for data, including Facebook Messenger data, on the iPhone.
Step 5 When the search is over, click Messenger and Messenger Attachments. You'll see the existing and deleted messages on the Messenger of your iPhone are displayed. Facebook contacts, messages sent and received date, details of the messages are found. Also, attachments on the Messenger can also be found.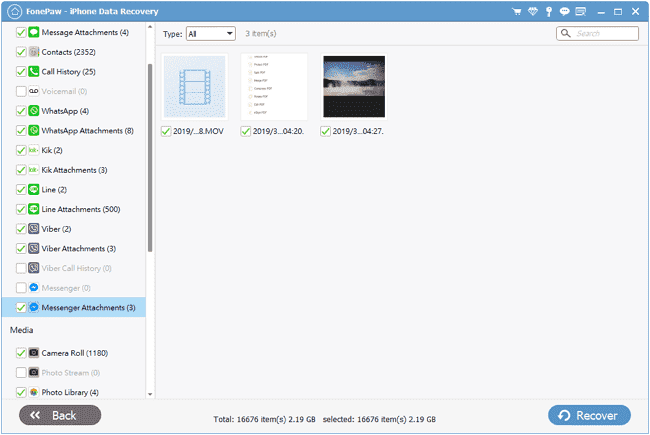 Step 6 If you see the deleted Facebook messages that you need, click Recover to get them back.

Note:
If you can't find the deleted Facebook Messenger messages from iPhone with the tool, the messages may have been covered by other new data on your iPhone storage, which make the deleted messages unrecoverable.
Retrieve Deleted Messages on Facebook Messenger from iTunes Backup
Also, FonePaw iPhone Data Recovery supports Facebook messages recovery from your iPhone's backups on iTunes. What you need to do is to:
Free Download Buy with 20% off Free Download Buy with 20% off
Step 1 Install the FonePaw on the computer that has your iPhone's backup via iTunes.
Step 2 Open the tool and choose Recover from iTunes backup files this time.
Step 3 The tool will detect all your iTunes backups. Select a backup that is created before the messages are deleted from Messenger.
Step 4 View the contents in the backup and see if there are the needed Facebook messages.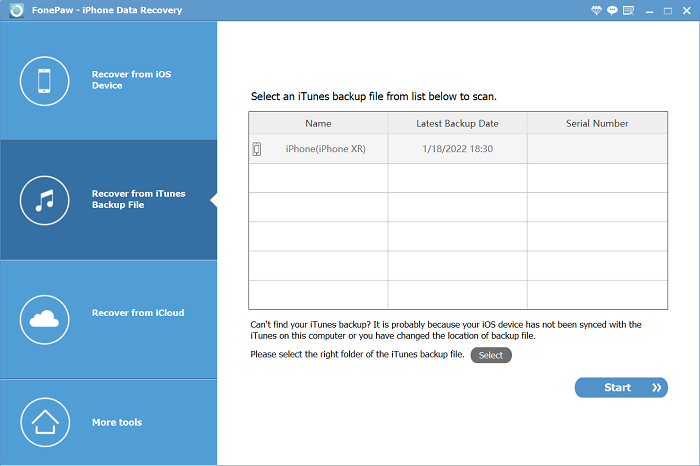 Find Deleted Facebook Messenger Messages from iCloud Backup
If you tend to back up your iPhone data via iCloud, FonePaw iPhone Data Recovery gives you one more option: to retrieve messages on Facebook messages from iCloud backup.
Free Download Buy with 20% off Free Download Buy with 20% off
Step 1 Run the FonePaw tool. Select Recover from iCloud backup files.
Step 2 Sign in with your iCloud account and view all the iCloud backups.
Step 3 Download an iCloud backup and see if it has the Messenger messages that you have deleted.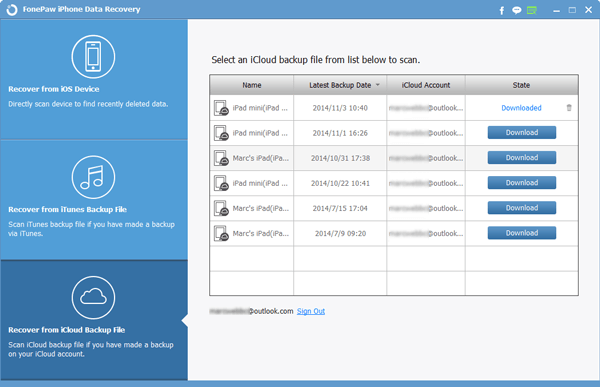 Not only Facebook Messenger messages, FonePaw iPhone Data Recovery can also be used to recover text messages, WhatsApp messages, Kik messages and more. When your messages are missing, just turn to this software for help.
How to Check and Retrieve Archived Messages on Messenger
Here are 3 ways to unarchive your hidden messages on iPhone Facebook Messenger. It's noted that all of them are only applicable when your messages are not deleted but archived.
Unarchive Messages from Messenger App on iPhone
Step 1 Open the Messenger app and tap the profile picture at the top left on your home screen.
Step 2 Select "Archived chats" to see the chats that are hidden.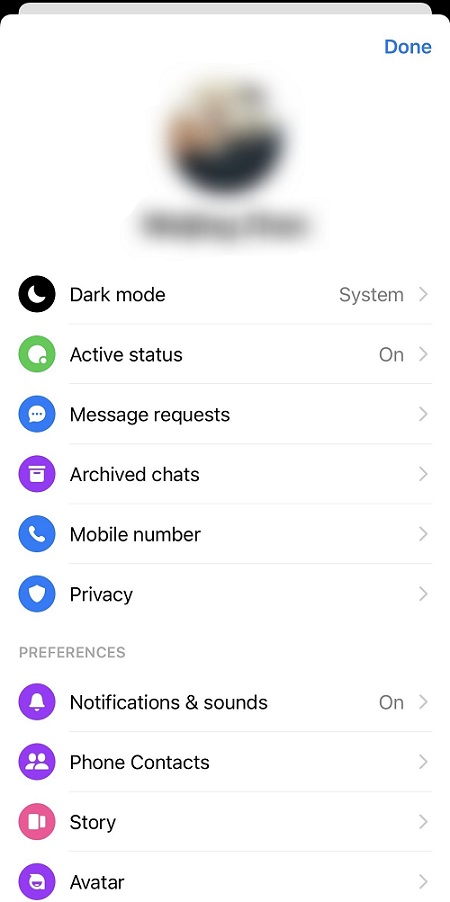 Unarchive Messages from Facebook Messenger for Web
Step 1 Enter the website and log in to your account.
Step 2 Hit the inverted triangle icon at the top right of the interface to open the drop-down menu, and choose "Settings & Privacy".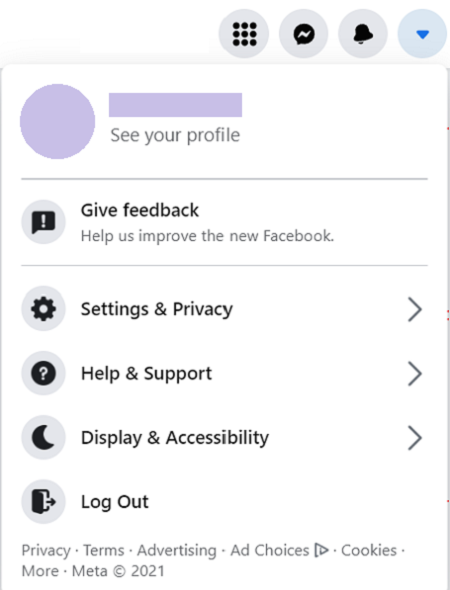 Step 3 Go to "Activity Log > Archive" to find and unarchive the hidden chats.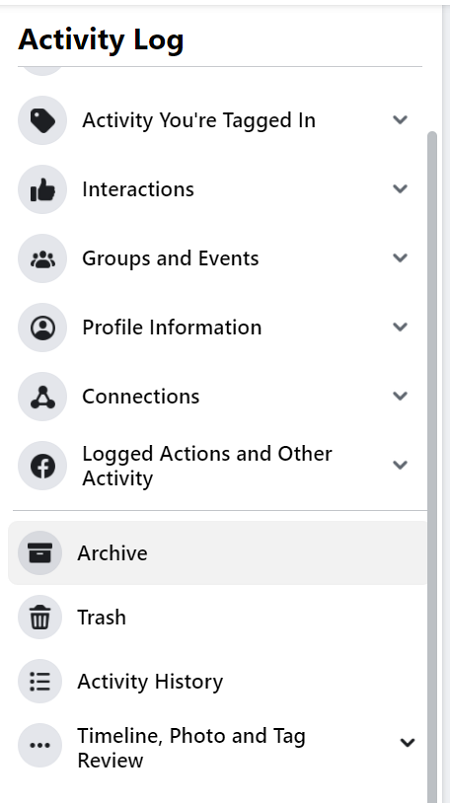 Download Messages from Facebook Messenger
Unlike the way of unarchiving messages, this method allows you to extract and download the messages and other files at a set period of time.
Step 1 Similarly, enter Facebook Messenger for web and log in to your account.
Step 2 Also, open the drop-down menu at the top right of the interface, and choose "Settings & Privacy".
Step 3 This time, go to "General > Your Facebook Information", find out "Download Your Information" and click to "View".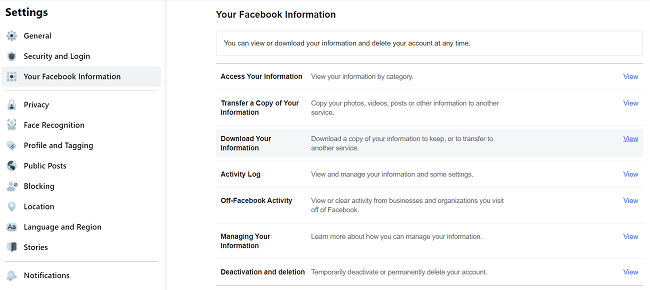 Step 4 You will enter the page that asks you select a time period, output quality and format, and also information types of your Facebook information. Scroll down to read and check.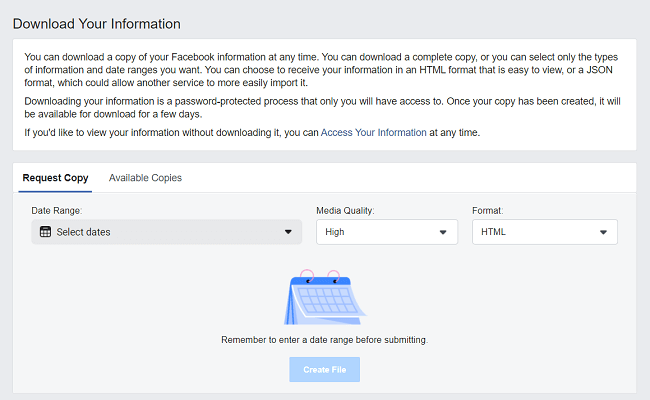 Step 5 After selecting all the information you need, click "Create File" and wait for the copy to be ready for you to download.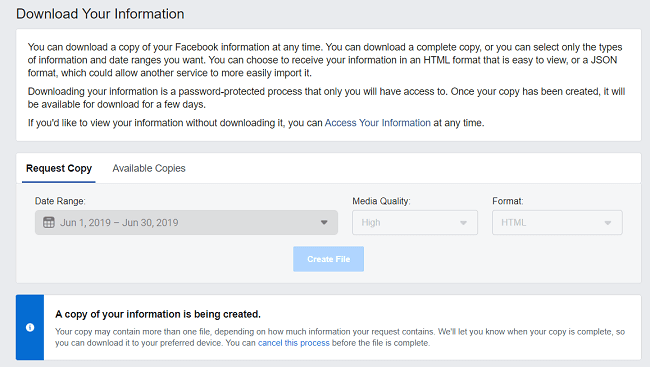 Conclusion
Above are all the ways you can try to recover your deleted messages from iPhone Facebook messenger. For the "hidden" messages, try three ways to unarchive or download the chats. For the "deleted" messages, use FonePaw iPhone Data Recovery to get them back to your hand. Also, pay attention to keep your messages next time.
Free Download Buy with 20% off Free Download Buy with 20% off