Data means a lot to us today. In most cases, people would prefer storing the important data on iPhone for easier access. However, it turns to be a trouble when the data loss before you get the opportunity to back up in advance. So, what should we do if we are running into such a circumstance and wish to recover lost iPhone data again without backup? Please continue reading.
Can I Recover Deleted Files from iPhone Without Backup?
If you find the correct path, the answer is definitely a YES. But it is also noted that even though Apple has equipped a couple of data backup features such as the iCloud and iTunes backup functions to prevent certain data losing cases, if you haven't gotten the time to back up data in advance, unfortunately, you would fail to retrieve them without external assistance.
Therefore, to retrieve iPhone data back without backup, replacing seeking an official solution, you can only turn to third-party iPhone data recovery program to help. Therefore, in the following, the professional FonePaw iPhone Data Recovery will be introduced to help you recover data on iPhone effortlessly within only a few simple steps.
The Best Program to Recover iPhone Data Without Backup - FonePaw iPhone Data Recovery
As a professional iPhone data recovery program, FonePaw iPhone Data Recovery provides trustworthy function to retrieve data on iPhone effortless just by multiple simple procedures. To improve the recovering success rate, the program will scan deeply to your iPhone, and enables 3 available modes to detect data and files of more than 30 types for bringing them back for you.
Furthermore, no matter under what circumstances you lose the data, like breaking the devices or suffering from a system crash, FonePaw iPhone Data Recovery can handle the situations and help you recover lost data once again. And it is now compatible with iOS 17 and iPhone 15 lineup.
Free Download Buy with 20% off Free Download Buy with 20% off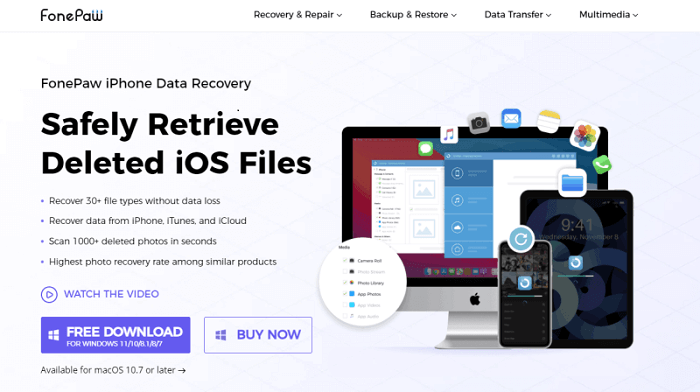 To sum up, these eye-catching advantages all make FonePaw iPhone Data Recovery an outstanding program in the field of processing data recovery on iPhone:
30+ file types supported - when the program can scan and detect more than 30 types of files, it means you can recover almost all data and files on iPhone without concerning about the incompatibility.
3 optimal modes to select - replacing recovering data from internal memory, to improve the success rate, the program also allows you to scan the former iTunes or iCloud backup for finding the files missed in the device.
Multiple data losing scenarios compatible - the program can deal with the data losing accidents happened under different scenarios in daily life, such as mistaken deletion, system crash, device damage, jailbreaking failure, and more.
No backup required - before the data is overwritten, the program can function to detect the deleted data even you haven't backed them up before.
Latest models and systems supported - with the regular program enhancement, it will be compatible with the latest iPhone models and iOS system updates to help iPhone users to prevent sudden data loss greatly.
Free Download Buy with 20% off Free Download Buy with 20% off
How to Recover Data from iPhone Without Backup in 3 Steps
FonePaw iPhone Data Recovery is devoted to providing the simplest manipulation for everyone to handle the iPhone data recovery at home just by clicks. Therefore, you will only need 3 easy procedures to get it done and retrieve lost data on iPhone. Here's the guidance for you:
Attention: Please notice that FonePaw iPhone Data Recovery is a desktop program to help recover iPhone data on Windows or Mac computers. You ought to utilize a PC instead downloading the installation package on iPhone directly.
Step 1. Connect iPhone to PC
First, please prepare a USB cable and utilize it to connect your iPhone with the PC. Subsequently, complete installing FonePaw iPhone Data Recovery and run the program to detect the device.
Step 2. Scan iPhone In-depth
Select Recover from iOS Device option on the left panel of the main feed. When FonePaw iPhone Data Recovery detects your device, tap Start Scan to proceed scanning the iPhone in-depth.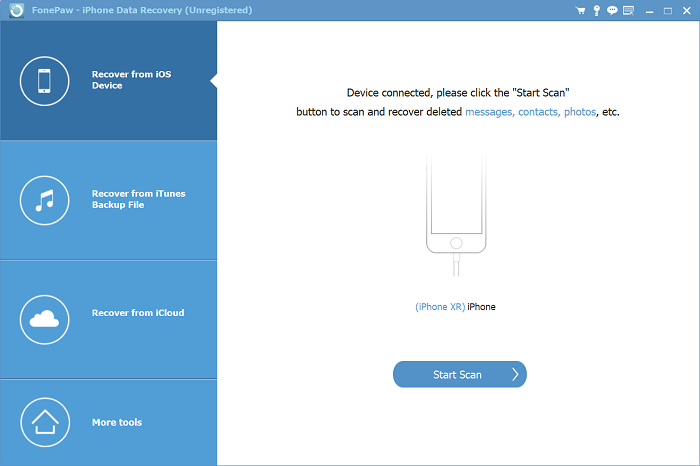 Step 3. Select Files and Data to Recover
It takes only a while for FonePaw iPhone Data Recovery to complete the scanning. Once the scanning completes, select the items in the previewing window and click on the Recover icon to retrieve the data back without backup.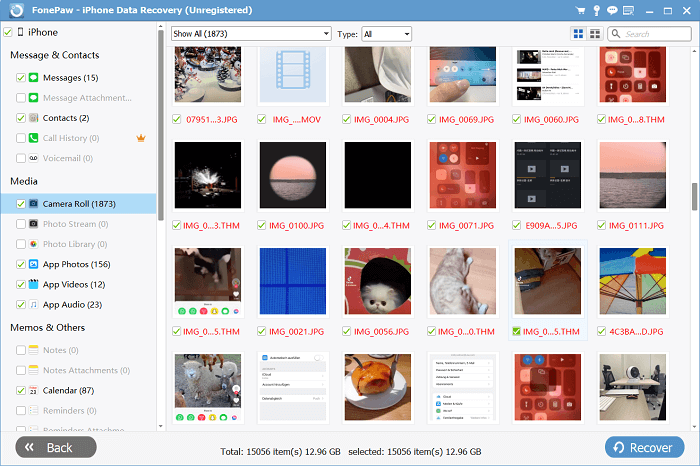 Attention: Before the recovery initiates, you are allowed to select the path to store the recovered iPhone data as you wish.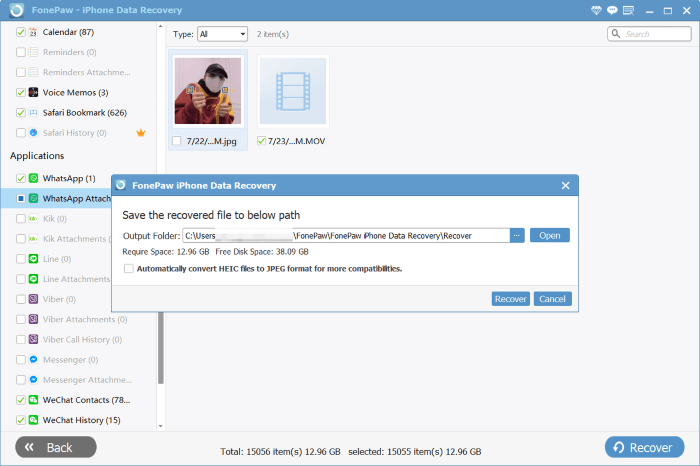 Watch the video tutorial to learn more now!
Free Download Buy with 20% off Free Download Buy with 20% off
FAQs About Recovering Data on iPhone
Here are some frequently asked questions that many people will consider while processing the iPhone data recovery.
Q1. Where will the deleted files and data go on iPhone?
Now iPhone has created the Recently Deleted module for some apps such as Photos to keep the deleted files for 30 days before they are deleted permanently. But for those files that are permanently deleted, you will not be accessible to them directly anymore. However, the data of these files will still be kept in the internal memory of your iPhone before they are being overwritten.
Therefore, once you mistakenly delete any file permanently on iPhone, it is recommended for you to recover them with third-party recovering software like FonePaw iPhone Data Recovery ASAP.
Q2. Is it possible for me to recover data deleted a long time ago without backup?
It depends. If the data you gonna recover has been overwritten in the internal memory of your iPhone. The third-party iPhone data recovery program only works to retrieve the detected data before it is overwritten. Therefore, if the old data or files are overwritten, it is not possible for you to recover them without backup.
Final Words
To conclude, if you forget to backup iPhone data but now lose any important file by accident, you must turn to a third-party professional iPhone data recovery program to help. Here, FonePaw iPhone Data Recovery is the recommended option for its high success rate and wide compatibility.
In the case you lose data on iPhone and want to recover them without backup, install FonePaw iPhone Data Recovery to proceed the data retrieving process now!
Free Download Buy with 20% off Free Download Buy with 20% off