The mobile phone has become one of the indispensable tools in our life. It stores many files and photos we need for daily work and study. However, we may lose essential pictures accidentally due to various reasons, which may have a severe impact on our life. Therefore, backup apps are developed to prevent data loss and help recover permanently deleted files.
But what if you delete some important photos that you haven't backed up before? Are they really gone? This article will show you three ways to recover deleted photos on iPhone without backup. Please take some time to read this guide.
I Have Deleted Photos on My iPhone. Are They Really Gone?
No. It may seem surprising, but generally, the photos are not actually removed when you just delete them from your album. They are usually marked as free space in the memory on the iPhone, so you can't find them through the system search. Lucky though it is, they may be overwritten by new data at any time. Therefore, you'd better restore the photos as early as possible, because you're not able to retrieve them once they are overwritten by new files.
You can recover the photos you've deleted on your iPhone through the following ways. Since you didn't use any backup apps or enable the iCloud backup to get file copies, you can't download or restore them from the cloud storage. The simplest way is to recover the deleted photos from iPhone "Recently Deleted" album directly. The deleted photos can be kept in this album for 40 days. If not, some third-party programs are available for recovery. You can also try them to get the files back.
Restore Deleted Pictures from iPhone Recently Deleted Album
As I introduced above, if you just deleted photos from your iPhone album, then you can go to the "Recently Deleted" album, check, and restore them there.
Step 1. Open the Photos app on your iPhone and tap "Albums" in the navigation bar at the bottom of the screen.
Step 2. Then, scroll down and click on "Recently Deleted".
Step 3. You'll see photos that you've deleted in the past 40 days. Select the ones that you want to restore here and click the "Recover" button to put them back on your iPhone album.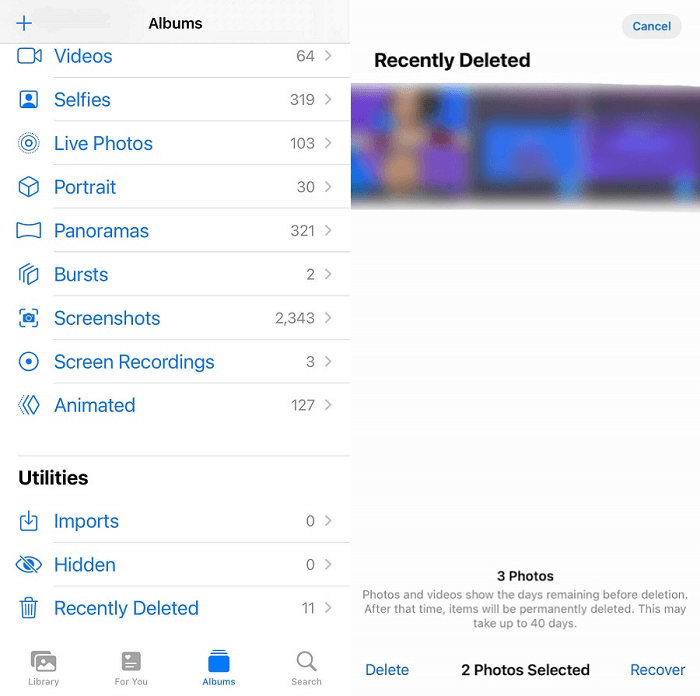 Recover Deleted iPhone Photos from iCloud Photos
iCloud Photos is different from iCloud backup. Therefore, even though you didn't open iCloud to back up files, you can also find and recover the deleted pictures as long as you enable iCloud Photos. However, if you remove the photos completely from the iPhone "Recently Deleted" album, then you may not find them because iCloud Photos may also delete them automatically.
Step 1. Open www.icloud.com on your computer or iPhone, and log into your iCloud account. Click on the "Photos" icon.

Step 2. Then go to "Recently Deleted" and select the photos you've deleted by mistake. Click the "Recover" button on the upper-right corner of the screen to restore them.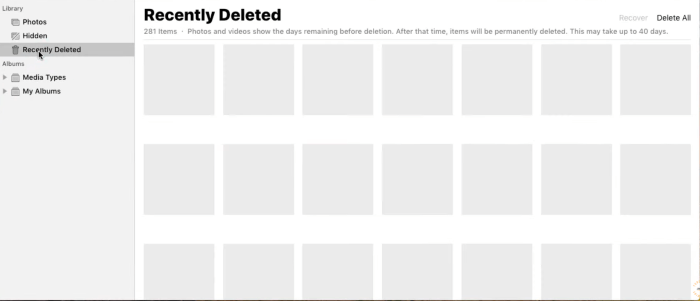 Recover Permanently Deleted Photos on iPhone with FonePaw Software [No Backup]
If the the above methods are not effective. The third way may cater to you. You can try to recover photos by using the third-party app - FonePaw iPhone Data Recovery, which is introduced for users who completely remove the pictures from iPhone Photos and didn't back up them in advance. Pay attention that you should recover the deleted photos as early as possible to avoid them from being overwritten by the new data.
Free Download Buy with 20% off Free Download Buy with 20% off
FonePaw is a powerful program that can not only recover permanently deleted photos but also restore more than 30 kinds of file types from iPhone, iTunes, and iCloud without any data loss. Don't worry if you forget to enable the iTunes or iCloud backup because it can also identify and recover deleted photos from iOS devices directly.
No matter what causes the loss of your photos or files, you can get them back effortlessly with simple steps in FonePaw iPhone Data Recovery, since it provides multiple preset scenarios such as accidental deletion, water damage, and system crash.
Let's see how FonePaw iPhone Data Recovery works to help you recover permanently deleted photos from your iPhone without backup.
Step 1. Run the app and connect your device to the computer
Download and launch FonePaw iPhone Data Recovery on your computer. Since you didn't enable iTunes and iCloud backup, you can only choose the mode of recovering photos from iOS devices.
Then use the USB cable to connect your iOS device to the computer. And click on the "Start Scan" icon.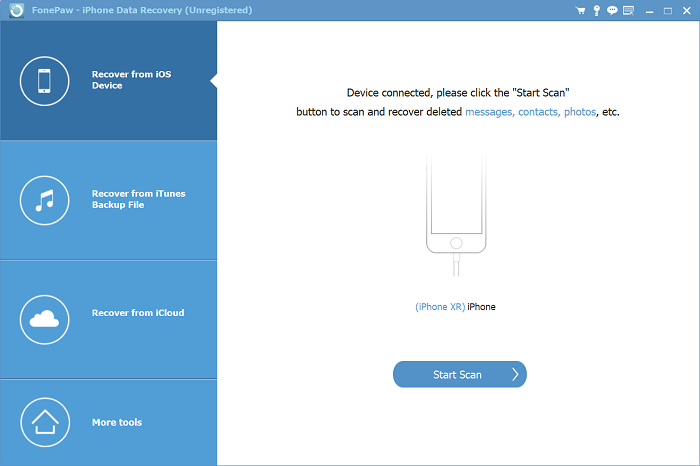 Step 2. Preview and select the deleted photos
After the analysis of your device, you can preview files in different categories. Both deleted (with red titles) and existing files are all displayed. Check photos in the Media section and select the deleted ones you want by clicking the box.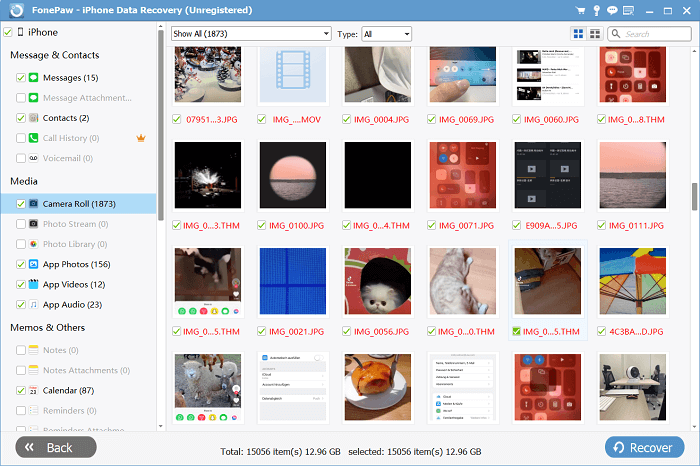 Step 3. Restore the photos to your computer
Then, click on the "Recover" icon and choose the output location. Click the "Recover" in the little pop-up window to save the files to your computer.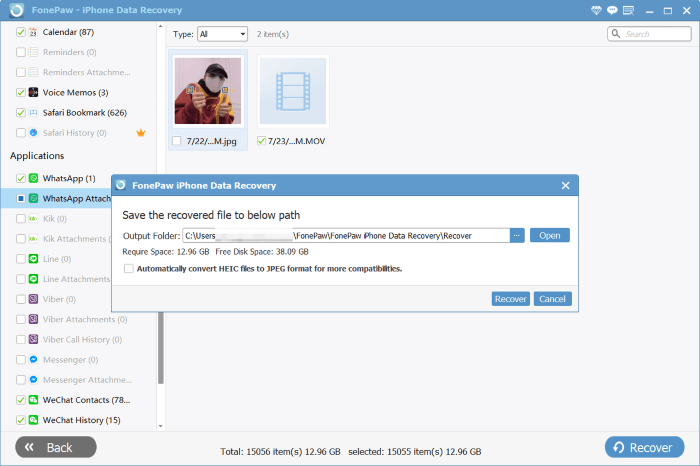 Free Download Buy with 20% off Free Download Buy with 20% off
Final Words
All in all, we've introduced 3 ways for you to help recover permanently deleted photos from your iPhone without backup. You can go to "Recently Deleted" in your iPhone album first and check whether you can find and restore them. If you have enabled iCloud Photos on your iPhone, you can also try to recover them from icloud.com since the photos will also be uploaded to iCloud Photos automatically.
The last way is to use third-party programs. In the guide, we introduce a handy app-FonePaw for you, which allows you to restore deleted photos as well as other types of files without any loss. It can deal with different scenarios that may cause data loss. So, whether it's the accidental deletion or a system upgrade that results in data loss, FonePaw can deal with them easily. With simple steps, you can get your deleted photos back. Try it now!

iPhone Data Recovery
The best solution to recover lost data from iOS devices!