A user was scratching his head about exporting text messages from iPhone:
"I want to copy and email myself a long text thread on the iPhone to save as a document in text format. But all I can do is either screenshot page-by-page and email to myself the images of the text conversation, or select each reply and forward them to my email, which will take a long time to do."
Is there a better option? Of course! If you are facing a similar situation, don't worry, in this post, we will introduce three ways for you to save and forward an entire text conversation on the iPhone.
Save entire text messages on iPhone via FonePaw DoTrans
FonePaw DoTrans (opens new window) is a data transfer tool that can export all kinds of files such as messages, contacts, photos, music, and videos from iPhone/Android to a computer. With it, you can copy and save the messages on the iPhone on computer as a .html or .txt file easily. Also, DoTrans can help you quickly move files between two mobile devices, for example, from iPhone to an Android phone.
To save and export the entire message from iPhone, you need to download FonePaw DoTrans first.
Free Download Buy with 20% off
Step 1 Connect your iPhone to the PC.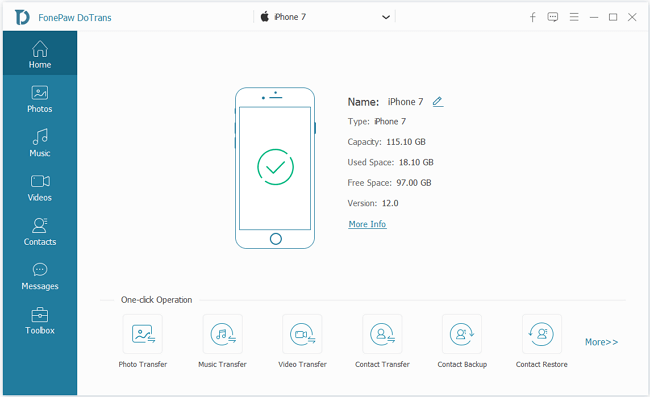 Step 2 Select the messages.
When the iPhone is detected by the computer, select M****essages in the left-side toolbar. You will see the conversations on your iPhone show up. It is categorized by contacts, which is easy to locate the target messages. Select the text conversation you want to copy.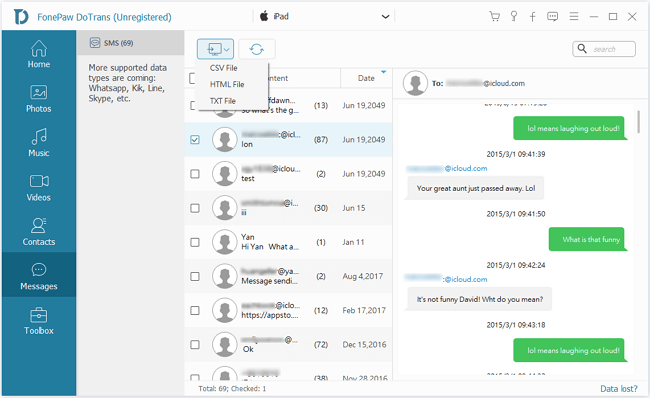 Step 3 Export text messages.
Click the computer icon right above the text message conversation. You will see three options to transfer the messages as HTML/CSV/TXT files.
Select TXT to save your conversations in the TXT format. The contacts, phone number, and delivery date will be included in the TXT file as well.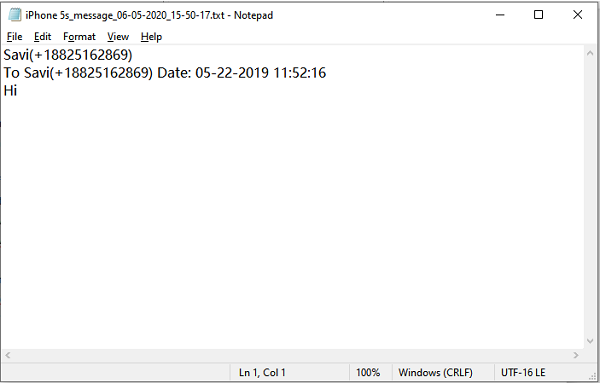 Save entire text messages on iPhone via Email
Except for a third-party application, you can copy text messages from iPhone and save them via Email. Here are the steps to transfer the entire text conversation on iPhone via Email.
First, open the Message app on iPhone.
Second, hold on the messages you want to save and you will see a pop-up shows up.
Third, click More and tap the circle in the left of each text you want to save.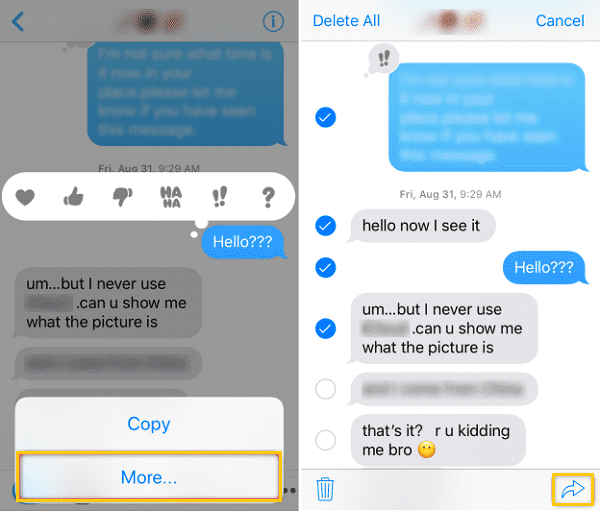 Finally, tap the curved arrow at the bottom right corner of the screen then enter your email address and hit the send button.
Once it is sent, log in your email account and save the file. Comparing to using DoTrans (opens new window), selecting each text, and emailing an entire conversation is a little troublesome.
Save entire text messages on iPhone via Mac
Indeed, printing your messages as an entire file is convenient for you to review and save. If you are a Mac user, it is lucky for you to print out text messages through the Messages app on Mac.
In the Messages app on your Mac, click File > Print.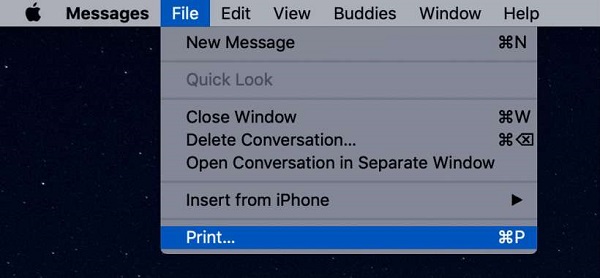 Open the thread you want to save and choose to Save as PDF from the drop-down menu in the bottom left.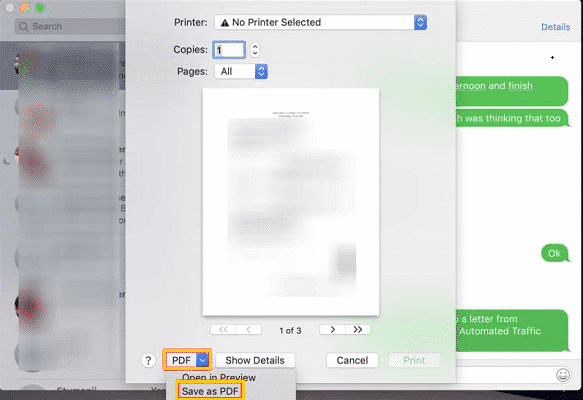 It will save from wherever you scroll back to the conversation forward, which would be a little inconvenient if you have a long conversation to save because you need to scroll back a lot.
Therefore, when you have loads of long conversations to copy and save, third-party software like FonePaw DoTrans (opens new window)will be more effective.
In conclusion, it is easy to export text messages from iPhone with the three methods above.
FonePaw DoTrans helps you transfer the entire message in one click, which is effective when you have loads of messages to export. Besides, the TXT file will include detailed information about the messages like contacts and delivery data.
If you are using Email, you will need to check the messages one by one on your phone and if you are using Mac, you will need to scroll back to the long conversation forward. Thus, the last two methods would be more suitable when you only have a few messages to copy and save.