You may prone to stream music on YouTube as it gathers a large group of musicians who upload songs, albums, remixes, and live performances to share with fans. This can also generate a need for downloading music from YouTube to iPhone. With a local audio file of music on YouTube, you can flexibly play the music on your iPhone, and even create a YouTube music clip as your ringtone.
This post covers 3 ways to download music from YouTube to iPhone. Follow these 3 ways to get the YouTube music you like.
1. Download Music from YouTube to MP3 for iPhone
This method requires 2 tools: one is an online YouTube to MP3 converter, the other is an iOS transfer tool to import YouTube music to iPhone. Given the fact that Apple doesn't provide an option to download music directly from the Internet to iPhone or iPad, you need to download YouTube music on a computer first and then transfer the music files into the iPhone.
Here we use DoTrans to put YouTube music on iPhone as it can move audio files, photos, documents from computer to iPhone, or vice versa.
Step 1: Find the YouTube Music to Download
Go to YouTube and open the video from which you want to download music from.
Step 2: Copy the YouTube Music URL
On the address bar of the browser, copy the YouTube URL from the search bar.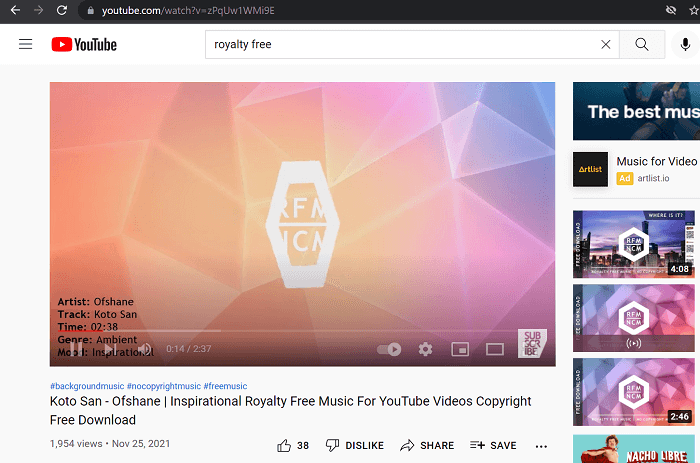 Step 3: Open A YouTube to MP3 Converter
Our recommendation is VideoHunter, a desktop YouTube to MP3 converter that can download YouTube music to MP3 files. Download and launch the software, then you can see a blank download bar on the homepage of VideoHunter. Paste the YouTube video or music URL into the bar and click the "Analyze" button.
Step 4: Download YouTube to MP3
VideoHunter will offer options to download the YouTube video in high quality. Quality options include 320 Kbps, 256 Kbps, and 128 Kbps. To get music from YouTube, 320 Kbps audio keep all details nearly lossless. And if you want a smaller file, 128 Kbps is the optimal choice.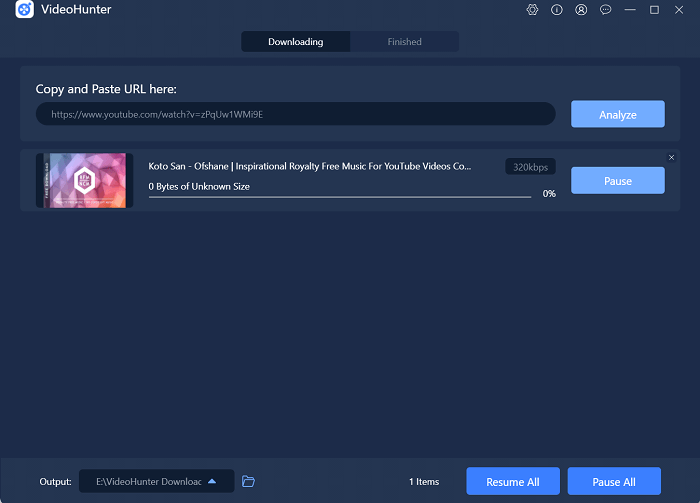 Click Download. When the download process is over, you can go to the Finished tab and find your downloaded YouTube music.
Step 5: Put YouTube Music into iPhone
Now download DoTrans by clicking the below button and install it on your PC.
Free Download Buy with 20% off
Connect your iPhone to your computer by a USB cable. DoTrans will all contents on your iPhone by categories. Open the music category, click "+"> "Add files" to add the YouTube music file you just downloaded to iPhone.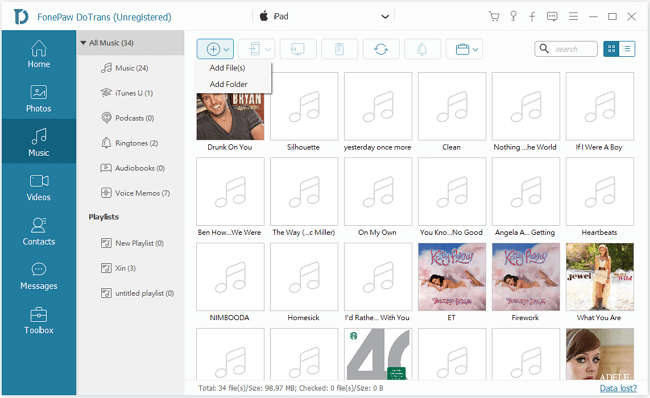 Step 6: Listen to YouTube Music on iPhone
You can find the downloaded YouTube music on the Apple Music app, where you can freely listen to YouTube music offline.
2. Download Music from YouTube via Online Downloader
Besides VideoHunter, here's another viable solution. That is using a YouTube online downloader.
AceThinker MP3 Juice Downloader is one of the most competent YouTube online downloaders. This program can download music on any device, including iOS devices (iPhone, iPod, and iPad), Android devices, and Windows/Mac. Not to mention its compatibility with any browser, including Google Chrome, Mozilla Firefox, and Microsoft Edge, making it more popular with YouTuber viewers.
This service doesn't need to download any additional apps or any registration, making it more convenient to use. Another good thing about this MP3Juice downloader is there's no limit to the number of downloads you may make. Essentially, as long as your device has enough storage capacity, you can extract as many YouTube videos as you want. Below is the simple instruction you can follow on how to download YouTube music.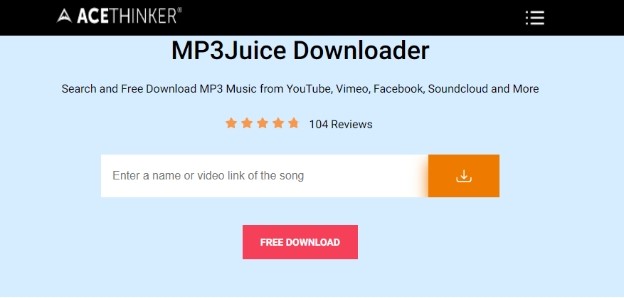 Step 1: Copy the MP3 Link and Paste it into the Tool
Step 2: Download the YouTube Audio File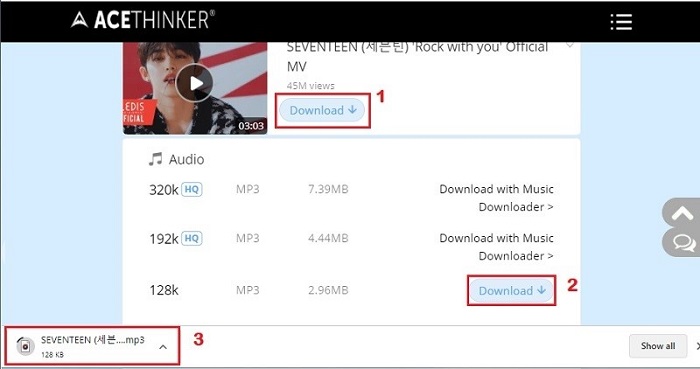 Step 3: Transfer and Play the Downloaded Music on iTunes
3. Download Music from YouTube to iPhone Directly
To download YouTube songs to iPhone directly, you can subscribe to YouTube Premium(Red), which enables you to access music on YouTube limitlessly and download music for offline listening on your iPhone via YouTube Music app. YouTube Premium offers 3-months free trial. You can cancel the subscription any time you want.
Step 1: Open the YouTube app on your iPhone
Step 2: Tap the profile icon to enter into your account.
Note: If you have not signed in your account or do not have an account, you should sign in or create one to sign in.
Step 3: On the account interface, tap "Get YouTube Premium" > "Try it Free".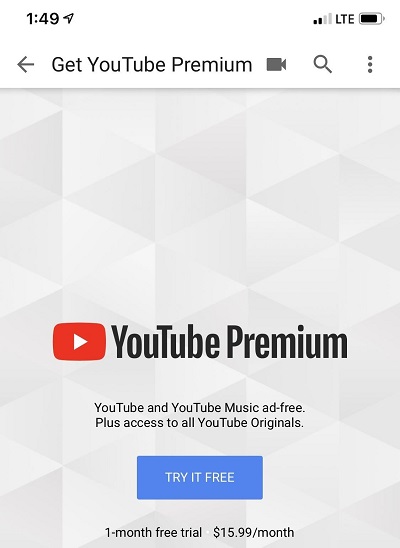 Step 4: Then you can get YouTube Music app installed on your iPhone. Open the app, find a song you like, tap the three dots next to the music title, and select "Download" to download this music to your iPhone.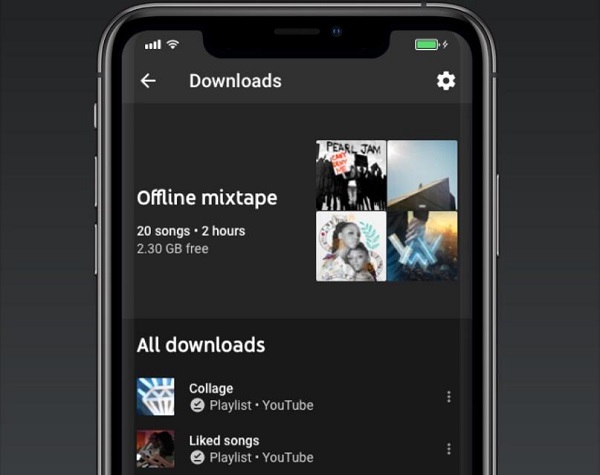 Or you can enter into YouTube to download music videos to your iPhone: open a video on YouTube and click "Download" below the playing video.
Tip: Once the subscription is canceled, you will be unable to access the downloaded YouTube music o your iPhone.
The above two methods are both quite useful and you can share it to your friends. If you have any problem, leave your comments below.